Dallas Cowboys:

Steve Young
January, 13, 2014
Jan 13
2:00
PM ET
IRVING, Texas --
Tom Brady
and
Peyton Manning
will meet for the 15th time in their careers on Sunday when the
New England Patriots
play the
Denver Broncos
in the AFC Championship Game.
It will be their fourth playoff, which are the most postseason matchups between quarterbacks since 1950, according to Elias.

Maybe there will be some Brady-Manning (or Manning-Brady) fatigue this week, but the matchup got me thinking about the
Dallas Cowboys
.
Roger Staubach had Terry Bradshaw.
Troy Aikman
had
Steve Young
and
Brett Favre
.
In the early 1970s, the Cowboys knocked out John Brodie's
San Francisco 49ers
three straight years, but Staubach (1971) started just one game and Craig Morton started two (1970, '72). Staubach eliminated the Los Angeles Rams in 1973, '75 and 76 but he faced three different quarterbacks in John Hadl, Ron Jaworski and Pat Haden.
That's why Bradshaw is the pick.
Was there a better rivalry in the NFL than the Cowboys and
Pittsburgh Steelers
? They were the magical teams of the 1970s and the Steelers can lay claim to the team of the decade because of their wins in Super Bowl X and Super Bowl XIII. That last loss still stings members of the 1978 Cowboys.
Staubach and Bradshaw met only twice in the regular season with the Steelers winning those matchups, too.
Aikman had a 4-3 record against Young in the 1990s. The Cowboys went through the Niners in back to back NFC Championship Games in 1992 and '93 on their way to Super Bowl wins against the
Buffalo Bills
.
Young broke through in 1994 by beating the Cowboys in the NFC title game to win his only Super Bowl as a starter.
They played in four regular-season games against each other with the quarterbacks splitting the meetings.
In order to get to the 1993 and '94 NFC Championship Games, the Cowboys had to go through the
Green Bay Packers
, beating Favre twice in the divisional round. Aikman beat Favre in the NFC title game in 1995.
Aikman had a 6-1 record against Favre in head-to-head meetings. The only loss in the series came in the only meeting at Lambeau Field on Nov. 23, 1997, a 45-17 decision.
July, 12, 2013
7/12/13
10:41
AM ET
The last in ESPNDallas.com's five-part series looking at factors that must go Dallas' way in a big way for the Cowboys to be contenders this season.
It's simplistic and silly to just slap the choker label on
Tony Romo
.
PODCAST
Nate Newton joins Fitzsimmons and Durrett to discuss the stress and pressure that NFL players experience heading into training camp.

Listen

ColdHardFootballFacts.com's Scott Kacsmar provides all sorts of statistical ammo
to illustrate just how unfair and inaccurate it is to assume that Romo is incapable of performing in the clutch. The most impressive number: Romo's passer rating in fourth quarters and overtime (100.7) is the highest among all quarterbacks since 2000.
Of course, that's not the most commonly cited stat when it comes to Romo. He might as well replace the No. 9 on his jersey with 1-6, his record in win-or-go-home games.
Those losses obviously aren't all on the quarterback. The holder, who just happened to be Romo, cost the Cowboys in the 2006 playoffs against the
Seattle Seahawks
. Pathetic offensive line play made Romo's life miserable – and winning impossible – in the 2008 Philly Flop and the blowout loss to the
Minnesota Vikings
in the 2009 playoffs. The defense was dreadful in the de facto 2011 NFC East title game against the
New York Giants
.
PODCAST
ESPNDallas.com's Todd Archer joins Fitzsimmons and Durrett to discuss Sean Lee, Gavin Escobar, Dez Bryant and more as Cowboys training camp nears.

Listen

But Romo has consistently failed to play up to his standard with the season at stake. That was especially true with a chance to win the NFC East title in last year's regular-season finale, when his three interceptions were the primary reason the Cowboys lost to the
Washington Redskins
.
Romo's passer rating in those seven win-or-go-home games: 77.0.
To put that passer rating in perspective, it would have ranked 26th in the NFL last season. It's 18.6 points lower than his career passer rating of 95.6, which ranks fifth all-time, behind only
Aaron Rodgers
,
Steve Young
,
Tom Brady
and
Peyton Manning
.
There are examples of Romo performing well in big games. He was 23-of-35 for 244 yards and two touchdowns in his lone playoff win. In 2007, with the NFC's top seed at stake and Romo's boyhood idol
Brett Favre
on the other sideline, Romo was spectacular, throwing for 309 yards and four touchdowns to lead the Cowboys to a win. He threw for 312 yards and a touchdown in a turnover-free performance to help the Cowboys upset the previously undefeated Saints in December 2009.
For a variety of reasons, Romo just hasn't been good enough often enough with the season on the line. If that trend ends this year, anything is possible for the Cowboys.
February, 5, 2011
2/05/11
9:13
PM ET
DALLAS -- Hall of Fame quarterback Steve Young has an interesting perspective on Deion Sanders. He was a teammate of Sanders' for a year in San Francisco in 1994 and an opponent in several big games before and after.

"He was the first shut-down corner ever," Young said of Sanders. "He introduced the concept."

Sanders was instrumental in the Niners winning the Super Bowl in 1994 after signing there as a free agent.

"We needed a defensive threat," Young said. "We could score points. We just needed to slow down the biggest and baddest teams and that's what he did that year."

Young said Deion was a great teammate and a "marketing genius." He wasn't the toughest corner, according to Young, but he was the best.

"We know everyone feared him so much for his athletic ability that I don't know that he had to necessarily tackle that much," Young said. "There was fear there as a quarterback. When he was in Atlanta he made a couple of interceptions off me … when I throw the ball I know whether it'll be trouble or not. I threw a couple that were not trouble that he took that defied my eye."

July, 21, 2010
7/21/10
11:44
AM ET
ESPN has chosen Sundance Square in downtown Fort Worth as its production headquarters for Super Bowl XLV, it was announced Wednesday.

In all, more than 80 hours of ESPN television coverage, as well as ESPN Radio shows, and other related content across ESPN's multimedia platforms will be based out of Sundance Square. All on-site telecasts will be open for free public viewing.

"I can not think of a better partner for Fort Worth than ESPN," Fort Worth Mayor Mike Moncrief said. "Super Bowl week is going to be very special for our citizens and ESPN will add to the excitement. We welcome the ESPN team into our family."

Some of ESPN's most popular programs will originate from Sundance Square throughout the week, including daily editions of "Mike & Mike in the Morning", "SportsCenter", "NFL Live", a special three-hour edition of "Sunday NFL Countdown" on Super Bowl Sunday, and more. Chris Berman, Mike Ditka, Tom Jackson, Ron Jaworski, Keyshawn Johnson, Suzy Kolber, Stuart Scott, Hannah Storm, Trey Wingo and Steve Young are among the many on-air commentators expected to be featured throughout Super Bowl week, along with top guests from the world of sports and entertainment. All shows will be open for public viewing.

"This is one of the biggest broadcasting opportunities we have ever hosted," Sundance Square developer Ed Bass said. "As the cultural heart of the city, Sundance Square offers the perfect location, availability of space, and built-in audience where ESPN can interact with our visitors. ESPN will benefit from this dynamic urban environment and Fort Worth will be showcased as a vibrant, authentic, and diverse city to millions of people across the country."

ESPN the Magazine has also chosen Fort Worth as the site for its annual NEXT event, one of Super Bowl week's top parties. ESPN the Magazine will announce the event venue later this year.

In addition, ESPN 103.3 FM will broadcast from Sundance Square during the week.

"The city and business leaders from Fort Worth and Sundance Square have welcomed ESPN with open arms, and we are thrilled that our production headquarters, ESPN The Magazine's NEXT party and other related events will originate from this world-class destination throughout the week of Super Bowl XLV," ESPN Executive Vice President John Skipper said.

Super Bowl XLV will be held at Cowboys Stadium on Feb. 6, 2011.
January, 28, 2010
1/28/10
10:47
AM ET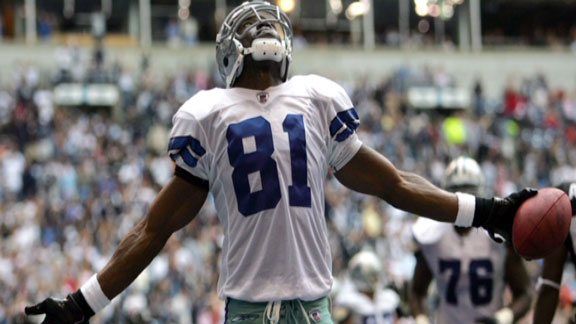 Terrell Owens
believes he coulda been the greatest ... if only he had better quarterbacks.
Never mind that T.O.'s starting QBs were all multi-Pro Bowlers, at least until he was banished to Buffalo after he couldn't get along with his (sniff) quarterback in Dallas.
"I know hands-down I'd be close to
Jerry Rice
's records if I had been with quality quarterbacks like he had,"
T.O. told USA Today
. "He had
Joe Montana
and he finished with
Steve Young
. That wasn't a dropoff.
"Say I had been with a guy like
Tom Brady
,
Peyton Manning
or
Drew Brees
all of my career. Are you kidding me?"
T.O., who is 7,944 yards and 53 touchdowns behind Rice on the all-time receiving lists, made these comments as his previous two quarterbacks were preparing to play in the Pro Bowl along with their No. 1 receivers.
Tony Romo
missed T.O. so much that he set a franchise record for passing yards this season.