Dallas Cowboys:

Steven Jackson
February, 21, 2014
Feb 21
10:00
AM ET
INDIANAPOLIS – A year ago, coach Jason Garrett's mantra was that the
Dallas Cowboys
needed to run the ball more and run it better in 2013 than they did in 2012.
The Cowboys ran it a lot better with
DeMarco Murray
rushing for more than 1,000 yards and earning a Pro Bowl spot, but they did not run it more.
In 2013, Dallas ran it 336 times for 1,507 yards and 12 rushing touchdowns. The season before, they rushed for 1,265 yards on 355 carries with eight touchdowns.
On Thursday Garrett said the Cowboys must run it more in 2014, however, the new playcaller, Scott Linehan, ran the ball even less than the Cowboys when he was the offensive coordinator of the
Detroit Lions
.
"Scott's been around teams that have run the ball really well, if you look at his track record back to Minnesota, they were a top five rushing team," Garrett said. "All those years when they had
Daunte Culpepper
and
Randy Moss
, they always ran the ball very, very well. You like to get to a point where you can do that, where you have that kind of balance. You can be really productive in the passing game, but you can control the game by running the football."
As head coach of the
St. Louis Rams
, Linehan had
Steven Jackson
rush for 1,528 yards but the team finished ranked 17th in the NFL in rushing. In three years as the Vikings' coordinator he oversaw the NFL's ninth, fourth and second ranked run offenses form 2002-04. In five years with the Lions, Linehan's rush offense's best finish was 17th.
With a developing offensive line, highlighted by first-round picks
Tyron Smith
and
Travis Frederick
, and Murray, Garrett said the Cowboys simply have to trust the running game more.
"We're stronger up front than we've been in the last few years, and hopefully we can continue to add to that, control the line of scrimmage more," Garrett said. "The best teams in the league are able to do that, and we're hoping to be able to do that, have the kind of balance we want for our team."
January, 28, 2014
Jan 28
9:00
AM ET
IRVING, Texas -- With
sources saying
Scott Linehan will take over as the
Dallas Cowboys
' playcaller, his track record suggests the offense will be
Tony Romo
friendly.
[+] Enlarge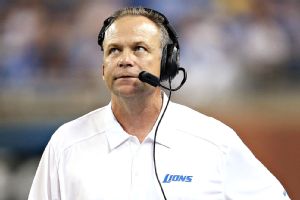 Leon Halip/Getty ImagesScott Linehan has been the Lions' offensive coordinator for the past five years, but can he get the Dallas run game going?
For the past five years Linehan was the
Detroit Lions
offensive coordinator. In the last three seasons, Lions quarterback
Matthew Stafford
has thrown for 14,655 yards and 90 touchdowns with 52 interceptions.
From 2011-13,
Calvin Johnson
caught 302 passes for 5,137 yards and 33 touchdowns. So that would appear to be good news for
Dez Bryant
.
But what about the running game?
Linehan has been an offensive coordinator/head coach from 2002-2013, except for the final 12 games of the 2008 season when he was fired as head coach of the
St. Louis Rams
.
Using the 11 seasons as a backdrop, Linehan has had a top-10 ranked rush offense just twice and those were in his first two years with the
Minnesota Vikings
in 2002 and 2003. A Linehan-led running game has not finished better than 12th in the NFL since. With the Lions he had running games ranked Nos. 24, 23, 29, 23 and 17.
The Cowboys have been at their best offensively when
DeMarco Murray
has been involved.
Linehan is not averse to the run.
In 2002,
Michael Bennett
ran for 1,296 yards for the Vikings. A year later Minnesota had four different players with at least 400 yards rushing. In 2005 with the
Miami Dolphins
, where he worked with Jason Garrett for the first time,
Ronnie Brown
ran for 907 yards and
Ricky Williams
had 743 yards.
In his first year with the Rams,
Steven Jackson
, the runner so many Cowboys fans wanted them to take in 2004, ran for 1,528 yards. He had 1,002 yards in 2007.
With the Lions, he had to make due with
Kevin Smith
,
Jahvid Best
, whose career was cut short by injuries and
Mikel Leshoure
. Last season,
Reggie Bush
ran for 1,006 yards.
Joique Bell
ran for 650 yards.
In Murray, Linehan will inherit a back coming off the best year of his career and an offensive line that finished the year on a high note.
It's up to him to use the running game.
April, 25, 2013
4/25/13
10:05
PM ET
IRVING, Texas – Got a sense of draft-day déjà vu?

This feels a lot like 2004, when a prospect who filled a major need tumbled down the first round right into the Cowboys' laps … and Jerry Jones decided to trade down instead of making what seemed to be a no-brainer pick.
That didn't exactly work out for the Cowboys.
Steven Jackson
is still running strong after racking up 10,135 career rushing yards, more than doubling the career total of
Julius Jones
, the back the Cowboys selected with their second-round pick. They at least got good trade-chart value in that deal, although the production of
Marcus Spears
, the 2005 first-round pick they added, certainly didn't justify passing on Jackson.
We'll see whether defensive tackle
Shariff Floyd
makes the Cowboys look foolish. Widely considered a top-five talent, he fell all the way to the Vikings at No. 23 overall. Maybe Floyd, who only had 4.5 career sacks at Florida, was overrated in the pre-draft process. Time will tell.
The Vikings have benefited before from the Cowboys surprisingly passing on a potentially elite talent who would have filled a major need in Dallas. Remember
Randy Moss
?
If a picture is worth 1,000 words, the video of coach Jason Garrett in the Cowboys' war room right after Jerry pulled the trigger on the trade would have caused censors to sweat. Garrett might offer the company line later, but he clearly didn't appear to be pleased.
We couldn't see new defensive coordinator Monte Kiffin, whose Tampa 2 scheme requires a disruptive three-technique tackle, such as Floyd.
Kiffin has benefitted greatly from a Jerry trade-down deal before. The Cowboys dealt the No. 28 overall pick to Tampa Bay in 1995, turning it a couple of second-round busts (G Shane Hannah and RB
Sherman Williams
) and run-of-the-mill fourth-round tight end
Eric Bjornson
. The Bucs took linebacker
Derrick Brooks
and watched him make 11 Pro Bowls.
April, 24, 2013
4/24/13
2:17
PM ET
IRVING, Texas – Jerry Jones basically bought an ad in the NFL classifieds during Monday's pre-draft press conference, sending out the message that the Cowboys could be in trade-down mode when they get on the clock with the 18th overall pick.
PODCAST
Randy Galloway, Matt Mosley and Glenn "Stretch" Smith discuss some of the players the Cowboys should be looking at in the upcoming NFL draft.

Listen

That news was met with a lot of moaning and groaning from Cowboys fans.
How can you be adamantly against trading down if you have no idea what the offer might be or which players might be available? Folks just don't trust GM Jerry.
Should they in this situation? Let's look at the Cowboys' history of trading down in the first round during the Jerry era.
1991 -- No. 14 overall (obtained from New Orleans – RB Leonard Russell) to New England for No. 17 overall (traded to Washington – DT Bobby Wilson) and No. 110 overall (DE Kevin Harris).
No. 17 overall (Wilson) to Washington for No. 20 overall (traded to Detroit -- DT Kelvin Pritchett) and No. 132 overall (Darrick Brownlow).
No. 20 overall (Pritchett) to Detroit for No. 37 overall (LB Dixon Edwards), No. 64 overall (G James Richards) and No. 108 overall (DE Tony Hill).
PODCAST
How close were the Cowboys to getting John Elway in 1983? Fitzsimmons and Durrett discuss what could have been if John Elway got his wish and was traded to Dallas.

Listen

These three deals have to be judged essentially as one. After all the wheeling and dealing was done, the Cowboys turned the 14th overall pick into a second-round linebacker who started for two Super Bowl title teams (Edwards), a third-round guard who never played an NFL game (Richards), a fourth-round defensive end who played 13 games in two NFL seasons (Hill) and a fifth-round linebacker who made 11 tackles in two separate one-year stints in Dallas (Brownlow).
This was a case of great value on Jimmy Johnson's trade chart and essentially a push in reality. Russell ended up being a decent running back, rushing for 3,973 yards and 29 touchdowns in his career, and it's not as if the Cowboys passed on a Hall of Famer who went later in the first round. Edwards contributed to three title teams, starting for two.
This deal would have been a steal if the Cowboys selected offensive tackle
Erik Williams
at No. 64 overall. They ended up drafting him six picks later.
1993 -- No. 29 overall (S George Teague) and No. 112 overall (Albert Fontenot) to Green Bay for No. 46 overall (WR Kevin Williams), No. 54 overall (LB Darrin Smith), No. 94 overall (RB Derrick Lassic) and No. 213 overall (LB Reggie Givens).
PODCAST
Nate Newton went undrafted in 1983, but he still feels like he was part of one of the greatest draft classes in league history. Newton joins Fitzsimmons and Durrett to discuss his draft experience from 30 years ago and his journey to three rings.

Listen

Both of the second-round picks the Cowboys acquired contributed to two Super Bowl title teams. Williams was a quality punt and kick returner who started at receiver for the Cowboys' last championship team, setting career highs with 38 catches for 613 yards and two touchdowns that season. Smith started all four of his seasons in Dallas.
Teague had a solid nine-year career, but he ended up spending most of that in Dallas anyway. Fontenot also lasted nine NFL seasons, making 81 starts. Lassic lasted 10 games, and Givens never played for the Cowboys.
Give the Cowboys a win for this deal, but it wasn't lopsided by any measure.
1995 -- No. 28 overall (LB Derrick Brooks) to Tampa Bay for No. 41 overall (traded to Atlanta – DB Ron Davis) and No. 63 overall (OG Shane Hannah).
All Brooks did in Tampa Bay was go to 11 Pro Bowls, be named first-team All-Pro five times, win a Super Bowl and establish himself as one of the best linebackers of his generation.
Hannah started the Cowboys' tradition of early-round offensive line busts, getting hurt in training camp and never playing a game in the NFL. They flipped Davis for a second-rounder (RB
Sherman Williams
) and fourth-rounder (TE
Eric Bjornson
), a couple of backups who combined for 10 career touchdowns.
This might be the worst draft-day deal the Cowboys ever made.
1996 -- No. 30 overall (Andre Johnson) to Washington for No. 37 overall (DE Kavika Pittman) and No. 67 overall (C Clay Shiver).
Pittman made 18 sacks in eight NFL seasons (10 in four seasons for the Cowboys). Shiver started 25 games, but that was evidence of how weak the Cowboys were at center, as he was out of the league after three years.
Johnson was a huge bust for the Redskins. He never played a game in Washington.
The Cowboys would have been better off staying put and drafting Texas product
Tony Brackens
in the first round. Brackens, picked No. 33 overall by Jacksonville, had 55 sacks and 27 forced fumbles in his eight-year career.
2002 -- No. 6 overall (DT Ryan Sims) to Kansas City for No. 8 overall (SS Roy Williams), No. 75 overall (CB Derek Ross) and a sixth-round pick in 2003 (WR Zuriel Smith).
A couple of Williams' five Pro Bowl berths were reputation selections after his performance fell off, but he was a dominant force as a playmaking intimidator early in his career. That's much more than you can say for Sims, who only had one more sack in his career than Williams did.
Ross looked like a steal when he had five picks as a rookie, but the character red flags that caused him to drop into the third round proved true. Bill Parcells got rid of him midway through Ross' second season. Smith played nine games for the Cowboys, contributing primarily as a return specialist.
This was a good deal for Dallas, just not nearly the steal it seemed destined to be during the rookie seasons of Williams and Ross.
2004 -- No. 22 overall (QB J.P. Losman) to Buffalo for No. 43 overall (RB Julius Jones), No. 144 overall (TE Sean Ryan) and a 2005 first-rounder (DE Marcus Spears).
Spears was a serviceable player for the last eight seasons. Ryan was a nonfactor during his two years in Dallas.
But this deal comes down to
Steven Jackson
vs. Julius Jones.
The Cowboys decided, based strongly on the input of running backs coach Maurice Carthon, that there wasn't much difference between the top back on the board and the backs who would be available in the second round.
Jackson has rushed for 10,135 yards and counting, more than twice as many as Jones ran for during his career. Jackson has accounted for 64 touchdowns, almost three times Jones' total.
Oops.
2007 -- No. 22 overall (QB Brady Quinn) to Cleveland for No. 36 overall (traded to Philadelphia – QB Kevin Kolb) and a 2008 first-rounder (RB Felix Jones).
The Cowboys were tempted to pick Quinn, who they had in the top 10 on their board, but they opted to fully commit to a quarterback with 10 starts under his belt named
Tony Romo
. Considering that Quinn is with his fourth team and Romo just got $55 million guaranteed, it's pretty clear that was the right call.
The Cowboys moved back into the first round to select OLB/DE
Anthony Spencer
, giving up third- and fifth-rounders to do so. No regrets there, with Spencer a solid player coming off his first Pro Bowl appearance and Kolb failing to make an impact in Philadelphia.
This deal would have looked like a stroke of genius if the Cowboys picked
Chris Johnson
,
Matt Forte
,
Ray Rice
or
Jamaal Charles
the next year. Alas, they selected an Arkansas alum to be a change-of-pace back.
Felix Jones
had some flashes of brilliance, but his Dallas tenure was a pretty big disappointment given the quality of backs picked behind him.
This was still a solid deal for Dallas.
March, 7, 2013
3/07/13
11:30
PM ET
This is seventh in a 10-part series breaking down the Cowboys' free-agency needs, position by position:
Running backs
Who's on the roster:
DeMarco Murray
,
Phillip Tanner
,
Lance Dunbar
,
Lawrence Vickers
Analysis:
If Murray can stay healthy, the Cowboys have a legitimate lead horse. But that's a huge if after injuries marred his first two NFL seasons. The Cowboys must acquire a backup capable of carrying the load if Murray goes down. Team executive vice president Stephen Jones is on record with the opinion that Tanner and Dunbar, a couple of undrafted backs with local roots, are No. 3 RB types. The Cowboys could also make a change at fullback if they can find a cheaper and/or more effective alternative than Vickers, who was a disappointment after signing as a free agent last offseason.
PODCAST
Ed Werder joins Fitzsimmons & Durrett to discuss Tony Romo's potential contract extension, the Cowboys' plans for Anthony Spencer and how Joe Flacco's final month of the season impacted the Cowboys' offseason.

Listen

NFL free agents of interest:
Steven Jackson
,
Reggie Bush
,
Rashard Mendenhall
,
Ahmad Bradshaw
,
Cedric Benson
,
Michael Turner
,
Felix Jones
.
Need meter: 6.
It'd be ironic if Jackson or Mendenhall came to the Cowboys in free agency, considering the controversy when the Cowboys passed on them to pick other backs in the draft. That, however, is extremely unlikely. The return of Jones, the Cowboys' first-round bust from 2008, as a stopgap backup is more likely if he can't find an attractive offer in the free-agency market. But there are plenty of recent examples of mid- to late-round backs playing major roles as rookies. It makes sense for the Cowboys to go that route to address their need.
October, 25, 2011
10/25/11
1:17
PM ET
By
Bryan Broaddus
| ESPNDallas.com
There isn't a weekend that goes by during the football season where you don't hear a coach or a player tell you how difficult it is to win a game in the National Football League and how grateful they are when they get that victory.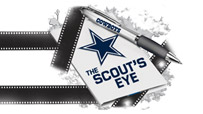 If you are Jason Garrett and the
Dallas Cowboys
, be grateful that the
St. Louis Rams
were on your schedule when you needed a victory the most. The Rams defensively are as poor of a football team as I have seen this year when studying these Cowboys opponents.
There is nothing that the Rams do well at all on defense. As we saw on Sunday, they don't get off blocks in the running game and other than cornerback
Al Harris
, they struggle to really have any productive plays on pass defense.
Offensively without quarterback
Sam Bradford
, running back
Steven Jackson
was going to struggle. Backup quarterback
A.J. Feeley
was not going to make enough plays to keep Rob Ryan from trying to gang up on Jackson.
ABRAM ELAM VS. STEVEN JACKSON
Jackson had showed the most success running the ball when he was able to bounce it outside, get around the corner and make defensive backs have to come up in support to handle him with a head of steam.
Jackson had two runs that hurt the Cowboys, and they were on back-to-back plays on the Rams' touchdown drive.
Abram Elam
played as well as a safety has played here in a while, but he took a bad angle of each one of those runs. Those were the only minus plays that Elam had.
Elam did a nice job of running down Jackson from the backside earlier in the game. He also made a solid hit on
Cadillac Williams
, causing a fumble, and made an athletic play on the recovery. Then to finish his day, he came up with a sure tackle on the goal line on a fourth-and-1 to prevent a Rams touchdown.
Linebacker
Sean Lee
didn't have a great first half by his standards -- overrunning a screen to the outside, getting trapped inside by the guard on a pull and missing a tackle coming from the inside in space. In the second half, Lee was a different player, making quick reads and getting through trash to make stops. Lee was also effective in pass defense, carrying wide receiver
Danario Alexander
across the formation in zone coverage to defend the ball.
DALLAS D HONOR ROLL
[+] Enlarge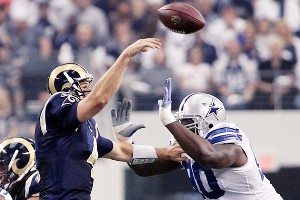 AP Photo/Brandon WadeJay Ratliff applied plenty of pressure against the Rams.
Cornerback
Mike Jenkins
had a nice game overall as well. Jenkins is playing with that same confidence that he showed in 2009. Jenkins showed good position in routes against the Rams best receiver,
Brandon Lloyd
. He had a nice interception off Feeley when he was able to keep inside leverage when Lloyd tried to take his route inside and was able to beat Lloyd to the ball. Coverage was so good that Lloyd stopped when going for the ball.
This is back-to-back weeks that
Jay Ratliff
has played well. Ratliff was active in the way that he was coming off the ball. He showed nice quickness and explosiveness off the snap. Was able to beat center
Jason Brown
to the front side for a tackle for loss, but he was also able to provide good pressure from the inside as well on the pass rush.
DeMarcus Ware
beat the Rams' best tackle,
Rodger Saffold
, inside for a sack and a caused fumble. He was also able to beat Saffold in the red zone for pressure, which caused Feely to have to unload the ball early for an incomplete.
GOAL-LINE STAND
I always like to try and break down a play for you, good or bad, that happened during the game. This week I am going to take a look at the goal-line stand on the Rams' final drive. With the game in hand and the Cowboys leading 34-7 with 1:44 left and nothing more to play for except pride, the Rams attempt to go for a touchdown on fourth-and-1.
On the previous play, the Rams had fourth-and-2, but Feeley got Ratliff to jump offsides, moving the ball to the Cowboys one. The Rams bring three tight ends into the game with one fullback. Rob Ryan counters with four down linemen, five linebackers and two defensive backs, which are safeties Elam and
Gerald Sensabaugh
.
Elam is lined up left, outside wing Michael Hoomanwanui, and at the snap charges up the field. Left defensive end
Kenyon Coleman
has beaten tight end
Billy Bajema
badly to the inside, which causes fullback
Brit Miller
to have to alter his blocking path. Elam is able to fight off the block of Hoomanwanui and knife to the outside.
Jackson wants to take the ball inside but is now forced to bounce it to the outside because Coleman and Elam are so far up the field. Ware and Sensabaugh have now reacted to the play and are there in support. Jackson is moving sideways as Elam stays wide enough to trip Jackson up for the loss and the defense gets the stop.
The play was a nice way to end what was a dominant day for Rob Ryan's defense.
WHOLE BUNCH OF HOLES
As I mentioned before, the best medicine for an offense that had some questions after two weeks where execution was not at its best is to face a defense that really struggled to do anything right. I am not surprised that the Rams gave up the rushing yards that they did in that game, but I was more surprised to how easy it was for the Cowboys to do it.
When you run the football with success, there are usually two or three reasons why you do it. In this case for the Cowboys, the point-of-attack blocking was outstanding.
Jason Witten
,
Tyron Smith
,
Kyle Kosier
and
Tony Fiammetta
were all on point in this game. Much will be made about the game that
Montrae Holland
played at left guard, but the players I mentioned were outstanding.
When you watched the game, the Cowboys were able to down block or combo block effectively. Holland was good in his area's blocks, but there were plenty of times where he wasn't as good when he was asked to pull and hit his target. Smith and Kosier were getting so much push on the front side that Holland was having troubling finding a man to hit, and when he did, his adjustment was a little off.
Witten is not the type of guy that is going to hammer you off the line but can be solid when he shield blocks. In this game he was doing a nice job of this, whereas in some of the earlier games, he struggled to maintain his block.
I really do like Fiammetta at fullback and his ability to adjust on the move. He is more of an athlete than a bulky blocker, which makes him different than most fullbacks. Fiammetta has a real feel for how to see the play develop and correctly move to pick up his man. He is outstanding at finding his man then fitting on him to work him out of the hole.
Fiammetta can get in a little trouble when a linebacker attacks him in the hole.
Chris Chamberlain
got him one time, cracking him pretty good, but that was the only real poor play that he had.
DEMARCO MURRAY'S BIG DAY
[+] Enlarge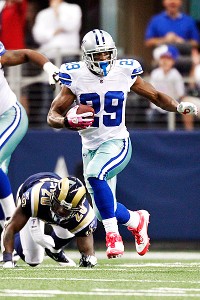 Layne Murdoch/Getty ImagesDeMarco Murray's 91-yard touchdown run in the first quarter was the second longest in Cowboys history.
The numbers speak for themselves on what
DeMarco Murray
was able to do with his carries. Jason Garrett always talks about opportunities and making the most of them, and he did.
I have to admit, the more that I watched Murray carry the ball, the more I wondered if
Felix Jones
would have had the same type of success. Murray made some nice cuts one on one and was a physical runner, but maybe the most important area that he looks like he improved in was as a pass protector.
This is what is going to be the most important thing for Murray going forward because there aren't always going to be days of playing the Rams, so you better be able to help the team when you are on the field on third downs. Murray was able to step up and take on a blitzer square and not allow any ground into
Tony Romo
.
Something else that I want to point out about Murray was his ability to play with some smarts. In the Washington game earlier this season, we all saw
Tashard Choice
run out of bounds with time winding down in the game, stopping the clock and allowing Washington to save a timeout. Murray was able to get the ball to the outside late in the game but instead of going out of bounds to stop the clock, he cut back up field to keep the clock running.
In this game, it is not always about all the yards you rush for but things like blitz pickup and trying to finish off the game by being a smart football player.
I also wanted to say a few things about what I observed in Phillip Tanner's play. I really do believe that Tanner is what Jerry Jones wanted in a third back. Jones has a vision for a player that can play well on special teams, which Tanner does, but he also wants a hard running back with some explosiveness and power.
The most impressive thing about Tanner is his ability to make himself small to get through those holes. He has a real knack for inside power, keeping his legs working and getting positive yards in the rushing game when things get tight. If he can continue to grow as a pass protector, then he will have a chance to get more opportunities in this offense.
October, 24, 2011
10/24/11
9:37
AM ET
IRVING, Texas -- When Sunday's game against St. Louis was still a game,
Abram Elam
turned in perhaps the most important play.
With the score 7-0, the Cowboys strong safety forced a Cadillac Williams' fumble after a 17-yard pick up to the Dallas 37 by the Rams running back and scooped up the loose ball for the turnover. Tackle
Jason Smith
was hurt on the play and the Rams elected to challenge the call, believing Elam was out of bounds when he recovered the fumble.
"I knew I had re-established myself," Elam said.
Sunday was Elam's best game of the season. He was credited with a team-high eight tackles and had three tackles for loss.
While his forced fumble was an important play, the most prideful play might have been on the Cowboys' final defense snap. On fourth and 1 from the Dallas 1, the Rams tried to run
Steven Jackson
to the right for a meaningless touchdown but Elam shot the gap and brought down the big running back for a 5-yard loss.
Even up 27 points the Cowboys did not want to give up a touchdown.
"I'm happy about the win," Elam said. "Those are plays within the game that help us get the win. I'm pleased with my performance. There are some things I know we'll get corrected but we're on the right track."
October, 23, 2011
10/23/11
7:52
PM ET
ARLINGTON, Texas -- Sometimes statistics lie.
The Dallas Cowboys allowed a season-high 70 yards on the ground to St. Louis'
Steven Jackson
, but Sunday's game might have been their best run defense of the season.
Jackson had 40 of his yards on one second-quarter carry and followed that up with a 6-yard touchdown run, but he was largely kept in check the entire game.
"We knew they were going to try to run the ball," safety
Abram Elam
said. "They have one of the best backs in the league and we knew we had to rise up and I think we did that."
The last time the Cowboys saw Jackson was in 2008, when he ran for 160 yards in a 34-14 defeat of Dallas at St. Louis.
Jackson has long made his feelings known that he was disappointed the Cowboys did not draft him in 2004 and wanted to prove a point. The Cowboys made their point Sunday, cornering him for most of the game, especially between the tackles where
Jay Ratliff
,
Marcus Spears
and
Kenyon Coleman
ate up space.
Brooking could not get the 40-yard run out of his mind.
"We wanted to stop them for 60 minutes and we let him get away on a couple of runs, which is kind of disappointing," Brooking said. "But all in all I think we did a good job on him."
October, 23, 2011
10/23/11
10:00
AM ET
As you get ready for this afternoon's game against the
St. Louis Rams
in Dallas, here's one reason for Cowboys fans to feel good and one reason for concern:

Feeling good:
It's tough to pick just one, honestly. The Rams have yet to win a game. They allow 33 more yards per game on the ground than does the second-worst run-defense team in the league. It looks as though they'll be without starting quarterback
Sam Bradford
, which means
DeMarcus Ware
gets a shot at
A.J. Feeley
once he gets past St. Louis' woeful pass protection. The Rams' best hope is running back
Steven Jackson
, and no team in the league has been better at stopping the run this year than have the Cowboys. Unless Feeley can get something going right away with new receiver
Brandon Lloyd
, Dallas should be able to key on the run game and limit it effectively.
Cause for concern
: If the Rams can keep it close, they have the kind of pass-rushing defensive line that could cause trouble for the Cowboys' banged-up offensive line.
Chris Long
and
Robert Quinn
have shown an ability to get to the quarterback, and rookie right tackle
Tyron Smith
looked like a rookie for the first time last week.
October, 23, 2011
10/23/11
9:00
AM ET
ARLINGTON, Texas -- We're not getting into, "Should the Cowboys have drafted running back
Steven Jackson
back in 2004."
Jackson doesn't like the Cowboys because they didn't draft him. Get in line;
Randy Moss
didn't either. But Jackson will play today at Cowboys Stadium vs. the Cowboys.
In Jackson's lone appearance vs. the Cowboys, he rushed 25 times for 160 yards and three touchdowns in a stunning 34-14 victory over the Cowboys in 2008.
Tony Romo
missed the game with a broken pinkie.
The Jackson the Cowboys will see today is not in his prime, yet he did have his best game of the season last week vs. Green Bay, 96 yards on 18 carries in a loss. On the year, Jackson has been nicked up but he's rushed for 220 yards on 41 carries and one touchdown. He's rushed for at least a 1,000 yards every season except his rookie year.
Cowboys defensive coordinator Rob Ryan still believes Jackson is a threat in the run game.
"Unfortunately, he looks like he's back to being the predator he's always been," Ryan said. "He's a load. It's just me, but hell, if I was coaching offense, I would give him the ball 50 times. This guy is an unbelievable weapon. A great competitor, then I hear he doesn't like Dallas, too. That's great. We're going to have our hands full with the big man."
October, 22, 2011
10/22/11
6:42
PM ET
Before you go crazy, we don't think the
St. Louis Rams
will beat the Cowboys on Sunday afternoon at Cowboys Stadium.
With
Sam Bradford
not available because of a high-ankle sprain,
A.J. Feeley
takes over at quarterback the Rams.
And Feeley has a victory over the Cowboys.
In 2002, Feeley led the
Philadelphia Eagles
to a 27-3 victory at Texas Stadium. He completed 19 of 33 passes for 253 yards with one touchdown and two interceptions that day.
Feeley hasn't started a game since 2007, but Cowboys defensive coordinator Rob Ryan had some thoughts.
"Feeley has been around forever," Ryan said after Friday's practice. "He had a great preseason. Either way, I know they've added some great weapons in [Mark] Clayton and [Brandon] Lloyd. Two excellent receivers. This is an excellent-looking team. They just hung about 450 yards up on Green Bay. When [Steven] Jackson is playing, I believe they're averaging over 40 yards a game. Whatever the stats say on the overall deal, we know we're getting a hell of an offense here."
Clayton will not play on Sunday despite coming off the physically unable to perform list this week.
October, 22, 2011
10/22/11
8:25
AM ET
By
Bryan Broaddus
| ESPNDallas.com
Cowboys C Phil Costa vs. Rams MLB James Laurinaitis:
Much has been made about the Cowboys' inability to run the football. I will not totally put the blame at the feet of the offensive line because there have been plays that have been blocked correctly where there has been a chance for a nice gain, but the backs have not hit the holes with any consistency in the right spot.
[+] Enlarge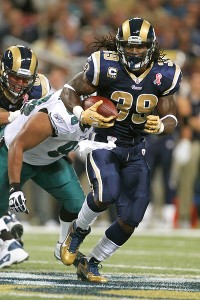 AP Photo/Jeff RobersonRams running back Steven Jackson may find running room tough to come by against the Cowboys'
No. 1-ranked rush defense.
In three of their first five games, the Cowboys faced run defenses that ranked in the top 11 of the league. This week, they face a Rams squad that is one of the worst against the run. But St. Louis has a pretty good run player in James Laurinaitis. I have been impressed with his ability to get around blocks and make plays in the running game. He is the one defensive player for the Rams that is always around the football.
Phil Costa is coming off one of his worst games and needs to get some confidence back, but it will be very difficult against Laurinaitis, who is all over the field. Laurinaitis is similar to the Cowboys'
Sean Lee
. The Cowboys have to be careful to not allow Laurinaitis to go unblocked because he has the ability to read quickly, then shoot gaps to get tackles for loss.
Other than
Chris Long
, the Rams' defensive linemen really struggle to get off blocks, so there will be opportunities in the running game. But if Costa struggles, you will know it very quickly.
Cowboys run D vs. Rams RB Steven Jackson:
Through six weeks, Rob Ryan's defense is ranked first in the league against the run. The Rams, like the Cowboys, have had their share of problems in the running game, but it's not because of the effort or ability of Jackson.
The last time these two teams met Jackson gashed the Cowboys for 160 yards. Jackson has always held a grudge against the Cowboys for not drafting him in 2004. To his credit, he has made Dallas look foolish for not taking him that day.
[+] Enlarge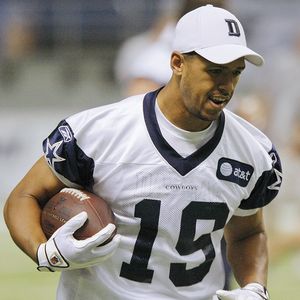 AP Photo/Darren AbateMiles Austin, along with Dez Bryant, could give the Rams secondary fits.
As mentioned, the Rams' run game can't find any consistency because the offensive line struggles to get any type of push at the point. Most of Jackson's runs are done on his own by bouncing the ball outside or running from the shotgun on inside handoffs. The Rams also like to throw the ball to Jackson on screens and let him do damage in the open field. Ryan put it best when he said that his crew will need to keep hitting Jackson and get a bunch of bodies to the ball.
With quarterback
Sam Bradford
unable to play because of a high ankle sprain, offensive coordinator Josh McDaniels will turn to A.J. Feeley and try to establish the run with Jackson. In my view, the Cowboys' front seven should be able to do the job.
Cowboys WRs Miles Austin and Dez Bryant vs. Rams CB Al Harris:
Several years ago, this might have been a good matchup for Harris, but now it's a big mismatch. Harris, a 14-year veteran, can no longer play at the level he once played at for so many years.
Injuries have robbed him of much of the skill he once had. He no longer has that burst, quickness or speed he used to. Harris now struggles to maintain any type of positioning in the route.
There are times when he is peeking in the backfield or guessing on the route. Last week against the Packers, wide receiver
Jordy Nelson
beat him on a slant-and-go for a big touchdown. Later in the same game,
Aaron Rodgers
pump-faked him out of coverage to bite on a route.
There is no doubt in my mind that either Austin or Bryant can run by Harris in the vertical game for a big play. Harris just doesn't run well enough. When you play corner, that's a huge problem. On the other side, cornerback
Justin King
has struggled to cover the deep pass, as well.
October, 21, 2011
10/21/11
9:00
AM ET
By
Bryan Broaddus
| ESPNDallas.com
After two difficult losses against the Lions and the Patriots, the Cowboys face the
St. Louis Rams
in a contest where both teams need a win in the worst way.
The Rams were picked by many as preseason NFC West favorites with
Sam Bradford
at quarterback. Instead they are 0-5 and really not doing anything well on offense or defense.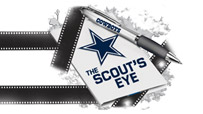 RAMS OFFENSE
The Rams are hurting the most on the offensive line, which is surprising because they have invested high draft picks in tackles Rodger Saffold and
Jason Smith
. Safford is the starter at left tackle and is the best of the Rams' offensive linemen. Smith was drafted with the third overall selection of the 2009 NFL Draft and really hasn't lived up to the billing.
At 6-foot-4 and 318 pounds, Saffold looks a lot longer on tape. Tends to come off the ball high at times and without much bend in the knees. Saffold is a catch blocker more than a puncher. He will place his hands on the rusher then try to steer them away from the ball or up the field. He will do a nice job of running his man up the field.
Smith tends to play without power but can run, which is his way of getting out of trouble. Cowboys rookie right tackle
Tyron Smith
already plays like a better player than Jason Smith, who is going into his third season with the Rams. Of the two St. Louis tackles, Smith is the one that gets the most help from tight ends and backs that stay in the game to block.
The weakest position on the offensive line for the Rams is at right guard.
Harvey Dahl
was signed as a free agent by the Rams from the Falcons on July 31, and the more you study him, the more you feel like that is was money poorly spent.
I am going to be real honest, there is nothing about Dahl's game to like. If you think that the Cowboys have had problems at left guard, the Rams have had it worse with the way that Dahl has played. Dahl will pull and miss. He is not athletic enough to execute the cut-off block or keep his man from overpowering him in the passing game.
I have talked about for weeks how Rob Ryan has done a nice job of identifying the offensive line's weakest link that needs to be attacked to create the best matchups to win. Ryan should take advantage of Dahl several times this game.
The two best players on the Rams offense are Bradford and running back
Steven Jackson
. I have always been a big Bradford supporter. Watching him play down after down, there is no reason to change that thought.
Bradford, who might not play Sunday due to a high ankle sprain, had better offensive talent around him college at Oklahoma. Despite all that, he is able to make all the throws. He is accurate and mobile, but this ankle injury that might limit him from making some plays with his legs.
Bradford has a nice feel in the pocket and is able to slide and move to buy a second chance. The Rams like to run waggles, dragging the tight ends from the opposite side, so it will be interesting with this injury if offensive coordinator Josh McDaniels will still make this part of the game plan.
The Rams are last in the NFL in rushing offense, but if you use the Jason Garrett theory, the Rams run the ball poorly because they are always behind in games and need to pass to try to get back into games. The problems I see again fall more on the offensive line than they do on Jackson.
While I am on the subject of Jackson, our scouting department had a first-round grade on him, but there some medical concerns at the time with a back injury. When it came our time to pick, the
Buffalo Bills
called and wanted to offer us the next year's first-round selection for our pick at that time. The discussion in the draft room at the time were that
Julius Jones
, who we had in the second round, was just as good of a back. Jerry Jones and Bill Parcells agreed and we made the deal with the Bills. For that selection the following year, we drafted
Marcus Spears
.
In looking back in that draft, we made a mistake on Jackson. I believe that we had the right grade on the board, but we had the wrong vision for the player and what he would become in his career.
Jackson is not an explosive player, but he is consistent in the way he attacks. Will try to bounce more balls to the outside than he will take inside. The Rams have some success with him when they get in the gun, then hand the ball to him on the inside.
McDaniels also likes to try and throw him the ball on screens. He will sneak out of the back field, then mesh with the line.
If Jackson does struggle, it is as a pass protector. As much as Ryan likes to bring pressure from all angles, this will be a difficult task for him. As the game develops, watch how many screens that the Rams run and if they use Jackson in pass blocking.
On the outside, the Rams made a deal at the trade deadline for some help.
Brandon Lloyd
joins the squad after a stint with the Broncos. There are a couple of ways to look at this for the Rams. The most important way is that it's another weapon for Bradford on a team that has failed to address the wide receiver position the last two years.
Sure, the Rams have drafted receivers but none that could be a difference maker. Lloyd has that chance and should be ready to hit the ground running in this offense because he was with McDaniels at the Broncos.
The one thing that the Cowboys on defense might not be able to count on is turnovers from the quarterback. Bradford is one of the best in the league at not throwing interceptions.
RAMS DEFENSE
When you study the Rams, it's a defense that appears to be very talent poor. There are two players that really stood out: middle linebacker
James Laurinaitis
and defensive end
Chris Long
.
The Rams drafted defensive end
Robert Quinn
in the first round in 2011, but like tackle Jason Smith, he hasn't made the impact that they had hoped for. When you are playing with 14-year veteran
Al Harris
at corner, your defense is going to have some issues.
Laurinaitis is a very similar to what
Sean Lee
is for the Cowboys. He can run, he reads the play quickly, he reacts and he tackles well. Laurinaitis has a real nose for the ball. He is a sideline to sideline player. He does a nice job in coverage. Did not see an effective blitzer in the early games I studied against the Giants and Ravens.
As a pass rusher, defensive end Chris Long is a relentless player but doesn't play with the rush skill of what the Cowboys offensive tackles have seen the early part of this year. Tyron Smith needs to have a bounce-back game after not being at his best last week. Long will not be able to use power against Smith, which is the one area that gives him the most trouble.
The Cowboys should be able to move the ball on the ground against the Rams' down linemen, who struggle getting off blocks. Again, the key here will be the inside players for the Cowboys, mainly
Montrae Holland
working with
Phil Costa
and
Kyle Kosier
to not allow Laurinaitis to make all the tackles.
I also look for the Cowboys offensively to have some success throwing the ball. The Rams' secondary have struggled with coverage at the corner with Harris and
Justin King
. Against the Ravens, King was beaten badly on several deep, vertical routes that went for touchdowns.
Look for Garrett to test this secondary to try and make some deep throws down the field to try and stretch this Rams defense that has limited range with safeties
Quintin Mikell
and
Craig Dahl
.