Dallas Cowboys:

Tanard Jackson
September, 7, 2012
9/07/12
6:30
PM ET
»
NFC Final Word
:
East
|
West
|
North
|
South
»
AFC
:
East
|
West
|
North
|
South
Five nuggets of knowledge about Week 1:
Don't let them in the game:
The
Philadelphia Eagles
should have no trouble with the Browns in Cleveland, but to a certain extent that appears to be up to them. According to ESPN Stats & Information, the Eagles ranked second in the league last year with 84 offensive plays of 20 or more yards, fourth in the league in total yards and fifth in yards per play. They were also eighth in total defense. So why were they 8-8? Their 38 turnovers were the second-most in the NFL. And nine of those turnovers were in the red zone. No other team in the league had more than five red-zone turnovers. If you want to lose to inferior teams, turnovers are the surest way. Watch the turnovers in Cleveland. If the Eagles commit a lot of them, the game could be much closer than most expect it to be. Working in Philadelphia's favor is that the Browns forced only 20 turnovers in 2011. Only seven teams forced fewer.
[+] Enlarge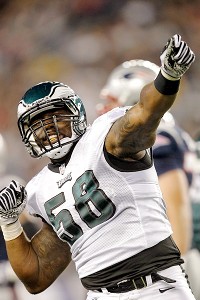 AP Photo/Brian GarfinkelIf Trent Cole outplays Joe Thomas, the Eagles will be well positioned
to defeat the Browns on Sunday.
Marquee matchup:
One of the Cleveland Browns' strengths is left tackle
Joe Thomas
, who was the No. 3 overall pick in the 2007 draft. He'll go up against Eagles defensive end
Trent Cole
, who has the third-most sacks in the NFL (63) since 2006, in a matchup that could go a long way toward deciding the game.
Road favorites?
The Eagles should not be at a disadvantage just because the Browns are the home team in Sunday's game. Since this new incarnation of the Browns entered the league in 1999, it is 1-12 in season-opening games. The second-worst record in season openers over that same period of time is 4-9, shared by the Raiders and Chiefs.
Blowing in the Brees:
If the
Washington Redskins
can hold New Orleans Saints quarterback
Drew Brees
without a touchdown pass, they'll have pulled off some trick. Brees has thrown at least one touchdown pass in each of his previous 43 games. That's the second-longest streak in NFL history behind the 47-game streak authored by Johnny Unitas from 1956-60. The Redskins will play this game without starting strong safety
Brandon Meriweather
, who is out with a knee injury, and safety
Tanard Jackson
, who is suspended for the year for violating the league's drug policy. They would do well to find a way to get some pressure on Brees.
Dome sweet dome:
The Redskins are 6-1 all-time at the Louisiana Superdome, and while their most recent game there was in 2006, that record stands as a testament to the fact that the Redskins used to be one of the league's best teams and the Saints one of the league's worst. According to ESPN Stats & Information, Washington's .857 winning percentage at the Superdome is the highest in history for any team that has played at least five games there. Something has got to give, though. The Saints were 8-0 at home last year, and their 41.1 points per game and 492.6 yards per game there were the second-highest such home totals in NFL history.
May, 11, 2012
5/11/12
5:15
PM ET
So John Clayton has
this piece
on the 10 best position battles brewing this summer between rookies and veterans in the NFL. I scrolled through it, thinking it would provide me with some material for a late-Friday afternoon post, and to my shock and dismay there wasn't one NFC East mention in the whole thing. Come on, John! Help a guy out, will ya?
Anyway, it got me thinking: There must be some interesting position battles to keep an eye on throughout the offseason and training camps in our division, right? I mean, some situations where things aren't yet set in stone? There are, and here's one for each team.

Dallas Cowboys' inside linebackers:
Sean Lee
is set at one of these spots, but the other will be interesting to watch. The team drafted
Bruce Carter
in the second round in 2011, and they believe he's part of their future on defense. But he was coming off an injury when they drafted him and played in just 10 games as a rookie, and they can't be sure he'll be ready to hold down a starter's spot full-time in 2012. So they went out on the free-agent market and signed
Dan Connor
, formerly of the
Carolina Panthers
, to start next to Lee while Carter continues to acclimate himself to the pro game. The interesting aspect of this will be how good Carter looks in training camp and whether he can play well enough to demand to take reps and snaps away from Connor. The veteran, Connor, will start with the job, but Carter is the future there, and it's just a question of when he's ready.

New York Giants running backs:
Ahmad Bradshaw
is the unquestioned veteran starter, but he doesn't come without questions. Foot injuries have limited him over the past several seasons, and his good friend and veteran safety net,
Brandon Jacobs
, is off to San Francisco to play for the 49ers. Assuming Bradshaw won't be able to make it through the season fully healthy on a starter's workload, there are going to be plenty of snaps to go around. The question is how many of those snaps first-round pick
David Wilson
can steal from holdover youngsters like
D.J. Ware
,
Da'Rel Scott
and
Andre Brown
(who's suspended for the first four games for drugs).

Philadelphia Eagles safeties:
The team wants
Nate Allen
and
Jaiquawn Jarrett
, its second-round picks from the 2010 and 2011 drafts, respectively, to be the starters. Of the two, they're more confident about Allen, who's had some injury issues but played well when healthy last season. They have him penciled in as a starter. Whether Jarrett can fight off
Kurt Coleman
for the other starting spot is one of the training-camp questions the Eagles will face. It's also possible they'll add a free-agent veteran to the mix, but they'd rather get the production they need from their young guys if they can.

Washington Redskins secondary:
There are currently 15 defensive backs listed on the Redskins' roster, and it's safe to assume they can't all make the team. The question is which of them will play.
Josh Wilson
and
DeAngelo Hall
would appear to be set as the starting cornerbacks, but the team did sign free agent
Cedric Griffin
, and intriguing undrafted free-agent cornerback Chase Minnifield will be a name to watch in the summer. The more interesting questions are at safety, where the Redskins lost starters
LaRon Landry
and
O.J. Atowge
and things are wide open. The guy they like the best for the future is 2011 draft pick
DeJon Gomes
, but while they view him as a starter at some point, they don't know yet whether that point is this year. Their free-agent safety signing list is a fascinating one, including
Brandon Meriweather
,
Madieu Williams
and
Tanard Jackson
, any of whom c0uld emerge as a starter. Griffin also might have been brought in with an eye toward playing him at safety, and
Reed Doughty
was a valuable injury fill-in last season and could get a shot at more playing time in this crowded field. The Redskins appear to be installing an all-out competition for safety roles, and from here it's impossible to know who will play well enough to nail them down.
December, 16, 2011
12/16/11
11:00
PM ET
By
Bryan Broaddus
| ESPNDallas.com
Cowboys' run defense vs. Buccaneers RB LeGarrette Blount:
The run defense for the
Dallas Cowboys
has been very up and down this season. After a week where they struggled against the Giants'
Brandon Jacobs
, the Cowboys get a similar challenge with another physical back in Blount.
There is no doubt in my mind that the
Tampa Bay Buccaneers
will try to run the ball on the Cowboys' front seven to take the pressure off quarterback
Josh Freeman
. Freeman has struggled the most with his accuracy. Having success with Blount running the ball would create better down-and-distance situations for Freeman. It sounds simple, but it's true: When a team is ahead of the chains, it makes the offense work that much better. When teams have been able to keep Freeman in long down-and-distances, he has had his most difficulty.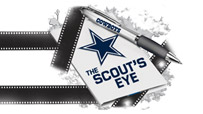 Blount is a punishing runner who pinballs his way through tacklers. He is not explosive or fast, but he is powerful. In the Green Bay game, I counted seven tackles that he broke on his way to a rushing touchdown. It will take more than one man to bring Blount down.
If the Cowboys struggle to get off blocks and don't get defenders to the ball, it will be a long night for this defense, much like it was against the Giants. Look for Rob Ryan to commit early to trying to stop the Buccaneers from running the ball with Blount. If he doesn't, that will take a great deal of pressure off Freeman.
Cowboys WR Miles Austin vs. Buccaneers CB Ronde Barber:
I am looking for this matchup to be a battle out of the slot when Jason Garrett puts three receivers on the field.
Barber is a veteran corner who has had his share of big plays, whether it is in coverage or blitzing out of the slot to make a sack. Barber doesn't have the physical skill to shut down Austin, but he has an advantage because he is very smart and has an outstanding feel for how to position himself en route to defend the ball.
Barber has struggled the most this season with his tackling.
Tony Romo
needs to find ways to get Austin the ball on the move and force Barber to play a physical game. Barber is not a big guy, and when he has to play against a physical receiver, he struggles to match that style.
PODCAST
What's wrong with the Cowboys? Who's to blame? Is Rob Ryan falsely confident? Is it time to mix up the core? Tim MacMahon, Bryan Broadddus and Calvin Watkins discuss the state of the Cowboys.

Listen

The biggest weakness of the Buccaneers' defense is that the secondary struggles to tackle.
Aqib Talib
is the most talented of the cornerbacks and safety
Sean Jones
is physical player, but Barber and safety
Tanard Jackson
struggle to get guys on the ground.
Next to the St. Louis Rams, this was the poorest tackling secondary that I had studied. When you are a poor tackling defense, it leads to big plays. Look for Garrett to use Austin a number of ways out of the slot and on the outside to take advantage of a secondary that will give up space to work.
Cowboys OLB Anthony Spencer vs. Buccaneers RT Jeremy Trueblood:
The Giants visited Cowboys Stadium with an offensive line that was banged up and struggling to protect
Eli Manning
but managed to keep him upright against a Cowboys front that did not do a good enough job of applying any type of pressure or getting off blocks in the running game.
The Cowboys will face a Buccaneers offensive line that is solid at left tackle and right guard but tends to have problems everywhere else. If the Cowboys are going to make any type of real playoff push, they are going to have to get players outside of
DeMarcus Ware
to step up and play at a higher level.
This week, the Cowboys have a winnable matchup on the outside with Spencer against Trueblood, who is a straight-legged player who struggles to move or adjust. Trueblood plays way too tall, and you see defenders drive him back off the ball in the passing game. You also see him playing with little or no power in the running game.
The one player that saves the Buccaneers on the right side is right guard
Davin Joseph
, who in my view is an outstanding player. If the Cowboys are able to attack the middle of the pocket and force Joseph to have to focus inside, it leaves Trueblood on an island with Spencer or whomever Ryan puts to that side. The Cowboys need to have someone step up and this is the side where some success could be had.