Dallas Cowboys:

Terrell Suggs
February, 17, 2014
Feb 17
11:15
AM ET
IRVING, Texas – The NFL offices are closed today for the holiday, but you can bet the
Dallas Cowboys
will have a keen eye on what is going on today with the
Baltimore Ravens
.
The Ravens and outside linebacker
Terrell Suggs
have agreed on a contract extension that will significantly lower the outside linebacker's $12.8 million salary-cap figure. He was set to make a $7.8 million base salary in the final year of his deal.
Why would the Cowboys care?
DeMarcus Ware
.
True, Suggs is an outside linebacker and Ware is a defensive end, but they by and large play the same position.
Ware is set to make a $12.25 million base salary and count $16.003 million against the cap. He is technically signed through 2017, but the final two years of the contract will void so he will be a free agent after the 2015 season.
Suggs turns 32 in October. He missed eight games in 2012 because of an Achilles injury. He had one sack in the last eight games of the 2013 season but still had 10 on the year.
Ware turns 32 in July. He has missed significant amounts of practice the last two seasons because of myriad injuries and missed the first three games of his career in 2013 with a quadriceps strain. He had a career-low six sacks last season after putting up four in the first three games.
The extension the Ravens give Suggs could serve as something of a blueprint for the Cowboys. Needing salary-cap space, the Cowboys cannot have Ware count $16 million against the cap. They can restructure his deal again, but all that does is push money into future caps. They can cut him, which leaves them without a pass rusher of note. They can offer him a cut in pay with the chance to earn money back in incentives.
NFL Nation Ravens reporter Jamison Hensley offered up his take on the Suggs' deal and what it meant for both sides.
"In the end, Suggs realized he wasn't going to make more money elsewhere and the Ravens understood they weren't going to get a pass-rusher like Suggs at a lower price. It was a smart move for the Ravens and Suggs. The Ravens know they're not getting the 2011 NFL Defensive Player of the Year, but Suggs is still a quality defender who can rush the passer and set the edge against the run (although he had lapses in this area last season). He made 80 tackles and 10 sacks in what was a below-average season for him.
"There is some risk involved in extending Suggs. His game has been in decline the past two seasons. He missed half of the 2012 season after tearing his Achilles tendon and he picked up weight in the second half of the 2013 season, which led to one sack in his final eight games and a reduced number of snaps. But, considering what the Ravens have to address in the draft and free agency, they didn't have the luxury to spend money in free agency or use a draft pick on a pass-rusher this offseason."
The decisions are the same for the Cowboys and Ware, although I would contend the Cowboys could still take a pass rusher in the draft even if Ware is back.
The Cowboys understand they cannot get into the top-end of the free agent market. The pass rushers in the draft do not look to be as bountiful or as talented as some other years. Ware has to figure out what he would get on the open market after a down season and see if it would be worth it to him to take a look.
That's why the Suggs' deal matters to the Cowboys.
March, 5, 2013
3/05/13
12:02
PM ET
The
Dallas Cowboys
are still hopeful of a long-term contract with
Anthony Spencer
, who was franchised for $10.5 million on Monday. It's the second consecutive year Spencer has been franchised.
PODCAST
Randy Galloway and Matt Mosley discuss the Cowboys putting the franchise tag on Anthony Spencer and releasing Gerald Sensabaugh.

Listen

There are mixed results from players who were franchised in consecutive years.
Baltimore franchised linebacker
Terrell Suggs
in 2008 and 2009. Before the 2009 season, Suggs signed a six-year $62.5 million deal with $38 million guaranteed. Suggs was 26 years old when he signed the highest contract for a linebacker in league history at the time. The Ravens were able to keep Suggs long term and he's proven to be one of the top players in the NFL.
In 2009,
Karlos Dansby
, then with Arizona, was also franchised for a second consecutive year. Arizona replaced Dansby in the draft and he signed a five-year $42.5 million deal with $22 million guaranteed with the
Miami Dolphins
. Dansby was 29 when he signed the deal with the Dolphins and it was one of the highest deals signed for a inside linebacker.
Spencer is a solid player. Maybe better than Dansby. But is Spencer elite? Should he be paid among the highest paid at his position?
Currently, Spencer is the second-highest paid linebacker in the NFL in terms of average salary for 2013 behind
DeMarcus Ware
($11.1 million). Both Spencer and Ware move to defensive end this season, putting them lower on a list of players that includes
Mario Williams
($16 million average),
Julius Peppers
($14 million average) and
Charles Johnson
($12.6 million).
When a player is franchised in consecutive years it gives the NFL team all the control, but at the same time it shows the worth that player has to the franchise, especially if a long-term deal is worked out.
If Spencer doesn't get a long-term deal with the Cowboys, he'll be 30 when he hits the free agent market and a big money contract might not be available to him if he has an average season.
The Cowboys have all the leverage here with Spencer, but should he perform at a high level again in 2013, he might be able to grab it.
February, 11, 2013
2/11/13
11:00
AM ET
Last week, there were reports regarding the cap space for the
Baltimore Ravens
and
New England Patriots
and how nearly 10 players take a good percentage of it.
PODCAST
ESPNDallas.com's Todd Archer joins Coop and Nate to discuss the Cowboys' salary cap situation and Tony Romo.

Listen

The 2013 salary cap for NFL teams will be nearly $121 million.
Tom Curran of CSNNE.com
reported the Patriots
will have $65.9 million of cap space assigned to nine players, including quarterback
Tom Brady
's team-high $21.8 million cap figure.
Albert Breer of NFL Network
discovered the Ravens
will hand out $69 million of cap space to 10 players.
Terrell Suggs
has the highest figure at $13.02 million.
So what about the Cowboys? After adding up the figures, the top 10 salary-cap hits total $89.6 million, with quarterback
Tony Romo
leading the way at $16.8 million.
When it comes time to get under the cap -- and the Cowboys are roughly $20 million over -- reducing cap figures for several players will be important. It makes sense for the Cowboys to reduce Romo's cap hit by giving him an extension because it'll give the team flexibility to sign free agents in 2013.
If the Cowboys don't want to reduce Romo's cap figure and let him play out the 2013 season, then it'd limit what the team could do in free agency.
Brandon Carr
has the second-highest cap hit at $16.3 million, and it's in his contract that his deal will be restructured.
DeMarcus Ware
($11.3 million) has the third-highest cap number, and his deal also could be reworked.
The Cowboys have two interesting decisions to make with RT
Doug Free
($10.02 million) and NT
Jay Ratliff
($7 million). Free and Ratliff could become cap casualties, but it will also be interesting if both players return at reduced salaries.
If the Cowboys release Free and or Ratliff, they better have a replacement ready.
If Free is cut, that'd leave
Jermey Parnell
as the starting right tackle. Ratliff's replacement might not be on the roster. You could move
Jason Hatcher
to defensive tackle in the new 4-3 scheme, and Jerry Jones talked about the possibility of
Tyrone Crawford
also moving inside from end.
Other possibilities:
Chris Canty
was released by the
New York Giants
last week, and free agent
Henry Melton
of the
Chicago Bears
could be an expensive option to replace Ratliff.
Any moves regarding the salary cap comes with a risk. When you're over the cap like the Cowboys are, there are hard decisions to make.
Here's the Top 10 Cowboys in terms of cap numbers, along with their base salaries for 2013.
1. Tony Romo (cap number $16.8 million, base salary $11.5 million)
2. Brandon Carr (cap number $16.3 million, base salary $14.3 million)
3. DeMarcus Ware (cap number $11.3 million, base salary $5.5 million)
4. Doug Free (cap number $10.2 million, base salary $7 million)
5.
Miles Austin
(cap number $8.3 million, base salary $6.7 million)
6.
Jason Witten
(cap number $8 million, base salary $5.5 million)
7. Jay Ratliff (cap number $7 million, base salary $5 million)
8.
Dan Connor
(cap number $4.3 million, base salary $3 million)
9.
Gerald Sensabaugh
(cap number $3.8 million, base salary $3 million)
10.
Orlando Scandrick
(cap nunmber $3.78 million, base salary $2 million)
October, 11, 2012
10/11/12
9:21
AM ET
IRVING, Texas – For this week's episode of The Other Side we check in with Aaron Wilson of the Baltimore Sun for his thoughts on the
Baltimore Ravens
as they prepare to get ready for Sunday's game against the
Dallas Cowboys
.
Archer:
Aside from last week's game at KC, it appears as if the Ravens have an offense that can take pressure off the defense. People always ask this nebulous question about the "next step," but has
Joe Flacco
taken the next step? If so, why? How?
Wilson:
What has changed about Joe Flacco is he's been granted greater command of the offense in terms of ability to audible and they implemented a no-huddle offense and have emphasized the shotgun formation, all things he did more of in college at Delaware. His deep-ball accuracy still isn't excellent, but it's much improved. He still has a tendency to stare down his primary read, which is what's happened on virtually all of his four interceptions. While Flacco has definitely improved overall, he still has a tendency to have inconsistency, on the road particularly, and will get into cold streaks where his fundamentals lapse. In Philadelphia, the pass rush of
Trent Cole
and
Jason Babin
affected him to the point where he was throwing off his back foot. Flacco seems to still be in the very good category with all the skills and capability to be great and is knocking on the door of getting to that point. He's just not totally there yet despite better personnel outside than he's had in the past. This isn't on Flacco, but his offensive tackle tandem of
Michael Oher
and
Kelechi Osemele
are holding back the offense a bit. They gave up a total of four sacks and eight quarterback pressures to
Kansas City Chiefs
edge rushers
Tamba Hali
and
Justin Houston
. That could be a problem obviously against
DeMarcus Ware
and
Anthony Spencer
.
TA:
Are we seeing a different Ravens defense? The Chiefs ran all over them. Is
Ray Lewis
slowing down finally? How much do they miss
Terrell Suggs
?
AW:
The defense is much different, and not in a good way. Traditionally stingy against the run, they were gashed by
Jamaal Charles
for 125 yards in the first half primarily through the use of the zone stretch play. Dean Pees' halftime adjustment of walking up the linebackers and shifting the defensive linemen wider was an effective strategy as Charles had only 15 yards on 10 carries after halftime. However, middle linebacker Ray Lewis looked slow in his reactions and got stuck to blocks. He had one hard hit, but that was in the fourth quarter on
Cyrus Gray
. Lewis has had some solid games this year, but he's also 37 years old. And it shows. Although he's lighter at 235 pounds, he's not as explosive as he used to be and doesn't get enough depth on his pass drops, which makes him vulnerable to tight ends' patterns. As tough and smart and great a tackler as Lewis is, he's been getting overpowered at times at the point of attack and beaten to the outside by faster runners like Charles and
Trent Richardson
. Terrell Suggs is definitely missed. The Ravens had no sacks against the Chiefs. Pees creates pressure by blitzing primarily. Other than Pro Bowl defensive tackle
Haloti Ngata
, one of the most disruptive interior forces in the game, hardly anyone is defeating blocks and getting to the quarterback. Ngata is commanding double-team attention regularly and still getting penetration. Without Suggs, this has become a bend-but-don't-break defense that still excels at getting turnovers and being stout in the red zone.
TA:
The Cowboys took
Felix Jones
in 2008. The Ravens took
Ray Rice
. Clearly the Ravens made out on that one, but just how vital is Rice to that offense?
AW:
Ray Rice is the centerpiece of the offense even though the Ravens are transitioning to a passing outfit. Rice is a dynamic open-field runner who plays bigger than 5-foot-8, 212 pounds. He's also a dangerous receiver out of the backfield and has good hands. This guy is tough, durable and fast. The Ravens are trying to preserve him as much as possible and not wear him out, but he rarely takes a hard hit because he's elusive.
TA:
Jason Garrett nearly got the Baltimore job a few years ago. Any idea how close he came to getting it over John Harbaugh?
AW:
The Ravens offered Garrett the job, showed his wife the local real estate listings and it was his for the taking with a fairly high salary offer. However, he declined the offer and it seemed like his tour of interviews was just him going through the motions and he had an arrangement or understanding all along with owner Jerry Jones to become the Cowboys' new head coach. The sense many got from Garrett during his visit is that he wasn't enthralled with the idea of coming to Baltimore. John Harbaugh wasn't the Ravens' first choice, but he impressed owner Steve Bisciotti and general manager Ozzie Newsome during the interview process and was vouched for by Andy Reid and Bill Belichick. They liked his personality and leadership qualities and unconventional special-teams background. He was unproven then and had never been a head coach before, but he has made the playoffs every year and won at least one playoff game and made two AFC championship game appearances. Harbaugh had to win over a tough locker room at first, too. The Ravens are happy with how things worked out, but they definitely respect Garrett and held a high opinion of him to give him that offer before later hiring Harbaugh.
TA:
The Ravens haven't lost at home in a long time. Is it the team? Is it the venue?
AW:
It's loud at M&T Bank Stadium, and the Ravens just seem to play with more confidence at home. On the road, they aren't the same team. They use the no-huddle less. The defense seems more vulnerable. At home, Joe Flacco has been markedly more accurate and efficient. Like most good NFL teams, they seem to thrive on a home-field advantage. It's a matter of intangibles, but the numbers don't lie since they've won 15 games in a row at home, including the postseason.
May, 14, 2012
5/14/12
12:19
PM ET
I've decided to compile a list of five players the Cowboys will face in 2012 who could give them fits. This doesn't include
Eli Manning
, the
New York Giants
receivers,
Ray Lewis
,
Michael Vick
,
DeSean Jackson
, Atlanta's receivers, New Orleans' offense or
Ben Roethlisberger
. It's just five additional guys I see as troublemakers.
Here goes:
PODCAST
Ben and Skin compare the 1992 Cowboys to the 2012 Cowboys. Position by position do the current Cowboys compare favorably to the team that was about to make the greatest run in franchise history?

Listen

Cam Newton.
You love the commercials. But you love his game more. He's got the size, speed and arm strength to test the Cowboys secondary. He won't be the Cowboys' biggest test in the 2012 season, but it will be interesting to see just where the secondary stands when facing Carolina on Oct. 21. The Cowboys might be coming into this game off of a loss because they take on Baltimore the previous week (more on that later), so a two-game losing streak is a strong possibility.
Andy Dalton.
The former TCU standout proved last year he can play in this league. When the Cowboys visit Cincinnati on Dec. 9, they will take on the second-year quarterback who compiled a 78.1 quarterback rating but threw eight touchdowns and six interceptions in home games in 2011. NFL teams aren't waiting on quarterbacks to develop, they're playing them now and getting results. Dalton is another example of this.
Fred Davis.
The Redskins tight end had seven catches in two games against the Cowboys last season. He's a threat to the linebackers and safeties who might cover him. Does
Brodney Pool
cover Davis?
Gerald Sensabaugh
?
Anthony Spencer
? Davis is athletic enough to provide matchup problems and with
Robert Griffin
III moving around the pocket, Davis becomes a target to find on the run.
Jason Pierre-Paul.
The New York Giants defensive end is the new Cowboys killer. In two games last year, Pierre-Paul had 13 tackles, three sacks and a blocked field goal. The Cowboys couldn't contain this man. Last year,
Doug Free
had trouble with Pierre-Paul. Now,
Tyron Smith
gets his turn at one of the better young defensive players in the game.
Courtney Upshaw.
Terrell Suggs
' injury might keep him out for the Oct. 14 matchup between Baltimore and Dallas. If he's not available -- and it appears he won't be -- the rookie from Alabama will show the Cowboys what he can do. Jason Garrett saw him at Alabama's Pro Day. There's a thought that Upshaw is no different than Anthony Spencer in terms of skill set from the outside linebacker position. Early in the draft process, the Cowboys were linked to Upshaw as a mid-first round pick. But Upshaw dropped to the second round. We'll see what he can do against Dallas.
May, 7, 2012
5/07/12
11:30
AM ET
IRVING, Texas – When news broke of Terrell Suggs' torn Achilles last week while playing basketball, many Cowboys fans wondered whether
Tony Romo
should stop hitting the court in the offseason, too.
Suggs later said the injury occurred during a conditioning test.
"It's always a concern," quarterbacks coach
Wade Wilson
said of a possible non-football injury, "but that can happen out here doing offseason conditioning. It's definitely a concern, but it's kind of a personal choice they make."
Romo turned 32 in April and began his workouts a month or so before the official offseason program began.
"Tony takes great care of himself with his conditioning and his off-football sports, soccer and basketball, I think help him on the football field," Wilson said.
Wilson said Romo has thrown the ball "great" early in the offseason program.
"He's really locked in and taken even another step in the leadership role in the weight room and with the guys and getting out there and working with the receivers throwing," Wilson said. "I think he looks great ."
Romo is signed through next season. He is coming off what the coaches called his best season with 31 touchdowns and 10 interceptions. Across the league quarterbacks have been playing better as they get older, like New England's
Tom Brady
and even
Brett Favre
before he finally decided to retire.
"I've seen some 32-year-olds look 25 and vice versa, some 25-year-olds look 32," Wilson said. "If you take care of yourself there's no reason he shouldn't be productive for a lot more years."
January, 19, 2012
1/19/12
12:45
AM ET

IRVING, Texas -- I would like to thank my warmup acts -- Tim MacMahon, Calvin Watkins and Bryan Broaddus -- for their solutions on how to fix the Cowboys.
The salary cap will not be an issue. The Cowboys have said they will be able to do whatever they want in free agency, despite the dead money that lingers. By the time free agency begins, they could have around $20 million in room.
That's plenty.
I'm looking at the four teams that are playing this weekend in the conference championship games as prime examples of how to structure your team.
Baltimore, New England, San Francisco and the
New York Giants
offer the Cowboys a blueprint of what works.
[+] Enlarge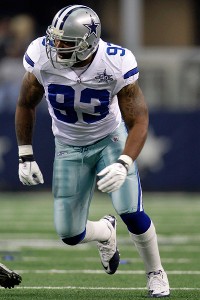 AP Photo/Tony GutierrezAnthony Spencer has been solid against the run but does not get to the quarterback enough.
The NFL is not about running the ball and stopping the run anymore. Those are tired clichés. It's protecting the passer, especially up the middle, and rushing the passer.
So while we can all say the Cowboys need to get better in the secondary, I'll go with improving the pass rush first.
DeMarcus Ware
needs some help.
Jay Ratliff
needs some help.
The Giants have pass rushers all along their defensive front, from
Jason Pierre-Paul
to
Justin Tuck
to
Osi Umenyiora
. San Francisco has pass rushers in
Justin Smith
and
Aldon Smith
. Baltimore gets pressure from more than
Terrell Suggs
.
Go get a pass rusher -- make that two.
Let's look at a team that lost last week: Houston. The Texans drafted
J.J. Watt
and Brooks Read, and Wade Phillips' defense attacked the passer. Too often we have used the excuse that defensive ends in a 3-4 are just space eaters. Smith proves that wrong. So does Watt. They can be disruptive.
To come up with draft names at this point is somewhat silly, but at No. 14 the Cowboys need to get that 3-4 defensive end or outside linebacker, especially if they deem the
Anthony Spencer
experiment over. Spencer will be a free agent, and while he is solid against the run, he does not get to the quarterback enough.
My first two picks go to defensive end and outside linebacker.
What about cornerback? I'll use San Francisco as an example again.
Carlos Rogers
was the epitome of "just a guy" when he played for Washington. He goes to the 49ers with that great front seven and makes the Pro Bowl. The Giants' secondary is playing a lot better now that the pass rush has improved.
A terrific pass rush can offset some deficiencies in the secondary. We saw that in 2009 with the Cowboys.
If you want a cornerback, be wise. There is not a Jonathan Joseph or
Nnamdi Asomugha
available this year. Kansas City's
Brandon Carr
offers some intrigue but he might get overpaid this year.
Next up is the offensive line.
[+] Enlarge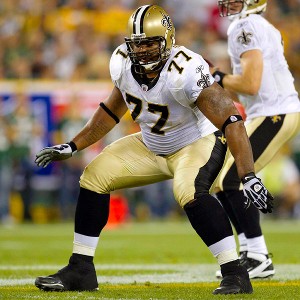 Jeff Hanisch/US PresswireThe Saints' Carl Nicks, a veteran who has multiple Pro Bowls to his credit, could be an attractive option for the Cowboys if he is available in free agency.
This is where MacMahon got something right in targeting New Orleans guard
Carl Nicks
in free agency. He must've been reading the blog last week when I made the suggestion. We have to suppose Nicks will be available and doesn't re-sign with the Saints before the market opens in March. I'll take my chances on a 26-year-old free agent with multiple Pro Bowls to his credit.
Interior offensive line play is huge. New England protects
Tom Brady
with
Logan Mankins
and
Brian Waters
. Baltimore does it with
Ben Grubbs
, who is also set to be a free agent, and
Marshal Yanda
. San Francisco has a first-rounder in
Mike Iupati
inside. The Giants have
Chris Snee
.
Too often last season
Tony Romo
was left dodging traffic up the middle, and quarterbacks just can't survive there. So why not take a guard with the first-rounder? I'm not sure Stanford's David DeCastro can come in and duplicate what
Tyron Smith
did at right tackle as a rookie. Unless they are special, most rookie linemen need time to adapt to the speed and power of the NFL.
Give me Nicks, a stronger, more veteran center, and new coach Bill Callahan, and the line will be better in 2012.
Plus, to me, the defense needs more work. They have to come away with at least three impact players in the draft and/or free agency.
If they can do that, they can jump into the NFC mix next season.
April, 12, 2011
4/12/11
12:20
PM ET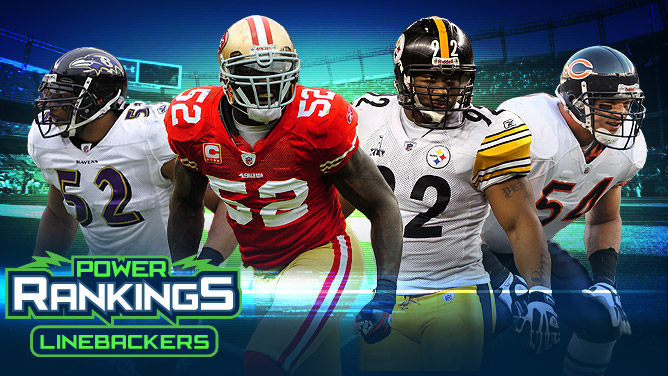 ESPN.com IllustrationSan Francisco's Patrick Willis ran away from the field in our voting for the NFL's best linebacker.
ESPN.com's NFL writers rank the top 10 linebackers in the league today. Next week: Top 10 cornerbacks.
San Francisco 49ers
linebacker
Patrick Willis
beat out a strong and diverse field for top billing in ESPN.com's latest positional power rankings.
All eight panelists ranked Willis among their top three, elevating the 26-year-old perennial Pro Bowler above
James Harrison
and
DeMarcus Ware
as our No. 1 linebacker in the NFL.
Even 12-time Pro Bowler
Ray Lewis
, the dominant linebacker of his era, pointed to Willis as
a worthy successor
to his undisputed reign. Not that Lewis is finished just yet. He placed fifth in the rankings behind Willis, Harrison, Ware and the
Green Bay Packers
'
Clay Matthews
. But there was no more complete linebacker than Willis.
"Nobody in the NFL plays their position better than Patrick Willis, and that is saying a lot," said Matt Williamson of Scouts Inc., whose insights helped shape my ballot. "He is as good a linebacker as
Peyton Manning
is a quarterback, as
Andre Johnson
is a receiver, as
Adrian Peterson
is a running back. He has no weaknesses."
Willis, a three-time Associated Press All-Pro first-team selection, is the first 49ers player since
Ronnie Lott
to earn Pro Bowl honors in each of his first four seasons.
Joe Thomas
and Peterson are the only other 2007 draft choices with four Pro Bowls.
Apples and oranges:
Comparing linebackers from 3-4 schemes to their 4-3 counterparts proved problematic for some panelists. AFC East blogger Tim Graham ranked Ware
first among pass-rushers
three weeks ago, but only ninth among linebackers.
"Patrick Willis,
Brian Urlacher
and Ray Lewis would be great linebackers in a 3-4 or a 4-3," Graham explained. "DeMarcus Ware and
Cameron Wake
might not even be linebackers if they played in Indianapolis, Tennessee or Minnesota. At some point, I had to value elite pass-rushing abilities on my list even though those players aren't universal-type linebackers."
There was room for differing views. ESPN.com's John Clayton and AFC North blogger James Walker ranked Ware first among linebackers and first among pass-rushers. AFC South blogger Paul Kuharsky ranked Ware first among linebackers and second among pass-rushers.
"Separating Ware, Willis and Harrison is like splitting hairs, because it really depends on what you want in a linebacker," said Walker, who went with Ware, Willis and Harrison atop his ballot. "Ware is a slightly better pass-rusher than Harrison, and Willis is a future Hall of Famer in his prime. Age also has to be a consideration if you're building a defense, and Harrison will be 33 in May. But they're all great."
First things first:
Graham and NFC North blogger Kevin Seifert joined me in ranking Willis first. AFC West blogger Bill Williamson had Willis second only to Harrison.
"When I think of linebacker play in the current day, James Harrison pops out," Bill Williamson said. "I think he's the gold standard of complete linebacker play. Look at
his signature play
in the Super Bowl against Arizona. That play will forever be part of NFL lore. Patrick Willis, who is also a great player, doesn't have that play on his résumé. Plus, Harrison is an ornery cuss on the field. The man was born to be a 'backer."
Willis can't match Harrison in Super Bowl memories -- he could use a quarterback, for starters -- but he's not hurting for signature plays:
Lewis pointed to Willis when ESPN's Dana Jacobson recently asked him which young linebacker reminded Lewis of himself.
"I just love the way he plays the game," Lewis said. "He plays the game with a fire. He reminds me of myself -- a lot, a lot, a lot."
Unanimous decisions:
The top five finishers received votes from all eight panelists. The gaps between highest and lowest votes fell between four and seven places for all but Willis, who ranked no lower than third.
Seifert ranked Lewis third. I had Lewis 10th and feared I might be measuring him against himself. No list of top linebackers would be complete without him, I thought, but a younger generation is taking over.
Hugs for Suggs:
Lewis' teammate,
Terrell Suggs
, finished just out of our top 10 despite getting a No. 5 ranking from Kuharsky.
[+] Enlarge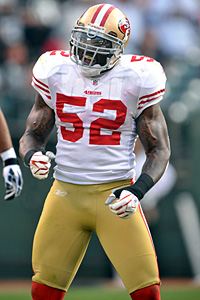 Kirby Lee/Image of Sport/US PresswirePatrick Willis has averaged nearly 149 tackles per season since joining the league in 2007.
"I unabashedly love Suggs, and frankly would have placed him higher if I thought there was any way he needed help to crack the top 10," Kuharsky said. "To me, there is a great deal of subjectivity in ranking this position when mixing guys from 4-3s and 3-4s, so I did a lot of know-them-when-I-see-them ranking. Suggs is absolutely a top-10 guy to me."
Clayton, Seifert, Graham and I did not list Suggs on our ballots while searching for the right mix of 3-4 and 4-3 talent.
Fit to be tied:
The players tied for ninth on our list illustrate the varied criteria for the position. Kansas City's
Tamba Hali
is a pure pass-rusher in the Chiefs' 3-4 defense. Carolina's
Jon Beason
is a traditional 4-3 linebacker with the versatility to play multiple spots. He changed positions twice in 2010.
Beason peaked at No. 5 on my ballot. NFC South blogger Pat Yasinskas had Beason sixth and considered ranking him higher.
"There was a time when I would have ranked Beason in the same echelon as Willis," Yasinskas said. "I think he has a chance to re-emerge if Carolina can put a better team on the field, particularly by getting better at defensive tackle and keeping blockers off Beason. If that happens, I think Beason can be as good as any linebacker in the league."
Youth on his side:
New England's
Jerod Mayo
appeared on six of eight ballots, ranking sixth overall between Lewis and Urlacher. At 25, Mayo was one of two linebackers younger than Willis to earn a spot among the top 10. Matthews, 24, was the other. Graham ranked Mayo third.
"Nose tackle
Vince Wilfork
might be the anchor of the Patriots' defense, but Mayo is the one who ties their defense together," Graham said. "Mayo is a tackling machine who compensates for shortcomings at outside linebacker and injuries along the defensive line. He would be a star in any system."
On an island:
Four linebackers received a single vote. That list featured
Brian Orakpo
(Clayton),
Lance Briggs
(Seifert),
London Fletcher
(Walker) and Wake (Graham).
Best doesn't mean most valuable:
Matt Williamson called linebacker the toughest position to evaluate. I'll close by passing along a few of his thoughts:
"Willis is so exceptional it would be a coin flip with Ware. Willis has no weaknesses, but if I were a general manager, I would take Ware because pass-rushers are so hard to find. You can get away with a C-level middle linebacker and still have a good defense. You can have a two-down run-stopper and pull him out in nickel."

"Ray Lewis would not be in my top five at this point. For his age, he is still exceptional and a borderline Pro Bowler, but he doesn't run like he did. I remember when I was with the Browns, I looked at every report the team had written since 1999 and Lewis had the highest grade ever given out. He was nearly perfect."

"Hali is a one-trick pony, a pass-rusher, but he is great at it -- as good as any pass-rusher in the league."

"Beason is like Patrick Willis, but he is 95 percent of him. He can play outside, inside, he's smart -- but there is so little around him that people don't realize how good he is."

"Pass rushing is Clay Matthews' greatest gift, but he is the prototypical outside linebacker. He's a great technician and way more explosive and athletic than people realize. He's good in coverage, not great, but they line him up all over."

"London Fletcher is underrated, but not in this conversation. How Beason is to Willis, Fletcher is to Lewis. He is smaller and slower than Lewis, good among older guys."

"Brian Urlacher is still a really good player, but the top 10 might be a stretch. I would take him ahead of Lewis, behind Beason and Willis among 'Mike' 'backers. He is good in coverage. People forget that he was a safety at New Mexico. He doesn't run like he used to and is just not as dynamic as he was in the day."

"The Steelers have the best linebackers in the league. LaMarr Woodley is very strong and in that conversation too. Definitely top 15. Harrison is great against the run, extremely strong and one of the few linebackers in the league that is a difference-maker from an attitude standpoint. He brings attitude to the table like a Jack Lambert or a Dick Butkus or a Ray Lewis type. He is feared. He is one of the best leverage players in the league, great in pursuit, tenacious as hell. The other guy to know about is Lawrence Timmons. He will be spectacular."
September, 9, 2010
9/09/10
11:45
PM ET
By
Bryan Broaddus
| ESPNDallas.com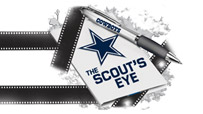 Sunday's has the makings of a difficult game for the Cowboys on several levels. It's a division opponent, it's on the road, and the Redskins have a new coach, which means new systems on offense and defense.
Coach Mike Shanahan has had a great deal of success in his NFL coaching career running a zone-blocking scheme with a mobile quarterback. Wade Phillips and the Cowboys staff have had to resort to other means to try and figure out what Shanahan might use in his game plan.
Dallas worked against Shanahan and the Broncos two seasons ago in practice and played a preseason game as well. The Cowboys can draw from that experience but also from the four games the Redskins played this preseason against the Bills, Ravens, Jets and Cardinals.
In studying those games, Shanahan has the offense working in that zone-blocking scheme. Rookie left tackle
Trent Williams
is a nice fit in this offense. He is mobile, plus he is able to play with a form of power. He shows the ability to play on his feet. You rarely see him on the ground.
A nice matchup to watch was when Williams went against
Terrell Suggs
of the Ravens. Suggs is a pass rusher similar to what he will face with
DeMarcus Ware
and
Anthony Spencer
. Suggs is an explosive player off the edge. Where he was able to take advantage of Williams was down inside on the rush.
The Redskins will put tight ends in the backfield to help with protection. Cooley and Davis did help in the preseason, but it wasn't always to Williams' side. Look for Ware to throw a wide variety of moves at Williams early in the game to gauge where he is.
Donovan McNabb
told the media Wednesday that his ankle was fine and he was ready for the start against the Cowboys. McNabb hurt the ankle in the preseason, and there was talk that he might miss the game, which you knew wasn't going to happen. Where McNabb is good in this offense is his ability to be a deceptive ballhandler, use his feet and deliver the ball on the move.
A large part of this offense is the use of the quarterback on boots and waggles. The Redskins want to pound the ball on the stretch play, then spin the quarterback away from the flow to work the ball to Cooley or Davis on the delay or Santana Moss down the field.
What the Redskins showed in their preseason games were routes down the field. Galloway and Moss both have speed and will stretch the field on vertical routes. Moss is dangerous is when he lines up in the slot and has the opportunity to run deep or crossing routes. He puts a great deal of pressure on the defense when he is allowed to do this because he is not afraid to take his route anywhere, plus he has the speed to create separation.
Cooley causes problems because of his ability to line up anywhere in the formation and complete routes. He has consistent hands and is a dependable player on third downs, much like a
Jason Witten
is for the Cowboys.
If the Cowboys are going to have success on defense Sunday night, it will have to be controlling the Redskins running game and not allowing McNabb to be effective in the play-action game.
*Throughout his NFL career as a head coach, Shanahan's teams have been of the 4-3 defensive type of scheme. In Shanahan's return to football -- after sitting out the 2009 season -- he is now working with a 3-4 look.
When asked about the switch, Shanahan said that in the 3-4, you can cause the offense more problems.
The scheme change presents challenges for the personnel staff. Do you have enough linebackers? Who is your nose man? The Redskins had a solid 4-3 group last season but now must move players around to handle the change.
Throughout his career,
Andre Carter
played as a wide 9 technique, with his hand on the ground rushing the passer. Now he is moved to outside linebacker, playing over the tight end and dropping in coverage.
Linebacker
London Fletcher
played with two big inside players at tackle to protect him. He now only has a nose man to do that.
Where this game can be won or lost is if the Cowboys do a poor job of handling the linebackers for the Redskins.
Brian Orakpo
, Carter and Fletcher can all make plays.
Across the defensive front,
Adam Carriker
, Ma'ake Kemoeatu,
Kedric Golston
are not dynamic players.
Albert Haynesworth
is the best player in this group but has struggled with his conditioning this preseason and at this time is not a starter. Haynesworth has played both nose and end in the preseason and did a much better job in the Jets game then he did in the others.
Where the Cowboys need to worry is if Haynesworth becomes motivated and decides he wants to be a dominant player.
The Redskins like to move Orakpo around in passing situations. There were times this preseason where he and Carter were rushing from the same side or Orakpo was coming from the inside linebacker spot.
In the preseason, I thought that cornerback
Carlos Rogers
has played better than
DeAngelo Hall
. Hall is a veteran player that understands how to play routes, but the physical side of the game will be a struggle.
Look for the Cowboys to try and find a way to attack safeties
LaRon Landry
and
Kareem Moore
. Landry has been a liability in coverage because of his aggressive play. Landry is a hitter but will struggle in space.
September, 9, 2010
9/09/10
1:15
PM ET
IRVING, Texas – Redskins rookie tackle
Trent Williams
has yet to play an NFL down that matters, but he has earned DeMarcus Ware's respect.
"I've been watching him ever since the preseason," Ware said of the fourth overall pick in the draft. "He's a really good tackle. He's really quick. He's really good recovery. He can handle the speed really well too. I'm going to have my hands full.
"I'll find a way to get there."
Ravens outside linebacker
Terrell Suggs
found a way to get there in a preseason game against the Redskins, dominating his matchup with Williams. Suggs recorded a sack and several pressures. Williams also had a false start.
That game might have been foreshadowing of what's to come when Williams faces another Pro Bowl pass-rusher Sunday night.
That game could also affect the outcome of the Sunday night game. McNabb suffered his sprained ankle that night. He'll play against the Cowboys, but he isn't expected to have his normal mobility, which is an issue when getting chased by Ware.