Dallas Cowboys:

Texas Longhorns
March, 26, 2013
3/26/13
10:20
AM ET
AUSTIN, Texas -- Texas has its pro day today and, yeah,
Vince Young
will be there. But the
Dallas Cowboys
-- and reps from many other NFL teams -- will be in attendance to watch someone much more important. Seriously.
PODCAST
Calvin Watkins joins Fitzsimmons & Durrett from the Texas Longhorns' pro day to discuss potential Cowboys draft pick Kenny Vaccaro, Vince Young and if any other pro prospects stood out.

Listen

In fact, make that much more important. It's
Kenny Vaccaro
.
The former Texas safety represents a chance for Texas to put a player into the first round of the draft for the first time since following the 2009 season. His selection -- which should be right around the middle of the first round -- will signal an end to a two-year draft slide in which Texas produced one second-round player, a third-round player and five others selected in the fourth round or higher. Before that slide, Mack Brown had not gone two consecutive years without producing a first-round pick. (Defensive end
Alex Okafor
is currently not in either of the first-round mock drafts done by ESPN's Todd McShay or Mel Kiper.)
So let's see here: Brown had two of the worst years of his tenure at Texas in 2010 and 2011. And then neither of those drafts produced a first-round pick. Anyone else see the correlation?
OK, just in case the point slipped by. Texas, with one first-round draft pick, had nine wins last year. The program, as Brown has said repeatedly, is on the right track to getting back to 10-win seasons. So it takes talent to win and sometimes to overcome decisions made on the sideline. The reason Vaccaro is so important is he represents what should be a new wave of talent going from Texas into the NFL and therefore maybe a new streak of 10-win seasons.
While projections can be shaky, a shake of the crystal ball does appear to show Texas with increasing top NFL talent in the near future.
Take the 2014 NFL draft. Quandre Diggs will likely be a very hot commodity. The defensive back is versatile and has proven to be the most talented player on the field in several games in his career. Yeah, he might not come out after his junior year. But given that he has a brother,
Quentin Jammer
, in the NFL and knows the economics of the NFL vs. college, him staying beyond his junior year is not likely. Diggs, if he plays the way he has in his first two years, could very well be a first-round pick. And Texas doesn't stop there.
Jackson Jeffcoat
and Carrington Byndom both have potential to reach up into the first round.
Jeffcoat has the skill set but injuries have plagued him. A solid season without injuries could make him a sought-after prospect. Byndom was a dominant corner as a sophomore, so much so that there was talk he might leave after his junior season. He stumbled in 2012 but still does have the size and potential to be a high value draft pick.
So Texas has a chance to get two players selected in the first round of 2014. That's important because, with the exception of 2001, the years Texas had multiple first-round picks (2001, 2002, 2004, 2005, 2006, 2007) it produced a 10-win season on the field. Texas has never had three first-round picks under Brown. There is an outside possibility that could happen in 2014. The aforementioned three players all have a shot at being taken in the first round. And added to that is wide receiver
Mike Davis
.
In the offseason, Davis did step out of college and into the draft. His toe-dipping lasted about three hours before he decided to come back to Texas. Had he stayed eligible for the draft, Davis might have been a mid-round pick.
Now he comes back as a top-10 player at his position with the potential to move up. Wide receiver is somewhat of a murky position in the draft because in exceptional years (2007, 2009), up to six wide receivers have been taken among the first 32 players. But then there are years like 2008, when no wide receivers were taken in the first round. So Davis has to battle his position perception as well as produce.
Additionally to produce, Davis, unlike the defensive players, has to relay on another person. Actually, a lot of other people. He needs quarterback David Ash to be sound, co-offensive coordinator Major Applewhite to call his number and the offensive line to block long enough for him to get open.
Add all that up and it is much tougher to project what type of senior season, and therefore draft projection, Davis might have.
The addition is not all that hard to figure out when it comes to the talent-wins equation. If one player, Vaccaro, equals nine wins, then two or more possible NFL first-rounders should add up to even more for Texas in 2013.
April, 21, 2010
4/21/10
10:47
AM ET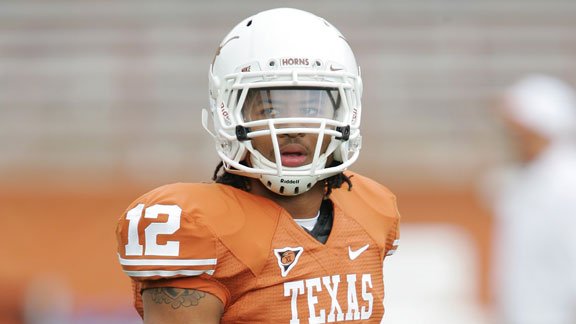 This wraps up a 10-part series by ESPNDallas.com looking at a potential Cowboys pick leading up to the draft. Too see the entire series, go here.
EARL THOMAS
School:
Texas
Size
: 5-10 1/4, 208
Position:
Free safety
Scouts Inc. rank:
No. 2 at safety, No. 8 overall
(scouting report)
POSITIVES
[+] Enlarge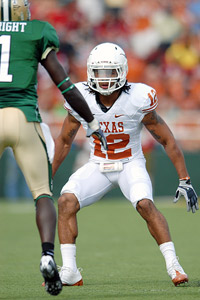 John Rivera/Icon SMIEarl Thomas intercepted 10 passes and recovered five fumbles during his 27-game college career at Texas.
Thomas' coverage skills are so impressive that some teams project him as a cornerback. He has excellent speed and agility, comes out of breaks smoothly and quickly and possesses exceptional closing speed. He's a natural playmaker, intercepting 10 passes and recovering five fumbles during his 27-game college career. He has outstanding ball skills. Despite his height, he's very good at fighting for balls in the air, timing his jumps well. He's a heady player who spends a lot of free time in the film room.
NEGATIVES
The biggest knock on Thomas is that he's not that big, although he added 10 pounds from the end of the season to the scouting combine. There are questions about whether he can be a good run-support safety in the NFL. He's a willing tackler who doesn't shy away from contact, but he has difficulty getting off of blocks and bringing down big running backs.
COWBOY FIT
Thomas is exactly what the Cowboys want in a free safety. They'd love to have a playmaker back there who is comfortable in man coverage against slot receivers. Of course, so would a lot of other teams, which is why the odds are slim to none that Thomas slides to No. 27. If the Cowboys really want Thomas, they'll have to trade up to get him. If Thomas is still on the board in the late teens, don't be surprised to see Jerry Jones start wheeling and dealing.
TEXAS SECONDARY COACH DUANE AKINA
"The common thread with all the great ones that I've coached is that they're so passionate about the game and work so hard. Here's a kid who has tremendous talent and works so hard. He loves the game and prepares for the game, not only during the season but all year long. …
"He's got a natural gift for [making plays]. And what he's done is gotten in the film room and studied releases, so he understands how a pattern will develop. He started getting into all the little things at the position. … Earl could be a great corner, too. He can play the nickel. He's a DB who can line up on that slot receiver who runs a 4.3 and cover him. I would put his cover skills and his playmaking ability up against anybody else in the draft. He's got tremendous position flexibility. …
"He had one punt return for 73 yards. Don't tell anybody, but the punter tackled him. We're trying to keep that a secret. …
"We really ask our safeties to do quite a bit. We ask them to make a lot of calls out there, depending on formations. He loves that. He loves to be a student of the game. … He'll be fine [in run support]. The intent is there. He's a tough kid by nature and he'll continue to get bigger. He will hold up. He's a very tough and prideful kid. I don't think that'll be a problem for him, but he'll continue to grow in that area. … He's just a real unique talent. Whoever gets him is going to be really lucky."
October, 16, 2009
10/16/09
9:47
AM ET
Some Texas-OU game predictions from Cowboys players:
Martellus Bennett, Texas A&M: "Oklahoma over Texas. I've beaten Texas, so they can go ahead and win a game."
Stephen Hodge, TCU: "OU, should be a close game."
Patrick Crayton, Northwestern Oklahoma State: "Texas by 10."
Leonard Davis, Texas: "In big games, show up. Texas."

Roy Williams, Texas: "Texas."
Stephen McGee, Texas A&M: "Texas 38, Oklahoma 21. By the way Texas A&M should win this weekend, 56-7."

Manuel Johnson, Oklahoma: "OU 28-21.
Bobby Carpenter, Ohio State: "UT is gonna win 35-24. I don't think they can stop their offense."