Dallas Cowboys:

Todd Bowles
January, 9, 2014
Jan 9
8:00
AM ET
IRVING, Texas -- The
Dallas Cowboys
are not in a search for a head coach. Jason Garrett will be back for his fourth full season in 2014.
The
Tampa Bay Buccaneers
(Lovie Smith) and
Houston Texans
(Bill O'Brien) have landed their guys. The
Washington Redskins
,
Tennessee Titans
,
Cleveland Browns
,
Detroit Lions
and
Minnesota Vikings
are still in the search process.
And they have been elaborate.
The Redskins' list has 11 names, including Cowboys special teams coach Rich Bisaccia. Bisaccia's name has turned up in the Titans' chase too. A lot of the searches have the same names with guys like Jay Gruden, Mike Zimmer, Ken Whisenhunt, Todd Bowles, Jim Caldwell, Dan Quinn and James Franklin.
In 2007, Jerry Jones cast a wide net to find Bill Parcells' successor.
He interviewed 10 coaches, including three from Parcells' staff -- Tony Sparano, Todd Haley and Todd Bowles -- and a former assistant in Gary Gibbs. Unlike the Redskins, he did not interview any assistant from NFC East teams.
Including Wade Phillips, who was Jones' pick, and Garrett, who took over for Phillips in the middle of the 2010 season, eight of the 10 interviewees became head coaches: Sparano with the
Miami Dolphins
, Haley with the
Kansas City Chiefs
, Norv Turner with the
San Diego Chargers
, Ron Rivera with the
Carolina Panthers
, Jim Caldwell with the
Indianapolis Colts
and Mike Singletary with the
San Francisco 49ers
.
Only Bowles and Gibbs have not been named head coaches, although Bowles has a chance in Cleveland or Minnesota.
Of the eight the only two not to take their team to the playoffs are Garrett and Singletary.
In 2010, Jones' search was not as prolific. He liked what Garrett did in taking over for Phillips in finishing 5-3 without
Tony Romo
, who was out with a broken collarbone. Jones interviewed wide receivers coach Ray Sherman and also brought Bowles back for another look.
The job was always going to be Garrett's so Jones did not need to put out a lot of feelers.
Jones could be in the head -oach business in 2015 if things do not go well for the Cowboys. The feeling is that the next search will look more like the one in 2007 than 2010.
November, 28, 2012
11/28/12
1:08
PM ET
In spite of throwing four touchdown passes in his nationally televised victory over the
Dallas Cowboys
on Thanksgiving,
Washington Redskins
quarterback
Robert Griffin III
did not win the NFC Offensive Player of the Week award for the second week in a row. That honor went instead to Carolina quarterback
Cam Newton
, who threw two touchdown passes and ran for two more touchdowns against the
Philadelphia Eagles
on Monday night.
PODCAST
Ben and Skin talk about the five guys you can trust the most and the least in Dallas-Fort Worth sports.

Listen

Redskins fans are annoyed and think their guy should have won, but the fact is it was close and both performances were award-worthy, and in the end it doesn't really matter all that much. But I wanted to address it because of the critical thing Newton's Week 12 performance had in common with Griffin's award-winning Week 11 performance -- namely, that each came in a game against the Eagles. I think this is a strong omen in favor of Dallas Cowboys quarterback
Tony Romo
, who gets to face the Eagles on Sunday night this week.
In "The Wedding Singer," Billy Idol tells an airplane full of people that, "We let our first-class passengers do pretty much anything they want." This is the policy the Eagles have been applying to opposing quarterbacks in recent weeks. In the five games since the Eagles fired defensive coordinator Juan Castillo and replaced him with secondary coach Todd Bowles, the Eagles' defense has been a candy store shopping spree for quarterbacks. Reuben Frank offers these frightening numbers in a column suggesting that the
entire Philadelphia secondary be benched
:
Five weeks in a row now, a quarterback has done this against the Eagles: Complete at least 64 percent of his passes, throw two or more touchdowns, throw zero interceptions and pass for 200 yards.

Five weeks in a row now, a quarterback has had a passer rating of 120 or higher against the Eagles.

Only one other NFL team in history – the 1984 Vikings – can claim those nightmarish accomplishments.
For context, the '84 Vikings were also 3-8 after 11 games. They lost their final five games to finish 3-13 in a season in which they allowed a staggering 484 points (the Eagles are on pace to give up "only" 410) and then selected defensive end
Chris Doleman
with the No. 4 pick in the 1985 draft. But again, I digress.
Point is, if you have Romo on your fantasy team and you're debating between him and some other quarterback this week, it might not be a bad idea to start him. At this point, the bar has been set. Anything less than an NFC Offensive Player of the Week-level performance against the Eagles almost has to qualify as a disappointment.
November, 19, 2012
11/19/12
2:09
PM ET
Washington Redskins
quarterback
Robert Griffin
III earned a perfect score of 158.3 in Sunday's victory on the traditional NFL passer rating scale. He's the fourth quarterback in the last five years to do that in a game. Yet his Total QBR -- the stat that measures a quarterback's contribution to his team's chances of winning on a scale from 0-100 -- was 93.7. Obviously an excellent score, but the lowest among the four perfect-passer-rating games of the last half-decade.
The reason, according to the folks at ESPN Stats & Information who administer the Total QBR stat, is Griffin's fumble late in the first half with the Redskins leading just 14-3. Washington recovered the fumble, so there was no harm done, but the fact of the fumble with the game still in doubt does damage to the player's QBR. That play dropped Griffin's from 99.7 to 93.5 at that moment. None of the other guys --
Tom Brady
in 2010,
Drew Brees
in 2009 or
Kurt Warner
in 2008 -- fumbled in their perfect-passer-rating games.
For the week, Griffin's Total QBR
ranks third so far in the NFL
behind those of only the Saints' Brees and the Patriots' Brady.
For the season to date
, Griffin's Total QBR of 70.7 ranks eighth in the league.
Some other NFC East-related Total QBR notes from Sunday:
The
Dallas Cowboys
'
Tony Romo
had a total QBR of 19.5 in the first half Sunday against the Browns, but he had a Total QBR of 78.0 in the second half and overtime as the Cowboys came back to win.
The
Philadelphia Eagles
'
Nick Foles
posted a Total QBR of 7.2 on Sunday in Washington in the first NFL start of his career. That's the fourth-lowest by a rookie in his starting debut over the last five years, trailing only the debuts of
Brandon Weeden
,
Ryan Tannehill
and
Jimmy Clausen
. It's also worse than any game
Michael Vick
played over that same time span.
If you want a high Total QBR these days, you want to be playing quarterback against the Eagles' defense. Through the first six games of the season, opposing quarterbacks had a Total QBR of 28.2 against Philadelphia. But in the four games since the Eagles fired defensive coordinator Juan Castillo and replaced him with Todd Bowles, opponents have a league-high Total QBR of 87.1 to go with a staggering 78.4 completion percentage, 9.4 yards per pass attempt, 11 touchdown passes and no interceptions.
November, 14, 2012
11/14/12
9:51
AM ET
IRVING, Texas – Sorry for the delay on this week's "A Look Back." Maybe we should call it "Better Late than Never" this week as we give a quick review of the Cowboys' win last week at Philadelphia.
Once again, Rob Ryan relied on a four-man rush most of the time, even as people want to view him as a blitz-happy defensive coordinator. The Cowboys used a four-man rush 29 times against the Eagles, three-man pressure five times and brought five or more eight times.
Did things change drastically after
Michael Vick
suffered a concussion and was replaced by rookie
Nick Foles
?
Vick was in on 18 snaps and 10 pass calls. The Cowboys rushed three guys four times against Vick. They brought four-man pressure three times and three times they brought five or more guys. When they brought at least five guys Vick was 0-for-3. His final snap came on a screen in which Dallas brought pressure with
Ernie Sims
up the middle.
The Cowboys brought five men against Foles five times.
DeMarcus Ware
hit him on the first blitz, but the second time the Cowboys brought heat it was blocked enough for Foles to slide to his right and find
Jeremy Maclin
for a 44-yard touchdown after a coverage bust by
Charlie Peprah
.
How did the offense hold up against Philadelphia's pressure?
Defensive coordinator
Todd Bowles
brought six-man pressure five times and twice the Eagles were able to sack
Tony Romo
. The Cowboys' only completion against six-man pressure came on a deep sideline throw to
Dez Bryant
.
In the second half Bowles used that six-man pressure just once, and it led to a Romo throwaway.
Romo's two touchdown passes came against four-man pressure. Overall, Romo completed 15-of-20 passes against four-man pressure, but the Cowboys were unable to get the ball down the field often. Romo's deepest throw against four-man pressure was the 25-yarder to
Miles Austin
where Austin eluded three defenders and made something out of nothing.
The last time the Cowboys returned a punt for a TD before Sunday was Nov. 21, 2010 against Detroit when
Bryan McCann
alertly picked up a loose ball and ran 97 yards for the score. Dwayne Harris' 78-yard return for a score was not a sign of great point-of-attack blocking but a sign of how the return is set up.
Vince Agnew
and
Orlando Scandrick
did a nice job on the gunners to free Harris, though Agnew's block was close to a penalty.
Lance Dunbar
and
Eric Frampton
double-teamed
Riley Cooper
out of the way as Harris reached the sideline, and
Danny McCray
took care of
Mat McBriar
.
That was really it as the other blockers did a nice job of setting up the return before Harris was able to get up to speed.
Can the Cowboys get another return for a touchdown? The last time they had multiple punt returns for a touchdown in a season also came in 2010.
November, 8, 2012
11/08/12
11:14
AM ET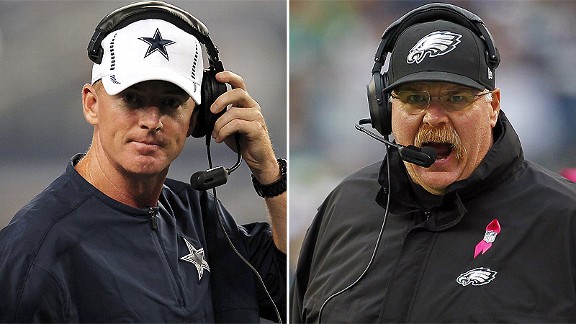 AP Photo/Getty ImagesJason Garrett and Andy Reid's teams are both 3-5, but it's Garrett who's in a stronger long-term position with his team.
Back in August, when they looked ahead to their Week 10 matchup against each other, the
Dallas Cowboys
and the
Philadelphia Eagles
probably envisioned two rivals in the thick of a race for the postseason, hooking up in a game packed with glorious import.
Sunday's game in Philadelphia is not that. It is a game between two 3-5 teams ranked near the bottom of the league in scoring offense that have combined to win exactly one game since September. Let's just say the first-place Giants aren't going to be glued to their televisions sweating this one out.
The winner of the Cowboys-Eagles game on Sunday may plausibly be able to convince itself its season is not over, although the road back to contention will remain difficult. The loser will have the same record as the Redskins and probably will be thinking about offseason plans. But just because both of these teams are in the same leaky Week 10 boat doesn't mean they share a long-range outlook. I don't think either will rebound and reach this year's playoffs, but in the short term and beyond, the Cowboys are the team in considerably better shape. Here's a look at the reasons why:
[+] Enlarge

Josh D. Weiss/US PresswireThe Cowboys are trying to sign Tony Romo to a contract extension, despite the quarterback's uneven play lately.

Quarterback: Tony Romo is not having his best season, this is true. He's thrown a league-leading 13 interceptions against just 10 touchdowns, and his passer rating is just 82.2. He's never finished lower than 90 in a season in that category. After he had his best statistical season in 2011, more was expected, and disappointment is understandable. But Romo still has more of a track record as a top NFL quarterback than the Eagles' Michael Vick does, and the Cowboys are trying to sign him to a long-term contract. Management and the players believe in Romo and are prepared to move into the future with him as their quarterback. The Eagles, assuming they don't make a miracle recovery, are likely to opt out of Vick's contract at the end of this season and rebuild with rookie Nick Foles or look for someone else. The Cowboys have far greater stability at the most important position.

Head coach job status: Obviously, the Eagles' Andy Reid is a better and more accomplished head coach than the Cowboys' Jason Garrett. But his situation is a far greater fiasco. Regardless of any outside perceptions or assumptions, Cowboys owner Jerry Jones has expressed nothing but strong support for Garrett as his head coach. So unless the players choose to read and get caught up in all the Sean Payton speculation, they don't have reason to wonder who's going to be coaching them next year. By contrast, Eagles owner Jeffrey Lurie gave Reid an apparent ultimatum before the season to finish over .500 or lose his job. The players know all about that, and Reid is obviously much more uncomfortable and (justifiably) worried about his job status than Garrett is about his. It's an inescapable issue that hovers over the Eagles right now, and it has to be affecting players. If you don't feel like your coach is going to be around next year, you necessarily have to wonder whether you will be, too.

The offensive line: The Cowboys' offensive line isn't about to win any awards, and it obviously will need upgrades in key places in the offseason. But within the context of 2012, it is showing improvement week over week. The Eagles' line keeps losing starters to injury and disintegrating. The Cowboys also have a franchise left tackle in Tyron Smith around whom they can build. The Eagles don't know whether or when they'll get franchise left tackle Jason Peters back from his Achilles injuries, or whehter he'll be the same player he was before he got hurt. The Eagles' offensive line schemes are specifically tied to the teachings of second-year line coach Howard Mudd, and (see last paragraph) there's no guarantee he's back next year, which means they might need to reconstruct the line in the mold of a new coach. There's more uncertainty in an area that is vital to any kind of success, as the Eagles have seen this season. The Cowboys' line is a mess, but with Smith at left tackle and Bill Callahan coaching it, it at least can see the path forward.

Defensive identity: The Cowboys' defense is one of the toughest in the NFL this year under second-year coordinator Rob Ryan. Led by DeMarcus Ware, Anthony Spencer and Jason Hatcher up front and with Brandon Carr and Morris Claiborne doing what they were brought in to do at cornerback most weeks, Dallas knows what it wants to do and is doing it consistently. The Eagles' defense is on its third coordinator in the past two years and seems unable to get everyone on the same page from quarter to quarter, let alone from game to game. The pass rush has vanished, the coverage schemes are unreliable and the firing of coordinator Juan Castillo for Todd Bowles preceded their worst two defensive games of the year. The Eagles are going to have major decisions to make about their defensive schemes and personnel once this season ends.

The schedule: After Sunday, five of the Cowboys' remaining seven games will be at home, and only one (Week 15 versus Pittsburgh) will be against a team that currently has a winning record. The Eagles also face only one winning team (Week 17 at the Giants), but four of their final seven games are road games and four are division games. If you believe either of these teams can make a run, or that the Giants may yet come back to the pack, the Cowboys' remaining schedule appears more favorable. So their short-term outlook is better, too, for all of those other reasons and this one.
Sunday's matchup may look like a game between two teams with nothing going on. But everything is relative, and in the big picture it's actually a game between two teams moving in somewhat opposite directions. And the Cowboys are the team that looks as though it's trending up.
November, 8, 2012
11/08/12
10:34
AM ET
IRVING, Texas -- For this week's version of The Other Side, we check in with Jeff McLane from the
Philadelphia Inquirer
.
Archer -
Some people here are saying Jason Garrett is in trouble especially with the Sean Payton news. How much trouble is Andy Reid in and could Payton be an option there?
McLane --
He's in a boatload of trouble. Owner Jeffrey Lurie said before the season that the Eagles needed to show "substantial improvement" from last season's 8-8 record for Reid to return for a 15th season. With the Eagles 3-5, Reid would have to finish at least 7-1, maybe 6-2, and make the playoffs to survive. That is a tall order considering how horrendous the team has looked during a four-game losing streak. As for Payton, I think there's a 1-2 percent chance he ends up in Philly should Reid get fired. Most likely, he's stays in New Orleans, and if he goes anywhere it's clear Dallas would be No. 1 on his list. Payton has ties to the Eagles and the area, and Lurie would be a fool not to consider the Saints coach, but it's probably a long shot.
TA --
Tony Romo
has not put up good numbers this year. Neither has Vick. The Cowboys offensive line isn't very good. Neither is Philly's. Is there a correlation?
JM --
You bet. The Eagles offensive line has been the Achilles heel of the offense all season long. There have been significant injuries --
Jason Peters
,
Jason Kelce
and
Todd Herremans
are all lost for the season -- but the Eagles failed to stock the line with competent reserves and have paid the price. Vick hasn't been sharp by any means. But he's been hit far too many times and has had little time to throw and it's affected his decision-making.
TA --
How much longer before
Nick Foles
gets on the field?
JM --
If the Eagles keep on losing Foles will have to get on the field at some point. If they lose the next two and fall to 3-7, it might be time to play the rookie. If they hang around and win a few more over the next month and are, say, 5-8, with three to go, you might see Foles at that point. Reid would have an obligation to show the organization what Foles could do as a starter and whether he was a legitimate option next season.
TA --
It's been a rough start for
Todd Bowles
, the former Dallas assistant. He's been a 3-4 guy in the past, now he's running this defense. Any long-term hopes for him?
JM --
Bowles was thrown into a difficult situation replacing Juan Castillo two weeks ago. He has never been a coordinator in the NFL before, was taking over a defense in disarray and had to face
Matt Ryan
and
Drew Brees
in his first two games. Andy Reid has touted Bowles as a head coaching candidate, but it's hard to see him being a candidate for the Eagles' job -- or any job for that matter -- if the defense continues to look this sloppy.
TA --
We'll keep it light on the last one.
Mat McBriar
is the Cowboys' best punter, great guy. How's he doing up there?
JM --
He's been OK as a punter. He's still got enough leg, but he's booted a few too many into the end zone and a few too many line drives. As for McBriar the person, we've already found out he's a fine bloke. He's living downtown, so I've tried to give him some dining -- and drinking -- options when he's hungry or looking to have a Foster's.
November, 7, 2012
11/07/12
12:30
PM ET
IRVING, Texas -- Former Cowboys secondary coach
Todd Bowles
is entering his third week as the defensive coordinator of the
Philadelphia Eagles
.
Head coach Andy Reid fired Juan Castillo and asked Bowles to take over an Eagles defense that ranks in the middle of the pack in overall defense (15th), against the run (16th) and vs. the pass (15th).
In Bowles first week on the job, the Eagles allowed 392 yards of total offense in a 30-17 loss to the
Atlanta Falcons
. Bowles' defense gave up 371 yards Monday night in a 28-17 loss to New Orleans.
"He's been doing good, he's doing good," Reid said Wednesday morning in a conference call with reporters. "He understands the system. He's been in a 4-3 before and he understands it, and I know there was a lot said about him being a 3-4 guy and that. He understands the 4-3, he's doing good with it."
But could Bowles change how the Eagles do things on defense?
It's possible, but it's hard at this stage of the season to make wholesale changes. Now, Bowles could ask his cornerbacks to play more man-to-man or switch to more zone coverages. Bowles could ask his defensive linemen to do other things, like twists and the such to confuse the Cowboys offensive linemen.
"We have to see, that's one of the things we've been trying to look at the last couple of weeks," coach Jason Garrett said. "Have they changed their scheme? What's different about what they're doing? I know in midstream it's hard to just say, 'Ok, we're just going to do something completely different.' I think they believe in the defensive philosophy, and so what we try to do is over the last couple of weeks (find) out how are they different than what they've been the rest of the year or in previous years."
November, 6, 2012
11/06/12
5:00
PM ET
Amid all of the perfectly justified rip jobs and sky-is-falling coverage of the
Philadelphia Eagles
' latest loss,
this short item by Jeff McLane
caught my eye. He's got someone with the Eagles telling him Andy Reid's bye-week firing of defensive coordinator Juan Castillo was a "miscalculation." This comes as neither news nor a surprise to anyone who's been tracking the Eagles over the past two seasons, during which it appears "miscalculation" has been the hallmark of the front office's game plan.
Yeah, when you watch the Eagles play, it's easy to get caught up in the on-field, in-game issues. Why don't they run the ball more? Why can't
Michael Vick
make pre-snap reads? Have they quit on Andy Reid? Stuff like that. But I think if you look back over the past two years, it's easy to see that the flaws with this team are flaws of construction, and that the miscalculations are myriad and extensive. A partial list, in no particular order:
[+] Enlarge

AP Photo/Brian GarfinkelSigning QB Michael Vick to a $100 million contract appears to be a costly move for the Eagles.

Deciding on Vick as a $100 million franchise quarterback based on the spectacular aspect of the way he played in 2010, ignoring the likelihood that his issues reading the field, making audibles and adjusting on the fly were too ingrained to overcome in his 30s. And no, it's not that they should have kept Kevin Kolb or that they didn't get great value for him in the trade. It's just that tying so much of their 2011-12 success to Vick is going to set them back as they head into 2013 and beyond. And the bust potential that Vick came with at the time of the contract was high enough to make it a questionable decision at best.

Signing Nnamdi Asomugha on the presumption that he'd play like a top shutdown cornerback, then playing him in zone coverage for his first year because they didn't have the guts to move Asante Samuel. This resulted in their having to trade Samuel for nearly nothing a year later, and Asomugha has struggled at times this year in one-on-one coverage against speedy wideouts.

Drafting Danny Watkins in the first round after hiring Howard Mudd to run the offensive line. Mudd found Jason Kelce in the sixth round, identified him as the type of guy who could play his scheme and quickly molded him into a top NFL center. Surely, he could have found a guard in the fifth or seventh that fit his profile and done the same with him, and the Eagles could have used that first-rounder on something more immediately helpful. And no, the Eagles could not have imagined the extent to which injuries would ravage their offensive line this season, but it does seem as though they could have found backup players better suited to adapt quickly to Mudd's blocking schemes. Perhaps if they hadn't been so focused on bringing in high-profile, ultimately useless skill-position backups like Vince Young and Ronnie Brown last year, this could have been more of a point of emphasis.

Designing a defense predicated on the down linemen selling out for sacks, then failing in 2011 to support the defensive line with anything resembling adequate linebacker play.

In 2012, after bolstering the linebacker corps, failing to adjust anything about the defensive line scheme even though the whole league knew they'd be selling out for sacks on every play. The extent to which opposing offensive coordinators have appeared to be ahead of Castillo, Todd Bowles, Jim Washburn or whoever's been in charge of setting up the Eagles' defense on a given week this year is staggering.

Making Castillo the defensive coordinator in the first place, then of course firing him during the bye week just because they felt like they had to do something.
Look, I understand this is an exercise in second-guessing. I fell for it, as did a lot of the people who have been writing about this Eagles team for the past two years. Philadelphia's roster-construction efforts the past two springs and summers looked good as they were going on, and I for one failed to spot the number of flaws that have ultimately manifested themselves. The very good lesson, for those of us who write the NFL, is as usual about waiting for the games to be played before making broad conclusions about how they will go.
As we look back on it now, though, not much the Eagles have done in assembling their roster over the past couple of years has worked. There's the occasional
DeMeco Ryans
or
Fletcher Cox
, sure. The
DeSean Jackson
contract is a good one for them, and I don't think it was necessarily wrong for them to spend resources this past offseason locking up cornerstone pieces like
Trent Cole
,
LeSean McCoy
and
Todd Herremans
for the long-term. But in terms of building a Super Bowl contender in the short term, Reid and the rest of the people who run the Eagles have failed spectacularly. The product they've put on the field simply isn't as good as they believed it to be, and they are likely to pay for their run of miscalculations with their jobs.
October, 27, 2012
10/27/12
11:00
AM ET
»
NFC Final Word
:
East
|
West
|
North
|
South
»
AFC
:
East
|
West
|
North
|
South
Five nuggets of knowledge about Week 8:
Getting after Matt Ryan:
The
Atlanta Falcons
arrive in Philadelphia this weekend as the league's last unbeaten team, and quarterback Matt Ryan started the season as hot as any quarterback in the NFL. The Falcons like to throw, and according to ESPN Stats & Information's Next Level stats, they have dropped back 84 percent of the time in sets that feature three or more wide receivers. Teams did start to catch on, though, prior to Atlanta's Week 7 bye. In Ryan's first three games of the season, he completed 74.3 percent of his passes, was sacked just three times, and threw six touchdowns and no interceptions in three-plus receiver sets. In his past three games, he's completed 66.7 percent of his passes, been sacked six times and thrown four touchdowns and four interceptions in such sets. Will the Eagles blitz him? Under defensive coordinator Juan Castillo, the Eagles sent an extra pass-rusher on 19.5 percent of opponents' pass plays over the past year and a half -- the lowest such percentage in the league. Castillo was fired last week and Todd Bowles is the new defensive coordinator, so things could be about to change, and Ryan could see different looks than any the Eagles have put on film in the past two seasons.
[+] Enlarge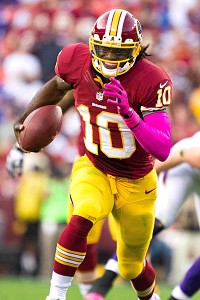 Paul Frederiksen/US PresswireThe Redskins' Robert Griffin III is on a record pace with his 70.4 completion percentage.
Be like Ben?
Washington Redskins
quarterback
Robert Griffin III
leads the NFL so far this season with a 70.4 completion percentage. If that holds up -- or even if it drops a little -- Griffin would break the all-time NFL record for highest completion percentage by a quarterback in his rookie season. The current record-holder will be on the opposite sideline Sunday in Pittsburgh.
Ben Roethlisberger
posted a 66.4 completion percentage for the Steelers in his rookie season of 2004.
D up in Big D:
The
New York Giants
' defense has been taking advantage of opportunities in recent weeks. They have forced 10 turnovers in their past three games -- at least three in each game against Cleveland, San Francisco and Washington. If they can turn the
Dallas Cowboys
over three or more times Sunday, they'd have the longest streak of three-plus takeaway games since the Falcons did it four weeks in a row in 2010.
PODCAST
How do the Cowboys grade out in Ben and Skin's seven deadly intangibles?

Listen

Romo a puzzler:
The Giants tend to do well against mobile quarterbacks ... other than Dallas'
Tony Romo
. Over the past two seasons, when throwing from outside the pocket against the Giants, Romo has a completion percentage of 69.2, is averaging 12.6 yards per attempt and has thrown six touchdown passes and no interceptions. All other opposing quarterbacks combined against the Giants have a 47.8 completion percentage, 6.0 yards per attempt, one touchdown and two interceptions when throwing from outside the pocket.
Justin Tuck
joked recently that it's unfair that Romo is the least mobile NFC East quarterback he gets to face now, but there is something about Romo on the move that gives the Giants trouble.
Head to head:
The Cowboys beat New York in the season opener in New Jersey on Sept. 5, and if they win Sunday they would sweep the Giants for the first time in the regular season since 2007 (and yes, we all know what happened when they played for a third time that season). Dallas is 0-3 against the Giants in the current Cowboys' Stadium since it opened in 2009, and has never lost four straight home games to the Giants.
May, 21, 2012
5/21/12
10:22
AM ET
John Clayton has a preview of some of the
hot issues teams face
as organized team activities (or OTAs) begin this week. The only NFC East mentions in his piece are about the
Philadelphia Eagles
, and they are this one:
The Eagles signed Demetress Bell to replace left tackle Jason Peters, who is out for the season after tearing his Achilles twice. Bell was previously Peters' replacement in Buffalo but didn't stand out.
and this one:
Dream Team, take two: The Eagles were the winners of the 2011 offseason but losers when they underachieved last season and didn't make the playoffs. The key to OTAs is seeing whether they are going in the right direction on defense. Last year, they brought in man-to-man specialists Nnamdi Asomugha and Dominique Rodgers-Cromartie and played them in zone. Andy Reid brought in secondary coach Todd Bowles to help defensive coordinator Juan Castillo sort out the plan in the secondary and see whether the Eagles can match up better with the talent on hand.
And yeah, as was the case when the 2011 season started, I think it's fair to say the Eagles will be the most compelling national story out of our division. Much is expected, and given the way they flopped last year, they'll be under even more scrutiny this year.
But we deal with all four teams equally here, so playing off of John's column, I figured it'd be a good idea to pick something to watch for each of our other three teams this week. Remember that these offseason workouts are voluntary, so not all of the players we're looking at will necessarily be on the field. The Redskins' OTAs begin today, the Eagles and Cowboys start theirs Tuesday and the Giants get on the field Wednesday.
Dallas Cowboys
Lining up the line:
The injury that will keep free-agent guard
Mackenzy Bernadeau
out for the spring and summer deprives the Cowboys of a chance they were expecting to see Bernadeau at center. It also removes him temporarily from the offseason competition for one of the guard spots, and will give players such as
David Arkin
,
Bill Nagy
,
Nate Livings
and
Kevin Kowalski
a head-start on him as they get an early chance to show the coaches what they can do.
New York Giants
The replacements:
The Giants have to figure some things out on the line as well, and they'll take a look this offseason at whether
Will Beatty
is making progress as the starting left tackle and whether veteran
David Diehl
is the solution at right tackle with
Kareem McKenzie
gone. But they also want to see whether first-round pick
David Wilson
can replace running back
Brandon Jacobs
, whether second-round pick
Rueben Randle
can emerge from the crowd hoping to replace wide receiver
Mario Manningham
, and whether
Terrell Thomas
and/or
Prince Amukamara
is healthy enough to replace cornerback
Aaron Ross
.
Washington Redskins
Here, catch!
We know rookie Robert Griffin III is the guy who'll be throwing the ball for the Redskins -- now and, ideally, for the long-term future. But Washington still needs to sort out who's going to catch it. Free-agent signees
Pierre Garcon
and
Josh Morgan
are obviously going to get the first shot at prominent roles in the receiving corps, and the coaching staff remains excited about 2011 rookie
Leonard Hankerson
. But veteran
Santana Moss
will also push for a role, and there are several holdovers at the wide receiver spot who will look to catch the coaches' attention this offseason so as not to get lost in the shuffle. And that doesn't even take into account tight end
Fred Davis
, who was the Redskins' best receiver last year.
January, 11, 2011
1/11/11
10:37
AM ET
It won't matter how smart the defensive coordinator Jason Garrett hires is if he can't cure whatever ails the Cowboys' recent first-round picks on that side of the ball.
Wade Phillips didn't suddenly become an X's and O's idiot last season. Phillips had a ton of success using the same scheme in which the Cowboys struggled miserably in the first half of the season. It's foolish to think the NFL suddenly caught up with the scheme after all those years, suddenly figuring it out after the Cowboys closed the 2009 regular season with the first back-to-back shutouts in franchise history.
This defense was a disaster because the personnel failed. That's the simplest explanation for the Cowboys going from the second-ranked scoring defense in the league to second to last in points allowed.
In particular, the drastic regression of outside linebacker
Anthony Spencer
and cornerback
Mike Jenkins
destroyed the defense.
There are other holes that need to be filled, specifically at safety and defensive end. But the 2009 Cowboys had an elite defense with average players at those positions in large part because Spencer and Jenkins played up to their first-round potential.
Spencer, who might have been the Cowboys' most dominant defensive player down the stretch in 2009, had a mediocre season. He disappeared for long stretches and didn't make nearly enough plays against the run or pass. After showing such promise as a pass-rusher – finishing with eight sacks in the last eight games the previous season, including the playoffs – he had only five sacks in 2010. And it took a pair of sacks against Philadelphia's backup tackles in the season finale to get that total.
Jenkins had a miserable season after earning a trip to the Pro Bowl as an alternate in 2009. According to Stats Inc., receivers caught 54 of the 87 intended for them when Jenkins was covering them. He allowed 935 yards, the second-most in the league. He picked off only one pass, a dropoff from five the previous season. He led the league with six pass interference penalties and was flagged twice for defensive holding and one for illegal contact.
And here's the ugliest stat of all from Jenkins' third season: Quarterbacks had a 113.0 passer rating when throwing his way. By comparison, Tom Brady's 111.0 passer rating was the best in the NFL.
It doesn't take a ton of football knowledge to figure out that it's a lot easier for the defensive coordinator if he can count on an outside linebacker to be a beast against the run or produce constant pressure on the passer and a cornerback to consistently cover his man with little or no help. Stars make schemes look good. That's what's expected from first-round picks.
Spencer and Jenkins can't just be considered draft busts. They've demonstrated the ability the Cowboys believed they had when they traded up to get Spencer with the 26th overall pick in 2007 and Jenkins with the 25th overall pick in 2008.
That's why getting the recent first-round picks right needs to be a top priority for the Cowboys' next defensive coordinator, whether it's Vic Fangio,
Greg Manusky
, Paul Pasqualoni,
Todd Bowles
or somebody else.
January, 5, 2011
1/05/11
3:49
PM ET
IRVING -- The Cowboys finished up an interview with Miami Dolphins assistant coach Todd Bowles on Wednesday and it appears no more are scheduled for the day.

Bowles said of the nearly two hour interview: "It went good. I was grateful for the chance to come in here and they thought enough of me to come in here and interview and that was good."

The Cowboys have interviewed wide receivers coach Ray Sherman and now Bowles to satisfy the Rooney Rules. However, multiple sources have said interim coach Jason Garrett is the favorite to get the job full-time.

Bowles was an assistant coach with the Cowboys from 2005-to-2007 so that helped in the process.

"It was like old times," Bowles said as he walked to a rental car at the Valley Ranch complex.

We'll have more later.
January, 3, 2011
1/03/11
6:27
PM ET
IRVING, Texas -- Jason Garrett praised the job Paul Pasqualoni did as the Cowboys' defensive coordinator in the final eight games, pointing to the circumstances.

But Garrett, who danced around questions about his future as a head coach, did not offer any hints about whether he'd want to keep Pasqualoni as the defensive coordinator.

"When you look at it on the whole, he was put in a difficult situation in the middle of the year and tried to implement some of the changes we wanted to do," Garrett said. "I thought he handled the situation well. I thought our players responded to him.

"I think we need to get better on defense. There is no question about that."

The Cowboys ranked 23rd in the NFL in total defense (351.8 yards per game) and 31st in scoring defense (27.3 points). The yardage totals got worse and the scoring totals only slightly improved in the second half of the season.

However, the Cowboys made major strides in a category strongly emphasized by Garrett. The Cowboys forced 20 turnovers in the second half of the season, twice as many as they forced in the first eight games under Wade Phillips. The Cowboys had four defensive touchdowns in the last eight games and set up several other scores with turnovers.

"We've talked about the importance of turnovers and that being really the most significant stat in football and how turnovers correlate to scoring points and how scoring points correlates to winning," Garrett said. "I thought the defense did an outstanding job really getting the ball from the opposing offense, knocking it out and picking up a fumble like happened the other day or being awfully good at going and getting the ball and intercepting it…. I know that certainly helped us offensively score more points and contribute to winning. So that's an important of it."

Garrett said that it was ultimately his decision to appoint Pasqualoni as the defensive coordinator after Phillips' firing, although he discussed the issue with Jerry Jones. Garrett said that he had not had discussions with Pasqualoni about whether he might continue being the defensive coordinator.

If Garrett does not go with Pasqualoni, there could be several candidates to become the Cowboys' defensive coordinator, depending on decisions made about other coaching staffs around the league.

Miami defensive coordinator Mike Nolan might be a good fit if the Dolphins' staff is fired. Miami assistant head coach/secondary coach Todd Bowles, a recent Cowboys assistant, could also be a candidate. Former Cowboys defensive coordinator Mike Zimmer, who prefers the 4-3 but coached the 3-4 under Bill Parcells, might return to Valley Ranch if the Bengals clean out the coaching staff. Another possibility is trying to recruit former Cowboys defensive line coach Todd Grantham, who has experience as the Browns' defensive coordinator, back from University of Georgia.

Dom Capers would probably be Garrett's first pick, which is why the Cowboys tried to sign him as a consultant in 2008. However, Capers has built a top-five defense in Green Bay and not available due to his contract with the Packers.