Dallas Cowboys:

Tom Savage
July, 17, 2014
Jul 17
2:00
PM ET
IRVING, Texas – In our weekly chat on Wednesday, we touched on a number of subjects, including the recently released
Kyle Orton
.
We also discussed:
To read the full chat,
click here.
But I wanted to delve a little deeper into one subject from the chat and that's
Johnny Manziel
. Wait, who? I kid. Here's what I was asked:
Steve (Tyler, Tx): Any second thoughts on passing on Manziel now that Kyle Orton has retired?

Todd Archer: I was waiting for this question. It's an interesting scenario isn't it? Well, first off, Orton didn't retire. He was cut. Now, I believe he wanted to retire but was going to show up to camp so he didn't have to pay back bonus money. But that's splitting hairs. Let's say the Cowboys did this back before the draft. Wouldn't their philosophy have been different regarding the quarterback? I believe so. I don't think they regret not taking Manziel because we're using hindsight of what we know now and not what we knew then.
After the Cowboys took
Zack Martin
in the first round, Jerry Jones said the Cowboys really spent no time talking about taking Manziel with the 16th pick in the first round. A little later in the offseason, Jones said the Cowboys seriously considered it. So Jones kind of covered the bases with those answers.
Had the Cowboys made the move with Orton before the draft, I believe Manziel would have been more of a consideration. Remember, they had not seen much from
Brandon Weeden
before the draft. The organized team activities had not started by that time.
The drama that Manziel would have brought to the Cowboys would have been overwhelming, but I don't think the Cowboys – or any team – should act in fear of what might happen off the field with fans' reactions or media interpretations. I think they did the right thing in taking Martin from a football perspective. He makes the offense better in 2014 and potentially the defense better in 2014. Manziel likely wouldn't have made either better in 2014. Maybe not in 2015, either.
Would I have felt differently if Orton were gone by then? Perhaps. I think Manziel will be an excellent quarterback.
If Orton was gone by May and if the Cowboys passed on Manziel, then I believe they would have adjusted their thinking about drafting a quarterback at all. The position wasn't discussed much during the draft. But the guy I think they would have taken in the middle rounds if he was available: Tom Savage.
Savage went to the
Houston Texans
in the fourth round. Why Savage? One of the reasons why they liked
Devin Street
so much was the fact that he played in a pro-style offense at Pitt. Savage was his quarterback. Savage was the quarterback when the Cowboys ran Street through a private workout. Jason Garrett has a close relationship with Pitt coach Paul Chryst.
May, 12, 2014
May 12
10:15
AM ET
IRVING, Texas -- For all of the talk about the
Dallas Cowboys
drafting a quarterback, they never really considered selecting one.
[+] Enlarge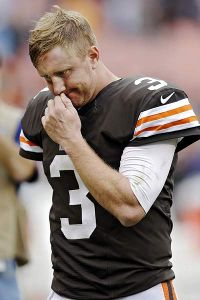 Tony Dejak/AP PhotoThe Dallas Cowboys are viewing 30-year-old backup Brandon Weeden as their "developmental quarterback."
After the first round, owner and general manager Jerry Jones said picking
Johnny Manziel
, "wasn't even a thought," despite loving the former Texas A&M quarterback who ended up with the
Cleveland Browns
.
The Cowboys liked several lower-round quarterbacks, such as
Tom Savage
, but passed on all of them. The Cowboys have not drafted a quarterback since taking
Stephen McGee
in the fourth round of the 2009 draft. Since 1989, the Cowboys have drafted only four quarterbacks:
Troy Aikman
,
Bill Musgrave
,
Quincy Carter
and McGee.
Steve Walsh
was taken in the first round of the 1989 supplemental draft.
With
Tony Romo
coming off his second back surgery and
Kyle Orton
's future in question, many thought the Cowboys would take a shot at a quarterback.
"We feel in signing
Brandon Weeden
, he can be viewed as that developmental guy," coach Jason Garrett said. "A first-round pick a couple of years ago, coming from a baseball background, has all the physical tools you want. We view him as in that role right now, so we wanted to be selective about anybody else we wanted to bring in here."
So no Savage, no
Aaron Murray
, no
AJ McCarron
. The Cowboys did sign
Dustin Vaughan
as an undrafted free agent and he was on their draft board.
At quarterback, "the best players who play typically come from the top rounds," Garrett said. "I do think with how the league has changed, there is a demand to play those guys earlier and that changes the dynamic of taking your time to develop guys year after year and they play in years four and five. The thing you're concerned about is developing them for somebody else. You develop them for two, three, four years and he goes and plays for another football team. We don't think that's a worthwhile thing. There's been a theory around the league, teams like Green Bay for years always took a guy late and if that player develops into something that was a good thing for their team or to trade to somebody else. There were some examples of them doing that. It's a philosophy a lot of teams, they agree with that. But when you have other issues on your team I think it becomes a little bit of a luxury to do that. When you feel good about your starter and you feel good about your backups, we feel it's better to take a position player, a guy we know can contribute on special teams, instead of trying to develop that guy [quarterback]."
May, 10, 2014
May 10
2:37
PM ET
IRVING, Texas –
The pick:
Devin Street
, wide receiver, Pittsburgh

My take:
The Cowboys needed an outside receiver to help if something happened to
Dez Bryant
or
Terrance Williams
and Street was one of the last receivers that could come in and play right away. The Cowboys gave up their fifth (No. 158) and one of their sevenths to get him (No. 229)in trade with Detroit. Many of Tom Savage's highlights featured Street. He can also play in the slot, but the Cowboys are covered in that spot with
Cole Beasley
and
Dwayne Harris
. He can make contested catches, which is something the Cowboys like to chart.
Notable:
He caught 51 passes for 854 yards and seven touchdowns in 2013, but suffered shoulder and elbow injuries. He owns Pitt's school record in catches with 202 … Like
Zack Martin
, the Cowboys' first round pick, he was a team captain … He was a second-team All-Big East pick as a junior and second-team All-ACC pick as a senior .. His 73 catches as a junior tied him for fourth most in a season in school history with former Cowboy
Antonio Bryant
.
May, 6, 2014
May 6
9:30
AM ET
IRVING, Texas -- With the draft finally within site, unless there is some sort of rain delay, it's time for Five Wonders to return.
We'll keep them focused on the draft.
** I wonder if the Cowboys are in never-never land with the 16th pick when it comes to first-round defensive linemen. That's what an 8-8 finish will do for you. You're stuck right in the middle and have to do too much to move up significantly and won't get enough (some of the time) to move down big either. After
Jadeveon Clowney
and
Khalil Mack
, there is a drop-off on right defensive ends.
Anthony Barr
is a project and somebody I believe the Cowboys would pick at No. 16. Will he be there at No. 16? The rest of the options available, like a
Kony Ealy
,
Scott Crichton
,
Kareem Martin
or
Demarcus Lawrence
look more like second-round picks. That's why I think if the Cowboys move up it's only a couple of spots for a specific player. The more likely option is to move back where they'd have better choices at the right value. Now if only some team would be willing to move up.
** I wonder what the reaction of people who live in the best-player-available world would be if the Cowboys took North Carolina tight end
Eric Ebron
in the first round. If Ebron is there at No. 16 and is the best player, then the Cowboys must take him, right? If you live in the best-player-available world in which there is no gray area, then Ebron is your guy. Hooray. But after taking
Gavin Escobar
in the second round last year and seeing
Jason Witten
make another Pro Bowl in 2013, do the Cowboys need a first-round tight end? You might hate the word "need" but I don't. Need has become the four-letter word in draft circles. If they take Ebron, they are saying the Escobar pick was a mistake and Witten is on his final legs. Ebron is a terrific talent, but the Cowboys can't pick him. I do think, however, the Cowboys would take a tight end (more of a blocker than receiver) later on in the draft.
** I wonder how much scheme versatility will factor into the Cowboys' decision making Thursday-Saturday. The elephant in the room is that Jason Garrett must win now. He is in the final year of his contract. If he doesn't win, then Jerry Jones doesn't have to fire him. He just needs to pick a new coach. But let's say Jerry falls in love with a coach who has a 3-4 background or an offensive coach who wants to bring in a 3-4 coordinator. Can the Cowboys make the switch again? They felt they had the tools to move from a 3-4 to a 4-3 somewhat seamlessly and we saw how that worked in 2013. If the Cowboys picked
Aaron Donald
in the first round, then would he fit in a 3-4 scheme next year? He doesn't look like a 3-4 player. It is a fatalistic view to have going into a draft, but the Cowboys could find some defensive prospects that offer versatility in a 3-4 or 4-3, like Barr, Ealy, Lawrence and possibly
Ryan Shazier
.

**I wonder if third round is the area in which the Cowboys target an offensive lineman. Of the linemen not named
Zack Martin
who visited Valley Ranch before the draft, almost all of them are in that Rounds 3-4 neighborhood like
Gabe Jackson
,
Trai Turner
,
Jack Mewhort
and
Billy Turner
. To be clear, in just about every mock I've been asked to participate in, I have the Cowboys taking Martin at No. 16. If they go offense there, I think they need (there's that word again) to go defense with the second- and third-round picks, provided the grades match up. I'm breaking all ties in the defense's favor. I'll add this note: The last middle-round (Rounds 3-5) offensive lineman to pan out for the Cowboys was
Doug Free
(fourth round) back in 2007. And it took him well into his third season to get on the field. Since then the Cowboys have missed on
Robert Brewster
(third, 2009) and
David Arkin
(fourth, 2011). I'll give them partial credit for
Sam Young
(sixth, 2010) since he's still in the league. Their best middle-round offensive lineman in the last 10 years has been
Stephen Peterman
(third, 2004) and his playing time came with the
Detroit Lions
after he was cut.
**I wonder if the extra time in the draft has led teams to overanalyze things. The
New Orleans Saints
attempted to bust up the boredom by spending some time in Las Vegas. Some other teams took a week's break earlier in the process. The Cowboys altered their schedule some but not that much. Too often we hear teams talk about the importance of watching the players play and not putting as much stock into the combine or pro days. And every year there are guys that come out of nowhere, like Pitt quarterback
Tom Savage
, and small-school gems, like
Pierre Desir
. Maybe they will be great finds. Who knows really? The extra time served up plenty of interest, which the NFL craves, and allowed for more mock drafts than ever before, but did it really serve the teams well? We'll find out in a couple of years.