Dallas Cowboys:

Travis Bright
August, 30, 2010
8/30/10
9:05
AM ET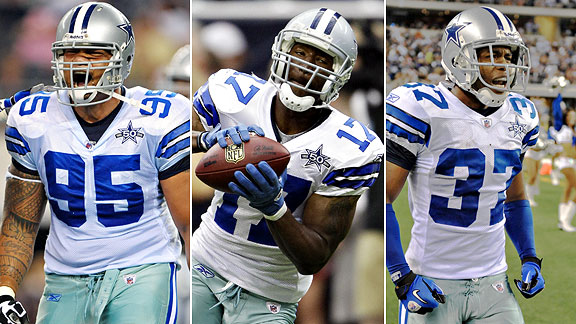 US Presswire/AP PhotoWhat will the future hold for Junior Siavii, Sam Hurd and Bryan McCann? The Cowboys will be cutting five players Tuesday, so we'll see.
After cutting veteran safety Patrick Watkins on Monday, the Cowboys still need to release four more players from the 80-man roster. Some teams have done so already, such as the Jets, Bengals and Chiefs.
Dallas has some interesting decisions to make at a few positions, so here's our weekly look at the bubble players.
OFFENSIVE LINE
The bubble:
Mike Tepper
,
Travis Bright
,
Will Barker
and
Pat McQuistan
Outlook:
It seems 10 players will earn checks this fall who are offensive linemen. The injury to
Sam Young
(sprained MCL in right knee that keeps him out three to four weeks) won't hurt his status. Young,
Doug Free
,
Alex Barron
,
Marc Colombo
and
Robert Brewster
are the tackles in 2010. The inside positions are unsettled somewhat. Bright is a long shot to overtake
Phil Costa
as the No. 3 center, but McQuistan could make a case for himself if
Montrae Holland
struggles vs. Miami on Thursday night. But we doubt it.
WIDE RECEIVER
The bubble:
Sam Hurd
and
Jesse Holley
Outlook:
Hurd has done a decent job of catching the ball, but he's not making anybody say, "Hey he should be on the team because he's special." Special teams is the same way. The Cowboys know he can do it, but there are some younger players who have more upside than Hurd. Holley was in the lead to make this team on special teams, but fell off the last two games. The Cowboys should keep five wide receivers. At some point, Dallas might try to trade Hurd for a sixth- or seventh-round pick. If that can't happen, Hurd could be sent home.
TIGHT END
The bubble:
Martin Rucker
and
Scott Sicko
Outlook:
When Rucker (hamstring) was deemed healthy, he was able to participate in practices and games but he hasn't impressed anyone enough. Sicko had to be convinced to come to training camp, and he should have stayed home. A concussion also slowed his progress. The Cowboys have an interesting decision here because they could keep
Jason Witten
and
Martellus Bennett
and then go with two fullbacks. If it happens, Rucker and Sicko will go home. But Sicko could be worth keeping. If he clears waivers, he could move to the practice squad.
DEFENSIVE BACKS
The bubble
:
Pat Watkins
,
Jamar Wall
,
Bryan McCann
,
Danny McCray
Outlook:
It's about consistency. McCray had three special teams tackles last week vs. San Diego. So how many did he have vs. Houston on Saturday? Zero. If McCray makes this team, it's because of his special teams work.
Barry Church
is a better safety than him, and it seems McCray is missing in action against the run. Watkins can still make this team over McCray, but if it's a financial thing, McCray makes $320,000; Watkins will earn $1.17 million. (
UPDATE:
Watkins was officially cut Monday morning.)
NOSE TACKLE
The bubble:
Junior Siavii
and Josh Brent
Outlook:
There are some in the organization that love Brent, but Siavii is a better run stopper and he could move to end if necessary. Siavii, overall, is a better player, but it wouldn't be a surprise if the Cowboys kept three nose tackles. In 2006, they did. Brent, if he stays, will be inactive on Sundays.
LINEBACKER
The bubble:
Leon Williams
,
Steve Octavien
,
Brandon Sharpe
,
Victor Butler
,
Jason Williams
and
Brandon Williams
.
Outlook:
Jason and Brandon Williams (not related) will be here, but not without some raised eyebrows. Octavien and Butler played steady, so their spots seem secure. The Cowboys could go with nine linebackers, or maybe 10. If it's 10, who is better: Leon Williams or Brandon Sharpe?
August, 15, 2010
8/15/10
9:00
AM ET
By
Bryan Broaddus
| ESPNDallas.com
My thoughts from the Saturday practice:
*The media had a chance to meet with Wade Phillips before the afternoon practice in Oxnard. There were several things that Phillips said that were interesting, but the one I want to focus on is when he spoke of how well wide receiver
Jesse Holley
was playing on special teams.
Phillips is trying to tell us something here. This staff is seriously looking into replacing
Sam Hurd
with Holley and he is planting that seed to be ready when it happens.
Receivers coach Ray Sherman also had high praise for Holley after the morning practice, saying that Holley's work on the practice squad and scout team in 2009 prepared him for this opportunity.
Do the Cowboys feel that Holley has more upside as a receiver than Hurd? Or is the fact that Holley will make about $1.5 million dollars less than Hurd put him on this roster for "playing well on special teams?"
Holley has been good on teams and he has lined up in some roles that Hurd normally plays. Despite the fact that Hurd had a productive game against the Raiders as a receiver, this still might not be enough to save his job.
*It had to be nice for the defensive staff to once again have linebacker
Sean Lee
on the field for practice.
Lee will be called on to play the all-important role of the nickel linebacker on this defense and the time he missed would have put him way behind. Do not feel like this is a case at all. In studying Lee, I thought he moved around well. When the squad went to team drills, in pass coverage other than one rep where he allowed a receiver to cross inside and behind him, he was solid on his responsibilities.
There is a lot to like about Lee, but there are two areas that really stand out to me.
One, Lee is always working for the perfect play. You can see that football is important to him through his effort and preparation. It bothered Lee that he made that mistake in coverage but on the next opportunity, although the ball did not come his way, he was able to maintain position in the route and put himself in good shape if it did.
For a rookie in the defense, Lee knows his assignments and those of the other linebackers. In pre-snap,
Felix Jones
motioned right to left outside the formation, Lee was there to point
Jason Williams
to bump outside and pick up the coverage. Here was a rookie having the awareness to make a defensive adjustment to keep the coverage intact.
Smart football players will always get a chance to make plays on Sundays.
*The backup offensive linemen update: Offensive tackle
Sam Young
has outplayed
Robert Brewster
so far in camp and this doesn't surprise me at all given Young's college background.
This is not to say that Brewster is a throwaway, but there is plenty of work that needs to be done, maybe even a move inside to guard might be in the works.
Young started off this camp with the offensive coaches wanting him to do a better job of coming off the ball. He has made some progress in this area. Young is not pretty technique wise but his effort has been good to try and finish blocks.
Center
Phil Costa
does not have your classic body build for the position, but I have been impressed with the way he has battled inside, which has allowed the coaches to move
Travis Bright
from center to guard.
Costa is a short-armed player, which can be trouble. You need to have that ability to get defenders off your body and especially at center where you are one-handed anyways.
Bright is a powerful guy, but it looks like he is more comfortable at the guard than as the center.
Montrae Holland
returned to practice and didn't seem to have any further problems with the hamstring.
Still have a feeling that the Cowboys will carry 10 offensive linemen this season. My guess is your five starters, Barron, Holland, Brewster, Young and Costa.
August, 10, 2010
8/10/10
11:01
AM ET
By
Bryan Broaddus
| ESPNDallas.com
Here are the things that stood out when I studied the Hall of Fame Game:
*Offensive tackle
Doug Free
was able to carry over the nice two weeks of camp that he had in San Antonio into the game against the Bengals.
Free was patient, athletic and played with power. His footwork was solid and his hand placement was dead on. Free showed the ability to adjust on the move and mirror
Antwan Odom
without any difficulty. When he had to get push in the running game, he was able to work his hands inside and play with leverage.
There is a real ease of movement in his game. He did not play out of balance or on the edge at all.
*With
Marcus Spears
out of the game with a knee injury, it was an opportunity for
Jason Hatcher
and
Stephen Bowen
to get some work with the first group. Was impressed with Bowen and not with Hatcher.
Bowen was an up-the-field player and was a huge factor in the pass rush with his ability to work in the games that Phillips was using against the Bengals in passing situations. Bowen was relentless in his effort to get to Palmer and O'Sullivan.
Bowen played with nice technique the running game as well. He can be difficult to handle when he is on the move. Bowen has a feel for how to free himself from blocks.
Thought it was a missed chance for Hatcher. Like the player and what he brings, but there were limited flashes as compared to Bowen. Hatcher didn't play off the blocks as well.
Don't know if his elbow might have been a factor, but he seemed to get tied up at times. Didn't see him control the blocker like he had in the past. Know he is a better pass rusher than what he showed.
Hatcher was a solid nickel player in 2009. Needs to play better with this chance.
*Outside linebacker
Victor Butler
was all over the field on Sunday night. Run or pass, it didn't matter.
Butler plays with high effort, motor and intensity. Butler is always chasing the ball and he knows how to finish plays. He is a difficult player to block because he keeps coming at you. He doesn't take plays off.
Butler was solid in coverage in showing the ability to adjust to the back in the flat and drive on the ball to make the play.
As a pass rusher, he plays with a burst to and around the corner. He doesn't give blockers much of a hitting surface as he rushes. Able to move and twist his body on the move without losing speed.
The area you that you have to like the most about this player is that he is always around the action.
*Thought that
Mike Hamlin
played well at safety, but the player that caught my eye was rookie
Danny McCray
.
McCray was having a quiet camp until the lights came on at Fawcett Stadium. Watched him in practice as special teams coach Joe DeCamillis worked him on several units but really didn't think much of it. McCray showed the ability to release off the two-man jam as the "gunner" and make two tackles in the second quarter on the punt team.
On defense, McCray showed some good awareness to read quarterback J.T. O'Sullivan as wide receiver
Andre Caldwell
went vertical and from the middle of the field was able to work himself into position to make the interception that ended the half for the Bengals. If there was an area that the Cowboys struggled with in 2009, it was their ability for the safeties to show range and make plays on the ball. McCray gave the coaches some hope that might change.
Liked the way that McCray also showed physical play in the flat. Ball goes to the outside, and he is coming forward, driving the ball carrier out of bounds.
In my book, McCray went from a player that might not have been a factor to one you have to keep your eye on the next four games.
*Just from what I have seen in camp and what took place during the game, this club can not afford an injury to any of their inside offensive linemen on the first unit.
I know that guard
Montrae Holland
was out with a hamstring injury, but that doesn't change my view at all. To see
Pat McQuistan
and
Mike Tepper
struggle is a cause for concern.
Granted, Tepper is only a rookie but there were far too many plays where he was overextended and off-balance and unable to sustain his blocks. McQuistan will fight you, but he really is limited. There are times where he also gets overextended and really struggles when he has to deal with a power rusher. McQuistan really has a hard time getting any type of movement in the running game.
Quarterback
Stephen McGee
was required to move in the pocket way too often because of breakdowns inside.
I didn't feel like that
Travis Bright
and
Phil Costa
played poorly at center, which was somewhat of a bright spot here.
August, 4, 2010
8/04/10
9:40
AM ET
SAN ANTONIO --As the Cowboys enter the final stages of the first leg of training camp, there is concern about
Andre Gurode
's backup at center.
The depth chart, from what we've seen at practice, has
Travis Bright
the backup with
Phil Costa
on third team. Starting left guard
Kyle Kosier
has taken reps at center.
It appears the Cowboys are more comfortable with Kosier as the backup to Gurode than Bright. If that's the case, Kosier would be replaced at guard by
Montrae Holland
, who has missed practice this week with a hamstring problem.
Sunday's preseason game will give offensive line coach Hudson Houck some answers about his group.
"We're working on it," Houck said of the backup center. "With a backup, it's Kyle. We got to work him more."
When asked if Kosier would benefit by playing center during the preseason, Houck said, "We haven't talked about it. It's probably a pretty good idea."
August, 3, 2010
8/03/10
8:09
AM ET
By
Bryan Broaddus
| ESPNDallas.com
My thoughts from Monday's practice:
*Safety
Alan Ball
is playing like the real deal in this training camp.
The more I watch him, the more I am convinced that Ball can do the job asked of him this season. He has played with range, awareness and confidence.
During Monday's practice, Ball was in a goal-line drill where he was in man coverage on
John Phillips
. Phillips tries to run underneath the formation along the line of scrimmage going right to left, while the offensive flow was moving right. It was a well-designed play by
Jason Garrett
and would have worked perfectly if Ball hadn't reacted so quickly to the route to prevent the touchdown.
In speaking with
Orlando Scandrick
,
Mike Jenkins
and
Terence Newman
, they had nothing but praise for Ball in what it means to have a safety that can cover as much ground on the back end as Ball. There has been talk about Ball's size or lack of it for the job, but Ball is not a blow-'em-up type of player, rather a drag-down guy or one that can hold on until help arrives.
Paired with the physical play of
Gerald Sensabaugh
, Alan Ball is playing like a nice fit at free safety.
*Spent the majority of the practice trying to get a handle on the play of nose tackle Josh Brent, who has missed most of camp with a broken hand.
The team was in full pads but was working on goal line and short yardage at three-quarter speed, so it was tough to get a real feel for him. It's a shame that Brent is playing with one hand only. His left hand has only his thumb exposed, which makes it very difficult to control blockers.
At the nose, it's critical that you use you hands to play off blocks. Brent doesn't have this advantage.
In watching his play, he does play with some initial quickness and a burst. If he did struggle in one area, it was that his pad level was a little high and he allowed
Travis Bright
to work him out of the hole, but he later played with some better reps.
In my view,
Junior Siavii
appears to be the top backup right now for the nose tackle job, but with five preseason games and the fact that
Jay Ratliff
should play very little, Brent will get a serious look.
*Watching the goal-line and short-yardage work for the offense reminded me what an outstanding player
Jason Witten
really is. I know this isn't breaking news, but he is such a difficult player to defend.
For a large man, Witten does an outstanding job of working in a small, tight area. He has a feel of how to free himself and move in and out of the traffic. Witten knows how to work the middle of the field, square up and present himself as a target to the quarterbacks. His hands are beyond dependable and if he does have to make a play in traffic, he can be successful because of the way he can position his body to shield a defender.
The mistake that Garrett and the offensive coaches made last season was asking Witten to help at times in the passing game as a blocker in the red zone. They need to get him in the route as much as possible, and in the talks I have had with coaches, this is more of the plan.
The coaches know what a special player they have in Witten, and look for him to be much more of a factor in the red zone this season.
August, 2, 2010
8/02/10
8:00
AM ET
By
Bryan Broaddus
| ESPNDallas.com
As the first week of training camp for the Cowboys comes to a close, Scout's Eye wanted to take a look back at some of the developments that have taken place here in San Antonio.
*One of the precamp questions centered around the position switch of offensive tackle,
Doug Free
from the right side to the left and how much of an adjustment that would be.
The first two practices were a struggle for Free to say the least. Free was working hard on his own to try and correctly get his "kick slide" working in order to get the proper depth and width when taking on defenders such as
DeMarcus Ware
and
Anthony Spencer
, who are two of the better pass rushers in the NFL.
[+] Enlarge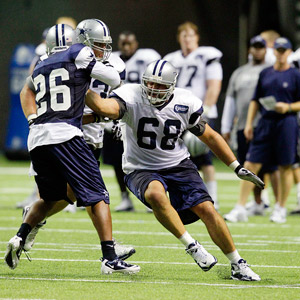 AP Photo/Tony GutierrezDoug Free is making progress during camp in his transition to left tackle.
After his initial problems of giving up the corner too quickly, Free has been able to play with solid technique to match his smarts and effort.
One of Free's finest moments came on a one-on-one pass rush rep that he was able to execute against Ware. Off the snap, Ware tried several pass rush moves to throw Free off and try to get him off balance but was unsuccessful. Free showed nice patience and punch by making Ware have to restart his rush thus killing his chances of making a sack.
*Can a rookie really be this good? In wide receiver Dez Bryant's case, the answer is "yes."
From the time that he has stepped foot on the practice field here in San Antonio, Bryant has been electric.
There were questions about his timed speed (4.56), but watching him run routes and gain separation on defensive backs will make you forget what that 40 time was. There are players that time fast and there are those players that play fast. Bryant is one of those guys that plays fast.
Bryant appeared to be picking up what
Jason Garrett
and the offensive coaches were asking him to do. Just saw more teaching than correction from receivers coach Ray Sherman.
Bryant's hands and ability to adjust to the football are a quarterback's best friend. Very impressed by the way he has been able to adjust to the football in full stride.
The downside to all this is that Bryant will spend the next 4-6 weeks nursing a high ankle sprain. Hurt near the end of practice on Saturday, I worry about Bryant missing reps in the offense and the opportunity to work with Romo.
This trainer staff is one of the best in the NFL, so there is some hope for the Cowboys that he could be back on the field sooner than later.
*In my view, replacing
Ken Hamlin
at safety for the Cowboys was the absolute right move.
You can say what you want about lining guys up and being a great teammate. The bottom line for a defensive back is to make plays. It's about covering receivers, knocking down passes and creating turnovers. It's about having the ability to cover ground and get to the football.
Alan Ball
has done a nice job at free safety and for that matter,
Mike Hamlin
has as well. I have been impressed by the movement skill of Ball along with the way that he has shown the ability to play the ball in the air.
Sunday, when tired legs set in for the skill guys, Ball still looked quick in his drills and in the way he reacted. In talking to guys like Newman, Jenkins and Scandrick, to a man they couldn't be happier to have a safety that can play with some range.
*Can these five preseason games shake out some depth inside at both the offense and defensive lines? This is a question that will take the remainder of the camp to answer.
On the offensive side, I don't see a quality backup at center. Bright has his limitations as does Costa.
On defense, injuries have taken practice time away from Brent and Lissemore. As good as
Jay Ratliff
is, he cannot play the entire game.
Junior Siavii
gives you great effort and desire but for being a strong guy, he struggles to get off blocks and has no pass rush moves to speak of. I am very interested to see Brent get the opportunity to try and replace Siavii because there is something there.
July, 26, 2010
7/26/10
7:21
PM ET
SAN ANTONIO – The contingency plan at center is for left guard
Kyle Kosier
to slide over if
Andre Gurode
goes down.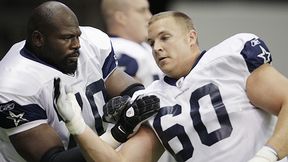 AP Photo/Eric GayTravis Bright (60) is struggling in camp while trying to make the transition from guard to center.
Kosier has yet to get a rep at center during training camp. That will change tomorrow.
Travis Bright
, who spent last season on the practice squad as a guard, is trying to make the transition to center. He has taken every rep with the second team so far in camp, but he's struggling at his new position.
Kosier has never played center, either. While Bright focused on that position during the offseason, Kosier got limited reps there. However, Wade Phillips said he didn't think it'd be a problem for Kosier to prepare to play center even though he'll remain the starter at left guard.
If Kosier struggles at center, the Cowboys could have to sign a center to back up Gurode. The problem, other than finding a good fit, is that they plan to have only two reserve linemen active on game days. They want one of them to be guard
Montrae Holland
.
July, 26, 2010
7/26/10
7:00
PM ET
SAN ANTONIO -- Wade Phillips spent a good portion of his meeting with the media talking about
Dez Bryant
and
Martellus Bennett
.
Bryant refuses to carry the shoulder pads of wide receiver
Roy Williams
, causing a stir nationally and apparently in Canada. Phillips said he heard the Bryant-Williams shoulder pad issue was a lead story in Toronto. Bennett had some nude photos of himself pop up on mediatakeout.com. Here's the highlights of Phillips' Monday news conference:
*
Hazing is something Phillips doesn't like. He noted that former left tackle
Flozell Adams
didn't participate in it his rookie year and any other years. The offensive linemen shave the hair off the rookies. Adams doesn't believe in it. "We don't haze and that's it," Phillips said. "I didn't like it when I was in college. We treat our men like men." Phillips addressed the team prior to Monday's practice and said of the issue, "It's not a problem with our football team."
*
As far as Bennett is concerned, Phillips didn't comment on that issue, deciding to let the team handle it in a news release. Phillips is aware of the photos on the Internet.
*
Phillips said guard
Kyle Kosier
will see more reps at center. Backup center
Travis Bright
has struggled a little bit. "We're going to work him [Kosier] there. I think it's a good way to do it for us, the way we're situated right now," Phillips said. "But we may have somebody come through that's a center/guard guy that could do it also."
*
Right tackle
Alex Barron
has impressed Phillips and the coaching staff. The Cowboys made the deal for Barron to get a veteran player as the swing tackle. Barron will back up
Doug Free
, the projected starter at left tackle, and
Marc Colombo
, the starter at right tackle.
"He got left tackle feet and arm length," Phillips said. "Those long arms that can recover quickly."
What does left tackle feet mean?
"You have to have quick enough feet to be able to [defend] the premier rusher [so] they won't beat you. Some guys if they don't have it, they play right tackle. That speed rusher is usually on the offensive left side."
*
Brandon Williams
continues to impress Phillips, who said of the outside linebacker: "Quick off the ball, long first step.
DeMarcus Ware
quickness off the ball." The Cowboys are hoping Williams can spot Ware a few snaps during the season, mainly in the first half.
*
It was a matter of time, but the offense was going to overtake the defense a little bit in training camp. The offense took control of some things Monday as quarterbacks
Tony Romo
and
Jon Kitna
looked good. "We're progressing well," Phillips said. "I think our offense took a step forward."
*
Lorenzo Washington
and Bennett (ankle) could return for the second practice Tuesday. Bennett is making cuts, and that's a sign he's getting closer. Washington is out with a hamstring. Phillips said safety
Akwasi Owusu-Ansah
(shoulder) was slowed down in his rehab by a slight pull of his hamstring. Yet the team believes he will return at some point next week.
July, 16, 2010
7/16/10
12:10
PM ET
Last in a 10-part series focusing on young non-starters who have a lot to prove during training camp (series):
Travis Bright
is the best bet to make the jump from the practice squad to the 53-man roster.
The key is whether Bright can prove that he can play center.
It's a position that the 6-foot-5, 320-pound Bright, a guard who went undrafted out of BYU, had never played before this offseason. He worked on his snapping for weeks before OTAs and minicamps and didn't botch any snaps during those workouts.
We'll see how Bright, a physical specimen who can bench press more than 500 pounds, fares at center when there is contact involved.
Offensive line coach Hudson Houck raves about Bright's work ethic, intelligence and attention to detail. If he shows that he's versatile enough to play the three interior line positions, Bright could become a valuable backup.
June, 27, 2010
6/27/10
11:48
PM ET
By
Bryan Broaddus
| ESPNDallas.com
Sixth in a series breaking down the Cowboys by position (previous entries):
Roster locks:
Andre Gurode
,
Leonard Davis
,
Kyle Kosier
Good bets:
Montrae Holland
,
Travis Bright
On the bubble:
Pat McQuistan
Long shots:
Phil Costa
[+] Enlarge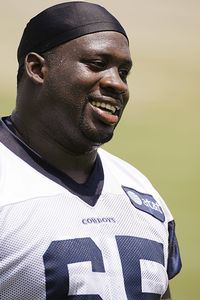 AP Photo/Tony GutierrezCenter Andre Gurode has been selected to the last four Pro Bowls.
The Pro Bowlers need to perform better than they did last season, when unheralded Kyle Kosier was the most consistent player in the group.
Andre Gurode failed to secure his man too many times. He failed to get to the second level too many times. He didn't finish his block too many times. You're always going to have mental mistakes and consistency issues with him. I see guys running through and making plays on him. I see guys getting off blocks and making plays. He shouldn't have been a Pro Bowler last season.
Leonard Davis is extraordinarily strong, but he struggles in space and against quick players. If you bull-rush him, he's going to beat you. If you make him move and get to his outside shoulder, he's going to have problems. In the San Diego game, when the Cowboys couldn't punch the ball in from the 1-yard line, Davis was a significant part of the problem because he did a poor job of adjusting to the run-through linebacker. The longer he has to hold his block, the harder it is because he doesn't have the athletic ability to sustain blocks. He has to grab and hold. The weakness of the offensive line is center and right guard.
Kyle Kosier doesn't have great size for a guard, but he has tremendous desire and determination. He knows how to finish blocks and is consistent down after down, run or pass. He does a nice job of tying up his man in the running game and is effective when he pulls. He's good in space and very good in combination blocking, working well with the tackles.
The plan is for Kosier to slide over to center if Gurode goes down, but Kosier has never played center. This presents an opportunity for Bright, a guard who focused all offseason on learning the center position. He's been in the Cowboys' program for a year and has a chance to prove that he deserves a roster spot this preseason. He could be the guy that bumps Pat McQuistan off the roster.
Montrae Holland is an expensive insurance policy again. He's a short-area, phone-booth type of player. He's not quick or agile. He doesn't offer much other than strength.
May, 17, 2010
5/17/10
9:26
AM ET
Today is the first day of the organized team activities, and the Cowboys will make a roster move at some point today, cutting backup offensive lineman
Cory Procter
.
Procter was the backup center last year and replaced
Kyle Kosier
in the starting lineup during the 2008 season when he suffered a foot injury.
Procter signed his free agent tender at $1.759 million, but the team is interested in
Montrae Holland
and
Travis Bright
as possible backup centers.
Also of note, it will be interesting to see how wide receiver
Dez Bryant
fares against
Terence Newman
and
Mike Jenkins
at corner.
We expect the wide receiver rotation to go
Miles Austin
,
Roy Williams
and Dez Bryant. No
Patrick Crayton
today -- he's sitting out this week.
Tony Romo
has a tee time to qualify for the HP Byron Nelson Championship around 9:57 a.m., but it's doubtful he will make it. The OTAs start at 11 a.m. and Romo needs a rain delay to get him out on the course.
The weather people say theres' a 20 percent chance of rain in the forecast. We've got sunny skies right now.
April, 30, 2010
4/30/10
5:13
PM ET
IRVING -- Cowboys offensive line coach Hudson Houck is looking for some versatility among his offensive linemen and he broke it down for us.
Travis Bright
is a center and guard.
Montre Holland, who will finalize a two-year contract on Monday, is a guard, though Jerry Jones said he might see some time at center.
Robert Brewster
is a left tackle and is in line to become the swing tackle.
Pat McQuistian is being moved from tackle to guard.
Cory Procter
is the center/guard.
First round pick
Sam Young
is mainly a right tackle. Houck said Young isn't ready to move to the left side yet.
As for the starters, only
Leonard Davis
, the right guard, could change spots, possibly moving to tackle, but that's not going to happen right now.
As for moving
Doug Free
into the new starting left tackle spot with
Flozell Adams
being cut earlier this month, Houck said: "We have confidence in him, but we can help him in any way. You have to keep the youth in your group. When you draft these guys you have to draft the right group."