Dallas Cowboys:

Troy Polamalu
May, 15, 2013
May 15
4:04
PM ET
GRAPEVINE, Texas –
Will Allen
came in as a fourth-round pick at Tampa Bay with Monte Kiffin as his defensive coordinator in 2004. Nine years later, Allen has been reunited with Kiffin, who is in his first year as the Cowboys' defensive coordinator,
PODCAST
John Lynch joins Fitzsimmons & Durrett to discuss playing for Monte Kiffin and Rod Marinelli, why Cowboys fans should be excited about the new defensive staff, why Valley Ranch will no longer resemble a country club and his thoughts on the Cowboys roster.

Listen

"Monte's a trip, man, but it's fun," said Allen, who signed a one-year deal with the Cowboys after starting eight games for Pittsburgh last year. "I'm excited about it. I understand the defense and I understand the expectations and the standard, and I want to be able to convey that message to the guys here and help this team build and grow. I'm excited."
Allen played five years under Kiffin in Tampa Bay. In 2006, he started every game and had a career high 77 tackles. He played for Pittsburgh from 2010-12.
Why sign with the Cowboys?
"It's a number of things," he said. "It's the opportunity to play with Dallas, the opportunity to be in the system again and the challenge of being able to start in this league. I started eight games last year with the Steelers and I see a great opportunity to start with the
Dallas Cowboys
and compete and help this team win."
In Pittsburgh, Allen was surrounded by veterans in
Ryan Clark
and
Troy Polamalu
. With the Cowboys, he is surrounded by inexperienced players like
Barry Church
,
Matt Johnson
and rookie
J.J. Wilcox
.
"It's a little different, but again that's what being in this league is all about," Allen said. "When I first came in the league, I had guys older than I was and they told me a lot about the game. I felt like that community and the fraternity of the league where older guys give back to the younger guys. Whatever team you're on, you want to help win. I don't have a Lombardi and I want that more than anything. I can't do it by myself. I need those young guys. We need each other. That's got to be our mindset."
March, 27, 2013
Mar 27
4:29
PM ET
IRVING, Texas – Last week the Cowboys had a private workout with Texas safety
Kenny Vaccaro
. They saw him again Wednesday at the Longhorns' pro day in Austin.
Today the Cowboys signed veteran
Will Allen
to a one-year deal.
So does it relate to Vaccaro or the team's potential to select a safety early in the draft?
It shouldn't.
Allen has started 33 games in his first nine seasons. He started seven last year in Pittsburgh during
Troy Polamalu
's absence. He has four interceptions and 11 pass breakups in 130 games. He played in Tampa Bay for coordinator Monte Kiffin, so that helps.
But the Cowboys did not sign (or pay) Allen to be a starter. He offers some veteran protection with
Barry Church
,
Matt Johnson
and
Danny McCray
the only safeties on the roster.
The Cowboys are expected to bring Vaccaro in for one of their top-30 visits and also had a private workout with LSU's
Eric Reid
. ProFootballTalk reports that Florida International's Jonathan Cyprien will also make a pre-draft visit to Valley Ranch.
Safety remains very much in play for the Cowboys early in next month's draft, as it should.
The signing of Allen only gives them some insurance.
March, 24, 2013
Mar 24
12:58
PM ET
The Cowboys with only $102,000 in salary cap space available will bring in two free agents, strong safety
Will Allen
and linebacker
Justin Durant
, for visits to Valley Ranch on Monday, according to a source.
Allen started seven games for the
Pittsburgh Steelers
last season and finished with five pass breakups and one forced fumble as
Troy Polamalu
's backup. Allen has played in 130 games in his career with 33 starts.
The Cowboys have a goal of signing a veteran safety to play with starting free safety
Barry Church
.
Matt Johnson
, who missed his entire rookie season with hamstring injuries, is another possible starter at strong safety.
Durant started 14 games for the
Detroit Lions
and finished second on the team with 103 total tackles based on the team statistics. Durant played outside linebacker in the 4-3 defense. He had half-a-sack and three pass breakups last season.
The projected strong side linebacker in the Cowboys defense is
Kyle Wilber
, but the team would like more competition at that spot.
Alex Albright
is another possible starter.
October, 24, 2012
10/24/12
9:27
AM ET
IRVING, Texas – The easy thing for the Cowboys to do now that they know
Sean Lee
is done for the season is to pout.
Jason Garrett will make sure it does not happen -- or attempt to make sure it doesn't happen -- but losing Lee is a huge blow for the Cowboys' defense.
It doesn't, however, have to be a fatal blow.
Last year, Houston lost
Mario Williams
to a torn pectoral muscle after just five games. Williams was a major part of the Texans' defense, but Houston was able to overcome his loss, make the playoffs and even win a postseason game.
This year, the Texans are attempting to win without inside linebacker
Brian Cushing
, who suffered a season-ending knee injury after five games.
This is how the NFL goes. The
New York Giants
are trying to win with cornerback
Terrell Thomas
out for the season and safety
Kenny Phillips
battling a sprained knee. Washington lost
Brian Orakpo
and
Adam Carriker
for the season.
It won't be easy for the Cowboys. It's not easy for any team.
In 2005,
Ray Lewis
played in only six games because of a hamstring injury and Baltimore finished 6-10. In 2002, the Ravens went 7-9 when Lewis was limited to five games with a shoulder injury. In 2009, Pittsburgh had safety
Troy Polamalu
for only five games and finished 9-7 but missed the playoffs.
Lee is the Cowboys' Lewis and Polamalu in many ways. He is their most productive defender. He fills the stat sheet like no other player.
The Cowboys, however, have to fight on and not throw a pity party. They need to steal a page from Houston.
Maybe they can ask Wade Phillips how to do it.
October, 23, 2012
10/23/12
9:37
PM ET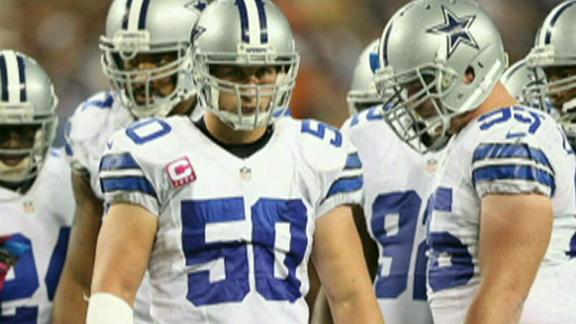 Lee
The
Dallas Cowboys
are bracing for rotten news on inside linebacker
Sean Lee
, who as
Todd Archer reports
could need season-ending surgery on his right big toe. Lee injured the toe in the third quarter of Sunday's victory over the Panthers in Carolina and said after the game that he expected to be fine. But he had an MRI on Monday, and it sounds as though the results were quite discouraging.
As Todd points out, there are plenty of people on the Cowboys' roster who can play linebacker:
Dan Connor would replace Lee in the starting lineup, and he earned praise from coach Jason Garrett for his work against the Panthers, which included a third-down stop of Cam Newton and a pass deflection, after taking over for Lee. Second-year linebacker Bruce Carter would become the defensive signal caller. The Cowboys have Orie Lemon and Alex Albright as backup inside linebackers on the 53-man roster but could look to add another inside linebacker.
However, in spite of the depth the Cowboys have at the position, Lee is not a replaceable player for them. Not only is he their defensive captain and one of their most important leaders, he has played consistently better this year than has any other player on their defense, including superstar outside linebacker
DeMarcus Ware
and either of their two new and very talented cornerbacks. Lee's instincts and playmaking ability cannot be replicated by players like Carter or Connor, no matter how capable they are.
When you've watched the Cowboys' defense this year, you've generally been impressed. And I believe they'll continue to cover receivers well with
Brandon Carr
and
Morris Claiborne
, continue to rush the passer well with Ware and
Jason Hatcher
and continue to defend the run capably with the help of
Anthony Spencer
. They have more good players on defense at this point than they do on offense, and I think they will still play fairly good defense the rest of the way.
But Lee has been playing at a transcendent, superstar-type level -- one of the absolute best defensive playmakers at any position on any team in the league this year. The closest comparison of which I keep thinking is the Steelers'
Troy Polamalu
in his prime -- the way he was always able to be around the ball, whether it was due to speed, instincts, pre-snap positioning or a combination of everything. That's what Lee was delivering this year -- a player who at times made it look as though the Cowboys were playing with an extra man on defense. They simply don't have anyone else on the roster who can play football the way Lee has been playing it. Few teams, if any, do.
June, 29, 2011
6/29/11
11:00
AM ET
Over the last week, there is this debate as to just how good Cowboys outside linebacker
DeMarcus Ware
is.
It's clear the players, in a poll conducted by NFL.com, don't believe he's the best defensive player in the game, or for that matter ranked
among the Top 10 players in the game
.
Ware is ranked 12th overall by his peers. He also wasn't ranked in the top 10 of the
ESPN NFL bloggers' rankings
, either. Ware again was 12th, receiving just three votes from the eight-man panel.
There is this perception that Ware, at least overall, isn't better than Pittsburgh safety
Troy Polamalu
on some of these polls
when it comes to being a top defender.
The facts would indicate something else: Ware is one of the most, if not
the most
, dangerous defensive player in the league.
Last season, he led the NFL with 15.5 sacks, which also included an NFL-leading 8.5 on third down. That means opposing offenses get off the field when Ware gets after them. He also had 4.5 sacks in the fourth quarter, tied for sixth in the league.
What probably hurts Ware is he's not knocking helmets off or getting fined, which draws publicity, though he did get clipped for $12,500 for a hit on then-
Detroit Lions
quarterback
Jon Kitna
in 2007 as payback for some comments he made about
Bradie James
.
Ware doesn't have a deep raspy voice like
Ray Lewis
or some other defenders, which gives off the perception that he's a tough guy. He's not pumping up the team or defensive players prior to the game like
Keith Brooking
and James do.
All Ware does is take care of his business in a soft-spoken way. Ware does his leading behind closed doors. He's learned plenty about leadership from former player
Greg Ellis
, who wasn't shy about sharing his techniques and handling things in the locker room.
If you talk to Ware on a regular basis during the season and ask him how he's defended, he'll admit he's regularly double-teamed. Offenses just don't do that to every pass rusher in the league.
When it came to the best pass rusher in the game,
our bloggers got it right when they ranked him first.
When it comes to the best players in the game, Ware should be in the discussion. He definitely has more of an impact than Polamalu, whom CBS's Pete Prisco says is one of the most overrated player in the league.
Ware is probably one of the NFL's best at being a game-changer. NFC East blogger Dan Graziano said Ware
is the best intimidator in the game.
Prisco has Ware as
the third-best player in the game.
We know Ware is respected locally. But nationally, across the league, is he really getting it?
May, 24, 2011
5/24/11
12:31
PM ET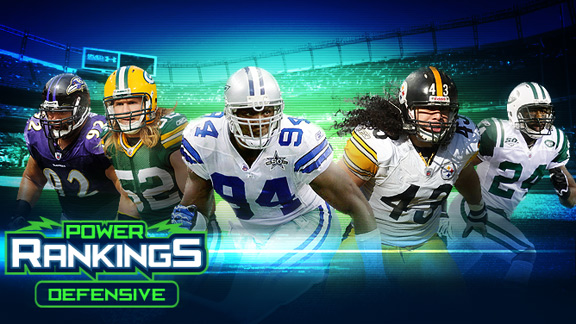 ESPN.com IllustrationTroy Polamalu (43) was the unanimous choice among our bloggers as the NFL's top defensive player.
During the unprecedented offseason of 2011, ESPN.com has ranked the top
pass-rushers
in the NFL. We've ordered
linebackers
, rated
cornerbacks
and chosen the league's top 10
safeties
as well. Now it's time to start putting it all together.
This week's challenge: Meld those four ballots into a single list of the NFL's 10 best defensive players. The subtle shift in parameters required us to consider not only a player's individual impact, but the overall importance of his position to the game.
Both in the draft and in the free-agent market, NFL teams place premium value on pass-rushers and interior defensive linemen. Other positions, most notably safeties, are relegated to secondary priorities. So in that sense, it's both remarkable and telling that
Pittsburgh Steelers
safety
Troy Polamalu
was the unanimous top choice of our committee.
"Troy has a skill set that I've never seen from the safety position," said AFC North blogger James Walker, who has covered Polamalu for years. "He has the hands, coverage skills and acceleration of a corner, but the instincts and timing on the blitz and against the run like a linebacker. When I've asked coaches to draw a comparison to another safety, they struggle to come up with a name, because there's really no one like him. [Steelers defensive coordinator] Dick LeBeau also deserves credit for building his defense around Troy, because that's really hard to do for a safety."
To what extent do NFL teams typically value safeties? Consider that in last month's draft, the first safety wasn't selected until midway through the second round (UCLA's
Rahim Moore
, by the
Denver Broncos
, at No. 45 overall). And in determining franchise tag numbers for a potential 2011 market before the lockout, the league was set to assign safeties the third-lowest figure among all positions, ahead of only tight ends and kickers.
One other safety made our list:
Ed Reed
of the
Baltimore Ravens
. But for the most part, the list was dominated by players known for getting to the quarterback. Our top pass-rusher,
Dallas Cowboys
linebacker
DeMarcus Ware
, ranked second.
Green Bay Packers
linebacker
Clay Matthews
, Pittsburgh Steelers linebacker
James Harrison
and
Chicago Bears
defensive end
Julius Peppers
were among our top eight.
NFC East blogger Dan Graziano rated Ware No. 7 overall and is braced for the wrath of his new readership, but I thought it was healthy and important to add a fresh view that didn't participate in our individual position rankings.
"Guys like Harrison and [Ravens defensive tackle Haloti] Ngata made more of an impression on me," Graziano said. "I certainly don't think calling someone the seventh-best defensive player in the league is any kind of insult. But from what I watched the past couple of years, I felt guys like that impacted the games in which they played more completely than did Ware. If I made a mistake, I'm certainly happy to own up to it and listen to the reasons why I was wrong."
In this debate, right and wrong mattered less than philosophy. Graziano, for example, rated
New York Jets
cornerback
Darrelle Revis
No. 2 overall and also included
Oakland Raiders
cornerback
Nnamdi Asomugha
at No. 8. On the other side of the spectrum, I joined NFC West blogger Mike Sando in choosing only one cornerback (Revis) and one safety (Polamalu). Sando, in fact, ranked Revis No. 9.
Neither one of us has any argument with the skills of Asomugha or Reed. But on a ranking of overall defensive players, we found it difficult to include more than two defensive backs.
"I moved down Revis and cornerbacks in general," Sando said, "for the same reason
Patrick Peterson
went fifth in the draft despite being arguably the best player available. It's just tougher for a cornerback to affect offenses the way a great front-seven player affects them. Quarterbacks can throw away from them."
Along those lines, Sando gave the highest vote for the player who topped our linebacker rankings,
Patrick Willis
of the
San Francisco 49ers
, placing him at No. 2. Willis finished No. 4 with votes ranking anywhere from No. 2 to No. 8
"Willis has no weaknesses and there is no avoiding him on the field," Sando said. "I've seen him return an interception 86 yards for a touchdown, knock out wide receivers with crushing hits, punish quarterbacks on blitzes and scrambles, lift a Pro Bowl offensive lineman off the ground in run support and just generally dominate. He was a serious candidate for the No. 1 spot on my ballot."
Matthews also received a wide range of votes, finishing No. 5 despite three ballots that placed him No. 2, including mine. Most of us considered Ware the top pass-rusher a few months ago, but a few believe Matthews is the better all-around player from the 3-4 outside linebacker position.
"Clay Matthews makes as many game-changing plays as any defender in the league," said NFC South blogger Pat Yasinskas, who joined the AFC South's Paul Kuharsky and myself on the Matthews bandwagon. "That makes him one of the league's best defenders in my eyes. And it doesn't hurt that his team has the Lombardi trophy at the moment."
Said Kuharsky: "Matthews is so dynamic and energetic it made it very difficult for me not to constantly circle back to him as I consider the highest-impact defenders in the league. That Seifert and Yasinskas also rate him second just goes to prove that what everyone says about those two is dead wrong."
A backhanded compliment from Paul Kuharsky? I can't think of a better line to close on.
February, 1, 2011
2/01/11
3:25
PM ET
ARLINGTON, Texas -- The roof of Cowboys Stadium was closed Tuesday for obvious reasons but that did not mean it was a climate-controlled temperature inside the $1.2 billion joint.
Several players at either end of the podiums that stretched the length of the field sported goose bumps as they spoke on Media Day because of a windy draft that came through the tunnels.
"It's freezing," Steelers right tackle and former Cowboy
Flozell Adams
said.
At one point Pittsburgh safety
Ryan Clark
yelled over to newly-crowned Defensive Player of the Year
Troy Polamalu
during the Steelers' hour-long session, "Troy, tell them to turn on the heat. They'll listen to you."
The Steelers and Packers were hoping to avoid the colder climate, especially being inside.
"I want it to leave," Green Bay wide receiver
James Jones
said. "I don't want it to be here. It's not that cold. I mean there is a little snow on the ground, but we're from Green Bay, we can deal with it. It was crazy when we were driving up here and they were putting sand on the roads. I'm like, 'What are you guys doing putting sand on the ground? You guys are going to get us stuck.'"