Dallas Cowboys:

U.S. Open
April, 17, 2012
4/17/12
4:31
PM ET
IRVING, Texas –
Tony Romo
will not attempt to qualify for the U.S. Open after all.
Romo said he has elected to skip the May 14 local qualifier at Old American Golf Club in The Colony.
According to the USGA's Web site, Romo was listed in the upcoming field, but the quarterback said the application to play in the event was not made by him.
Romo has attempted to qualify for the U.S. Open numerous times and reached the sectional qualifying in Houston two years ago. He did not make it out of local qualifying last year.
The Cowboys started the supervised offseason program on Monday, however, Romo and a high percentage of teammates had been working out at Valley Ranch on their own for more than a month.
"The workouts have been great," Romo said. "The intensity and focus have been great to see."
April, 17, 2012
4/17/12
11:36
AM ET


First Take discusses Tony Romo's attempt to qualify for the U.S. Open and whether or not it'll be a distraction for the Cowboys' quarterback -- especially after Romo has just said his career will be defined by winning a Super Bowl.

It's no surprise that Skip Bayless is totally against Romo's hobby during the offseason, saying he should be spending his time getting ready for the season and working out with receivers.

But quick to come to Romo's defense is Steelers FS Ryan Clark.

Interesting give and take. Give it a view above.
April, 16, 2012
4/16/12
3:03
PM ET
Dallas Cowboys
quarterback
Tony Romo
is making another run at his favorite offseason golf event -- the U.S. Open.
Romo, who advanced to sectional qualifying two years ago, will play in the local qualifier on May 14 at Old American Golf Club in The Colony. If he advances, sectional qualifying will again be in Houston. He filed his entry under the name "Antonio" Romo.
He didn't make it out of local qualifying last year, shooting a 9-over 81.
The U.S. Open is June 14-17 at The Olympic Club in San Francisco.
Earlier this year, Romo was paired with
Tiger Woods
at the AT&T Pebble Beach National Pro-Am, finishing tied for 17th in the best-ball team competition.
June, 9, 2010
6/09/10
9:27
AM ET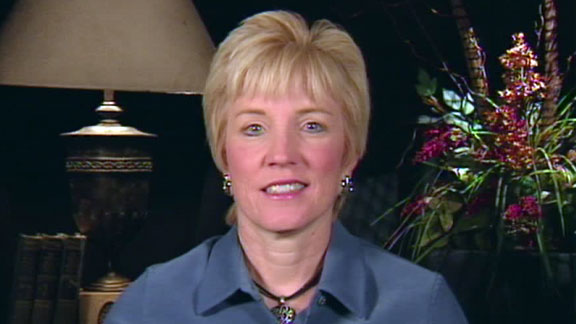 IRVING, Texas --
Tony Romo
acknowledges he has an addiction, but he doesn't consider it a problem.
Romo craves competition.
Golf is just Romo's most high-profile athletic hobby. He tried to qualify for the U.S. Open because he thrives on the challenge, not the attention.
The same goes for his participation in high-level amateur indoor soccer and basketball leagues. He boasts that his soccer team is "loaded" and has advanced to the league semifinals. He stars on a basketball team (also featuring a 6-foot-5, 260-pound banger named
Jason Witten
) that has won its Prestonwood Baptist Church league six of the past seven years, beating a team that brought in recently retired NBA player Greg Buckner as a ringer in the finals this year.
Pingpong, pool, whatever … Romo's up for the challenge.
"I just love competition," Romo said after Tuesday's organized team activity workout. "I can't get enough of it, and my days are pretty much scripted around it consistently. For me, that's enjoyable. Going on vacations is not enjoyable, because I don't get the competitive side day to day."
(Plus, there's the paparazzi factor. But back to the subject.)
"It really is something that I just enjoy," Romo continued. "I don't care what it is. I just want to compete and do those things. I get a great sense of satisfaction out of going out and winning. It's allowed me to continue to improve, I think, just because I enjoy that aspect."
It's ridiculous to think that Romo's golfing hurts his football game. As Wade Phillips frequently notes, Romo has never missed any team activity at Valley Ranch. Not one voluntary workout, weightlifting session or teaching session. And Romo spends countless hours at the practice facility on his own, watching film, searching for any minute thing that might help the three-time Pro Bowler improve.
When Romo isn't at work, he often finds ways to fuel his competitive joneses. There are a heck of a lot worse habits a franchise quarterback could have.
June, 7, 2010
6/07/10
8:07
PM ET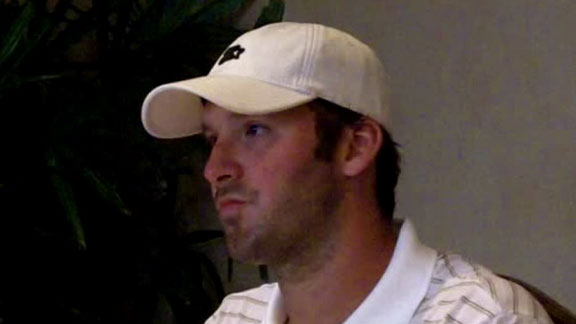 THE WOODLANDS, Texas -- Tony Romo had a fantastic start to his day.
While trying to qualify for the U.S. Open championships, Romo failed to reach his goal, by after shooting a one-under 71 in the first round, he struggled to start the second round.
When the first round was over, Romo was in contention to make a run in the second round.
"I probably knew on 13 and 14 I was in a position to at least have a chance on the second 18," Romo said. "It's a different deal, I don't know if I've ever played 36 holes. But I think I have in a golf cart. But its been a long time."
Here are his scores of the first three holes of the second round: 8, 5, 6. Not good.
In the first round, Romo made a par on the first hole, but when he returned to the hole to start round 2, his tee shot went left, his second shot was ruled unplayable and his fourth shot hit a tree and the rest, well forget it, it just went down hill from there.
On No. 2, Romo bogeyed and then on No. 3, a par 3, when he made par the first time, he shot a triple-bogey.
No. 4 started off badly as well, when his tee shot went into the man-made lake. As Romo was preparing for his approach shot, thunder heard on the course, pushed all golfers off the course for the second time of the day.
He played in front of a gallery of 100 fans, some wearing Cowboys jerseys, hats, t-shirts and the such. Romo signed autographs, changed shirts and shorts three times because of the heat and gave a young fan a fist pump.
"It's a good golf course," said Romo, who played the course on Sunday. "Really tough."
It was a nice day for Romo on the golf course who played in front of his dad Ramiro, who smoked a couple of cigars along the way.
"It was a good day," Romo said. "I put myself in contention there a little bit and I think the delays were positive and negative but it's exciting to be competing and it's fun to teach yourself lessons on the golf course [and] about sports in general. And I took away a few things today I'm going to use in football, so that's a positive in that respect and it's just fun going out there and competing."
Romo's struggles on that first hole in round two, just carried onto the next hole.
"On that first hole, your out of it," Romo said. "At that point, I think your just trying things then, your always trying to improve and get better. If I had finished the round the rest of the way would have been about trying to improve as a golfer."
June, 7, 2010
6/07/10
7:51
PM ET
THE WOODLANDS, Texas -- In case you were wondering, Cowboys quarterback
Tony Romo
will be ready for the final week of practices at Valley Ranch, which start Tuesday.
Romo played 21 holes in humid conditions Monday and failed to qualify for the U.S. Open championships while competiting in a sectional at The Club at Carlton Woods. Romo played well in the first 18, going one-under par 70. But he went crazy in the second round, shooting a quadruple bogey, bogey and triple bogey in the next three holes.
Thunder forced the players off the course, and Romo said his day was done.
But Romo said the long day, which started around 8 a.m. at the driving range and ended around 5 p.m., won't deter him from football practice, because, as he said, that's his day job and his dream job.
"I think I'll be alright," Romo said. "We played 21 holes, I'll be alright. I've ran in the heat before. I'm in a position playing 36 or a certain amount of holes, I think I'm in good condition where I would be OK with that. To be 50 or to be doing it at that stage, that's an incredible mental makeup to be consistent and to go out and play four rounds of the Memorial and then come right back, that's a grind and those people deserve all the credit they get."
June, 3, 2010
6/03/10
7:24
PM ET
Tony Romo
is one of 36 golfers scheduled to compete for two U.S. Open spots in the sectional qualifying tournament at the Club at Carlton Woods in The Woodlands, Texas.
His competition includes three veterans of the U.S. Open. Steve Elkington, who owns eight PGA Tour victories, headlines that group. He's played the U.S. Open 12 times.
Texas A&M's Cameron Peck is trying to qualify for his first U.S. Open, but he does have a 2008 U.S. Junior Amateur under his belt.
Cowboys fans need not fret about Romo, who earned his spot by parring three holes at a local qualifier last month, missing work for this tournament.
Romo will play in the tournament Monday and return to Valley Ranch in plenty of time for Tuesday's OTA workout. If he manages to make the U.S. Open, he'll have no conflict with football. The U.S. Open begins June 14, the day after the Cowboys complete their minicamp.
May, 20, 2010
5/20/10
4:13
PM ET
CARROLLTON -- Cowboys quarterback Tony Romo is at even par through 10 holes of his U.S. Open local qualifier at The Honors Golf Club of Dallas. He started on the back nine, shooting even-par 35 and just parred No. 1.

Romo likely needs a low score to reach the sectional round -- the low score of the day thus far is from Dallas' Mike Jewell, who shot a 64.
May, 20, 2010
5/20/10
4:04
PM ET
CARROLLTON -- The start of Tony Romo's local U.S. Open qualifier was delayed 30 minutes because of lightning.

Playing at his home course, The Honors Golf Club of Dallas, Romo probably needed a low score to reach the sectional round. The low score of the day was from Dallas' Mike Jewell, who shot a 64. Brent Marshall from The Woodlands shot a 71. Fort Worth's Kevin O' Connell shot a 74.
May, 20, 2010
5/20/10
11:21
AM ET
Quarterback Tony Romo is back on the golf course today, his noon tee-time has been pushed back 25 minutes due to lightning, from his home course, The Honors Golf Club of Dallas in Carrollton, Texas.

Romo is trying to qualify for the U.S. Open.

He has to finish in the top seven today in the U.S. local qualifying to move on to the Sectional qualifier. If Romo has a low score there, he gets to Pebble Beach for the U.S. Open.

Romo moved out of the pre-qualifier of the Byron Nelson but couldn't compete in the qualifer round on Monday due to the organized team activities.

Now, with no afternoon practice, Romo will workout Thursday morning at Valley Ranch, before heading to Carrollton to play some golf.