Dallas Cowboys:

Vernon Davis
June, 4, 2014
6/04/14
12:03
PM ET
IRVING, Texas --
Jason Witten
didn't need to be at Monday's organized team activity.
His son had surgery in the morning, and the OTAs are voluntary. Plus, Witten has a resume complete with nine Pro Bowls and a
Dallas Cowboys
' franchise record 879 catches.
[+] Enlarge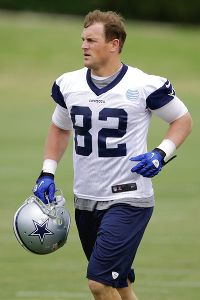 Tony Gutierrez/AP PhotoVeteran tight end Jason Witten takes part in Dallas Cowboys' team drills during Monday's OTAs.
But once he knew his son was fine, Witten drove to Valley Ranch and showed up a little late for the workout. While teammates went through individual drills, Witten warmed up off to the side. By the time team drills began, he was ready.
He wanted to be there not just to improve as a player under the early June sun, but to show his teammates how important the game is to him.
"This time of year you go back to the fundamentals," Witten said. "As an offense you run the basic plays and as an individual player you go back to the basics of what the fundamentals are and it's going to allow you to be better. I've taken a lot of pride in doing those really well. And this time of year you can tighten it up even more."
Playoff success fuels Witten more than catches. Only
Tony Gonzalez
has more catches by a tight end in NFL history, but Witten would trade it all in to win more.
That's why he won't miss an offseason workout, an OTA or a minicamp practice. That's why he will fight the coaches who want him to take a day off in training camp next month.
He is on his sixth position coach with Mike Pope taking over for Wes Phillips. He is on his sixth playcaller in Scott Linehan. There is a new energy brought by changes with coaches who see things a little differently.
"I think with Scott it's been neat to see just his ideas and his view on things," Witten said. "Obviously I've got a lot of respect for him and the success he's had in this league, so being around him is good. Then obviously coach Pope, new ideas and new ways to kind of dive into my world and make me a better player. That's been really good and coming to work every day in finding ways to even be better than what you've done before."
From the outside, Pope and Linehan had a great appreciation for Witten. Now on the inside, the appreciation has grown.
"You think of tight ends and he's like the first guy that comes to my mind as far as the position goes," Linehan said. "He's an every-down player. You don't see that so much. There are a few guys in this league that never come off the field at the tight end position. He's been kind of the one that set the standard, set the bar, so to speak, in this league the last 10 years or so."
Where Linehan would need two, sometimes three tight ends to handle the role in previous spots, he can use Witten in the slot, on the line, in pass protection, as the front-side blocker or as the back-side blocker in the run game and even some fullback.
"He knows everything that you would ask a tight end to know but more," Linehan said. "I mean he's like a quarterback at tight end. He knows all the nuances of the run game. He knows the protections better than anyone. I just think so much of that is him making it that important. ...You can tell he made it his business to know as much as he needed to know."
Witten uses the other tight ends in the league, such as
Antonio Gates
,
Rob Gronkowski
,
Jimmy Graham
, and
Vernon Davis
, to push himself to continue to be at the top of his game.
"I want to try to compete with those guys the best I can," Witten said.
Witten turned 32 last month. He is entering his 12th season. He knows the years are running out, but he thinks more about his hand placement for a block than he does retirement at this point.
"I think more than anything you get in that routine, you feel confident in what you can do and how you can practice and prepare," Witten said. "I'd rather leave it all out there than say I still had some gas in the tank."
November, 29, 2012
11/29/12
11:15
AM ET
IRVING, Texas – The Cowboys are looking at possibly having their fewest number of Pro Bowl representatives since 2002.
The only two players in the top five in the current fan voting are
DeMarcus Ware
, who is second among outside linebackers, and
Jason Witten
, who is fourth among tight ends.
The only Cowboy selected to the Pro Bowl in 2002 was defensive lineman La'Roi Glover on a team that finished 5-11. The Cowboys had two players picked for the game last season, in Ware and nose tackle
Jay Ratliff
.
Witten is second in the NFL in catches with 82 and is on pace to set a league record for catches in a season by a tight end. He is on pace for more than 1,000 yards but has scored only one touchdown. He trails Atlanta's
Tony Gonzalez
, New Orleans'
Jimmy Graham
and San Francisco's
Vernon Davis
.
Ware, who has played in the last six Pro Bowls, is fourth in the NFL in sacks with 10 and second in the conference. He trails Green Bay's
Clay Matthews
in the fan vote.
What other Cowboy could warrant consideration? Maybe
Anthony Spencer
. Maybe
Dez Bryant
. Maybe
Dan Bailey
.
April, 28, 2012
4/28/12
4:14
PM ET
IRVING, Texas --
James Hanna
won't have to travel far to get to the Cowboys' rookie mini-camp next week. It's just about a 20-minute ride from Flower Mound to Valley Ranch.
The Cowboys took the Oklahoma tight end in the sixth round Saturday, fulfilling a need pick with only
Jason Witten
and
John Phillips
on the 53-man roster.
"Honestly I didn't know where I'd go and just coming to the Cowboys, it was an even better feeling than I thought it would be," Hanna said. "It was real exciting."
Hanna did not take part in the Cowboys' Dallas Day workout because he was visiting Minnesota, but he met with the Cowboys at the NFL scouting combine. Hanna caught 52 passes for 720 yards and nine touchdowns in four years with the Sooners. He was a second-team All-Big 12 pick last year with 27 catches for 381 yards.
The Cowboys love to use multiple tight end sets and had only Jason Witten and John Phillips on the roster.
"He's my role model," Hanna said of Witten, a seven-time Pro Bowler. "I've grown up all through football since I've been playing a Cowboys fan and just watching him, he's been there a long time. He's a great player and I'm really looking forward to getting to learn from him."
Hanna was timed at 4.46 seconds in the 40-yard dash, incredibly fast for a tight end, but with players like Witten, San Francisco's
Vernon Davis
, New Orleans'
Jimmy Graham
and New England's
Aaron Hernandez
and
Rob Gronkowski
, tight ends are becoming downfield threats.
"There seems to be so many teams that really look to use tight ends, even multiple tight ends," Hanna said, "and I couldn't be happier with the time I'm in the league and I'm grateful for the opportunity."
September, 17, 2011
9/17/11
2:00
PM ET
IRVING, Texas -- Over the last two years,
Jason Witten
and San Francisco tight end
Vernon Davis
have developed a relationship from playing together in Pro Bowls and taking part in a USO Tour to southwest Asia.
"He was probably the first guy that kind of said to me, 'I remember watching you when I came in the league,'" Witten said. "I was thinking, 'Man, I was always the young guy.' It's good just because being able to watch some tape, that guy has some rare ability to stretch the field. We've seen that the last two years. He's come on a lot. I respect how he plays the game."
Only two years separate Witten and Davis, but this is Witten's ninth season and Davis' sixth. Witten said he remembers chasing around
Tony Gonzalez
seeking knowledge at his first few Pro Bowls.
On the USO trip, Witten and Davis would talk football.
"It's one of those things where you tell a little and you keep a little," Witten said. "I didn't want to tell it all to him. But he asked a lot of questions. I had good questions for him, too, plays he likes. Football wasn't the priority when we were over there, but sitting around at night time with no television that's where the talks went."
September, 17, 2011
9/17/11
8:00
AM ET
By
Bryan Broaddus
| ESPNDallas.com
Here are the key matchups for the Cowboys' showdown Sunday with the San Francisco 49ers:
Cowboys safeties vs. 49ers TE Vernon Davis:
Rob Ryan has to be real careful in this matchup because Davis has the ability to make plays all over the field.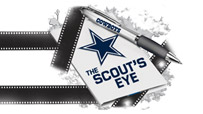 Jim Harbaugh is the play-caller for the 49ers and likes to move and mix his formations to create mismatches. Harbaugh knows the condition of the Cowboys secondary, but he also can't allow Ryan to blitz the way he did last week against the Jets.
The best friend of a quarterback that is struggling to find his way is a quality tight end. Last week it was Dustin Keller for Mark Sanchez; this week it's Davis for Alex Smith.
The one thing that the Cowboys cannot allow is for Davis to have free access in the routes. By free access, I mean they can't just let him get into his routes. The Cowboys need to make him fight all day off the line and down the field. Harbaugh will counter by moving and flexing him off the line.
Harbaugh is trying to give Smith some easy throws to make. He will work Davis back underneath on the boots off misdirection or work him down the field in space, but you will see Smith trying to get him the ball. Davis was the 49ers' leading receiver last week against the Seahawks.
When he studies the Jets tape, Davis will see some of the success that Keller had against the Cowboys. Ryan must find a way in this game to combat the way that Harbaugh wants to use Davis in this passing game.
Cowboys RT Tyron Smith vs. 49ers DE Ray McDonald:
McDonald will line up is right on the nose of Tyron Smith. McDonald will move inside in the nickel along with Justin Smith, and outside linebacker Ahmad Brooks will put his hand on the ground and become the fourth rusher.
I was really impressed by the way that McDonald played on tape. He is a powerful man at 6-foot-3 and 290 pounds. He doesn't have a ton of pass-rush moves, but he has good upper body strength. He showed the ability to walk tackles back into the quarterback and squeeze the pocket that way.
In his short body of work, Smith's biggest problem is when defenders take him hard down inside to his left. He doesn't have the punch on the left side to stop a defender's charge, but this is strength that he will develop as he matures. Smith is at his very best when he can take a rusher wide.
That's not the strength of McDonald's, but he plays with relentless effort both run and pass, so Smith needs to finish his blocks. If Smith lets up for just a count, McDonald will be at the ball carrier or hitting Tony Romo in the face.
Smith's strength is his ability to move; McDonald's is his power. How Smith handles him will affect how the Cowboys operate on offense.
Cowboys DC Rob Ryan vs. 49ers QB Alex Smith:
Ryan will once again have to pull a rabbit out of his hat this week against the 49ers as he opens the game with a banged-up right corner, his fourth corner starting on the left side, his fifth corner as the nickel and a veteran off the street for depth.
To Ryan's credit, he faced a similar situation against the Jets and was able to piece it all together. Ryan understands the cards, now he needs to play the hand.
I look for Ryan to pressure Smith much like he did Sanchez. Ryan will not allow Smith to feel comfortable in the pocket for one minute.
This 49ers' offensive line across the board is nowhere as good as the Jets. Look for Ryan to take the approach that he will bring pressure to protect his secondary. If he can get DeMarcus Ware or a linebacker or defensive back home before Smith gets rid of the ball, then he will control this game.
Smith will want to get rid of the ball quickly much like Sanchez did. The problem is that Smith, like Sanchez, will struggle with his accuracy. Ryan had his front seven locked in last week. He will need the same this week to rattle Smith, who is not a confident quarterback.
September, 16, 2011
9/16/11
8:00
AM ET
By
Bryan Broaddus
| ESPNDallas.com
Something I learned a long time ago when I was starting out as a young scout with the Packers was that when you lost a game in the NFL, there is no one in the league that felt sorry for you. You study the tape, make the corrections, and you move on to the next week.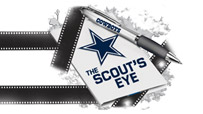 As hard as that loss against the Jets was to take, this team must move on. What awaits the Cowboys in Week 2 is a trip to San Francisco against a 49ers team that smothered the Seahawks on defense and then made them pay for their inability to cover on the punt and kickoff return with reserve wide receiver
Ted Ginn
returning one of each for a touchdown to put the game away.
The 49ers have some nice talent in some key spots, but I would not say that quarterback is one of those spots.
Alex Smith
was selected with the first overall pick in the 2005 draft, the same draft with
Aaron Rodgers
who went some 22 picks later. Rodgers has thrown for over 8,000 yards his first two years as a starter and has a Super Bowl MVP to his credit, while Smith is working with his third head coach in the last seven years.
Breaking down Smith, he stands tall in the pocket, keeping his feet active. When he feels pressure, he will slide to safety. If receivers are covered down the field, he will check the ball down to the backs underneath.
Smith did a nice job in the Seattle game of keeping his eyes down the field but running with the ball to convert third downs or put his offense in a positive position. The Cowboys have to be careful with Smith if Rob Ryan plays man coverage chasing receivers all over the field and Smith takes off running to try to make a play.
The ball comes off his hand with some velocity with an overhand throwing motion. Smith will try to look off receivers then come back the other way with the ball.
Head coach
Jim Harbaugh
is the play caller, so he really tries to run the offense to give Smith the best opportunity to make an easy throw in the passing game. Harbaugh will move the pocket with waggles or boots giving Smith high/low reads with receivers.
In the Seattle game, Harbaugh mixed his formations throughout, lining up in one look then shifting pre-snap to try to create confusion. Harbaugh went unbalanced several plays, then ran the ball weak side with
Frank Gore
, which was a different wrinkle.
Along with tight end
Vernon Davis
, Gore is the 49ers' best offensive player. Gore doesn't have explosive speed, but what he does have is the ability to keep coming at you. He is a physical back.
There were times where Harbaugh was able to start Gore one way then bring him back with misdirection with a pulling tackle and a backside tight end. Gore has the vision to see the creases and holes. Again, he just isn't a burner.
The Seahawks had some success against Gore making him stop and have to restart. Gore is one of those backs that builds up speed as he runs. The Seahawks were able to get some defenders into the backfield, causing him problems getting going again.
This will be the second week that the Cowboys defense will have to face an athletic tight end. Last week, it was the Jets'
Dustin Keller
. This week, it's Davis, who has freakish speed down the field. If I am Ryan, I do not allow him free access in the route.
Davis is similar to
Jason Witten
in that he is too athletic for a linebacker to cover and too big for a defensive back to deal with. Unlike Witten, Davis wants nothing to do with the run blocking side of the game. Harbaugh will line Davis up all over the formation and Smith looks for him in route first.
Last week against the Jets, Ryan took
DeMarcus Ware
and moved him to the left side to rush against right tackle
Wayne Hunter
. This week, look for Ryan to potentially have the same plan moving Ware over 49ers right tackle
Anthony Davis
.
Was not impressed at all with Davis' work. He is heavier than Hunter and his feet are slower. Ware and the other rushers should be able to attack Davis to the outside then work some underneath moves as well. Look for Harbaugh to try to use that misdirection I mentioned earlier to slow Ware down in his rush.
Last week, the Cowboys did a nice job in their front seven of coordinating their linemen with linebackers and creating pressure on
Mark Sanchez
. Smith will likely face the same pressure from Ryan with multiple looks and pressure. Again, Harbaugh will try and give Smith easy throws and he will also try and move the pocket to keep the pressure off his quarterback as well.
On the defensive side of the ball, the 49ers have a nice front seven. It's a group of players that are high effort and motor types. Ends
Justin Smith
and
Ray McDonald
are relentless rushers and active against the run.
The Seahawks had trouble blocking this front because they were unable to sustain blocks. If you don't keep a hat on Smith, McDonald,
Ahmad Brooks
and
Isaac Sopoaga
, you are going to struggle to move the ball.
The inside linebackers on the 49ers are outstanding.
Patrick Willis
and Navorro Bowman are always around the football.
When the Cowboys tried to run the ball last week, they had to deal with the Jets and their run-through inside linebackers. Run-through linebackers read the play quickly, see the gaps and beat the blockers to the spot. When you face run-through linebackers, it throws off your running game because they get into the backfield and it messes with the timing of the play.
These 49ers linebackers are more active than what the Cowboys faced last week, so the zone blocking scheme of the Cowboys will be tested.
When the 49ers blitz, they like to use their inside linebackers in games with the defensive line. In the nickel, Smith and McDonald will move inside and Brooks moves from outside linebacker to rush end. In this look is where you see those blitzes.
The Cowboys will also need to be aware that the 49ers can get good pressure with just a four-man rush.
In the secondary,
Tarell Brown
and
Carlos Rogers
are the corners and
Dashon Goldson
and
Donte Whitner
are the safeties. I really liked the play of Brown more than that of Rogers. Brown is quick footed and also did a nice job of fighting for the ball in the air. Brown is a bit of a gambler and is not afraid to jump routes.
Rogers has faced the Cowboys many times in his career as a former member of the Redskins. Rogers will play in the slot when the 49ers go to the nickel. If the Cowboys can hold up against the front seven pressure of the 49ers, then they will have a chance to make some plays against this secondary that is good but not great.
March, 29, 2011
3/29/11
1:05
PM ET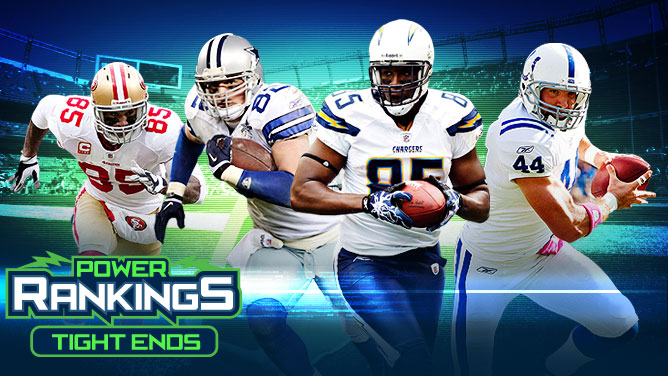 ESPN.com IllustrationDallas' Jason Witten earned the top spot in our voting over San Diego's Antonio Gates.
ESPN.com's NFL writers rank the top 10 tight ends in the league today. Next week: Top 10 coaches.
Antonio Gates
has received the
Adrian Peterson
treatment.
This guy didn't do it this time.
Up from the NFC South rises Pat Yasinskas into the ESPN.com Power Rankings' hot seat. Embrace the heat, my friend. In another airtight positional Power Rankings battle, Dallas'
Jason Witten
edged out Gates by one vote to be crowned the almighty ruler of all NFL tight ends.
How in the name of Kellen Winslow did it happen, San Diego? Talk to Yasinskas.
Yasinskas ranked Atlanta's
Tony Gonzalez
No. 2. He had Witten No. 1 and Gates No. 3. Witten finished with 76 voting points. Gates had 75. No other voter placed Gonzalez higher than fifth. He finished sixth.
Send your cards and letters to Yasinskas, Dallas
. If you must let him know your thoughts, stay classy, San Diego.
Yasinskas reasoned that he sandwiched Gonzalez between Witten and Gates because of Gonzalez's incredible career. Gonzalez, 35, owns every major receiving record by a tight end.
"Yes, he's nearing the end of his career, but this is the best tight end in history," Yasinskas said. "I think that counts for something. Gonzalez still is playing at a high level. He has great chemistry with quarterback
Matt Ryan
and the desire for a Super Bowl ring is keeping Gonzalez going strong."
Here is the rest of the top 10 after Witten and Gates: Indianapolis'
Dallas Clark
(53 points), San Francisco's
Vernon Davis
(50), Washington's
Chris Cooley
(36), Gonzalez (33), Tampa Bay's
Kellen Winslow Jr.
(26), Jacksonville's
Marcedes Lewis
(21), Detroit's
Brandon Pettigrew
(18) and Green Bay's
Jermichael Finley
(15).
Witten and Gates clearly stand out as the game's elite tight ends. Witten was ranked first on four ballots and second on the other four. Gates received the other four first-place votes. He received three second-place votes and Yasinskas' third-place vote.
The only thing that separated Witten and Gates in 2010 was health. Witten, 28, had 94 catches for 1,002 yards and nine touchdowns last season. Gates, 30, was on his way to a brilliant season when it was derailed by nagging ankle and foot injuries. Gates ended up on injured reserve and missed six games. He finished with 50 catches, 782 yards and 10 touchdowns.
Matt Williamson of Scouts Inc. said both Witten and Gates are game-changers.
"Witten to me is the class of the two-way tight ends," Williamson said. "Receiving needs to trump blocking because that is what the league is right now. If someone put Witten first on the list, I can buy that. In terms of doing it all, I think he is the best. … I think he is the best of the two-way guys if you put an equal amount of faith in both receiving and blocking. He is the all-around tight end prototype. If you put more weight on receiving, which I would, you have to give the nod to Gates. He was awesome last year. He was hurt and that was the only negative other than blocking. He played hurt a lot and was great."
Let's dig deeper into the rankings:
Not easy pickings:
Several of our voters were surprised by the difficulty of this process. This is our fourth position in the series. We previously looked at receivers, running backs and pass-rushers. The pass-rushers process was very difficult. This vote was not a cool breeze, either.
This is a very strong league for tight ends these days.
"After a hellish pass-rusher ballot, I thought tight ends would be far easier," AFC South blogger Paul Kuharsky said. "They were just as difficult. There is a great deal of young talent too. I steered clear of first-year guys, but in another season or two, this could be even more brutal to sort through."
Blame injuries:
In addition to the glut of talent, a primary reason this vote was so difficult was the fact that there were major injuries at this position in 2010. In addition to Gates, Clark, Finley and Houston's
Owen Daniels
were injured. That changed the voting landscape.
"I thought it was tough because there are a lot of guys with mitigating circumstances," NFC North blogger Kevin Seifert said.
Clark's injury prompted Yasinskas to rank him 10th. No other voter placed him lower than fourth.
"There's no doubt this guy has had a great career," Yasinskas said. "But I ranked him a little lower than most and that's almost entirely because he missed 10 games last season. Clark is 31 and I'm not sure he'll be the same player going forward."
[+] Enlarge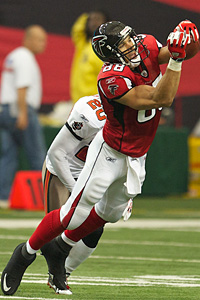 Dale Zanine/US PresswireWill star Falcons tight end Tony Gonzalez finally notch his first playoff win on Sunday?
Not everyone loves Tony G.:
Clearly, Yasinskas believes in Gonzalez. He gets to see him play regularly and thinks he's still an impact player. That's why he ranked him second. But not everyone agrees that the future Hall of Famer is still an elite player. Kuharksy left Gonzalez off his ballot altogether.
"Gonzalez is still an excellent player," Kuharsky said. "But as I struggled to find room for the 10 I felt needed to make the cut, he fell off. In 2010 his numbers suggest he was more quantity than quality. I'm not looking for giant plays from my tight end, but Dallas Clark replacement
Jacob Tamme
matched Gonzo's 9.4 yards a catch, and while Gonzalez's first-down percentage was good (55.7), it was way lower than that of the three top rookies and smaller than that of guys like
Heath Miller
,
Ben Watson
and
Todd Heap
, whom I hardly considered. One final note: As I've got access to Frank Wycheck during three shared radio appearances a week, I asked him for a ballot. I'm sure he admires Gonzalez's body of work. But right now Gonzalez wasn't in Wycheck's top 10 either."
The Davis flip-flop:
The 49ers' immensely talented tight end received a wide range of support. Four voters had him third. Yet, I had him ranked ninth and Yasinskas had him eighth. I like Davis, but I'm not convinced we always see his best effort.
NFC West blogger Mike Sando was among those who voted Davis third. Sando argued that Davis has made an impact despite playing with subpar quarterbacks.
"It's easy to forget about Vernon Davis because he plays for a low-profile team that has struggled," Sando said. "If you've seen the 49ers much, you know Davis makes the huge play better than any tight end in the league. He'll catch touchdown passes for 60 or 70 yards, outrunning even cornerbacks. He remains unrefined and can still improve his all-around game quite a bit, but his 20 touchdown receptions over the past two seasons rank first among tight ends."
This position is in it for the long haul:
I remember a conversation I had with Gates prior to the 2009 season. He was glowing over all the young talent at the position in the NFL. Gates rattled off several young tight ends he expected to have bright careers.
There's no doubt, this is a special time for tight end play. As Gonzalez puts the cap on the most brilliant career by anyone at the position in the history of the game, the position is well stocked for the future.
Five players on the list -- Davis, Winslow, Lewis, Pettigrew and Finley -- are 27 or younger. The only players who are 30 or older on the list are Gonzalez, Clark and Gates.
Oakland's
Zach Miller
and the Jets'
Dustin Keller
, who finished 11th and 12th, respectively, are also young players. Miller is 25 and Keller is 26.
February, 26, 2010
2/26/10
4:16
PM ET
Dallas Cowboys
tight end
Jason Witten
will embark on a weeklong visit to visit U.S. troops at military bases in Southwest Asia.
NFL players have participated in the NFL-USO tours for more than 40 years.
But Witten isn't going alone.
San Francisco 49ers
tight end
Vernon Davis
,
Cleveland Browns
tackle
Joe Thomas
, and
Houston Texans
defensive end
Mario Williams
are also going.
The tours have gone to Afghanistan, Bosnia, Iraq, Korea and Somalia among other cities and countries.
Last year,
Jared Allen
,
Danny Clark
,
Larry Fitzgerald
and
Will Witherspoon
traveled to Iraq and Kuwait along with coaches Tom Coughlin, Bill Cowher, Jeff Fisher, Jon Gruden and John Harbaugh.