Dallas Cowboys:

vinny curry
November, 29, 2012
11/29/12
10:30
AM ET
Well, the rematch with the
Philadelphia Eagles
is Sunday night at Cowboys Stadium, and in our weekly segment, The Other Side, we get a chance to chat with Jeff McLane, the Eagles beat writer for the Philadelphia Inquirer.
Enjoy.
Q: Is the Philadelphia defense this bad?
A:
It sure looks it. It wasn't that bad in the first six games under Juan Castillo. He had significant struggles last season but appeared to have the defense playing as a cohesive unit before Andy Reid fired him in October. But since
Todd Bowles
took over, things have gone ridiculously downhill. In five games, opposing quarterbacks have a 139.9 passer rating, completed 75.2 percent of their passes and averaged 9.7 yards per attempt. They've thrown 13 touchdown passes and no interceptions. When Castillo was in charge, opposing quarterbacks had a 69.4 passer rating, completed 52.6 percent of their passes and averaged 6.2 yards per attempt.(And they tossed seven touchdowns against seven interceptions.
Q: Is it worth it to even play Michael Vick at this point?
A:
For the Eagles, no. Vick may see things the opposite way. He will obviously want to play once he's cleared to return from a concussion to show prospective employers that he can rebound from the head injury and that he isn't one of the primary reasons for his team's demise. But the Eagles need to see what they have in
Nick Foles
. And with the final eight games all but meaningless, now is as good a time as any to see if the rookie can be the quarterback of the future.
Q: Do the Eagles have any young players worth watching Sunday night?
A:
While the 2010 and 2011 drafts were busts, the Eagles' 2012 class looks promising. Defensive tackle
Fletcher Cox
, the Birds' top pick, has been their most consistent lineman all season. He has a lower back contusion, however, and probably won't play in Dallas. Linebacker
Mychal Kendricks
has hit that proverbial rookie wall, but he still comes up with a play or two every game. Second-round pick
Vinny Curry
finally dressed on Sunday and showed lots of promise. The defensive end's effort paved the way for the release of
Jason Babin
on Tuesday. And then there's
Nick Foles
, of course.
Q: Any chance Andy Reid gets one more chance to coach the team in 2013?
A:
I think I have a better chance of coaching the Eagles next season than Reid. Owner Jeffrey Lurie said before the season that the Eagles needed to show "substantial improvement" upon last season's 8-8 finish for Reid to return for a 15th season. The Eagles, of course, have already reached the eight-loss bar Lurie set. He also said it would be obvious at the end whether Reid should stay or go. And this season's disaster -- after last season -- makes it's perfectly clear that Reid's time has come to its end.
Q: Can the Eagles beat anybody that's left on their schedule?
A:
Good question. A few weeks ago it looked like Tampa may be their easiest opponent, but the Bucs have come on strong. The Eagles still have all three of their NFC East rivals to face. Those games almost always seem to be up for grabs. So I think they should be able to win one of those games. They did already beat the
New York Giants
, as hard as that is to comprehend. The unknown question, though, is whether Vick will be at quarterback for any of those games. He at least gives them a fighter's chance every week.
April, 28, 2012
4/28/12
8:24
PM ET
»
NFC draft analysis
:
East
|
West
|
North
|
South
»
AFC
:
East
|
West
|
North
|
South
The only NFC East team that didn't trade up in the first round is the one that just won the Super Bowl. That gives you a sense of how hungry the division's other three teams are to catch the
New York Giants
and take their shot at the Lombardi Trophy they were holding up in Indianapolis a few months ago.
The
Washington Redskins
made their trade-up a month early, dealing away three first-round picks and this year's second-rounder in order to secure the man they believe will be their franchise quarterback. The
Dallas Cowboys
made theirs Thursday night, when they decided it was worth spending their first- and second-round picks this year to secure the best defensive player in the draft. And the Eagles made theirs a short time later, when the defensive tackle they wanted, Fletcher Cox, fell further than they expected him to fall and the price to move up and get him became reasonable.
But after the top half of the first round, the NFC East teams' drafts went very different ways. The Cowboys, in need of 2012 help at various places on the roster, oddly began picking project players and unknown safeties. The Redskins made some head-scratchers in the middle rounds before getting workmanlike about their offensive line late. And the Eagles had one of those drafts where everything seemed to be falling their way. Time will tell, of course, and there's no way right now to know how any of these players will perform. But here are some thoughts on how it looks in the very early post-draft light.
BEST MOVE
[+] Enlarge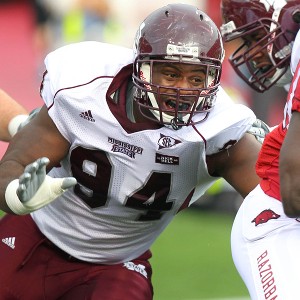 Nelson Chenault/US PresswireThe Eagles were able to move up to get their target, Fletcher Cox, without surrendering high draft picks.
Washington's trade to get quarterback
Robert Griffin III
and Dallas' trade to get
Morris Claiborne
were the headline-grabbers, and I believe that each team will be happy with its first-round pick. But the four high picks the Redskins gave up and the two high picks the Cowboys gave up keep me from labeling either of these the division's "best move" from this year's draft. Washington doesn't have another first-rounder until 2015. And Dallas, which needed help at multiple positions, spent its first two picks on a position they'd already addressed at great cost in free agency. Not enough value in either deal for it to be called a shrewd move.
So I'm giving this to the Eagles' deal to move up and get Cox. Philadelphia arrived at the draft Thursday convinced Cox was the player they wanted, and they believed they might have to move up to No. 6 or 7 to get him. To do that, they likely would have had to surrender at least one of their second-round picks, and they didn't want to pay either of those or their third. Once Cox fell to No. 12, the Eagles were able to move up by surrendering their first-rounder, a fourth-rounder and a seventh-rounder, securing the player they felt was their top target without giving up the picks they wanted to preserve. So while, yes, of course, I consider Griffin and Claiborne better players, I think the Eagles made the best first-round move of any NFC East team -- getting a player who can make a difference for them in the short-term as well as the long-term without handicapping themselves for the draft's second night.
On Friday, the Eagles converted their two second-round picks into a speedy outside linebacker (
Mychal Kendricks
) and a pass-rushing defensive end (
Vinny Curry
) and took the quarterback prospect they wanted (
Nick Foles
) in the third round. That Day 2 haul, compared with what the Cowboys and Redskins were able to get with their Day 2 picks, is what made the Eagles' trade-up the best overall move of the draft in the NFC East.
RISKIEST MOVE
This is a close contest between the two moves that lost out in the first category. It'd be easy to say Griffin, because he cost so much more. But I'm giving this to the Cowboys' trade-up to get Claiborne. It's a tough call, because I think Claiborne may be the best player any NFC East team got in this draft (barely, if at all, ahead of Griffin) and he cost less than Griffin did. But I'm basing this call on the circumstances specific to each team.
The Redskins are taking a big risk, sure, by picking a kid to be their franchise quarterback and telling him they don't have a first-round pick in either of the next two years with which to build around him. But the Redskins had no choice. Their need for Griffin was overwhelming, and they were right to let it overwhelm their priority list for this draft and the next two. Washington hasn't had a franchise quarterback in 20 years, and once they were convinced Griffin could be one, this was a risk worth taking for them.
I do not think, however, that Dallas' need for Claiborne was nearly as great as Washington's need for Griffin. Yes, the Cowboys' secondary was the obvious weak spot of their team last year -- the main reason they fell one game short of the Giants in the division race. But they'd already spent their big free-agent bucks on
Brandon Carr
and had
Mike Jenkins
and
Orlando Scandrick
at cornerback. Does Claiborne have a good chance to be better than any of them? Yes. Could that happen as early as this year? You betcha. But with needs at safety, linebacker, defensive line and offensive line, the Cowboys should have conserved their picks to address multiple needs. They weren't one great cornerback away from being a championship team in 2012, and by trading their top two picks for Claiborne, and then picking project players and reaches the rest of the way, they decided to operate as though that were the case. It's a big risk, and if lingering weaknesses at those other spots do them in this season, they could regret it.
MOST SURPRISING MOVE
Without a doubt, it was the Redskins' selection of Michigan State quarterback
Kirk Cousins
with the seventh pick of the fourth round Saturday. It was Washington's third pick of the draft and the second that had been used on a quarterback. Their reasoning is that quarterback is a vitally important position at which it's impossible to be too deep, and as long as they make it clear to the players involved and to their fan base that Griffin is the starter and Cousins is the backup, it can work. They can develop Cousins in the backup role, have a player they like in reserve in case Griffin gets hurt and perhaps eventually trade him for something of great value in a league in which quarterbacks are the most prized commodities.
FILE IT AWAY
Nobody in this division does the draft better than the Giants, and it'll be worth remembering that the wide receiver (LSU's
Rueben Randle
) they picked at the end of the second round was a player they considered taking at the end of the first. Randle is a dynamic talent who now gets a chance to develop behind brilliant and selfless starting wideouts
Hakeem Nicks
and
Victor Cruz
and with the help of quarterback
Eli Manning
, who has an outstanding record of getting the best out of his receiving targets. Randle could not have been drafted into a better spot for his own development, and he could potentially be an immediate asset for the Giants in the passing game, because he can play the outside spot vacated by free-agent defector
Mario Manningham
and allow Cruz to stay in the slot position from which he exploded onto the scene in 2011. The Giants managed to combine need picks and value picks at almost every turn in this draft, and their second-rounder may turn out to be their biggest prize.