Dallas Cowboys:

Walter Payton
July, 11, 2014
7/11/14
10:00
AM ET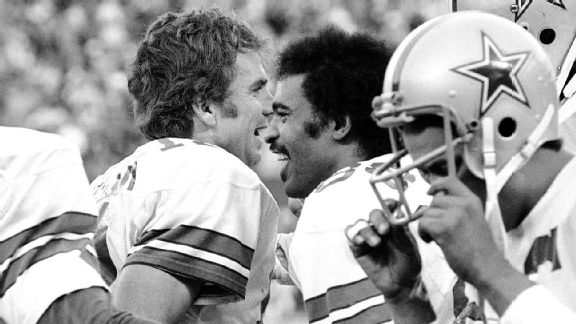 AP Photo/Bill Kostroum
Score:
Cowboys 17, Vikings 14
Date:
Dec. 28, 1975
Site:
Metropolitan Stadium
With nearly 40,000 votes cast, Roger Staubach's Hail Mary pass to Drew Pearson was voted as the most memorable play in
Dallas Cowboys
' history by the ESPN.com readers.
Troy Aikman's fourth-quarter pass to Alvin Harper in the 1992 NFC Championship Game against the
San Francisco 49ers
that set in motion the 1990s dynasty finished second. Bob Lilly's sack of Bob Griese in Super Bowl VI was a distant third even if it propelled the Cowboys to their first championship.

The voters got this one right. Staubach is the most iconic player in franchise history, and that play is frozen in time. It was one of the most iconic plays in NFL history and introduced "Hail Mary," into the league's lexicon. You cannot write the history of the NFL without that play.
To recap the play: With time running out in a 1975 divisional playoff game against the
Minnesota Vikings
, the Cowboys had the ball at midfield and needed a miracle. They had dominated statistically, but the Vikings had a 14-10 lead.
Staubach pumped to his left after taking the shotgun snap, in hopes of moving safety Paul Krause away from the sideline. As he pumped, Staubach said he nearly lost the ball and as a result the pass was underthrown.
Subsequently, Pearson had to pull up and either knocked Nate Wright down (Minnesota's version) or made an excellent adjustment to the ball (Dallas' version) to score the winning touchdown, pinning the ball against his right hip.
Some of you wondered why Tony Dorsett's 99-yard run, Emmitt Smith's carry in which he broke Walter Payton's rushing record or his stiff-arm of Lawrence Taylor playing with a separated shoulder, Clint Longley's Thanksgiving Day heave against the Redskins or even Leon Lett's miscue in Super Bowl XXVII didn't make the list.
Two of my personal favorites: Marion Barber's run out of the end zone against the
New England Patriots
breaking seven tackles and
Tony Romo
's first-down scramble vs. the
St. Louis Rams
after a shotgun snap sailed over his head didn't make the list either.
There needed to be some historic value to the play. The Hail Mary had that, so did Aikman-to-Harper and Lilly's sack.
But there's no question which play had the most value.
February, 2, 2013
2/02/13
8:16
PM ET
Dallas Cowboys
tight end
Jason Witten
was named the 2012 Walter Payton NFL Man of the Year award on Saturday night.
PODCAST
Galloway & Company discuss Jason Witten being honored before the Super Bowl as the Walter Payton NFL Man of the Year and Randy Galloway disputes Warren Sapp's Hall of Fame induction over Charles Haley.

Listen

The award recognizes a players' off-the-field work in addition to what he does on-the-field.
"I am extremely flattered to be chosen the 2012 Walter Payton NFL Man of the Year from such an esteemed group of nominees," Witten said in a statement. "I work hard every day not only to be a success on the football field and a credit to my team -- but to be a good husband, father, son, grandson, teammate -- to be the kind of man that is as respected as Walter Payton was. Like others before me, I have a great opportunity as an NFL player to make a difference in the lives of others. It is honestly humbling to be recognized in such a manner for simply doing what I feel is right and human. I am fortunate to have a great support system in my family, the Dallas Cowboys and the NFL which allows me to make an impact in the communities and with people who love our game."
Jarrett and Brittney Payton, Walter Payton's children, will honor Witten before kickoff of Super Bowl XLVII between San Francisco and Baltimore.
Witten is involved in numerous non-profit organizations which include Jason Witten's SCORE Foundation, which helps people deal with domestic violence, and he's the Cowboys' spokesperson for NFL Play 60.
Witten also hosts a football camp at the University of Tennessee.
He becomes the third Cowboys player to win the Man of the Year award, which recently was renamed Walter Payton Man of the Year award after the late
Chicago Bears
running back.
Troy Aikman
won it in 1997 and Roger Staubach picked it up in 1978.
January, 31, 2013
1/31/13
8:37
AM ET
IRVING, Texas – After 10 years with the
Dallas Cowboys
,
Jason Witten
continues to wait for the most important on-field success a player can have -- winning a Super Bowl. On Saturday he could take home one of the NFL's most important off-field awards.
[+] Enlarge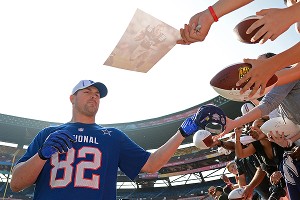 Kyle Terada/US PresswireEight-time Pro Bowler Jason Witten is a finalist for the Walter Payton NFL Man of the Year Award, which honors a player's community activism, as well as on-field success.
Witten is a finalist for the Walter Payton NFL Man of the Year Award, which honors a player's community activism, as well as on-field success. Arizona's
Larry Fitzgerald
and Cleveland's
Joe Thomas
are the other finalists.
On Friday Witten will collect the Bart Starr Award, which is given by Athletes in Action to the player who best exemplifies the same commitment to family, teammates and community as Starr, a Green Bay Packer Hall of Fame quarterback.
Witten just played in his eighth Pro Bowl after catching 110 passes in 2012, a single-season NFL record for a tight end, in addition to becoming the Cowboys' all-time leading receiver. Off the field, Witten and his wife, Michelle, run the SCORE Foundation and he is active in the NFL's Play 60 campaign, as well as the team's partnership with the Salvation Army.
PODCAST
Chris Mortensen joins Galloway & Company to talk about the Cowboys' offseason changes, Roger Goodell and the distractions facing the Ravens.

Listen

"When you think about what Walter Payton represented as a player on and off the field, it means a lot," said Witten, who was a finalist for the award in 2007. "There are a lot of great players in this league doing great things, so you're just humbled to be a part of that."
Growing up, Witten saw the effects of domestic violence first hand and his foundation focuses on the recovery of victims of abuse and breaking the cycle of violence through education and mentoring.
The SCOREkeepers program places full-time, trained male mentors in six women's shelters across Texas for children to see positive male behavior. Three years ago he launched the "Coaching Boys Into Men" program, which trains coaches to educate players on the dangers of dating violence.
The Wittens also funded an emergency waiting room at The Children's Hospital at Johnson City Medical Center not far from his hometown, Elizabethton, Tenn. He also runs football camps locally and back in his hometown that attract more than 1,200 youngsters.
"You never do it (for publicity), you do it to try to make a small influence in young people's lives," Witten said. "Obviously my story is unique and people came into my life and helped pave the way for me and gave me the opportunity to chase my dream. That's what we want to do with young kids' lives. I've read all about what Walter Payton did, and what he represented is what the NFL shield is all about. To be up for this type of award with his name on it, it's up there."
The Cowboys have had three Man of the Year Award winners: Roger Staubach (1978), Tom Landry (1981) and
Troy Aikman
(1997).
October, 26, 2012
10/26/12
10:45
AM ET
IRVING, Texas – Ten years ago on Saturday,
Emmitt Smith
became the NFL's all-time leading rusher, breaking Walter Payton's record.
Smith finished with 18,355 yards when he retired in 2004. With the way the game is being played now, Smith's record seems unbreakable.
"Records ultimately always seem to get broken," coach Jason Garrett said. "Some of those ones that are untouchable and last a long time at some point seem to be eclipsed, but you're question is well taken because the way the league is it doesn't seem like we have these bellcow rushers who get the all 25-30 times a game like they did years ago.
"Of all of Emmitt's greatest traits, and he had thousands as a player – as instinctive a player as I've been around, great balance, great power, explosiveness, feel, vision all that stuff – I think at the end of the day, his most redeeming quality was his durability. Because he was a marked man ever since he was probably 13, 14 years, and everybody knew who Emmitt Smith was going into every game. Every defense wanted to stop him. And week in and week out, year after year after year, he showed up and was so productive. It's hard to find that in this era of football ... I don't think anybody might be able to eclipse what he accomplished."
Through statements released from a spokesman, Smith, who is competing on
Dancing With the Stars
, said he was surprised it has been 10 years.
"It was certainly a milestone for me and was difficult to accomplish," Smith said. "Football is the ultimate team sport; one that's not really about breaking records. My accomplishments throughout my career were due not only to my abilities, but also certainly to the efforts and sacrifices of others. I can't take all the credit. We did this as a team and that is something I'll always cherish."