Dallas Cowboys:

Jordy Nelson
June, 13, 2014
Jun 13
2:00
PM ET
IRVING, Texas -- ESPN Insider Mike Sando has a piece up on the loaded 2015 class of potential free-agent wide receivers, and the
Dallas Cowboys
'
Dez Bryant
leads the list.
Bryant
Sando had help from two NFL general managers, an offensive assistant and a defensive coordinator. If you want to read the full story,
you have to be an Insider

, but Bryant ranked ahead of guys such as
Demaryius Thomas
,
Michael Crabtree
and
Jordy Nelson
.
There are six receivers in the NFL earning more than $11 million per season. Does Bryant join that list with
Calvin Johnson
,
Larry Fitzgerald
,
Percy Harvin
,
Mike Wallace
,
Dwayne Bowe
and
Vincent Jackson
? Do we need to point out the new deal
DeSean Jackson
signed with the
Washington Redskins
is with $8 million annually?
Here's what Sando wrote about Bryant:
Bryant lined up on the perimeter for 89.1 percent of his routes last season, the highest percentage for any player on this list. Versatility is great and teams certainly feature players from the slot, but being labeled as a "slot guy" isn't the best thing for a player's value in evaluators' eyes. "It's such a difference when you have outside guys that can stretch the field," a veteran assistant coach said.

Bryant, who turns 26 in November, accounted for 29.2 percent of the Cowboys' receiving yards last season. That was the highest percentage for any player on the list. He also accounted for 39.4 percent of his team's receiving touchdowns, by far the highest for any player on this list and the third highest for any wide receiver, behind Fitzgerald (41.4 percent) and Megatron (39.4).

"You'd better pay Dez Bryant," one of the GMs said. "Jerry Jones had better pay him. The antics you see, that is raw emotion, his competitive flair coming out."

Another GM expressed some concern about paying Bryant top dollar based on Bryant's overall makeup, but both GMs ranked Bryant first on their list, as did the defensive coordinator. "Teams will bid on Bryant," a third GM said, "but not all the teams will be in on that, because of his personality."
Bryant is set to make $1.78 million on the final year of his rookie contract. He doesn't want to leave. The Cowboys don't want him to leave. How they reach an agreement will be interesting. Bryant did not dismiss the idea of a
hometown discount in this story from Tim MacMahon
last month. I've written that the
structure will matter most.
There is always the possibility of the franchise tag.
But I will ask this question: When was the last time the Cowboys lost somebody they wanted to keep?
December, 19, 2013
12/19/13
5:30
PM ET
IRVING, Texas --
Orlando Scandrick
has been the
Dallas Cowboys
' best cornerback most of the season, but he's been awful the past two weeks.
Scandrick isn't hiding from the fact. The film doesn't lie, and neither do the numbers.
Scandrick
The
Chicago Bears
and
Green Bay Packers
targeted Scandrick a total of 17 times, completing 14 passes for 199 yards and two touchdowns, according to ProFootballFocus.com. By comparison, teams completed 41 of 72 passes for 397 yards and three touchdowns when targeting Scandrick in the Cowboys' first 12 games.
Scandrick, who has been the victim of highlight-reel catches by Chicago's
Alshon Jeffery
and Green Bay's
Jordy Nelson
the last two weeks, is trying to find ways to regain the form he's had most of the season.
"Obviously the last couple of weeks, I would have loved to play better," Scandrick said. "I haven't played up to the standards I set the first 12 weeks. But I don't want to start thinking about like, 'Oh, no.' I don't want to be afraid to make a play or afraid that it's going to happen again.
"I mean, it's not like I'm going against no-name guys, but that's not an excuse. I've got to figure out a way to make those plays. ... Nobody wants it more than me. I've just got to keep grinding and banging away and figure out a way to make it."
With the Cowboys ranked dead last in total defense and having already set the team record for yards allowed, Scandrick has plenty of company among defenders searching for solutions. Career backup quarterbacks
Josh McCown
and
Matt Flynn
have combined for 647 yards and eight touchdowns on 53-of-75 passing against the Dallas defense the past two weeks.
Scandrick mentioned the need for the Cowboys' healthy defensive starters, particularly in the secondary, to do more with injuries eroding the front seven.
"There is no damn fine line," Scandrick said when asked about the balance between trying to do more and attempting to do too much. "I feel like I can't let people catch balls on me or, oh, no, we don't have a shot. Clearly I can't have an off day or somewhat off day, because it's all magnified and you see the results."
March, 20, 2012
3/20/12
1:37
PM ET
IRVING, Texas --
Brandon Carr
did not know Rob Ryan before the
Dallas Cowboys
defensive coordinator got off Jerry Jones' private plane in Kansas City the day free agency began, but he quickly liked what he heard.
"His bread and butter is go rush the quarterback, put pressure on them and put your cornerback on an island," Carr said.
Carr does not mind the island life. At 6-0, 207 pounds, Carr likes to play physically on the outside.
"It's a challenge and I'm all about challenges," Carr said. "With me signing that contract, I knew even before it was going to be a big challenge playing for the Cowboys and getting the attention they get. I know pretty much every game, I've got to bring my A game."
Coach Jason Garrett said what attracted the Cowboys to Carr was how he fared against some of the top receivers in the game, like Detroit's
Calvin Johnson
and San Diego's
Vincent Jackson
while playing against the Chiefs
Johnson had two touchdown catches vs. the Chiefs last year but had just three catches in the game for 29 yards. Jackson had eight catches for 112 yards in two games vs. the Chiefs for San Diego. Green Bay's
Greg Jennings
did not play against Kansas City in the Packers' only regular-season loss of the year, but
Jordy Nelson
was limited to two catches for 29 yards and
Donald Driver
had two for seven yards.
Aaron Rodgers
threw for a season-low 235 yards.
"Those games you don't need any kind of motivation," Carr said. "You know what's ahead of you when you're playing against receives that are big playmakers. You have to go out there and really trust in your training and coaching and believe in yourself to make plays, that this is a guy you're going to shut down. I'm up for all of those challenges and I know going to the NFC East there's some great offenses that put up points and can move up and down the field. That's a big challenge. I'm going to keep working hard and try to perfect my craft."
January, 16, 2012
1/16/12
10:00
AM ET
We're a work week away from the NFC and AFC title games and it's amazing what we've learned in just two weeks of the postseason. Here are my thoughts.
1. The Giants are a mentally tough team. More so than the Cowboys. Do you really believe the Cowboys could have gone into Lambeau Field and beat the
Green Bay Packers
like the Giants did on Sunday? Really? The Giants never gave up hope during their late-season dive, and still believed they could beat the Cowboys, which they did twice in a 30-day span to close the season. The Giants have an elite quarterback,
Eli Manning
, and a pass rush that isn't centered around one player, much like the Cowboys' and
DeMarcus Ware
. Moving forward, the Cowboys need to improve the offensive line, secondary, pass rush and find depth at wide receiver. Things the Giants already have. That tells you how far the Cowboys are from the Giants.
2. It's good to see
Laurent Robinson
wants to return to the Cowboys. What do you pay him? Robinson should be a highly sought after wide receiver when free agency starts in March. You have to look at a few salaries of some No. 3 receivers and see if the Cowboys want to pay Robinson something similar.
Earl Bennett
of Chicago singed a five-year, $18.5 million deal with $9 million guaranteed. Is Robinson better than Bennett? What about
Jacoby Jones
of Houston, who signed a three-year, $10.5 million deal with $3 million guarantee with Houston?
Jason Avant
of Philadelphia inked a five-year $18 million contract with $8 million guaranteed in 2010.
Jordy Nelson
of the Green Bay Packers signed a four-year, $13.9 million deal with $5 million guaranteed including $3.5 million to sign. I wonder if the
Baltimore Ravens
are interested in Robinson? The Ravens might not pick up
Lee Evans
' $1 million roster bonus, due March 17. The Cowboys have a big decision to make here at wideout because the depth is lacking.
3. Todd Archer wrote a good post
last week
about the interior of the Cowboys offensive line. The hiring of Bill Callahan last week confirms the Cowboys think he can help younger players improve more so than previous line coach Hudson Houck. Houck's ability to work with young linemen was questioned, but you must give him credit for the development of
Doug Free
and
Tyron Smith
. While Free regressed in 2011, Smith emerged as a talented player who must play the left tackle spot in 2012. Callahan has some young talent to work with at guard/center from
Kevin Kowalski
,
Phil Costa
,
Bill Nagy
and
David Arkin
. It appears the Cowboys might draft a guard/center in the draft. If so, it should make for an interesting competition in the middle in 2012.
4. If the Cowboys don't re-sign Robinson, this is the depth chart at wideout:
Miles Austin
,
Dez Bryant
,
Andre Holmes
,
Dwayne Harris
and
Raymond Radway
. Think the Cowboys have a better group of receivers than say the Eagles? Giants? Packers? Saints? Robinson has the leverage here which could mean a contract which benefits him. If you're wondering,
Kevin Ogletree
and
Jesse Holley
are free agents and it doesn't appear they will return in 2012.
5. If the Cowboys don't re-sign
Abram Elam
at strong safety,
Gerald Sensabaugh
isn't the answer. He seemed to play better at free safety. If the Cowboys move him back to strong safety, he could have problems especially if the Cowboys have a younger player at free safety. The Cowboys tried
Alan Ball
at free safety in 2010, and were met with major, major issues.
December, 16, 2011
12/16/11
5:02
PM ET
It wasn't enough to win, but the Cowboys' wide receiving corps provided a glimpse of how potent it can be against the Giants.
With
Miles Austin
back in the mix, the Cowboys' wide receivers accounted for 250 yards and three touchdowns, with Austin,
Laurent Robinson
and
Dez Bryant
each scoring once.
Austin is a two-time Pro Bowler with a $54 million contract, but he's been the Cowboys' third most productive wide receiver this season, in large part because he's missed six games due to hamstring injuries. Robinson and Bryant both have chances to finish with 1,000-yard, 10-touchdown seasons.
"I feel like without a doubt that we are the best receiving corps in the league," Bryant said.
That's debatable. There are other receiving corps that can make the same claim, including the one that won Sunday night at Cowboys Stadium. But the Cowboys' trio is at least in the conversation if Austin can stay healthy.
Here's how the Cowboys' wideouts compare to the other elite receiving corps in the league:
COWBOYS
Laurent Robinson – 46 catches, 763 yards, 8 TD
Dez Bryant – 47 catches, 756 yards, 8 TD
Miles Austin – 32 catches, 466 yards, 5 TD
GIANTS
Victor Cruz
– 68 catches, 1,150 yards, 7 TD
Hakeem Nicks
– 65 catches, 1,023 yards, 6 TD
Mario Manningham
-- 36 catches, 466 yards, 4 TD
STEELERS
Mike Wallace
– 62 catches, 1,034 yards, 8 TD
Antonio Brown
– 55 catches, 925 yards, 2 TD
Hines Ward
– 37 catches, 325 yards, 2 TD
PACKERS
Jordy Nelson
– 51 catches, 957 yards, 10 TD
Greg Jennings
– 67 catches, 949 yards, 9 TD
James Jones
– 26 catches, 479 yards, 5 TD
Donald Driver
– 31 catches, 357 yards, 4 TD
December, 2, 2011
12/02/11
12:45
PM ET
»
NFC Final Word
:
East
|
West
|
North
|
South
»
AFC
:
East
|
West
|
North
|
South
Five nuggets of knowledge about Week 13:
Stoppable force, movable object:
The Jets have gone three games in a row without intercepting a pass, but they should get their chance Sunday against the
Washington Redskins
. Washington quarterback
Rex Grossman
has thrown at least one interception in seven consecutive games, and according to ESPN Stats & Information, "his 14 interceptions on 270 attempts is the highest percentage by a qualifying QB this season." The percentage is 5.2. Deposed Denver quarterback
Kyle Orton
, now with the Chiefs, is second at 4.5.
Philip Rivers
of San Diego is third at 4.1. Rex is in a class by himself here.
[+] Enlarge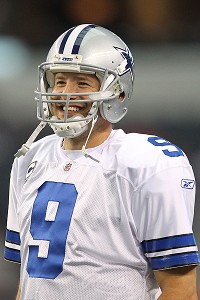 Matthew Emmons/US PresswireIt was another November to smile about for Tony Romo and Dallas.
Streaking Cows:
The
Dallas Cowboys
have won four games in a row. Should they beat Arizona on Sunday, it would be their first five-game winning streak since 2007, when they had two separate streaks of at least that length -- a five-gamer to start the season and a seven-game winning streak from Weeks 7-14. The four-game November win streak is no surprise, since the Cowboys are 19-2 in Novembers with
Tony Romo
as their quarterback. He is, as you've no doubt heard, a more pedestrian 8-10 in December. His most recent December was a good one, as he led the Cowboys to a division title and a victory against then-undefeated New Orleans in that season's stretch run. Romo was injured last December and did not play.
Going deep in Big D:
According to ESPN Stats & Information, Romo has six touchdown passes in the past four weeks on throws at least 15 yards long. That's the highest total in the league during that stretch. The Arizona defense Romo will face Sunday has allowed the second-most touchdown passes of that length this season (7) and the sixth-highest completion percentage on throws of 15 or more yards this season (47.6 percent).
Hookups
: The game between the
New York Giants
and the
Green Bay Packers
will feature two of the best quarterback/receiver combinations on deep passes in the league. Green Bay quarterback
Aaron Rodgers
is 8-for-11 this year when targeting receiver
Jordy Nelson
21 or more yards down the field, according to Stats & Info. That's the highest percentage (72.7) in the league for a quarterback/receiver combo with at least 10 such attempts. The Giants'
Eli Manning
and
Victor Cruz
rank third on the same list, as Manning is 9-for-14 (64.3 percent) with four touchdowns when targeting Cruz at least 21 yards downfield.
Bizarre historical domination note:
The Redskins are 8-1 all-time against the Jets. Sunday will be the 10th time these teams have faced each other in 40 years. (By contrast, the Colts and Patriots meet Sunday for the ninth year in a row.) The last time these teams played each other was Nov. 4 2007, when
Shaun Suisham
's fifth field goal of the game gave Washington a 23-20 victory in overtime.
Clinton Portis
rushed for 196 yards for Washington in that game.
Kellen Clemens
was the Jets' starting quarterback. Washington has beaten the Jets four times in a row. The only Jets victory in the head-to-head series was a 3-0 victory on Dec. 11, 1993. In what had to be one of the worst games in NFL history, Cary Blanchard kicked a first-quarter field goal and no one scored the rest of the way. Jets quarterback Boomer Esiason and Redskins quarterbacks Rich Gannon and Mark Rypien combined for 184 passing yards. Ideally, Sunday's game will be better.
February, 6, 2011
2/06/11
11:25
PM ET
ARLINGTON, Texas -- The Green Bay receivers managed to hold on to the Lombardi Trophy.
Their less-than-sure hands made it much harder than it could have been for the Packers to earn the right to hoist that trophy.
The Packers had at least five drops, a few of which killed drives.
James Jones
and
Jordy Nelson
let balls go through their hands on plays that could have ended with touchdown celebrations.
"We'll kill each other Monday morning," said
Donald Driver
, the injured elder statesman of the Green Bay receiving corps. "We'll actually talk about it on the plane ride.
"But those guys made plays when it counted. That's all that matters."
Nelson, in particular, made plays. He set franchise Super Bowl records with nine catches for 140 yards.
"If you play this game long enough at this position, you're going to drop the ball," Nelson said. "You have to move on."
That won't be a problem for the Packers. They won the game, so none of the drops will go down in Super Bowl lore with poor Jackie Smith's unfortunate moment in the final game of his Hall of Fame career.
Rodgers still threw for 304 yards and three touchdowns. The moments of anger he might have had after the drops is easily forgotten.
"I'm not frustrated anymore," Rodgers said when about the drops.