May, 22, 2012
5/22/12
11:20
AM CT
By
Richard Durrett
| ESPNDallas.com
FORT WORTH, Texas -- It's time for the Crowne Plaza Invitational at Colonial in Fort Worth, the second leg of this DFW double. So let's take a look at some players in the event that are trending up and down in our scouting report:
STOCK UP
Jason Dufner:
He's won twice in the last three weeks, including last week's HP
Byron Nelson
Championship and says he likes Colonial. The one problem: He's made one cut in three tries here.
Bob Estes:
The Texan had a top-10 finish at Nelson over the weekend and followed it up by qualifying for the British Open at Gleneagles Country Club in Plano. Do the good vibes carry over to Colonial?
Dicky Pride:
He nearly got himself in a playoff with Dufner at the Nelson and is still seeking his first win since 1994 (when he won his only Tour event). Pride has three top-7s this season and is feeling good. He hasn't played Colonial since 1995, when he missed the cut in his only appearance.
STOCK DOWN
Rory Sabbatini:
He's a local favorite and will have a big following at Colonial, but he's trending the wrong direction. Sabbatini has missed the cut in five of his last six events, including the Nelson. He has one top-10 this season and that was his first event of the year. The good news: He's a defending champion at Colonial, so he knows how to win here.
John Daly:
He's played in three events and made two cuts, but he's never played well at Colonial. He's sure entertaining, but don't expect him to do much this weekend. In six Colonials, he's made the cut just once and finished 66th.
Y.E. Yang:
The 2009 PGA Champion has missed his last two cuts and three of his last five rounds, he's shot 78 or higher. He's missed the cut all three times he's played Colonial.
May, 20, 2012
5/20/12
5:17
PM CT
By
Richard Durrett
| ESPNDallas.com
IRVING, Texas --
Jason Dufner
had the look of a winner the entire 18th hole. He knew that
Dicky Pride
, trying to get his first win since his only PGA Tour victory in 1994, had made a terrific par after hitting in the water off the tee to finish at 10-under. So Dufner crushed a drive 314 yards right down the center of the fairway. He then hit his second shot 25 feet away from a tucked pin and calmly and confidently made the birdie putt to win the 2012 HP Byron Nelson Championship.
"I assumed Dicky's putt was for birdie, but my caddie told me otherwise," Dufner said. "I knew we were tied after I hit the tee shot. That bunker is a good aiming point and I've been swinging well with the driver, so I was comfortable with that. I was surprised how far I got out there. I don't think I've hit sand wedge into that hole, 110 yards in."
[+] Enlarge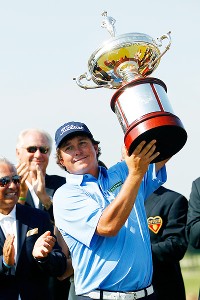 Jim Cowsert/US PresswireJason Dufner holed a long birdie putt on No. 18 to win his second PGA Tour title this season.
Dufner said he didn't want to get "crazy aggressive," but also wanted to leave himself a putt he thought he could make.
"I knew if I made birdie that I would win, par would be a playoff, but playoffs aren't much fun," said Dufner, who is 1-2 in playoffs in his career. "When I stepped up to the putt, I just had a good idea of what it was going to do and felt like I could make it."
The putt avoided an Auburn vs. Alabama playoff, too. Pride, an unabashed Tide man, didn't hesitate to reference the good-natured rivalry between the two in his post-round interview.
"He went to Auburn, but at least he married a woman that went to Alabama," said Pride, referring to Amanda. The two were married earlier this month. "She can show him around."
Pride, 42, also joked that at least Alabama won last year's BCS title, college football's ultimate prize. But he also mentioned that Dufner was the first guy to step up and tell Pride he'd bring a team of golfers to Tuscaloosa (home of Alabama's campus) last year to help with tornado relief fundraising efforts.
But on Sunday, it was Dufner's resolve and ability to finish down the stretch that made the difference as others faltered.
J.J. Henry
, wearing his TCU purple, led the tournament with two holes to play until a double bogey at No. 17 ended his chances.
Marc Leishman
and Jonas Blixt stood at 10-under until a bogey at that pesky penultimate hole did him in. Pride birdied the 17th, but appeared to hand the tournament to Dufner, too, when his tee shot trickled into the water on No. 18.
"I was proud of how I hit the ball where I had a putt and that I made it," Pride said. "Apparently, that was not a very difficult putt."
Pride laughed as he said it, noting that Dufner's birdie putt came from essentially the same area.
It's difficult to imagine 35-year-old Dufner executing the way he did down the stretch without the confidence of doing it when it mattered three weeks ago in New Orleans. Dufner had put himself in position before, but wasn't able to close the deal. He did that in New Orleans and managed to do it again Sunday, with birdies on Nos. 16 and 18 to earn the one-stroke victory.
"The biggest thing I learned about New Orleans is staying patient out there," Dufner said. "There were times in New Orleans where I felt like I was out of it, then there was no way I was going to lose, then I was out of it and you get these flip-flopping emotions. Today I didn't have that as much. I always felt I was in there, I just needed a little something to happen, to go my way."
Dufner has had a memorable spring. He was the leader at the halfway point of The Masters, but a pair of 75s on the weekend had him tied for 24th. Still, it was a confidence builder. He got the win in New Orleans in April and now has a victory at TPC Four Seasons Resort & Club in Las Colinas. In the midst of it all he got married.
"You probably couldn't dream it any better than what's been going on here," Dufner said. "The wedding has been in the works for close to a year, so we know that's been coming around the corner, and there's been a lot of good golf since then. But to win two events and get married in the span of 22 days, pretty remarkable. Amanda and I are lucky to be in the position we're in and to have each other and enjoy what's going on around us right now."
Dufner isn't one to show much excitement. He had a very subtle fist pump and a quick wave when the winning putt went in. That's just part of his style. Does he ever get extra expressive?
"Here and there a couple of times a year," Dufner said. "Usually there is some alcohol involved or Auburn football, but for the most part I'm laid back."
Dufner's plan after the win: Check into his hotel in Fort Worth, have some dinner and move on to the Crowne Plaza Invitational at Colonial.
Dufner becomes the second two-time winner in 2012, joining
Hunter Mahan
. He's now made the cut in 11 straight events. His only missed cut was the first tournament of the season, the Sony Open in January. Maybe a major win is next.
"He's a really good player," Pride said of Dufner. Pride clapped for Dufner when his winning putt went in. "I think we're all seeing that, we've known that, now he's just winning tournaments. But I have a lot of respect for Jason. I'm happy for Jason."
May, 18, 2012
5/18/12
7:55
PM CT
By
Richard Durrett
| ESPNDallas.com
May, 18, 2012
5/18/12
3:34
PM CT
By
Randy Jennings
| ESPNDallas.com
IRVING, Texas -- It has been 18 years since
Dicky Pride
celebrated his one and only PGA Tour victory.
Pride won the 1994 Federal Express St. Jude Classic in Memphis in his rookie season.
"You don't forget those," Pride said in a media conference after shooting a 68 on Friday.
The 42-year-old native of Alabama held a share of the lead at the HP
Byron Nelson
Championship at 6-under when he finished his second round.
Through two rounds, Pride has made 10 birdies.
"I've made a lot of solid iron shots this week and obviously made putts," Pride said.
It has been a rejuvenating year for Pride, who overcame serious health problems back in 2002 and has spent time alternating between the PGA Tour and the Nationwide Tour.
The Nelson is Pride's seventh Tour event in 2012. He's missed only one cut and has two top-10 finishes. He friendliness makes him a fan favorite. Fellow University of Alabama product Lee Roy Jordan, a former Dallas Cowboys linebacker, was spotted in Pride's gallery on Friday.
Looking to the weekend, Pride said he needs to remain focused.
"I can't get all caught up with what's going on with the scoreboard," Pride said. "Just put yourself into position and see what you can do."