May, 20, 2012
5/20/12
9:00
AM CT
By
Richard Durrett
| ESPNDallas.com
IRVING, Texas -- It should be a fun final round with so many players bunched up on the leaderboard, hoping to pass
Jason Dufner
for a victory. Here are some things to keep an eye on:
* Wind. It's not supposed to blow quite as hard, but we should get some 10 to 15 mph winds and gusts that could hit 20 mph or so. That's enough to impact shots and make certain holes difficult.
Those holes would include No. 11, where if the wind blows across like it did Saturday, it could give players a chance to go for the green knowing they'll get help from the wind in keeping the ball out of the water. The downside: It can blow balls across the road and cause big numbers. Just ask
Keegan Bradley
, who likely had his tournament hopes dashed Saturday with a triple bogey on the hole.
* Early bird gets the worm. If you want to see someone play fast, check out
Ryuji Imada
. He's first off at 7:10 a.m. and is playing by himself (or with a marker if he chooses). Imada shot 79 on Saturday after shooting 67-68 the first two rounds.
* Players to watch early in the round: Jhonny Vegas (7:26 a.m.),
Nick O'Hern
(8:06 a.m.),
Ricky Barnes
(8:22 a.m.),
Brian Davis
(8:39 a.m.) and
Todd Hamilton
(former British Open winner from Westlake, Texas, tees off at 8:48 a.m.).
* Players will go off No. 1 tee all day in twosomes.
Phil Mickelson
, still the biggest draw of this event, tees off at 10:45 a.m. and is playing with
Shane Bertsch
.
* Six of the final 10 pairings include someone from Texas. That includes Fort Worth's
J.J. Henry
, who plays with Dufner in the final group starting at 12:15 p.m. Expect to see plenty of purple as TCU fans will be cheering on Henry. His caddie,
Pete Jordan
, also played golf at TCU.
*
Vijay Singh
is one of the bigger names on the leaderboard and is back in contention. He'll be in the third-to-last group with
Jonas Blixt
. They tee off at 11:57 a.m. If Singh continues to putt well, he'll have a chance as he sits two back of the leader.
* Three players to watch that are four strokes back:
Ryan Palmer
,
Matt Kuchar
and Bradley. They'll tee off right after one another (starting with Palmer at 11:12 a.m.)
* 2010 champion
Jason Day
is one back of the leader and fell behind because of a bogey at No. 18.
* Dufner will be tough to beat. He's used to being in the lead and taking care of business, as his win three weeks ago at New Orleans showed. He had a top-10 finish here last year.
May, 19, 2012
5/19/12
6:00
PM CT
By
Richard Durrett
| ESPNDallas.com
IRVING, Texas -- There was a different caddie on
J.J. Henry
's bag during The Players Championship last weekend. And he had major championship pedigree.
Mark Brooks
decided it was time to help a fellow Fort Worth golfer J.J. Henry find a way to loft himself into contention more often. So he grabbed Henry's bag and gave him an on-course lesson. It was tough love. Brooks shot straight with Henry and kicked him in the pants. Clearly, it worked. The former TCU Horned Frog sits one stroke back after three rounds of the HP Byron Nelson Championship and will play in the final group Sunday with leader
Jason Dufner
.
[+] Enlarge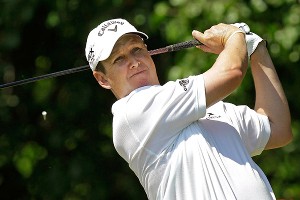 AP Photo/LM OteroJ.J. Henry is one stroke back of leader Jason Dufner heading into the final round of the Byron Nelson.
"It was a wake-up call for me last week, to be honest with you," said Henry, who finished tied for 40th at The Players, but shot a final-round 69 to give him some good vibes heading into his local events. "I was kind of status quo. My bar was probably set a little too low and I maybe didn't believe I was as good as I could be or didn't challenge myself to be better."
Brooks, who won the 1996 PGA Championship and lost in a playoff in the 2001 U.S. Open, worked with Henry on some shots around the green. But more than mechanical help, Brooks went under the hood to examine the mental engine driving Henry's game. He told 37-year-old Henry that it was time to start playing better and strive for bigger goals.
"We've worked together quite a bit," said Henry, who said Brooks was going to caddie for him at Colonial two years ago but played in the tournament instead. "He's been a mentor, a guy I look up to becuase the way he plays the game is a little different from me. I go ahead and hit it and he's more around the greens and gutting it out. When par is a good score, he's tough to beat.
"He was helping me with the mental side," Henry said. "It was the mentality of 'Hey, you gotta fight.' I think sometimes I've been lacking that."
Henry has one PGA Tour victory -- the 2006 Buick Championship. He's always been good enough to finish in the top-100 of the money list to keep his card and get in contention every once in a while, but never climb up the leaderboard with any consistency.
Brooks told Henry it's time that changed.
"He feels I've underachieved out here and I do as well," Henry said. "I've set the bar too low. He wants me to take tighter lines, take dead aim and work on some shots around the green. He's helped me a lot. I've been out here long enough to realize you're going to have your good weeks. I got off to a slow start this year, but I put in some good time and I'll continue to do it. And whether I play well or not tomorrow, I'm starting to see some results."
This season, Henry missed his first five cuts and six of his first seven. But he's started to find a rhythm the last few months. He's now made the cut at his last six straight events. A big assist goes to fellow Horned Frog
Pete Jordan
, who played for TCU in the mid 1980s. Jordan was on Tour for a while, but has decided to caddie now and gives Henry a second set of Frog eyes to help him navigate around the courses.
"He knows what he's doing out here and having somebody like that to know what it feels like to be in the hunt, hit a shot with these lies or read a green is huge," Henry said.
Henry has a large cheering section at Las Colinas this week. Most of them are wearing purple -- just as Henry was Saturday, sporting the purple slacks -- and hoping Henry can earn his second PGA Tour win right in his backyard. While Henry lives close to Colonial Country Club and knows the course better than most, he's got a better career mark at the Nelson. And Henry was one of the golfers that
D.A. Weibring
used as consultants when he did the redesign of the TPC Four Seasons Resort & Club.
"I feel like I know this golf course pretty well," Henry said.
Henry hopes that his knowledge of the course, Brooks' voice in his head and his Horned Frog fans are enough to give him his first PGA Tour win in six years.