April, 24, 2013
4/24/13
5:05
PM CT
Matt Kuchar
,
Louis Oosthuizen
,
Charl Schwartzel
and
Jason Dufner
-- all ranked in the top 20 of the Official World Golf Rankings -- will be in the field for both the Crowne Plaza Invitational at Colonial and the HP Byron Nelson Championship.
Kuchar, ranked No. 10, won the WGC-Accenture Match Play Championship earlier this season.
Oosthuizen, ranked No. 7 in the world, finished tied for 10th in the Shell Houston Open -- his best finish this season -- and lost in a playoff at the 2012 Masters.
Schwartzel (No. 15), the 2011 Masters champion, will be making his Metroplex debut for both events.
Keegan Bradley
(No. 13), the 2011 Nelson champion, and
Martin Kaymer
(No. 33), the 2010 PGA Championship winner, also will be teeing it up at TPC Las Colinas. The Nelson field currently includes 12 of the top 50 players in the official world golf rankings. The field will not be final until Friday, May 10 at 5 p.m. The 2013 HP Byron Nelson Championship will be played May 13-19 at TPC Four Seasons Resort Las Colinas in Irving.
The Colonial field also will be highlighted by
Rickie Fowler
(No. 29) and defending champion
Zach Johnson
(No. 30). The field currently includes nine of the top 30 in the world. The field will not be final until Friday, May 17. The 2013 Crowne Plaza at Colonial will be played May 23-26 at Colonial Country Club in Fort Worth.
May, 27, 2012
5/27/12
7:00
AM CT
By
Jeff Caplan
| ESPNDallas.com
FORT WORTH, Texas -- Welcome to the final round of the Crowne Plaza Invitational at Colonial. With leader
Jason Dufner
bearing down on the DFW double and
Zach Johnson
looking to make it two plaid jackets in three years.
Here's some key things to watch:
* Dufner heads into the final round at minus-15 and in a decent position to tie or even break with a truly great round Johnson's course-record of 21-under he set in winning the event in 2010. Dufner and Johnson, playing partners Saturday, will again be paired with Johnson just one shot back. They are scheduled to tee off at 12:55 p.m.
* As for the FedExCup points standings,
Hunter Mahan
is second overall and
Matt Kuchar
is fourth. Mahan, who is from Colleyville, posted the only bogey-free round Saturday. Heading into today's final round, both golfers are tied for 16th at 2-under. Mahan and Kuchar will paired together and tee off at 11:25.
* If you're an early bird and want to see some golf before the crowds come out in force for the afternoon rounds, you can catch pairs teeing off as early as 7:35 a.m. Some notable tee times include Fort Worth's
Rory Sabbatini
(8:15),
Brandt Jobe
of Westlake (9:00),
Martin Flores
of Mansfield (9:27) and
Corey Pavin
of Dallas (11:35).
* Rookie
Kelly Kraft
, who turned pro after the Masters, is having a nice run at Colonial. Kraft, from Denton, is tied for seventh at minus-4 as he's looking at collecting his first PGA Tour payday -- and it could be a sizable one. He tees off with Jonas Bilxt at 12:25 p.m.
* Get your final opportunity to catch the always fun to watch
John Daly
, who made the cut Friday for only the second time at Colonial. He shot even Saturday and is minus-1 for the tournament. He gets started at 10:39 a.m. with
Brendon de Jonge
.
* Also of note is 23-year-old
Rickie Fowler
, who had an up and down day on Saturday as did just about everybody outside of the two leaders. Fowler, tied for seventh at minus-4, will likely be dressed in his all orange attire as a tribute to his alma mater Oklahoma State. He tees off with
Ryan Moore
at 12:05 p.m.
* As a friendly reminder, bring lots of sunscreen. It's hot out here and temperatures for today are expected to top out at about 92 degrees just as the golfers are hitting the final stretch.
May, 26, 2012
5/26/12
7:30
AM CT
By
Jeff Caplan
| ESPNDallas.com
FORT WORTH, Texas -- Now things start to get serious as the Crowne Plaza Invitational at Colonial moves to Round 3. Here's some key things to watch:
*
Jim Furyk
, tied for 17th place at 2-under, said the greens have been extremely "soft and receptive" in the first two rounds and that the fairways are "lush and greener" than in some years past, which is why the leaderboard is stacked with low scores. He said the grounds crew has had to keep the greens soft because of the gusty winds the first two days and he wonders if the wind dies down and the greens brown out some if scores will reflect the faster surface and go up. The forecast calls for winds to be steady at 20 mph - 30 mph today, but to be fairly calm Sunday at about 15 mph and with gusts up to 25 mph.
* Tournament leader
Jason Dufner
(11-under) continues his quest to become the first player since Ben Hogan in 1946 to win both Dallas-Fort Worth tournaments in the same season. Dufner won the HP Byron Nelson last week. He is also trying to become only the 15th golfer to win both tournaments at any time. Dufner tees off at 12:50 p.m. and will be paired with
Zach Johnson
(9-under).
* Speaking of Johnson, not only is he targeting the lead today, he will also look to extend his consecutive rounds in the 60s at Colonial. After Thursday's 64 and Friday's 67, he's up to 14 in a row.
*
John Daly
somewhat surprisingly made the cut for only the second time in the last seven tries, so he sticks around Fort Worth for another two days and there's nothing wrong with that. On Friday, Daly (T21st at 1-under) wore a crazy pair of orange-and-black swirl pants with a bright orange shirt (you can identify his girlfriend because she's the one wearing the matching shorts). No telling what he'll (they'll) have on today. Daly was looking pretty good until he bogeyed No. 14 and No. 15, part of a three-bogey, four-birdie Round 2. He tees off at 10:44 a.m., paired with Sergio Garcia.
* If you don't mind a pack of wildly dressed teenage boys (a bit of an exaggeration) joining the gallery, check out 23-year-old phenom
Rickie Fowler
(4-under). He's in contention, just seven shots back. If you're navigating the course, he's the one wearing the electric Puma ensemble. He tees off at 12:20 P.M.
* An interesting story is
Tommy Gainey
, who is tied for third at seven-under. The South Carolina native appeared in 2005 on the Golf Channel's "Big Break vs. Europe" and "The Reunion," sort of the golf reality TV equivalent to Dallas Cowboys receiver Jesse Holley getting a training-camp invite off of Michael Irvin's reality TV show a few years back. Gainey, 36, is the first Big Break alumnus to earn a PGA Tour card. He is looking for his first career win. He tees off at 12:40 p.m. in the second-to-last pairing, playing alongside Bo Van Pelt.
May, 25, 2012
5/25/12
2:27
PM CT
By
Jeff Caplan
| ESPNDallas.com
FORT WORTH, Texas --
Jason Dufner
is halfway to making 66-year history.
The winner of last week's HP
Byron Nelson
Championship is the clubhouse leader after two rounds at the Crowne Plaza Invitational at Colonial after playing a bogey-free round on Friday. Dufner's charge came with three consecutive birdies on hole Nos. 1, 2 and 3 after he birdied No. 17.
He then parred his final five holes to carry a minus-11 for the tournament on a second hot and gusty day.
The history Dufner has a chance to capture is immense. No golfer has won the Dallas-Fort Worth events in the same season since Fort Worth's own Ben Hogan did it in 1946. Back then, the Byron Nelson Championship was known as the Dallas Open.
And no golfer has won both events since it's been played in consecutive weeks.
"That would be a pretty neat thing. I didn't realize that nobody has won these events back-to-back," Dufner said after firing a six-under-par 64 on Friday. "It would be a great accomplishment to do that. Coming into the week, obviously after last week, I didn't really know what quite to expect after winning. You are never really sure how you are going to respond to all of the requests that you have and what your energy levels are going to be like."
Dufner's day didn't start with fireworks. He started on the second nine and made par on Nos. 10, 11 and 12 before making birdie on the par-3 No. 13. He would par again on No. 17 to set up his three-hole run of birdies to shoot him out to the lead in the morning round.
"After yesterday I felt pretty good about my chances of playing well this week," said Dufner, who entered Friday one shot off the leader,
Zach Johnson
, who got off to a hot start to his second round in the afternoon group. "So we will just go into the weekend with the lead, or near the lead, and hopefully continue to play some good golf and maybe make a little bit of history."
Johnson is his closest threat at the moment, three shots back. Johnson sliced into Dufner's lead quickly with an eagle out of the gate on No. 1, followed by a birdie to get to 9-under. But, Johnson bogeyed No. 3 and has remained at 8-under as he approaches the turn.
Sergio Garcia
, who started the day at 4-under, birdied No. 3 and No. 6 to get to 6-under as he also approaches the turn.
Dufner, who earned $1.17 million with his win in Dallas, could add another $1.15 million with a victory in Fort Worth, has held at least a share of the lead (assuming he keeps it Friday) 11 times in his last 34 rounds.
"It's fun to watch and you can definitely feed off of it," said
Rickie Fowler
, who played in Dufner's group with
Matt Kuchar
, and is seven shots off the lead. "You can see how much confidence he's playing with right now. He's definitely in control of his golf ball and hitting his numbers. He's firing at sticks right now and hitting a lot of good putts."
May, 25, 2012
5/25/12
1:58
PM CT
By
Jeff Caplan
| ESPNDallas.com
FORT WORTH, Texas -- Precocious 23-year-old
Rickie Fowler
is having a pretty good run at the Crowne Plaza Invitational at Colonial so far with a pair of 2-under rounds that has him chasing the leaders, but certainly not out of contention this weekend.
[+] Enlarge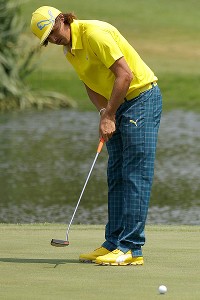 AP Photo/Tony GutierrezRickie Fowler's fashion sense is hard to ignore and has become popular among younger golf fans.
"All-in-all off to a good start the first two days. Definitely some room for improvement," said Fowler, who was seven shots back of leader Justin Dufner, last week's
Byron Nelson
champ, after the morning rounds. "I felt like we left something out there so I'm looking forward to putting together a good round tomorrow and see if we can't get back in the mix of things."
When it comes to the ostentatious youngster's wildly colored wardrobe, well, just one lap around Colonial suggests that the tanned, self-styled Fowler is hitting a hole-in-one with a burgeoning bunch of adolescent golf fans. It's a fan base typically unaccounted for in the stodgy, elder world of the PGA, but it's one that Fowler says is becoming more and more apparent, as well as more vibrantly dressed, at every PGA Tour stop he makes.
"I'm seeing it every week now," Fowler said of the brightly colored Puma hats and shirts and shorts popping up on the heads and bodies of multitudes of middle-school-age boys, much like the blaring yellow -- and trademark oversized -- hat Fowler wore during Friday's round, along with matching yellow shirt and shoes that separated blueish, pinstripe-plaid trousers held up by a lovely yellow belt.
"I definitely have a great following on the younger side. I would say the main age group is kind of the 5 to 15," said Fowler, who won the Wells Fargo Championship earlier this month. "It's definitely a lot of fun seeing the kids out there and it's a a lot of fun for me to see that I have some sort of impact, and if I can be a good role model then that's part of what we want to do."
If you're unfamiliar with the Fowler Puma line, you haven't been watching much golf and you certainly haven't been in a gallery of late. Because at Colonial you can't walk 10 feet without spotting a 12-year-old wearing one of Fowler's tropical line of yellow, red, blue, white or his alma mater Oklahoma State orange hats with the bold outline of the famous Puma cat prowling out of the left side.
And the kids, also donning eye-stinging shades of Fowler-line shirts and shorts, are wearing the garish head gear just like Fowler, big enough so that the hat fits over the top of their ears.
In Fowler's case, the oversized fit allows for his thick bronze hair, as much his trademark as his fashion, to flow out the back and the sides, surely to accentuate his barely-thicker-than-peach-fuzz mustache and chin hair.
"If I can influence and attract a younger generation to golf and kind of help make it cool in their eyes," Fowler said, "yeah, I definitely want to have that kind of impact and help grow the game."
Not to mention the Puma brand on the golf course, where Nike -- thanks, obviously to
Tiger Woods
-- and the more traditional golf brands dominate.
Of course, it should come as no surprise as to why Fowler chose Puma three years ago when he turned pro over, say, a behemoth such as Nike.
"I didn't want to just blend in," Fowler said. "Puma was a great fit for me. Obviously they were looking for someone that was going to fit their brand and I was looking to wear stuff that was going to fit me and not where I was going to go out and just blend in with everyone else. So it's been a great fit."
The growing number of kids attending Colonial certainly seem to think so, too.
May, 25, 2012
5/25/12
7:30
AM CT
By
Richard Durrett
| ESPNDallas.com
FORT WORTH, Texas -- It's time for Round 2 at Crowne Plaza Invitational at Colonial, so here are a few things to watch:
* There may be no one hotter in the world of golf than
Jason Dufner
. If you want to see him, get here early. He's one stroke off the lead and tees off at 7:43 a.m. off No. 10 with
Matt Kuchar
and
Rickie Fowler
. They're worth watching Friday.
* Kuchar currently has the longest consecutive non-cut streak (18), but he'll likely need to shoot under par today to make it. He's at 2-over right now. If the cut occurred after Round 1, it would have been at 1-over. Like any non-major, the Colonial is top-70s and ties that get to play the weekend.
*
Scott Verplank
withdrew, which allowed
Kyle Reifers
to get in the tournament as an alternate. He took advantage, shooting 65. He's one stroke back of the lead.
*
Zach Johnson
will try to keep his consecutive rounds in the 60s going at Colonial. He's up to 13 now and tees off 12:18 p.m. off No. 1 tee.
* It's cut day, so watch the guys who are hovering around that 1-over number. The course sets up for some late birdies for those that start at No. 1, so it could be very interesting.
*
Harris English
shot 60-63 at Gleneagles Country Club on Monday to qualify for the British Open and is clearly still feeling good. He's at 5-under and looking for his first PGA Tour win. The rookie tees off at 1:24 p.m. off No. 1.
May, 24, 2012
5/24/12
6:40
AM CT
By
Richard Durrett
| ESPNDallas.com
FORT WORTH, Texas -- It's time for the opening round of the 2012 Crowne Plaza Invitational at Colonial and there's plenty to see. Some things to keep an eye on:
* The Horseshoe (or Horrible Horsehoe, if you prefer). That's hole Nos. 3-5, which includes a long par-3. Players that get through there at even par will be happy. If you're under par, you're really gaining on the field.
* If you want to see some former Colonial winners, you can watch three of them together Thursday and Friday.
David Toms
,
Zach Johnson
and
Sergio Garcia
will play in a threesome at 7:43 a.m. off No. 10 tee Thursday. That should be fun.
*
Rickie Fowler
is worth catching a glimpse of, even if it's to see what kind of fashion statement he's making. The bonus is that you can also see
Jason Dufner
, the HP
Byron Nelson
Championship winner, and
Matt Kuchar
with him. For those coming Thursday afternoon, they tee off at 12:18 p.m. off the first tee.
* Three guys that like Colonial and should have chances to win this week --
Jim Furyk
,
Ben Crane
,
Sean O'Hair
-- will tee off at 7:43 a.m. off the first tee.
* No. 9 is a good place to watch. Players must shoot at a pin guarded by water in front and then fans can turn and watch the tee shots off No. 10.
*
Kevin Na
. The man with the waggles has apparently quit doing it with a new pre-shot routine he's unveiling at Colonial. That's worth seeing. He tees off at 12:29 p.m
May, 23, 2012
5/23/12
3:00
PM CT
By
Richard Durrett
| ESPNDallas.com
There are plenty of young guns trying to win a plaid jacket this week. And they are worth keeping an eye on.
Player:
Rickie Fowler
Why he can win:
Has a win at the Wells Fargo Championship and tied for second at The Players Championship. That's a pretty good two-tournament run. He was tied for 16th in last year's Colonial.
Why he might not win:
Colonial usually rewards experience and Fowler doesn't have that yet. He's also 125th in the strokes-gained putting category, so if the putter lets him down, he won't have a shot.
Best career finish at Colonial:
Tied for 16th in 2011
Best 2012 PGA Tour finish:
Winner, Wells Fargo Championship