May, 18, 2013
5/18/13
6:43
PM CT
By
Randy Jennings
| ESPNDallas.com
IRVING, Texas -- For a guy trying to play boring golf, journeyman
Tom Gillis
diverted from the script at the conclusion of Saturday's third round of the HP Byron Nelson Championship.
[+] Enlarge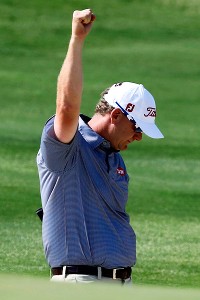 Jim Cowsert/USA TODAY SportsTom Gillis is looking for his first victory on the PGA Tour.
The 44-year-old Gillis, seeking his first victory on the PGA Tour, holed a 46-foot bunker shot for birdie on the finishing hole to cap off a 3-under 67. He'll begin final-round play in third place at 11 under, two strokes back of leader
Keegan Bradley
.
"I'm not in a position to take a lot of risks and shoot at every pin," Gillis said. "I'm trying to hit the fairway and the center of the green. Just make it very, very boring would be my way of going about it tomorrow."
From 134 yards, Gillis bunkered his approach to 18, short and right of the green. But his play in the sand this week has been superb, going 6-for-6 in saves, including the hole-out to end his round.
In previous Nelsons, Gillis said he never felt comfortable on No. 18 or, for that matter, on the TPC Four Seasons course. But he said he likes the hole, and the course, likes them a lot more now.
"The more I play it, the more I realize there is a lot of strategy involved," Gillis said.
Gillis is reunited this week with his old coach of five years, and that has calmed him. So has a change to his old set of irons.
Tougher conditions:
With the wind picking up and TPC drying out, birdies became harder to find Saturday. Less than half the field broke par, and there were no bogey-free rounds Saturday.
Jerry Kelly
,
Scott Piercy
,
Jason Day
,
Morgan Hoffmann
and
Sang-Moon Bae
recorded the day's low scores, 4-under 66.
Risky play:
Apparently most of the field considers going for the green with their tee shots on No. 11 too much risk and not enough reward.
The intention behind constructing a new tee on the opposite side of the water hazard during redesign of TPC Four Seasons Las Colinas was that more players would choose to gamble on going for the green on the short par-4 that played at 321 yards Saturday.
Through three rounds, there is yet to be an eagle on No. 11 and only four tee shots have found the green. Two were hit by
Gary Woodland
in Rounds 1 and 2.
Erik Compton
and
Peter Tomasulo
found the putting surface Friday. All four shots were rewarded with birdies.
Woodland chose to play safe Saturday and made a par.
The risk for the aggressive tee shot at No. 11 is four well-positioned bunkers and a pond that extends along the left side of the fairway and green. Ten tee shots this week found the water.
Those who go for the green are averaging 3.56 on the hole, compared to 3.92 for those choosing to lay up.
More grip, less rip:
Are we seeing a more mature golf game this week from
John Daly
?
Coming in to the HP Byron Nelson Championship, Daly had made the cut in only two of seven tour events this season. In three rounds at TPC, Daly has played solid golf without the occasional blowup hole that has cost him so many times in the past. Through 54 holes, Daly has made nothing worse than a bogey, and only six of those. Add in 39 pars and nine birdies, and Daly is 3 under, tied for 32nd, going into Sunday.
On Saturday, Daly shot an even-par 70 despite hitting only five of 14 fairways.
Remembering a friend:
Ken Venturi, who died Friday, was remembered as a friend of Byron Nelson and the tournament.
"Ken Venturi was a great friend of the tournament and he will be dearly missed," said Mike McKinley, 2013 tournament chairman. "Ken was the first of the young golfers that Byron mentored and he remained very close to Byron. The world of golf has lost another of its great gentlemen."
Byron's widow, Peggy Nelson, said the news of Venturi's death was sad and unexpected. She recalled her late husband's face lighting up when Venturi called.
"If Byron could have, he would have adopted him," she said.
CBS began its Saturday tournament telecast with a tribute to Venturi.
"A lot of people don't realize the things that Ken Venturi gave back to the game and gave back to people, and he was like the great man this tournament is named after, Byron Nelson," said Lance Barrow of CBS Sports.
Nelson leader Bradley recalled a helpful tip concerning club takeaway that Byron Nelson passed along to Venturi, who passed it along to Bradley's coach, Jim McLean.
Speaking of Venturi, Bradley said he was "an icon of the game, both playing and in the booth, and a great guy. He will be missed by everybody."
Notes:
Jimmy Walker
of Boerne, Texas, enters tournaments for the long haul. Walker, who shot even-par 70 on Saturday, has survived 23 consecutive cuts, the top active streak on tour. ... Marc Leishman, tied for 16th at 5 under, needs to move up at least six spots Sunday to extend his streak of consecutive top-10 finishes to four. ... Dallas' 19-year-old
Jordan Spieth
hit only nine greens and made six bogeys in a third-round 73 that left him at even par for the tournament, tied for 63rd.
May, 17, 2013
5/17/13
6:42
PM CT
By
Randy Jennings
| ESPNDallas.com
IRVING, Texas --
Keegan Bradley
is 11-under and leads the HP
Byron Nelson
Championship by three strokes over
Sang-Moon Bae
and
Tom Gillis
through two rounds at TPC Four Seasons Las Colinas.
PODCAST
Ben Crane joins Fitzsimmons & Durrett to discuss the Byron Nelson Championship, his Golf Boys boy band group and more.

Listen

Bradley followed up his course-record 60 with a 1-under 69 on Friday.
Bae recorded a second consecutive 66 and is 8-under. Gillis, seeking his first PGA Tour title, fired a 63 in the morning wave.
Area resident
John Huh
shot 64 in the morning and was one of three players tied at 7-under, joining
Charl Schwartzel
and
Ryan Palmer
. A host of players, including
Angel Cabrera
, are another shot back at 6-under.
Among players who missed the cut and won't be around for the weekend is 14-year Chinese prodigy
Guan Tianlang
, who shot 77 on Friday after opening with a 70.
May, 17, 2013
5/17/13
1:57
PM CT
By
Randy Jennings
| ESPNDallas.com
IRVING, Texas --
Tom Gillis
, a 44-year-old still seeking his first PGA Tour win, was among a trio of golfers making strong second-round charges at the HP
Byron Nelson
Championship on Friday morning.
PODCAST
Ben Crane joins Fitzsimmons & Durrett to discuss the Byron Nelson Championship, his Golf Boys boy band group and more.

Listen

Playing in the first pairing off No. 10, Gillis shot a 7-under 63. He's at 8-under for 36 holes, in second place overall, two off the lead of
Keegan Bradley
, who is part of the afternoon wave.
"I'm glad I got to find out what I could do in calm conditions," Gillis said. "We were playing at a good pace and I was putting great."
Gillis holed seven birdie putts of nine feet or more, including a 32-footer on No. 13. Had he converted a 12-foot birdie putt on his last hole, Gillis could have finished with a 61 and a tie for the lead. Instead, he three-putted for his lone bogey.
"I gave it too much on my first putt and lost concentration coming back," Gillis said.
Erik Compton
and
John Huh
, a 22-year-old Dallas resident, climbed into the top 12 with rounds of 63 and 64, respectively. Huh is tied for fourth at 7-under and Compton is tied for 11th at 5-under.
The projected cut is at 1-under.
May, 25, 2012
5/25/12
6:13
PM CT
By
Jeff Caplan
| ESPNDallas.com
FORT WORTH, Texas --
Zach Johnson
is in great shape, but then he knows all about being in great shape after finishing runner-up in two of his past three PGA Tour starts.
At 9 under, Johnson is alone in second place, 2 shots behind leader and last week's Byron Nelson champ
Jason Dufner
, after two rounds at the Crowne Plaza Invitational at Colonial. Johnson led Dufner by 1 shot after Thursday's opening round and it certainly looked as though Johnson might power ahead of Dufner (who shot a 64 playing in the morning) early in his afternoon round Friday.
[+] Enlarge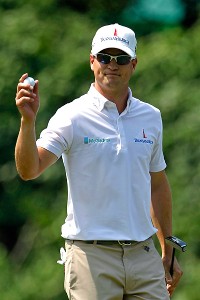 AP Photo/Tony GutierrezZach Johnson acknowledges fans at Colonial after sinking a putt on No. 13 for one if his four second-round birdies.
Johnson, playing in his first tournament since The Players Championship on May 13, where he tied for second, eagled out of the gate and then birdied to quickly cut into Dufner's lead and get to minus-9. But he bogeyed No. 3 and then made par on the next seven holes.
He had the disadvantage of an afternoon start Friday, a day that grew gustier, making for tougher conditions. The morning groups dealt with less wind and cooler temperatures. Johnson is 2 shots ahead of
Bo Van Pelt
and
Tommy Gainey
and 3 in front of
Tom Gillis
.
Starting with the par-5 No. 11, Johnson went birdie-bogey-birdie-bogey and then managed one last birdie on No. 16 to get back to 9 under. He missed a short birdie putt on 18 as the ball just skirted along the left side of the hole.
"It seems like every time I made a birdie I put myself in a pretty difficult predicament to make par," Johnson said. "I finished strong: a good save on 15, a good birdie on 16 and another good save on 17. And 18, I'll take a 4 there. I hit a good putt, misread it. I'm excited about [Saturday]."
Johnson, with three top-10 finishes but no victories this season, is counting on his experience on the Colonial course to get him over the hump for the first time this season and into a second plaid jacket in three years.
He will pair with Dufner for Round 3 as Dufner looks to keep the lead and continue his quest for the rare DFW double. Only 14 golfers have won both the HP Byron Nelson and Colonial, and only Ben Hogan in 1946 won both in the same season.
"It doesn't matter who I play with," Johnson said. "Certainly, Jason and I are buddies. I will enjoy playing with him because he is a friend. It's nothing more than that. He's got a good rhythm about it, about his game right now. Certainly confidence, that's always fun to watch, but it's irrelevant who I play with. I'm not playing against him. I'm playing against the golf course and the conditions and the elements that are presented. So that's my focus."
May, 24, 2012
5/24/12
6:57
PM CT
By
Randy Jennings
| ESPNDallas.com
FORT WORTH, Texas --
Harris English
is making a joke out of course preparation.
On Monday, without the benefit of a complete practice round at Gleneagles Country Club in Plano, English fired rounds of 60 and 63 for a four-stroke win in the British Open qualifier.
English used a similar game plan for Thursday's opening round of the Crowne Plaza Invitational at Colonial and the result was a 5-under 65, good enough for a tie for second with
Tom Gillis
,
Jason Dufner
and
Kyle Reifers
, one shot off the lead of
Zach Johnson
.
English revealed afterward that his introduction to Colonial was a nine-hole practice round Tuesday. He said he scoped out the second nine, walking it with a wedge and putter.
"My caddie has caddied in this event three times so he knew about the course and how to play it,'' English said. "I felt we had a good game plan today and I'll stick to playing aggressive.
"I think sometimes you can overdo looking at golf courses,'' English added. "And I felt like the way it works for me is, I pick out the good areas to hit it and I don't really look at the bad areas. I just hit shots off the tee to where I have a comfortable yardage in, and hit it to a place on the green where I can have a comfortable putt. It's all about playing shots that you know you can play.''