High School:

Cross country
February, 29, 2012
2/29/12
10:41
AM CT
Dallas Greenhill sophomore Logan McGill, a cross country runner and swimmer, has been recognized for her charity work by ESPNHS in its 18 Under 18 feature.
McGill, who was diagnosed with scoliosis in 2009, devised a plan to raise money for Texas Scottish Rite Hospital for Children, where she received treatment.
She created the
Race for the Curve
charity that raises funds through relay teams training for and running in the Dallas White Rock Marathon. In 2010, its first year, the charity raised more than $71,000 for Scottish Rite Hospital.
Read more about McGill's work here
.
The ESPNHS 18 Under 18 project honors 18 male and 18 female teen athletes for their inspirational work on and off the field.
Learn more about them here
.
November, 13, 2011
11/13/11
5:37
PM CT
Southlake Carroll swept the boys and girls Class 5A team championships at the UIL cross country meet Saturday at Old Settlers Park in Round Rock.
Three other area squads -- the Highland Park girls (4A), Lucas Lovejoy girls (3A) and Kaufman boys (3A) -- also won team titles.
The most impressive performance of the meet came from Southlake Carroll's boys. Among schools competing for the team title, Carroll runners took second through sixth place for a score of 20 points. Houston Strake Jesuit was a distant second with 110 points. Junior Nate Sullivan led the way for the Dragons, finishing in 15:40:28.
Hebron's Kevyn Hoyos (15:27.18) and Robert Domanic (15:40.12), competing as individuals, finished second and third overall in the boys 5A race.
In the girls 5A race, Carroll's Courtney Kriegshauser finished first among schools competing for the team title and second overall in 11:23.55.
You can find the full
UIL cross country meet results here
.
October, 17, 2011
10/17/11
2:56
PM CT
The University Interscholastic League's legislative council met Monday in Austin and passed an amendment that puts new limits on football practices outside of the school year.
On days when more than one practice is held, the minimum rest and recovery time between practices was increased from one hour to two hours.
Players can't participate in multiple practices on consecutive days.
In the first four days of practice, if more than one practice is conducted on the same day, the second practice can only be a teaching session that doesn't include conditioning, contact or equipment.
In other action by the legislative council Monday:
A proposal to increase the distance of girls cross country races from 2 to 3.1 miles was placed on a referendum ballot this spring.
The soccer tie-breaking procedure will be changed from a 35-yard shootout to penalty kicks, taking effect Aug. 1, 2012, if approved by the commissioner of education.
Area meets will be added to post-district track and field competition, taking effect Aug. 1, 2012, if approved by the commissioner of education.
An additional conference will be added in wrestling, taking effect Aug. 1, 2012, if approved by the commissioner of education.
July, 1, 2011
7/01/11
5:10
PM CT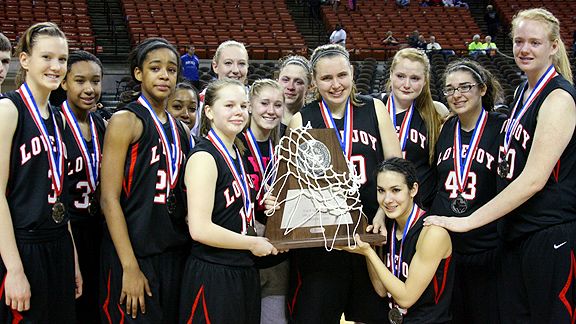 Travis L. Brown/ESPNDallas.comLucas Lovejoy has won the 3A UIL Lone Star Cup in back-to-back years.
Lucas Lovejoy capped off another excellent year in athletics by winning its second consecutive UIL Lone Star Cup for overall athletics performance in Class 3A.
Lovejoy's season-long lead began on a great note with state championships in three fall sports: boys and girls cross country and volleyball.
The girls basketball team advanced to the state finals, where it was stopped one win short of another championship by Abilene Wylie, 61-38.
Boys soccer finished one step short of Lovejoy's fourth state tournament appearance of the year, losing to Kilgore in the regional finals 1-0. Softball was knocked out by eventual 3A state champion Celina in the regional finals in a best-of-3 series.
Lovejoy is performing at quite an impressive rate since opening its doors in 2006.