Unbeaten SL Carroll boys nail down 5A title
April, 16, 2011
4/16/11
10:30
PM CT
GEORGETOWN, Texas -- Southlake Carroll goalkeeper Oshick Shams spent the entire week leading up to the state tournament dreaming of how he would perform in the state final. He even dreamt he would make a ridiculous one-handed save and his team would take home a state title.
Little did he know that both dreams would come true.
Shams came up huge in the Class 5A boys state final Saturday, making four saves and countless clears on crosses and to help Carroll secure a 2-0 victory over Round Rock McNeil.
[+] Enlarge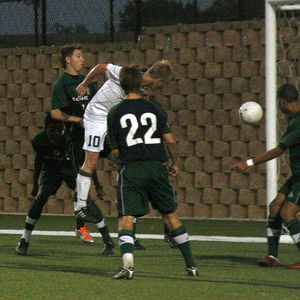 Travis L. Brown/ESPNDallas.comKarl de Zoeten's header off a corner kick gave Southlake Carroll a lead it wouldn't relinquish.
Shams' highlight of the night came in the late minutes of the second half, nabbing a ball that was destined for the far-upper corner with one arm and pulling it in for the save.
"I saw it and I knew I couldn't get it with two hands and I went up and gave it the best effort I got," Shams said. "It landed in my hand and I just didn't let go."
His lockdown goalkeeping also earned him the game's MVP award.
"Two or three of those are over his head -- they're in the back of the net -- and he just comes out of nowhere and snags it and wraps it up. ... Tremendous dedication to his craft and such a team player," Carroll coach Greg Oglesby said. "He's been the key to our shutouts but he'd be the first to tell you those guys in front of him are amazing."
On the the other end of the field, Carroll was able to give Shams some much-needed support halfway through the second half on a header by junior midfielder Karl de Zoeten. De Zoeten was able to get a touch on a ball off a, Alec Petit corner and put it into a wide-open back half of the goal.
The corner kick that led to the goal was the second in a row after the first attempt went out on a ball that was sent in too low.
"He hit the first one on the ground so I went back over and told him to put it head height at the six, and what a tremendous ball and a well-timed ball by Karl de Zoeten to get on the end of that," Oglesby said.
Carroll senior Mac McGuire put the game away with three minutes left, dribbling the ball into the box from the right side and letting a shot rip that found the back side of the net.
"I knew I had to stay patient and I was determined to get a goal," McGuire said. "I got the space. I knew I could either take it to the corner, waste some time, or I could go score. And that's the kind of player I am; I want to go score. It's my last game and it worked out."
The win completes Carroll's undefeated 28-0-3 season, with 22 shutouts. The Dragons are the second consecutive 5A state title winner to win a championship without losing a game, following in Dallas Jesuit's footsteps.
"We just started playing and the wins start adding up and you kind of don't notice it or look at it," Oglesby said. "Then, all of the sudden, you've played 10 or 15 games and you haven't lost, then 20 games."
Finishing the season undefeated with a state title and possibly a shot at a national championship -- the Dragons entered the state tournament at as the ESPN RISE Fab 50 No. 2 team -- left most of the Carroll players at a loss for words.
"It hasn't really sunken in yet, I'm just happy -- happy for everyone," de Zoeten said. "Especially the seniors they've worked so hard all four years."