Timberview storms over Abilene into semis
December, 3, 2011
12/03/11
6:28
PM CT
DENTON, Texas --
"Hail to the pride of Texas…"
The words to Mansfield Timberview's fight song never rang truer than Saturday after the Wolves' 32-6 victory over Abilene in the 5A Division II Region I final at Denton's C.H. Collins Stadium.
[+] Enlarge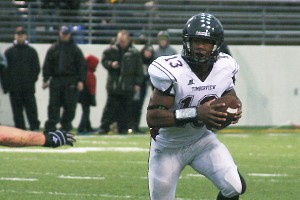 Travis L. Brown/ESPNDallas.comTimberview's Chuck Taylor rushed for 248 yards and two scores against Abilene.
This Timberview squad has gathered quite the following in what coach Mark Walker called a bittersweet season, as emotion spilled over onto his face.
Midseason, Timberview's offensive coordinator Cody McCarty passed away suddenly at 29, leaving the team and the coaching staff at a loss for what good could come from such a tragic situation.
Quarterback Chuck Taylor and every member of the Timberview squad had an answer -- remain the only Metroplex team in the 5A Division II playoffs and advance to play Spring Dekaney in the state semifinals.
"Coach gets a whole bunch of letters from D1 schools giving us support," Taylor said. "We honor [McCarty] every day. That's the main reason we pushing forward and keep going to the next round and the next round."
After a last-second win in the region semifinals over Abilene Cooper, Taylor said he was surprised at how easy the win over a strong Abilene offense came.
As rain began to pour in Denton before the game, Taylor said he knew Timberview's explosive ground game had the edge over Abilene's passing game and he would be proven correct.
Abilene quarterback Evin Abbe went just 3 for 18 for 28 passing yards in the game, but Taylor rushed for 248 yards and two touchdowns. Timberview rushers combined for 393 yards in the game.
Timberview began hot, hitting the scoreboard first on a 12-yard pass from Taylor to Dylan Harden in the first quarter.
He then took a simple zone-read option 72-yards to the house to extend the Wolves lead to 14-0.
"Was that a touchdown call? No," Walker said. "That's Chuck Taylor, that's the lineman, that's the wide receivers blocking their butts off downfield. That doesn't just happen because he's fast. There were safeties and corners on the ground downfield."
Timberview added a 25-yard field goal in the third and a touchdown for good measure with three seconds left in the game on a 21-yard run by Daniel Ramos.
Abilene scored just once on a trick pass play from Blayze Walker to Keevan Lucas from 14-yards out in the third. Timberview blocked the point-after attempt and returned it for two points.
Running back Josh Smith was the unsung hero, opening up the outside running lanes for Taylor by exploding through the middle of the field throughout the entire game. Walker said he came out with more passion after spending a week regretting his play in the region semifinals.
Timberview's defense turned a few heads, allowing Abilene just 88 yards of total offense.
The Wolves' heart will be on display again at 2 p.m. Saturday in Round Rock, and Walker said they will ride the same strategy that has got them this far: knowing a few of the opponent's favorite plays and just playing with passion.
It's a passion that's visible after every Timberview playoff win when players and coaches look to the sky and smile to honor their coach and the Wolves' fight song is played and sung:
"Hail to the pride of Texas. Hail, Hail, to Timberview, the leader of the pack."