Late rally lifts Southlake Carroll over Skyline
December, 10, 2011
12/10/11
9:19
PM CT
UNIVERSITY PARK, Texas -- Southlake Carroll will have plenty of choices for the most memorable image of its comeback win over Dallas Skyline at SMU's Ford Stadium on Saturday.
It's hard to settle on just one with so many good options -- Ray Crockett recovering an onside kick with 1:07 left in the game, Kenny Hill dodging an endless number of Skyline defenders on his 35-yard game-winning touchdown run, the fox dashing across the field during Hill's amazing run.
[+] Enlarge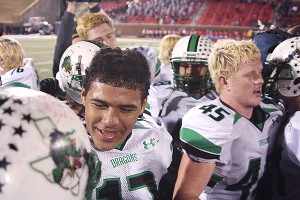 Travis L. Brown/ESPNDallas.comSouthlake Carroll players celebrate after their comeback win over Skyline.
OK, maybe the fox wasn't the most memorable image, but it was certainly the most bizarre.
"Yeah I saw it run by," Hill said of the fox. "That was just weird."
But in 10 years, the Dragons may just remember the final score -- 28-24 -- a score that will go down in Dragon lore to signify one of Carroll's best victories, even with all its rich tradition.
"Emotions are just going every, flying through my body, flying through all of our bodies," said Carroll linebacker Will Davis. "The team was going crazy. We knew we had it in us with two minutes left to still win the game and we pulled it out."
Carroll (15-0) advances to play Fort Bend Hightower (13-2) in the 5A Division I state title game at 4 p.m. Saturday at Cowboys Stadium.
"We talked about climbing a mountain [this week]," said Carroll head coach Hal Wasson, who's son Chase nicknamed his dad "the Silver Fox" and has "silver fox swag" embroidered on his Carroll baseball hat. "We told them the oxygen would get a lot thinner up on top. I tell you what, it got pretty thin during the fourth-quarter stretch. This was the greatest comeback I've ever been a part of."
Skyline (14-1) took a 24-14 lead with 2:26 left in the game on a 34-yard field goal by Juan Ramos, and the Raider faithful began celebrating what would have been its first state title appearance in school history.
Enter Kenny Hill. On the ensuing drive, the junior quarterback worked the ball down the field to receivers Sabian Holmes, Tyler Barnes and Ben Sego -- the latter two of which had to step up in the place of the injured Peyton Williams.
A pass interference call moved the ball down to the Skyline 3-yard line where Hill dove in to cut Skyline's lead to 24-21.
Still needing the ball, Carroll executed a perfect onside kick. The ball just went 10 yards and then bounced back toward Crockett, who leaped up to pull the ball away from Skyline, giving Carroll the ball at the 50 with 1:07 left.
"He's a basketball player," Wasson said of Crockett. "We needed his leverage to go up and snag that ball. What a great play. That will go down in Dragon history."
It only took 20 seconds for Carroll to score. One play after AJ Ezzard moved Carroll down to the Skyline 35, Hill went down the right sideline on a long run, but instead stepping out of bounds, he cut back inside and got into the north end zone by the time the fox had made it to the south end zone.
Skyline still had 46 seconds to retake the lead, but Matt Swoyer, who's made numerous big plays throughout the playoffs, stepped in front of a Devante Kincade pass on fourth down to end the game.
The win was even more miraculous given what little Carroll did on offense. Hill finished with just 98 passing yards. Ezzard had 140 rushing yards, but 127 of that came on five carries.
Skyline turnovers helped keep Carroll in the game. The Dragons tied the score at 7 late in the second quarter after a Kincade interception. They tied the game at 14 in the third quarter following a Skyline turnover on downs at midfield.
Kincade had a spectacular touchdown run of his own -- a 37-yarder late in the third that gave Skyline a 21-14 lead that would have been the difference in the game, if not for Hill.
And the fox.