High School:

1/27/12 Boys basketball notes
January, 26, 2012
1/26/12
10:04
PM CT
By
Randy Jennings
| ESPNDallas.com
With three Sneed brothers in the starting lineup, Arlington Lamar's boys basketball team really is like a family.

There is Brandon, a 6-foot-4 junior; Jeremy, a 6-foot-2 sophomore; and Robert, a 6-foot-3 freshman.

"All three are pretty laid-back kids,'' said second-year Lamar coach Zach Burks. "But they can be pretty competitive, too. They will get after each other.''

Brandon and Robert have similar games and are capable of playing inside and outside. Jeremy's role is more of a traditional guard.

In District 4-5A games, Robert is the leading scorer with a 12.6 average, followed by Brandon (9.9) and Jeremy (8.3).

The Sneeds have accounted for 53 percent of the Vikings' points in district games. Despite fielding one of the area's youngest teams, Lamar (9-14) is in third place in the district with a 5-3 record.

Lamar's roster is made up of three freshmen, four sophomores, four juniors and only two seniors. The starting lineup consists of two freshmen, two juniors and one sophomore.

"We knew we were going to be young this season,'' said Burks, "but we didn't know we would be this young. It's been interesting.''

North Crowley and Arlington Martin are first and second, respectively, in 4-5A. Lamar owns a one-game lead over Fort Worth Paschal and Arlington Bowie with six games remaining.

"There's a lot of basketball to be played and we don't want to get ahead of ourselves,'' Burks said. "We just need to take care of our business.''

Lamar hosts Weatherford at 7:30 p.m. Friday.

January, 26, 2012
1/26/12
10:03
PM CT
The Colony and Denton Ryan have been the top dogs in District 4-4A for a number of years now, but with five games remaining in the regular season, upstart Little Elm leads the district.

The Lobos (21-6, 7-0) beat The Colony last Friday, 53-43, and Ryan the week prior, 74-65, to gain a one-game lead on the Cougars.

Their lead is even more remarkable considering that Damion McIntosh, The Colony's third-leading scorer and second-leading rebounder, transferred from Little Elm this year to not only leave Little Elm a man down but also give a boost to one of its chief rivals.

But the Lobos haven't suffered from the loss. They haven't lost in January and most of their losses came against teams outside the area or solid 5A teams (Rowlett, Garland Naaman Forest).

Senior Biron Joseph leads the team in scoring (19 points per game) and rebounding (8 per game). Point guard Devante' Pullum averages five assists per game and the team gets strong contributions from Bryan Owen, Jalen Bridges and Anthony Egwu.

Little Elm's program has been building slowly. The Lobos made the playoffs the last two years after missing the playoffs in their first three years in Class 4A, but they lost in the first round both years. This year may be the year the Lobos make their first run.

Key games still remain on their schedule. They face Ryan again on Feb. 7 and close the season a week later at The Colony.
January, 26, 2012
1/26/12
10:02
PM CT
Keller Central's rise to the top of the District 7-5A standings may have come as a surprise to some observers, but a quick look at their roster shows that there's no secret to their success.

The Chargers (21-7, 7-1 in 7-5A) have experienced and talented seniors leading their team at key positions, and head coach Kit Pehl is getting the most out of them by taking advantage of their versatility.

"We've played everything and been competitive with everything," Pehl said. " I think we have a chance to beat anyone we play just because we're a flexible group that's capable of playing any type of defense."

Center Joel Bolomboy, small forward Joel Engulu and point guard Warren Sledge have guided the Chargers to their best season since 2008-09, the last time they made the playoffs.

Not only do the Chargers lead the district, but they opened up a two-game lead in 7-5A by virtue of a win over Denton Guyer on Tuesday and losses by Coppell and Justin Northwest.

"I knew we'd be in the race for the playoffs," Pehl said. "It would have been a ridiculous disappointment if we didn't, but to be a game into the second round and be two games up in the district race, you could only hope for that. We're pretty pleased with where things are."

Bolomboy is a 6-foot-8 center who leads the Dallas-Fort Worth area in scoring and rebounding in Class 5A with 18 points and 13 rebounds per game. Not many teams get the best of Central in the paint.

Sledge is among the area's leaders in assists, and Pehl calls him a second coach on the floor who runs Central's motion offense to perfection.

Throw in Engulu, an inside/outside player who can score from anywhere on the court, and the Chargers have a core group that excels individually and compliments each other collectively.

"It's a really nice mix of kids," Pehl said. "They're all selfless and they play their tails off. That combination has just come together really well to this point.

Many of the same players returned from last year's team, but the results weren't the same. The Chargers finished a game out of the playoffs in a district that was heavily senior-laden. Pehl said that team lacked focus and toughness to compete against teams that were more experienced.

This year, focus and toughness hasn't been a problem, to say the least.

"I knew we'd be talented but I didn't know we'd be as tough as we are," Pehl said. "That was the question, but they've been real consistent on that front."
January, 26, 2012
1/26/12
10:01
PM CT
By
Randy Jennings
| ESPNDallas.com
The 18-8 season record of District 5-4A boys basketball co-leader North Richland Hills Birdville is a bit deceptive.
Of the Hawks' eight defeats, seven have come at the hands of Class 5A opponents. That includes three losses to current District 7-5A leader Keller Fossil Ridge, by margins of seven, six and one.
[+] Enlarge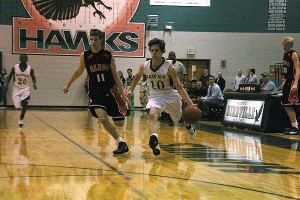 Travis L. Brown/ESPNDallas.comJimmy King is averaging 8.8 points per game and leads Birdville with 5.8 assists a game.
Tuesday's 51-46 loss to fellow 5-4A co-leader Trophy Club Byron Nelson was Birdville's first defeat this season at the hands of a team in its own classification.
The Hawks depend heavily on group of seniors that is long on experience and shooting ability and short on height.
"When people see us walk in the gym, we don't impress them,'' said coach Jeff Fitch. "Four of our starters are no taller than six feet. But with this group of kids, if I gave them the day off, they'd go to the recreation center to play basketball. They are gym rats.''
Four of the five starters -- Jimmy King, Cris Sawyer, Jalen Murphy and Aaron Esslinger -- have been teammates since middle school.
*King (5-foot-11) was a first-team all-district selection last year and is third in scoring with an 8.8 average. He leads in assists with 5.5 per game.
*Sawyer (5-foot-11) was second-team all-district a year ago and is the leading scorer with a 12.5 average. Fitch calls him the best pure 3-point shooter he's coached.
*Murphy (5-foot-9) averages 8.0 points per game and is second to Sawyer in 3-pointers.
*Esslinger (6-foot) is second in scoring with a 12.2 average and is coming off games of 29 and 21 points. Fitch said over the last year Esslinger is the most improved of the group.
Aaron Hughes, a 6-foot-7 post, rounds out the starting five and leads the team in rebounding (5.9 per game).
"Even though we lack a lot of size, these guys know how to make the extra pass and do the little things that give us a chance to win," said Fitch, who learned his trade as an assistant under Tommy Newman at Euless Trinity. "When you have four guys that can shoot the 3s, that's a big equalizer."
Birdville (7-1 in 5-4A) hosts Azle at 7:30 p.m. on Friday.