High School:

2011 Kirk Herbstreit Classic
September, 6, 2011
9/06/11
12:06
AM CT
ARLINGTON, Texas -- Cedar Hill and Denton Guyer quickly became rivals in 2010, facing each other twice, both hard-hitting games at Cowboys Stadium that went down to the wire.
Not much changed Monday when the two squared off in the tightly contested finale of the Kirk Herbstreit Classic, a 24-21 Cedar Hill victory.
Stepping up for Cedar Hill was the 1-2 punch of jersey Nos. 1 and 2, quarterback Andre Anderson and running back Laquvionte Gonzalez.
[+] Enlarge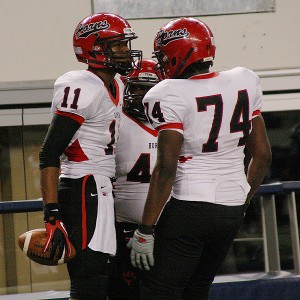 Travis L. Brown/ESPN.comCedar Hill celebrates after Damion Hobbs (11) scored on a 6-yard reception to give the Longhorns a 17-7 lead early in the fourth quarter.
"It's a rivalry that jumped off in the first game," Anderson said. "Denton Guyer is the most physical team we play. Everyone on that team hits, from the safeties to the corners to the linemen."
Anderson, who struggled to find any passing game last week against Allen, sealed the game with just over a minute left by completing a 5-yard pass to Jalon Gentry on fourth-and-4. He finished the game 16-of-28 passing for 235 yards and three touchdowns along with 47 yards rushing.
Gonzalez put energy into the Longhorns offense, juking and spinning his way to 119 yards and a touchdown receiving and 55 yards rushing.
The teams traded blows in the first half, beginning with a 33-yard touchdown pass from Anderson to Evan Williams. The Wildcats (1-1) countered in the second on a 13-yard pass from sophomore quarterback Jerrod Heard to Thomas Ferguson.
The third was the quiet before the storm, with Cedar Hill (1-1) taking a 10-7 lead on a 30-yard field goal from Ryan Sparkman late in the quarter.
Anderson proved himself a clutch passer in the fourth, hitting Damion Hobbs for a 6-yard touchdown early in the quarter and Gonzalez with a 46-yard touchdown pass with seven minutes to go.
Guyer hung in with 43-yard and 66-yard touchdown passes but came up three short in the end.
Cedar Hill notched the big predistrict win Monday, but if history proves anything, these two might not be through with each other just yet this season. The Longhorns won the Herbstreit matchup last year only to have the Wildcats knock them out in the area round of the playoffs.
"It's a heated rivalry," Anderson said. "The best team might have won, but it's hard to beat a team twice in a season, so we'll see how it goes when we play them in the playoffs."
September, 5, 2011
9/05/11
9:11
PM CT
ARLINGTON, Texas -- Music blared and players energetically danced in the DeSoto locker room celebrating the Eagles' Kirk Herbstreit Classic win over Oklahoma City Frederick Douglass on Monday.
Frankly, after the 63-0 blowout, DeSoto had plenty of extra energy to run off that wasn't used in the game at Cowboys Stadium.
The much smaller defending 4A Oklahoma state champion fell victim to DeSoto coach Claude Mathis' desire for his team to find a rhythm on offense, as he kept his foot on the pedal well into the third quarter.
[+] Enlarge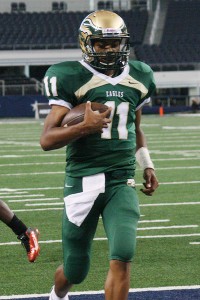 Travis L. Brown/ESPNDallas.comDeSoto quarterback Raheem Wilson carries in one of his two rushing touchdowns.
"This is only our second ball game," Mathis said. "If it was like four or five ballgames deep, I would have pulled it off, but our kids are still learning our offense. I want perfection, so that's what we did in the second half."
In recent years, DeSoto (2-0), No. 7 in ESPN Dallas' Class 5A area rankings, had established itself as a pass-happy offense behind former quarterback Ryan Polite. Now, with a tandem of talented running backs and a new quarterback, Mathis has focused on running the option, which proved again to be a wise choice for this group of players.
Running backs Desmon White and Devin Rushing combined for 139 yards rushing and quarterback Raheem Wilson added two touchdowns on the ground.
Wilson also proved that DeSoto's offense isn't one-dementional, going 8-for-14 passing for 187 yards and three touchdowns.
"He was doing everything we asked of him," Mathis said. "We don't want him to be the hero, we just want him to go out there and run the offense. I'm very happy with Raheem right now."
What Mathis said pleased him the most was his defense's effort in preserving the shutout. But the shutout wasn't nearly as impressive as the 50 total yards of offense DeSoto allowed in the game -- 35 rushing and 15 passing. After three quarters, Douglass (3-1) had managed only 2 yards of rushing offense.
"Our defense was lights out," Mathis said. "Messed up the shutout last week [a 43-3 win over Leander], didn't mess it up this week. I was proud of those guys. They worked hard all week and executed on defense."
Mathis would not take any of the spotlight off of his players for the win, but his players recognized Douglass' inability to play near the level DeSoto plays and found it slightly disappointing to dominate on the big stage of the Herbstreit Classic.
"Before we came out coach told us they won state last year, so I thought they would have a pretty good push, but I guess not," running back Dontre Wilson said.
September, 5, 2011
9/05/11
5:51
PM CT
By
Randy Jennings
| ESPNDallas.com
ARLINGTON, Texas -- Dallas Skyline gained revenge for a disappointing 2010 Kirk Herbstreit Classic performance against another Florida school with a 36-20 victory over Cocoa on Monday afternoon at Cowboys Stadium.
For Skyline quarterback Devante Kincade in particular, the win provided a measure of retribution for last year's 31-3 Herbstreit loss to Fort Lauderdale St. Thomas Aquinas.
"Devante was a sophomore last year,'' Skyline coach Reginald Samples said. "He made mistakes and when he did, he put his head down. When I thought he might be starting that again today, I yelled at him pretty good.''
[+] Enlarge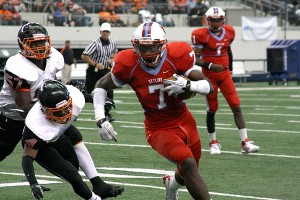 Travis L. Brown/ESPNDallas.comPeter Jinkens rushed for two touchdowns in Dallas Skyline's win over Cocoa (Fla.).
Kincade didn't give his coach many opportunities to yell, completing 14-of-17 passes for 171 yards. He was especially effective during a pair of first-half touchdown drives as Skyline, No. 3 in the ESPNDallas.com Class 5A Top Ten, improved to 2-0.
A year ago, the Raiders were somewhat in awe of their surroundings.
"Today,'' Kincade said, "we were very confident. We played our hardest.''
It didn't start out well for Skyline or Kincade.
Cocoa's Lorenzo Pratt returned the opening kickoff 95 yards for quick 6-0 lead and Kincade was sacked on the Raiders' first play.
But near the end of the first period, Kincade appeared to relax and began finding open receivers.
Peter Jinkens capped a 70-yard drive with a 6-yard scoring run and Thomas Johnson added a 2-point conversion run for an 8-6 lead, and Skyline would not trail again.
Johnson scored from the 18 and the conclusion of a 68-yard drive in the second period.
Cocoa (0-2) twice pulled within two points, the last time after Skyline muffed a punt at its 1.
Jinkens returned the lead to nine points with a 3-yard scoring run late in the third period. It came at the end of a 66-yard drive.
Following an interception by defensive lineman Kerrick Huggins, the Raiders tacked on one more insurance touchdown in the fourth quarter on a 37-yard run by David Greene.
Skyline's defense limited Cocoa's running attack, the main reason for the 38-game winning streak it took into the season, to 39 yards on 30 carries.
Said Samples: "Defense is what we hang our hat on around here. We've had great players on defense in the past. But this group is special because we're stronger as a unit.''
It is a defense that provides security for Kincade.
"It feels good to know those guys on defense have my back if I make a mistake,'' Kincade said.
September, 5, 2011
9/05/11
3:10
PM CT
By
Randy Jennings
| ESPNDallas.com
ARLINGTON, Texas -- It took a couple of position changes during his brief time at Arlington Bowie for Devin Williams to find a home.
But Williams is settled in now at free safety, where his playmaking ability helped the Volunteers defeat New Orleans Edna Karr, 36-6, in the opening game of the Kirk Herbstreit Classic on Monday at Cowboys Stadium.
Williams forced two fumbles, the first setting up the touchdown that finally gave Bowie some breathing room and the second blunting Edna Karr's best scoring chance of the second half.
[+] Enlarge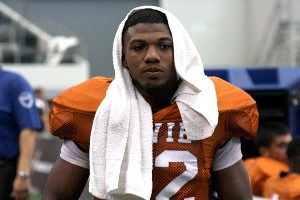 Travis L. Brown/ESPNDallas.comRussell Hansbrough rushed for 172 yards and two touchdowns on just 13 carries for Arlington Bowie.
"My primary job is to make sure nobody gets deep,'' Williams said. "But against a team like we played today, I can come up and make plays against the run.''
When the 6-foot-2, 183-pounder found his way to Bowie as a junior transfer from Alabama last year, he was a defensive end. Next came a move to linebacker, and finally coach Kenny Perry saw something that convinced him that Williams was suited to be his free safety.
"He's such a smart kid,'' Perry said. "I've been telling people about him. Devin does what is called and he's good about not getting too close where they can run by him.''
With Bowie (2-0) leading 15-6 in the early minutes of the third quarter, a solid hit by Williams knocked the ball from the grasp of Edna Karr running back Rashad Watson. Bowie linebacker Jaquirous Jackson scooped it up and returned it 39 yards to set up a 5-yard scoring run by quarterback Kolby Listenbee for a 22-6 lead.
"I hit the ball with my helmet,'' Williams said. "I didn't know he fumbled until I heard the crowd yelling.''
Edna Karr responded with its longest sustained drive of the game. But on first-and-goal from the Bowie 5, Williams stripped the ball from quarterback Jazmen Riley and eventually recovered himself.
Bowie put the game away with a long touchdown drive.
The Vols defense forced six Edna Karr turnovers, including an 84-yard interception return by cornerback Robert Zenon in the closing moments.
"We didn't play up to our standards overall,'' said Perry, "but our defense kept us in it with two goal-line stands.''
Offensively, Russell Hansbrough ran for a pair of first-half touchdowns, including a 70-yarder on an option pitch, and finished with 172 yards on 13 carries.
Listenbee rushed for 65 yards and threw for 28.
Edna Karr (0-2), last year's Louisiana Class 4A state runner-up, scored in the opening quarter on a 67-yard pass from Riley to Rasheed Davis.
September, 4, 2011
9/04/11
2:47
PM CT
Here's a rundown of the four Kirk Herbstreit Classic games to be played Monday at Cowboys Stadium. The first two games will be broadcast on Fox Sports Southwest Plus and the last two will be on Fox Sports Southwest.

Arlington Bowie (1-0) vs. New Orleans Edna Karr (0-1), 10 a.m.

Bowie rolls into the Classic coming off a huge 50-7 win over Odessa in Zero Week.

Bowie boasts a balanced attack from quarterback Kolby Listenbee, a TCU commit, and running back Russell Hansbrough, an Arizona State commit who will share carries with a platoon of runners.

Edna Karr is the New Orleans Class 4A state runner-up and comes to Arlington after losing its season opener.

No. 3 Dallas Skyline (1-0) vs. Cocoa (Fla.) (0-1), 1:15 p.m.

Dallas Skyline came into last season's Herbstreit Classic with a new, young quarterback to face St. Thomas Aquinas out of Florida, a team that spent time last season as the FAB 50 No. 1 team. Needless to say, it became obvious early that the game was moving just a little too fast for the inexperienced Devante Kincade in the 31-3 loss.

With a year under his belt, Kincade will lead the Skyline offense against another Florida powerhouse, Cocoa, in the second game of the afternoon.

Cocoa is making its second out-of-state trip in as many weeks after losing to Colerain (Ohio) on ESPN last week, snapping the school's 38-game win steak. Cocoa's option-based offense will be put to the test against a very strong Skyline defense led by Texas commit Peter Jinkens at linebacker.

If Skyline can shut down Cocoa's run game like Colerain did last week, it will be hard for Cocoa to stay in the game without much of a threat through the air.

No. 7 DeSoto (1-0) vs. Oklahoma City Douglass (3-0), 4:30 p.m

After losing star quarterback Ryan Polite, DeSoto's offense has gone under some renovation to fit the talent returning this season.

Polite, a very strong passer, led a spread, pass-happy offense to the state quarterfinals in 2010. This season, coach Claude Mathis has committed to the ground game, running options among Devin Rushing, Desmon White and Dontre Wilson and new quarterback Raheem Wilson.

The new system worked for a 43-3 win against Leander in Zero Week, but it will surely be put to the test against Douglass, the defending Oklahoma 4A state champion.

No. 10 Denton Guyer (1-0) vs. Cedar Hill (0-1), 8 p.m.

Last year's Herbstreit Classic gave area high school football fans a taste of the 2010 playoffs in Week 1.

Cedar Hill edged Denton Guyer, 42-41, in the Classic, only to be bounced from the playoffs in the area round of the 5A Division II playoffs back at Cowboys Stadium by the same Denton Guyer team that would be a state finalist.

The teams square off again in the prime-time slot of this year's Classic.

While the jerseys on the field my look identical to both games last season, these teams are very different, most noticeably at the quarterback position.

J.W. Walsh carried the Guyer offense all the way to the state finals last year on his dual-threat ability, but has since moved on to Oklahoma State. Taking his place is sophomore quarterback Jerrod Heard, who pulled in his first win as a starter against another potential playoff contender Garland, 24-21, in Zero Week.

New Cedar Hill starter Andre Anderson wasn't as successful in his first game of 2011, losing to ESPN Dallas 5A No. 1 Allen, 28-13, at the Tom Landry Classic. Cedar Hill's offense struggled to get anything going until late in the game and will face another strong defense Monday to test any adjustments made over the past week.