High School:

2011 QB Spotlight
August, 5, 2011
8/05/11
12:00
AM CT
This week, ESPNDallas.com spotlights five of the top quarterbacks returning to Friday night football in 2011.
SETH RUSSELL
School, class:
Garland, Sr.
2010 Stats:
66-for-134, 779 yards, 7 TDs, 395 yards rushing with 3 TDs
Russell flew under the radar in 2010 after missing the first three games of the season due to a broken finger. He struggled to find his stride in his first few games after missing the reps of Garland's preseason scrimmage and non-district games.
[+] Enlarge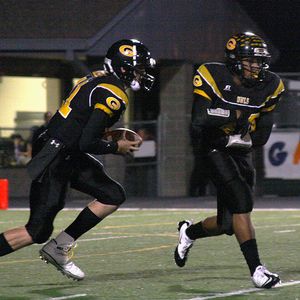 Travis L. Brown/ESPNDallas.comGarland quarterback Seth Russell (left) is a threat to throw and run.
However, Russell used the offseason to prove he is much more than the player he showed during his junior season. He went to camps and was able to showcase his talent and eventually committed to Kansas over the offseason.
Russell is a dual-threat quarterback who fits the same mold as former Denton Guyer and current Oklahoma State quarterback J.W. Walsh. Garland head coach Jeff Jordan went as far as to compare Russell to a Cam Newton-like quarterback, noting how his long frame makes Russell deceptively quick.
"He's a real long-strider," Jordan said. "It doesn't look like he's running nearly as fast as he is, but no one ever catches him."
Russell will be able to make plays with his legs for Garland, but it's the ability to make proper reads that will be Russell's biggest challenge in 2011. He possesses the talent to make incredible plays through the air, he just needs to learn to check down to an easier throw more often instead of trying to make the highlight-reel play by threading the needle, Jordan said.
Jordan said Russell has a much higher level of connection and trust with his receivers this season, which should help him tackle proper reads early in the season.
If Russell can add that decision-making ability early in the season against the stout defenses of Denton Guyer and Duncanville, he should excel the remainder of the season through District 10-5A play.
August, 4, 2011
8/04/11
12:50
AM CT
This week, ESPNDallas.com spotlights five of the top quarterbacks returning to Friday night football in 2011.
KENNY HILL
School, class:
Southlake Carroll, Jr.
2010 Stats:
156-for-214, 1,752 yards, 6 TDs
In Hill's first season as the starting quarterback, Carroll was suffering from the instability of losing expected starter Daxx Garman to ineligibility the day of the Dragons' first game in 2010.
[+] Enlarge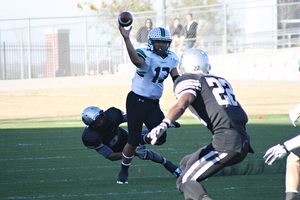 Travis L. Brown/ESPNDallas.com Quarterback Kenny Hill guided Southlake Carroll to the regional final round as a sophomore.
Hill stepped in and provided Carroll with much-needed consistency that helped it reach the 5A Division II state quarterfinals.
Hill is an all-around athlete with the ability to run and throw, and he can throw with accuracy -- completing over 70 percent of his passes in 2010.
The poise he possesses as an athlete and a leader on the field, in part, can be credited to having former Rangers pitcher Ken Hill as his father. That pedigree gives Hill a certain mental advantage on the field, Carroll head coach Hal Wasson said.
"He's been raised the son of a great athlete and there's things he has in his toolbox that he's seen from birth as a kid," Wasson said.
While Hill already posses the tools to be a successful quarterback, he still has plenty of potential to improve during his junior year. Wasson said he believes Hill will show improvements to his game week by week throughout the season that could help him leave his mark in a line of very successful Carroll quarterbacks.
Part of that legacy will most certainly include Hill's opportunity to get retribution for three key losses the Dragons suffered last season against Copperas Cove in the first game of the season and Coppell and Denton Guyer in District 7-5A play. Guyer beat Carroll twice last season, once at Dragon Stadium in the last game of the regular season and then in the state quarterfinals at Cowboys Stadium.
If Hill can mature into a veteran quarterback in his junior year, he will be something special for a very good Carroll team in 2011.
August, 3, 2011
8/03/11
12:01
AM CT
This week, ESPNDallas.com spotlights five of the top quarterbacks returning to Friday night football in 2011.
JARED JOHNSON
School, class:
South Grand Prairie, Sr.
2010 Stats:
114-for-215, 1,600 yards, 18 TDs
Johnson is a well-rounded quarterback heading into his senior season.
It's not all from just on-field experience, but from learning the mental game of football from several offensive coaches in his four years at South Grand Prairie.
[+] Enlarge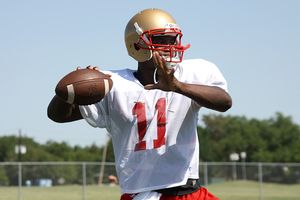 Travis L. Brown/ESPNDallas.com Jared Johnson's decision-making abilities set him apart from other talanted high school quarterbacks.
That, in part, has made Johnson a decision maker well beyond his years. It lets new coach Brent Whitson, formerly of Richardson, give Johnson options that many high school quarterbacks wouldn't have the mental fortitude to handle.
"I'm most excited about, for the first time in years, I've got a guy that, from decision-making ability, I've got a sound guy – one you can give him choices on every play and know that he's going to make good decisions," Whitson said. "That sounds obvious for a quarterback but it's rare at the high school level."
Combine that decision-making ability with a live arm and a quick release, and you have a Baylor commit who is confident in his ability to lead South Grand Prairie further than last year's bi-district loss to 5A Division I state finalist Euless Trinity.
Johnson can threaten defenses with the potential to run with speed and power and backs that up with the ability to make all the throws a traditional pocket passer would have in his arsenal. Despite his ability scramble to make a throw or a run, he sits in the pocket very comfortably.
While Johnson's exposure to several different offensive systems makes him a great recruit, mastering Whitson's offense could be his biggest challenge this season. Whitson said his connection with his field general hasn't completely developed yet due to the learning curve Johnson has faced.
"He has to get to the point where he finishes my sentences," Whitson said.
Johnson will have time to grow into the new offense through a winnable pre-district schedule before cranking it up in a tough district featuring Cedar Hill, Mansfield and Duncanville.
"He'll get there because he wants to – that's his biggest challenge," Whitson said. "Physically, he doesn't have any [challenges]."
August, 2, 2011
8/02/11
12:00
AM CT
This week, ESPNDallas.com spotlights five of the top quarterbacks returning to Friday night football in 2011.
ALEC MORRIS
School, class:
Allen, Sr.
2010 Stats:
182-for-297, 2,533 yards, 22 TDs
Morris assumed the starting quarterback role in 2010 as a tall, lanky junior who left plenty of question marks in how well the Allen offense would be able to perform. In 2011, Morris is a very different athlete, leading the ESPN Dallas spring 5A No. 1 team into his senior season.
[+] Enlarge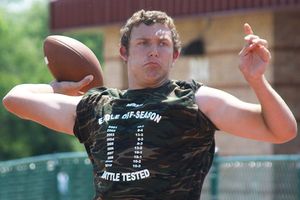 Travis L. Brown/ESPNDallas.com Allen's Alec Morris gave up basketball to focus on football, and he added 25 pounds of muscle during offseason workouts.
This offseason, Morris decided not to continue to be a two-sport athlete, electing to work through Allen's football offseason program instead of playing basketball. The difference is noticeable. Morris will begin his senior year at around 235 pounds, adding 25 pounds of muscle in his arms and chest to his tall, lanky frame.
Allen coach Tom Westerberg said the offseason work has already added a physicality to Morris' game that was not nearly as pronounced last year.
Morris, a Wake Forest commit, is at his best as a pocket passer who can pick apart a defense in the short- to mid-range game when he gets his feet set. His added weight will make Morris even more difficult to bring down in the backfield than he already was, giving him the chance to extend plays.
With a year under his belt, Morris has grown into the system at Allen and will increase his already good ability to make reads. His new physical strength can make him more of an asset in Allen's short-yardage running game after he ran for 216 yards and eight touchdowns last year.
Westerberg said the only challenge that could be difficult for Morris will be to surpass an excellent junior season in which he took Allen to the area round of the 5A Division I playoffs, where the Eagles fell to state finalist Euless Trinity.
"He should be fine this year because of the confidence factor of being there a year," Westerberg said.
Morris again has to face one of the toughest districts in the state, and the season kicks off against Cedar Hill at SMU's Ford Stadium. The Cedar Hill game is a rematch of the first game of 2010, which was the eye-opener for Morris' potential at Allen.
With help from returning senior running back Jonathan Williams, Morris makes Allen the offense to beat in 2011.
July, 31, 2011
7/31/11
10:39
PM CT
This week, ESPNDallas.com spotlights five of the top quarterbacks returning to Friday night football in 2011.

BRADY BURGIN
School, class: Highland Park, Sr.
2010 Stats: 126-for-176, 1,945 yards, 15 TDs, 6 INTS

Burgin had the opportunity to get significant playing time at quarterback at Dallas Highland Park as a junior in 2010, splitting time with senior Jake Howeth. For the majority of the season Burgin, a strict pocket passer, would take control of the Scots offense in the second and fourth quarters, only relinquishing his position to Howeth, who was a running threat, during those quarters in short-yardage or high-pressure situations.

Highland Park head coach Randy Allen changed his season-long quarterback strategy when his team fell behind to Mesquite Poteet in the regional round of the 4A Division II playoffs at Cowboys Stadium, leaving Burgin in at quarterback for the entire second half. While Highland Park would go on to lose, that experience gave Burgin a taste of the high-pressure atmosphere he will be more likely to face as the full-time starter this year.

Burgin's biggest asset going into his senior season is the experience he gained splitting time with now-graduated Howeth. That includes developing a connection with his receiving corps, Howeth said, which returns two top pass-catchers from 2010 in Dalton Stogner and William Morris.

"Brady is a great thrower and a really good leader," Howeth said. "The thing I like about him, he's a good leader. He gets the guys together and throws all the time with them. He has a great sense of camaraderie with is receivers."

Beyond the intangibles, Burgin flat out has skill. His ability to sit back in the pocket and manage the traditional Highland Park offense fits right in to Allen's plan for the Scots in 2011.

"He is a good drop-back passer and he runs play action spread-outs very well," Allen said. "He can run the ball, but passing is his strength."

The only question that remains for Burgin in 2011 is how he will preform in pressure situations. While he will no longer have Howeth to help pick up that key first down or short-yardage touchdown, Burgin is not alone. Allen said he worked senior running back Preston Miller at quarterback in a wildcat formation through spring ball, which will give the Scots a Howeth-like threat in short-yardage situations.

Burgin and Highland Park will be thrown into the fire in the first game of the season when they face a very athletic Everman defense at SMU. The Scots' other big test is the first game in October against Wylie's aggressive defense.

As usual, Highland Park will be a very complete team with the ability to maintain a balanced attack that will keep any defense off guard, relieving some of the pressure from Burgin to carry the offense in his first year as a full-time starter.