High School:

2011 UIL softball playoffs
May, 28, 2011
5/28/11
12:49
AM CT
By
Master Tesfatsion
| ESPNDallas.com
FRISCO, Texas -- Forney rallied from an early deficit against Frisco Centennial, scoring 13 runs over four innings for a 13-7 win Friday for a sweep in the Class 4A Region II final and a trip to the Class 4A state softball tournament.

Centennial swiped four bases in the top of the first, including a double steal that scored Allie Cranfill to give the Titans an early 2-0 lead.

But consecutive extra-base hits from Taylor Penn, Rylie Chappell and Laura Mabary to start the third helped the Jackrabbits build a 3-2 lead.

"I don't think you can get a better hitting team than ours," Forney shortstop Brooke McCarroll said. "I mean, we just hit and we hit and we just have so much faith in our team. We don't stop cheering until the game's over."

The score was tied, 3-3, after four, but Forney batted around in the fifth starting. Chappell's single began what would turn into a six-run, seven-hit fifth inning. McCarroll cleared the bases with a three-run homer on a 0-2 count to left field. She finished with four RBI's.

"At first, [Centennial's starting pitcher Shelby McCoy] pitched me a rise ball," said McCarroll, who finished 2-for-4 on the night. "So I was like, 'All right, I've got to get to the back of the plate.' So I got to the back of the plate. I saw that rise ball real good and I just hit it."'

Forney tacked another four runs in the sixth, capped by a two-RBI double by Krista Williams to put the Jackrabbits up, 13-3

Starting pitcher Macie Tillery did her best to contain Centennial's lineup despite allowing seven runs. Out of the 13 hits allowed, only two were for extra bases. The Titans tried to rally in the bottom of the sixth when Kaytie Proctor's three-run homer made it a 13-6 game and avoided a run-rule situation. Tillery was able to escape when Centennial's Holly VonEhrenfried popped to right field to end the inning.

"[Centennial] never gave up. Even when we thought we had it won there in the sixth inning on a run rule, they pop off a three-run shot," Forney coach Eric Montgomery said. "They're a great team. Big win for us, the girls really came through and hit the ball hard tonight."

Mabary, Williams and Penn finished with a team-high three hits apiece for Forney. The Jackrabbits' lineup had 11 extra-base hits with eight doubles, two triples and a home run.

Forney will play in the state tournament June 2-4 at McCombs Field on the University of Texas at Austin campus.
May, 8, 2011
5/08/11
3:52
PM CT
Regional quarterfinal softball results for Dallas/Fort Worth area teams. Can be single games or best-of-3 series.
CLASS 5A
Region I
Plano d. Hebron (2-1 series)
Hebron 2, Plano 0
Plano 2, Hebron 1
Plano 3, Hebron 2
Keller d. Flower Mound Marcus (2-0 series)
Keller 2, Marcus 1
Keller 3, Marcus 2
Region II
Belton d. Mesquite Horn (2-1 series)
Horn 5, Belton 1
Belton 2, Horn 1
Belton 3, Horn 1
CLASS 4A
Region I
Denton Ryan d. Wolfforth Frenship (2-0 series)
Ryan 12, Frenship 7
Ryan 8, Frenship 3
Waco Midway 7, Crowley 1
Burleson d. Aledo (2-0 series)
Burleson 10, Aledo 0
Burleson 4, Aledo 1
Region II
Frisco Centennial d. Rockwall (2-0 series)
Centennial 9, Rockwall 1
Frisco Wakeland d. Wylie (2-0 series)
Wakeland 6, Wylie 2
Wakeland 7, Wylie 4
Forney d. Royse City (2-0 series)
Forney 3, Royse City 2
Forney 2, Royse City 1
May, 6, 2011
5/06/11
10:49
PM CT
COPPELL, Texas -- It wasn't until Frisco Wakeland pitcher Hannah Newcomb returned to the dugout after homering in the fourth inning that she realized she had done even more than drive in the Wolverines' 17th and 18th runs.
Newcomb had nabbed the last piece needed to complete the cycle in Wakeland's 18-0 win over Dallas Molina in an area-round softball playoff game at Coppell High School on Friday night.
[+] Enlarge
Travis L. Brown/ESPNDallas.comFrisco Wakeland's Hannah Newcomb pitched a two-hit shutout and hit for the cycle against Dallas Molina.
"When I came back into the dugout, we were adding up all my hits and I figured it out." Newcomb said. "I thought it was awesome. It was one of my best games hitting so far."
Wakeland advances past their single-game area-round matchup to face the either North Dallas or Wylie, who split the first two games of their best-of-3 series.
Newcomb led off the top of second with a single and added a run-scoring triple in her second time up in the inning. She drove in another run in the third on a double to left and finished the cycle with the home run in the fourth.
But her contribution to the game didn't just come at the plate.
Newcomb pitched all five innings in the mercy-rule shortened game, striking out eight along the way. She didn't allow Molina's first hit until there were two outs in the fourth inning and wound up with a two-hitter.
"Hannah's been great for us all year," Wakeland coach Chris Southard said. "She continued that today and was solid in the circle. She did what she needed to do and pounded the strike zone."
Wakeland scored eight runs in the second, six in the third and four in the fourth. First baseman Darian Dunn contributed three hits, finishing a home run shy of joining Newcomb with a cycle.
Despite the one-sided outcome, Southard said his team was able to practice having quality at-bats for future playoff rounds.
"You just try to have good at bats and be sharp defensively," he said. "That's the biggest thing."
May, 2, 2011
5/02/11
11:25
PM CT
Area round softball results for Dallas/Fort Worth area teams. Can be single games or best-of-3 series.
CLASS 5A
Region I
Plano 1, Mansfield 0
Mansfield Legacy d. Hebron (2-1 series)


Hebron 3, Legacy 1
Legacy 2, Hebron 0
Hebron 6, Legacy 4

El Paso Americas d. Arlington Bowie (2-1 series)


Americas 4, Bowie 0
Bowie 2, Americas 0
Americas 10, Bowie 0

Keller 1, Midlothian 0
South Grand Prairie d. Flower Mound Marcus (2-0 series)


SGP 10, Marcus 7
SGP 4, Marcus 2
Region II
Belton 5, McKinney Boyd 4
Mesquite Horn d. Rowlett (2-0 series)


Horn 12, Rowlett 4
Horn 6, Rowlett 4

Bryan d. Garland (2-1 series)


Bryan 1, Garland 0
Garland 4, Bryan 3
Bryan 12, Garland 9

Temple d. Sachse (2-0 series)


Temple 2, Sachse 0
Temple 10, Sachse 3
CLASS 4A
Region I
Denton Ryan d. El Paso Chapin (2-0 series)


Ryan 8, Chapin 7
Ryan 8, Chapin 5

Waco Midway 3, Birdville 2
Crowley d. Fort Worth Brewer (2-0 series)


Crowley 7, Brewer 4
Crowley 21, Brewer 5

Burleson d. Azle (2-0 series)


Burleson 9, Azle 2
Burleson 4, Azle 2

Aledo d. Stephenville (2-0 series)


Aledo 4, Stephenville 0
Aledo 6, Stephenville 1
Region II
Frisco Centennial 10, Dallas Hillcrest 0
Rockwall 17, Seagoville 0
Hallsville d. Ennis (2-1 series)


Hallsville 5, Ennis 0
Ennis 3, Hallsville 2
Hallsville 5, Ennis 3

Wylie d. North Dallas (2-0 series)


Wylie 16, North Dallas 2
Wylie 18, North Dallas 0

Forney 3, Sherman 0
Royse City d. Corsicana (2-0 series)


Royse City 1, Corsicana 0
Royse City 5, Corsicana 0
April, 30, 2011
4/30/11
4:46
PM CT
SACHSE, Texas -- Sachse softball head coach Casey Nelson wasn't wary of his District 10-5A fourth-place team facing the District 9-5A champion, Dallas Lake Highlands, in the bi-district round of the 2011 playoffs Saturday.
Nelson said the difficulty of his district combined with the strength of schedule his team endured before district play prepared them for any games they would have to play in May or June. That experience showed Saturday in a five-inning mercy rule 15-2 Mustang win over Lake Highlands.
The Mustang onslaught began on the mound with starting pitcher Kelsey Payne who pitched all five innings, facing only four more than the minimum. Payne struck out nine and allowed three hits with no walks.
[+] Enlarge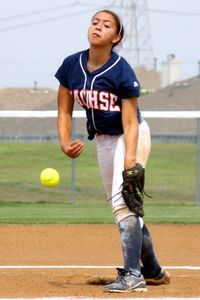 Travis L. Brown/ESPNDallas.comSachse's everyday starter Kelsey Payne fanned nine batters in five innings Saturday.
Payne said she too believed her time as the everyday starter through District 10-5A play gave her the experience needed to throw a good outing Saturday.
"I think this whole district [season]- since I'm the only pitcher – it's helped a lot this year. Last year I wasn't as prepared as I was this year."
The top of the first was the only half-inning Payne had to play without a lead. Sachse's offense provided the run support on 16 hits with seven out of the starting nine batters tallying at least one hit. Five of those seven had multi-hit games, led by Rachel Rogers and Lauren Iverson with three.
Iverson also lead Sachse in RBI's Saturday with four, knocking in at least one on every one of her three singles.
Sachse scored five in the first off four hits and an error, followed by 5 in the second off four hits and two errors.
"We've talked about figuratively punching teams in the mouth right of the bat. As soon as you can score some runs to start a game, they're instantly on their heels and they have to play catch-up."
Lake Highlands changed its approach at the plate with two outs in the top of the third, electing to play small ball. A bunt single by pitcher Erin Brenan broke up Payne's perfect game bid and started a two out rally that would score her and following batter Andrea Beard for the Wildcat's two runs in the game.
Sachse notched a victory in the first playoff game the Mustangs hosted on the campus of Sachse High School. The Mustangs were given an opportunity to host the game in exchange for agreeing to Lake Highlands head coach Kelly Baker's wish to play a single elimination game, Nelson said.
"That was awesome. It was a dream scenario," Nelson said about the home playoff game.
Sachse advances to play the winner of Temple and Tyler Lee in the area round next weekend.
Nelson believes the bi-district win puts Sachse in the drivers seat as they advance in the playoff bracket.
"Coming out as the four seed almost helps us because at this point we've flipped the script," Nelson said. "We've almost become the one seed now. If we continue to play ball at the level we've been playing at…. teams might look past us. They may see the score on the UIL website and go, 'Oh well they got lucky.'"
April, 26, 2011
4/26/11
4:21
PM CT
Bi-district softball results for Dallas/Fort Worth area teams. Can be single games or best-of-3 series.
CLASS 5A
Region I
Odessa Permian 13, Arlington 3
Plano d. Keller Central, 2-0, 5-2
Mansfield d. Haltom, 4-1, 6-1
Mansfield Legacy d. Irving Nimitz, 4-2, 8-5
Hebron d. Denton Guyer, 6-2, 4-1
Midland d. Arlington Martin, 7-1, 11-0
Arlington Bowie d. Midland Lee, 8-3, 5-0
Keller 7, Flower Mound 5
Midlothian d. Richland, 3-2, 11-1
Flower Mound Marcus d. Southlake Carroll, 9-0, 3-2
Region II
Belton 9, North Mesquite 1
McKinney Boyd d. Dallas Skyline, 14-0, 12-0
Rowlett 19, Richarson 0
Mesquite Horn d. College Station A&M Consolidated, 7-6, 3-0
Bryan d. Mesquite, 8-5, 4-3
Garland d. Richardson Berkner, 10-0
CLASS 4A
Region I
Denton Ryan d. Plainview, 19-2, 13-3
Wolfforth Frenship d. The Colony, 12-0, 14-1
Waco Midway 11, Mansfield Summit 0
Birdville 20, Fort Worth North Side 0
Fort Worth Brewer Fort Worth Western Hills, 7-6, 16-11
Crowley d. Waco, 7-5, 13-3
Canyon Randall d. Lake Dallas, 4-2, 12-1
Burleson 10, San Angelo Lake View 1
Azle d. Fort Worth Southwest, 7-0, 7-9, 14-3
Aledo 12, Fort Worth Arlington Heights 0
Region II
Dallas Hillcrest 8, Dallas Adamson 4
Frisco Centennial d. McKinney, 9-4, 5-6, 7-0
Rockwall 12, Carrollton Newman Smith 0
Seagoville 16, Dallas Bryan Adams 1
Elgin d. Waxahachie, 5-0, 6-0
Ennis d. Bryan Rudder, 9-0, 7-2
North Dallas 14, Dallas Conrad 9
Wylie d. Carrollton Creekview, 15-7, 3-0
Frisco Wakeland d. McKinney North, 7-1, 10-0
Dallas Molina 25, Dallas Woodrow Wilson 2
Forney d. Hutto, 15-0, 14-5
Royse City d. Nacogdoches, 5-0, 6-0
Corsicana d. Pflugerville Connally, 1-0, 4-1