High School:

2011 Week 4 Class 4A notes
September, 21, 2011
9/21/11
12:07
AM CT
DALLAS -- At practice Tuesday afternoon at Dallas Thomas Jefferson, the coach's offer to end a drill early for the players to get water was met with instant appeals to keep the practice going.
[+] Enlarge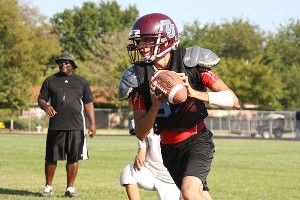 Travis L. Brown/ESPNDallas.comThomas Jefferson quarterback Jose Balderas gave plenty of credit to his coaching staff after the team snapped its 36-game losing streak.
The smiles and excitement that were found on all 25 players on the field could be a direct result of the team snapping its 36-game losing streak Friday with a 19-16 win over Fort Worth Diamond Hill-Jarvis, but head coach David Haynes said that the enthusiasm for the game has been there since practice began this summer.
It's a bond that developed completely within the small group that makes up the Thomas Jefferson football team that struggled to find much popularity within the student body or community while riding its three-plus season long skid.
"The only fans we had were the band and the cheerleaders," running back James Byrd said. "Nobody talked about football. We tried to promote the team, but it didn't go so well because of the losses."
The losing streak spanned two coaching staffs, including the last two years under Haynes, but quarterback Jose Balderas said it is the coaching staff's ability to connect with their players that draws the best out of the team every practice and lead to the end of the team's losing ways.
On the converse, Haynes was quick to credit his players' work ethic each day at practice, through years of winless weeks.
"Hats off to those kids because we wouldn't of had that opportunity if they hadn't kept on playing," Haynes said.
Thomas Jefferson begins District 12-4A play this Friday with hopes of continuing its long overdue one-game win streak against Bryan Adams. Four teams, including Thomas Jefferson, have 1-3 records, leaving the last couple playoff spots up in the air -- an opportunity the players at Thomas Jefferson hope to pounce on for the first time in a very long time.
Until then, Balderas said the team will enjoy basking in the new found glory they have been receiving up and down the halls during the week this week.
"There was a huge congratulations. Everyone was excited for us -- for once."
September, 21, 2011
9/21/11
12:06
AM CT
Lake Dallas quarterback Dalyn Williams is showing considerable progress in his second season as the Falcons' starter.

The senior has thrown for 1,260 yards and 13 touchdowns through four games. He's also added four touchdowns on the ground. In 2010, he threw for 1,282 yards and 12 touchdowns in 11 games. Most importantly, he's not turning the ball over, throwing just two interceptions so far.

Williams' maturation has the Falcons (3-1) poised to rejoin the area's elite 4A programs. Lake Dallas found its footing this year during a Week 1 bout with Red Oak. The Falcons trailed 28-0 in the first quarter only to score 43 unanswered points in a 50-42 win.

Since then, the Falcons haven't been challenged, registering convincing wins over Arlington Sam Houston (52-7) and Sherman (55-22).

Williams and the Falcons will get their stiffest challenge in District 4-4A right off the bat as they open district play on the road against No. 1 Denton Ryan.

Ryan's defense will be like nothing Lake Dallas has seen so far this season, but the Falcons have shown the ability to foil the always-favored Raiders in past.

Since the two teams were put in the same district in 2008, Lake Dallas is 2-1 against Ryan, beating the Raiders in two thrilling shootouts in 2008 and 2009.
September, 21, 2011
9/21/11
12:06
AM CT
By
Randy Jennings
| ESPNDallas.com
Waxahachie, riding a two-game winning streak, plays for the first time in renovated Stuart B. Lumpkins Stadium when it hosts Red Oak 7:30 p.m. on Friday.

The 40-year-old stadium got a $16.98 million facelift in the offseason that includes new seating, locker rooms, restrooms, concessions and an upgraded press box. Seating capacity has been increased by 2,500, to 10,000.

Locker rooms are now under the press box. The former varsity football field house was stripped and converted into a weight room.

The running track that surrounds the field has been expanded from seven to eight lanes.

The Indians (2-1, 1-0 in District 15-4A) have scored 48 points in both of their lopsided wins over Dallas Carter and Terrell. Their only defeat came at the hands of Flower Mound Marcus, No. 8 in the ESPNDallas.com Class 5A area rankings.

Running back Robert Lowe Jr. is close to his 2010 pace when he rushed for 1,204 yards and 19 touchdowns.

Quarterback Don King III, a 6-foot-3, 195-pound senior, has thrown for 646 yards and five touchdowns.

Red Oak (2-2, 1-1) defeated its neighboring rival in 2010, 29-20.
September, 21, 2011
9/21/11
12:06
AM CT
It's yet to be seen how Wylie East stacks up against its District 10-4A opponents this year, but the Raiders have clearly proven themselves the class of the area's second-year programs.

Wylie East (3-0) went undefeated in nondistrict play against a schedule composed entirely of schools also playing their second year of varsity football -- North Forney (3-1), Frisco Heritage (1-2) and Trophy Club Byron Nelson (2-1).

Only Heritage, another second-year program seemingly on the path to quick ascension, challenged Wylie East. A late fourth-quarter touchdown gave the Raiders a 36-29 win.

Wylie East's offense has been the catalyst. The Raiders average more than 500 yards per game, and those yards are split pretty evenly between the run and the pass.

But running back Jabari Anderson has been the offensive MVP so far. He's rushed for 536 yards and nine touchdowns and averages more than 10 yards per carry.

He's shown the ability to move the pile in addition to popping off big plays, scoring on touchdown runs of 61, 71 and 78 yards this season.

Wylie East hosts McKinney North on Friday to open 10-4A play.
September, 21, 2011
9/21/11
12:06
AM CT
By
Randy Jennings
| ESPNDallas.com
Something good is brewing at Fort Worth Brewer.

The Bears of Brewer, the only high school in the White Settlement ISD on the west side of Fort Worth, have clawed to a 3-0 start through non-district play

That is heady territory for a program that hasn't had a winning season since 2002.

The impetus for the good start dates to the way the 2010 team finished last season, winning three of its final four on the way to a 5-5 campaign. From that team, 13 starters returned this fall.

The wins have come over Fort Worth Western Hills (14-10), Joshua (40-7), and Denton (45-25).

Running back C.J. Washington has rushed for an average of 127 yards and a touchdown per game.

Quarterback Skyler Howard has hit on 58 percent of his passes for 506 yards and five touchdowns.

The Bears will put their unbeaten record on the line in a District 5-4A opener at 0-3 Springtown in what they hope will be a payback game. On the way to a playoff berth a year ago, Springtown routed Brewer, 65-14.

Aledo and Birdville are expected to dominate 5-4A this season, but the competition for the remaining two playoff berths involving Fort Worth Boswell, Springtown, Trophy Club Bryon Nelson, Azle, Keller Timber Creek and Brewer should be interesting.