High School:

2011 Week 9 Previews
October, 26, 2011
10/26/11
7:34
PM CT
By
Randy Jennings
| ESPNDallas.com
RED OAK (4-4, 3-3 15-4A) vs. WEST MESQUITE (3-5, 3-3)
7:30 p.m. Friday at Mesquite's E.H. Hanby Stadium

When we saw them last: Corsicana put Red Oak in a 22-0 first-quarter hole and the Hawks hurt themselves with four turnovers in a 49-10 loss to the Tigers. Courtland Smith's 58-yard touchdown run in the dying seconds of the third quarter gave West Mesquite breathing room and a 96-yard interception return by Kameron Miles finished Terrell, 27-10.

2010 result: Each team topped 500 yards of offense in West Mesquite's 59-45 shootout victory at Red Oak.

What's at stake: Red Oak and West Mesquite are tied for fifth place in District 15-4A and need a win to keep alive hopes of a top-four finish in the standings and a spot in the playoffs.

Key matchup: Red Oak receiver Jeremiah Gaines is averaging 25.5 yards per catch, with 664 yards and seven touchdowns on 26 receptions. Gaines had a 64-yard touchdown catch in last year's game against West Mesquite. The Wranglers' defense needs to take the quick strike away from the Hawks.

Players to watch: Red Oak junior quarterback Austin VanHove has thrown for 1,570 yards and 12 touchdowns but is coming off a three-interception game. Cameron Bausley has rushed for over 700 yards and seven touchdowns. For West Mesquite, Shateek Nasir has stepped in at quarterback for injured freshman Chason Virgil and posted very similar numbers. Wranglers receiver Eldridge Massington has made 39 catches for 633 yards and six touchdowns.

Prediction: The Wranglers have played the top teams in 15-4A closer than Red Oak and the home crowd has made a difference this season: West Mesquite 27, Red Oak 20.
October, 26, 2011
10/26/11
6:59
PM CT
FRISCO LIBERTY (6-2, 3-2 9-4A) at FRISCO WAKELAND (5-3, 3-2)
7 p.m. Friday at Pizza Hut Park

When we saw them last: Frisco Liberty rebounded from its stunning loss to Carrollton Creekview by pounding Carrollton R.L. Turner 42-0. Frisco Wakeland got back in the win column last week following a tough loss to Frisco Centennial. The Wolverines didn't give Creekview any time to savor its win over Liberty by thumping the Mustangs, 45-19.

2010 result: Liberty captured the 9-4A title by virtue of a 38-3 win over Wakeland. Wakeland didn't have to deal with Liberty's Jay Ajayi, who left the game at halftime, but the Wolverines committed four turnovers and two turnovers on downs in the game.

What's at stake: With the 9-4A playoff berths looking more and more settled, this game could decide seeding in Division I in the district. That may or may not be a big concern. It's possible Highland Park will go Division I, meaning the loser of this game would have to play the Scots in bi-district. Either way, one of these teams will face Rockwall-Heath.

Key matchup: Liberty is winning with its defense. The Redhawks allow just 12.5 points per game and have absolutely stifled their opposition's running game. Wakeland is winning with its offense. The Wolverines average 35 points per game behind a passing game led by quarterback Nick West (1,762 yards, 13 touchdowns).

Players to watch: With Zach Smith out with an injury, Liberty quarterback Conner Navalta has been thrust into the spotlight. In Liberty's win over R.L. Turner, he threw for five touchdowns. Wakeland's Turner Smiley has become a great two-way player. He leads the team in receiving with 559 yards and four touchdowns and he returned an interception 100 yards for a touchdown last week against Creekview.

Prediction: Frisco Wakeland 35, Frisco Liberty 21.
October, 26, 2011
10/26/11
6:53
PM CT
No. 1 HIGHLAND PARK (8-0, 5-0 10-4A) at No. 7 ROCKWALL-HEATH (8-0, 5-0)
7:30 p.m. Friday at Rockwall's Wilkerson-Sanders Stadium

When we saw them last: Highland Park took care of McKinney North 31-0 thanks to a three-touchdown effort from running back Preston Miller. Rockwall-Heath edged Wylie, 26-21. Receiver Amaris Fields had a great performance, catching seven passes for 122 yards and two touchdowns.

2010 result: Highland Park rolled over Rockwall-Heath 49-21 in an offensive explosion by both teams that totaled over 1,100 yards. Rockwall-Heath's demise came in the form of four turnovers – two fumbles and two interceptions.

What's at stake: First and foremost, a shot at the District 10-4A championship. Right under that, continuing an undefeated season. If Highland Park wins, it should sail past McKinney in the final game of the season and claim another district crown. If Rockwall-Heath wins, it controls its destiny toward winning the title but has to take on third-place Wylie East, whose only loss on the season was to Highland Park.

Key matchup: Rockwall-Heath's defensive game plan. How Rockwall-Heath chooses to attack Highland Park's offense is its best shot at controlling one of the best pass attacks in the area. The Hawks must try and make Highland Park one-dimensional on offense and hope what they give up doesn't hurt them much. If they chose to defend the pass, they will have to deal with the rushing of Miller, who has the ability to carry Highland Park to a win on his own. If Rockwall-Heath chooses to make Highland Park throw the ball, it could be in for a long night with plenty of scoring.

Players to watch: Rockwall-Heath quarterback Cody Court leads the team in passing yards, with just over 1,000, and rushing yards. Highland Park lost standout wide receiver Dalton Stogner for the season early in the year, but William Morris and Hunter Halpin have stepped in and kept Highland Park's offense flowing smoothly.

Prediction: Highland Park 30, Rockwall-Heath 21
October, 26, 2011
10/26/11
6:45
PM CT
By
Randy Jennings
| ESPNDallas.com
MESQUITE (5-3, 2-1 11-5A) vs. No. 4 DeSOTO (8-0, 3-0)
7:30 p.m. Friday at DeSoto's Eagle Stadium

When we saw them last: Mesquite quarterback Alex Cooper threw for 291 yards and three touchdowns in a 38-7 triumph over Tyler Lee on Friday. Meanwhile, Dontre Wilson scored on a 5-yard run in the second overtime for a 59-53 DeSoto victory over Mesquite Horn.

2010 result: Wilson ran for 99 yards and three touchdowns in a 54-35 DeSoto victory in Mesquite.

What's at stake: The Eagles are tied with Longview for first place in District 11-5A. Mesquite is a game back in third place. A victory would assure Mesquite a playoff berth. DeSoto has already clinched a playoff berth.

Key matchup: DeSoto leads Class 5A area teams in scoring, averaging 50.9 points per game. A majority of the damage comes on the ground. DeSoto averages 288 rushing yards per game. Mesquite's defense has had trouble stopping the run, allowing 210 yards and 25 points per game.

Players to watch: Two juniors, Cooper and running back Junior Session, are the offensive stars for Mesquite. For the Eagles, Raheem Wilson has been a good fit at quarterback. Texas-bound Bryson Echols has added extra point and field goal kicking to his duties in the secondary this fall.

Prediction: DeSoto has struggled in its last two home games and needs a strong performance going into next week's eagerly anticipated 11-5A showdown at Longview: DeSoto 40, Mesquite 27.
October, 26, 2011
10/26/11
6:28
PM CT
No. 1 ALLEN (8-0, 5-0 8-5A) at HEBRON (6-2, 4-1)
7:30 p.m. Friday at Hawk Stadium
When we saw them last:
With Allen trailing by four with 1:40 remaining against Flower Mound Marcus, quarterback Alec Morris led the Eagles on a scoring drive capped by a 16-yard touchdown pass to Oliver Pierce for a 38-35 win. The game was one of the best in the area this season. Hebron rebounded from its loss to Plano East by whipping Plano West 37-17, a win that puts the Hawks in good position to clinch a playoff spot.
[+] Enlarge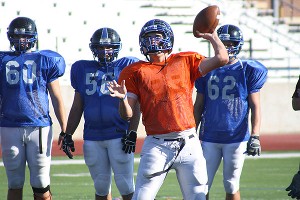 Travis L. Brown/ESPNDallas.com Hebron quarterback Joseph Farley has thrown for five touchdowns and rushed for five more.
2010 result:
Hebron shocked previously undefeated Allen by rolling up 642 yards of total offense in a 35-28 win. It was a back-and-forth affair that featured seven total turnovers. Hebron broke a 28-28 tie by scoring in the final minute. The Hawks won despite a mammoth night from Allen running back Jonathan Williams, who rushed for more than 200 yards.
What's at stake:
Hebron has a two-game lead on a playoff spot at 4-1 but nothing is certain in District 8-5A, where surprises are expected. A win would clinch a postseason berth for Hebron and would make the winner of the Hawks' regular-season finale against Flower Mound Marcus the top seed in Division II.
Key matchup:
The Eagles had a hard time getting their running game going against Marcus last week. It might not get any easier against Hebron, which gives up just a little more than 100 rushing yards per game. As a whole, Hebron gives up about 17 points per game.
Players to watch:
Williams hasn't put up big stats this year (703 yards, seven touchdowns, partly because of injury, but the Missouri commit is always a threat to break one for a touchdown. Hebron quarterback Joseph Farley is one of the more underrated dual threats in the area. He has 1,422 passing yards and five touchdowns to go with his production on the ground – 441 yards and five touchdowns.
Prediction:
Allen 31, Hebron 21.
October, 26, 2011
10/26/11
4:53
PM CT
No. 3 ALEDO (6-2, 5-0 5-5A) at BIRDVILLE (7-1, 4-1)
7 p.m. Thursday at Birdville Fine Arts/Athletic Complex

TV: ESPNU

When we saw them last: Aledo crushed Azle 49-3 on a balanced rushing/receiving performance by record-setting running back and Texas commit Johnathan Gray. Birdville took care of business against Fort Worth Boswell, winning 31-10.

2010 result: Aledo had no trouble with Birdville, winning 40-17, en route to its 4A state championship in 2010. In addition to another stellar performance from Gray (313 yards, six TDs), Michael Mann had a standout game at receiver, tallying 102 yards on six catches.

What's at stake: The District 5-4A title. Aledo would wrap up at least a share of the title with a win. If Birdville is able to pull off the victory, District 5-4A could be heading to a three-way tie among Aledo, Birdville and Trophy Club Byron Nelson, which accounted for Birdville's only loss of the season.

Key matchup: Whoever wants to step up and try and control Gray. Even in Aledo's two losses this year, Gray rushed for at least 200 yards multiple touchdowns. Birdville is going to have to match Aledo score for score in a shootout, which is much easier said than done, but Birdville has put up no fewer than 21 points in every game this year.

Players to watch: Beyond Gray, both quarterbacks are very talented players. Birdville's E.A. Northey can dish the ball around in the short and mid-range game well and also leads the team in rushing with just over 1,000 yards and 10 touchdowns. Aledo's Matthew Bishop has taken a back seat to Gray the past two seasons but is looking at a 2,000-yard passing season and has racked up 16 touchdowns through the air. Bishop's passing threat has helped Gray put up the video-game numbers he boasts every week.

Prediction: Aledo 43, Birdville 21