High School:

2011 Whataburger Tournament
December, 30, 2011
12/30/11
10:54
PM CT
HALTOM CITY, Texas -- For the first time since 1992, the Whataburger Tournament Orange Bracket title went to a team from outside of Texas.

Little Rock Parkview defeated Milwaukee Rufus King, 72-64, on Friday thanks to an outstanding tournament performance from Imara Ready, who put up a game-high 32 points in the title bout to earn tournament MVP honors.

Ready and teammate Anton Beard said the prestige of the Whataburger Tournament only adds credibility to Parkview's claim on the No. 1 ranking in the state of Arkansas.

The Parkview boys won't be the only team bringing hardware back to Little Rock, as the girls squad beat Denton Guyer to claim the consolation championship in the DISD/Coca-Cola Tournament on Thursday.

Consolation Championship: Houston Klein Forest 56, Justin Northwest 49.

Klein forest ended Justin Northwest's hot streak through the consolation bracket with a 17-point effort from Jacoby Green.

Forest's 20 points in the fourth quarter sealed the win.

Northwest's Peri James managed 11 points, followed by Todd Christensen with 10, but it wasn't enough to keep one of the championship trophies in the Metroplex.
December, 30, 2011
12/30/11
10:38
PM CT
HALTOM CITY, Texas -- In a matter of three days, North Richland Hills Richland put itself on the map as a top area basketball team.
Richland took down ESPNHS Fab 50 No. 4 Flower Mound Marcus on Wednesday and notched a 73-56 win over Plano West on Friday to claim the Whataburger Tournament Orange Bracket third-place trophy.
[+] Enlarge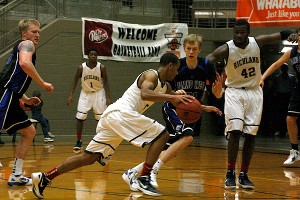 Travis L. Brown/ESPNDallas.comRicky Roberts, a transer from Marcus, scored 23 points against Plano West and earned an all-tournament selection.
Ironically, it was Ricky Roberts, a transfer from Marcus, who led the Rebels past his former team with a 27-point performance and followed it with 23 against Plano West, earning him an all-tournament selection.
"Ricky is very important because he can do some things that no one else on this team does," Richland coach Richard Bacon said. "He's got physical strength, he can drive the ball and he can score and finish around the basket. I don't know where we would be without him."
Roberts wasn't alone in the winning effort, getting plenty of support from guard Antonio Mayfields Jr., who finished with a game-high 24 points. Holt Harmon led Plano West with 12 points.
Bacon said the win stabilized Richland heading into district play after an emotional Wednesday that saw the Rebels beat Marcus, only to lose to Milwaukee Rufus King in the semifinals.
Richland exceeded its goals coming into the tournament and left the Rebels feeling good as they continue on what is still a long journey to the postseason.
"We said we weren't going to come out of here any less than 3-1 and I should have said 4-0," Bacon said. "Tonight's win is really gratifiying because of the way we came back after a hard loss last night."
December, 30, 2011
12/30/11
9:51
PM CT
HALTOM, CITY, Texas -- The battle for fifth place in the Whataburger Tournament Orange Bracket between ESPNHS Fab 50 No. 4 Flower Mound Marcus and and No. 33 DeSoto was a waiting game.
Literally.
With two minutes left in the third quarter, Marcus coach Danny Henderson decided to control DeSoto's fast pace and spread out his team around the perimeter in its half-court offense.
DeSoto let all but 10 seconds drain off the clock before Marcus' Marcus Smart drove the lane for a layup attempt that was put back by Jared Hamilton as time expired.
[+] Enlarge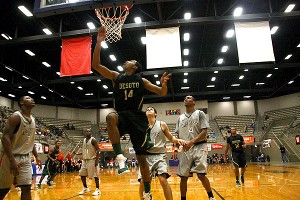 Travis L. Brown/ESPNDallas.comDeSoto's Matt Jones had a game-high 24 points in a loss to FM Marcus.
The last-second shot gave Marcus a four-point lead going into the fourth, the ball back to start the frame, and momentum that led to a 58-45 win and a fifth-place trophy for the Marauders.
"We had the possession to open the fourth quarter," Henderson said. "If they weren't going to come out and play us, I just said I'll take two possessions and give them none. It worked just like we wanted to."
Henderson said he'd typically rather not run a stall, but he put the onus on DeSoto to force a play and they chose to wait it out.
The teams were within four points of each other at the end of each of the first three quarters, but Marcus rode the double-possession momentum it gained by stalling to outscore DeSoto 20-10 in the fourth.
Marcus won the game on the glass, outrebounding DeSoto 41-20. Smart pulled down 18 boards.
"Our offensive rebounding started with our commitment to drive to the basket," Henderson said. "We started the game shooting 3s, but I called a timeout and said, 'Guys, we've got to attack the rim.' Once we started attacking the rim, it gets them out of block-out position because they can't help and block out."
Marcus guard A.J. Luckey answered the call and was able to penetrate the lane at will, hitting several acrobatic layups. As Henderson predicted, DeSoto was forced to slide a defender over to help defend Luckey, leaving Smart and Hamilton an open lane for the rebound and put-back.
"His driving is critical," Henderson said of Luckey. "He's so good at driving the ball. When he and Marcus can get to the rim we're just so much better offensively."
Smart took advantage with 15 points, and Luckey added 14 for Marcus, which got a team-high 16 from Phil Forte, who hit all nine of his free-throw attempts.
DeSoto standout and Duke commit Matt Jones had a game-high 24 points, aided by three 3-pointers in the second quarter.
After losing to Richland on Wednesday morning, Marcus' final placing in the tournament was irrelevant, Henderson said. He was more concerned with his team correcting shortcomings in teamwork and communication that are hard for high school players to see when they are routinely winning and winning big.
It was an introspective lesson that could pay big dividends when important hardware is on the line in March.
"We didn't talk about [Richardson] Berkner or DeSoto," Henderson said. "All we talked about is getting back to what we do and our culture and playing hard, cheering for each other and loving each other. That's our culture and that's what we care about, and we've got that back. This season is a journey and that loss is going to make us better in the long run."
December, 29, 2011
12/29/11
5:24
PM CT
ESPNHS Fab 50 No. 4 Flower Mound Marcus and No. 33 DeSoto entered the Whataburger Tournament on an upward trend in the national rankings.

However, both were eliminated from the winners bracket Thursday, and Marcus' bid for a third straight championship at the tournament was thwarted.

After a less-than-typical performance from Marcus on Wednesday in its opening round win over Justin Northest, Marcus faced the buzz-saw offense of Richland, losing 58-55.

Marcus transfer Ricky Roberts went off on his former team, scoring 27 of Richland's 58 points. That followed a 16-point performance Wednesday in the Rebel's 64-58 victory over Garland Naaman Forest.

After an easy dismissal of Coppell on Wednesday, DeSoto failed to bring its top game into Thursday's match against Plano West, losing in blowout fashion, 63-46.

Both teams still have the opportunity to take fourth place in the winners bracket. Marcus will face Richardson Berkner at 12:30 p.m. Friday and DeSoto will face North Crowley at 2 p.m. Friday. The fourth-place game, featuring the winners of those two games, will be at 5 p.m. Friday.

Other Thursday scores:

Winner's bracket:

Milwuakee King 54, Richardson Berkner, 43.

Little Rock Parkview 49, North Crowley 44.

Milwaukee King 77, Richland 67

Little Rock Parkview 59, Plano West 58.

Consolation bracket:

Coppell 54, Fort Worth Arlington Heights 51

Houston Klein Forest 51, Hurst L.D. Bell 37

Justin Northwest 59, Garland Naaman Forest 57.

Duncanville 79, Arlington Martin 52.
December, 28, 2011
12/28/11
10:17
PM CT
HALTOM CITY, Texas -- The always-precise machine that is the Flower Mound Marcus basketball team hit a kink in the system Wednesday.
Marcus had to overcome a 23-22 halftime deficit against Justin Northwest to pull out a 45-38 win and advance in the winners bracket of the Whataburger Tournament.
[+] Enlarge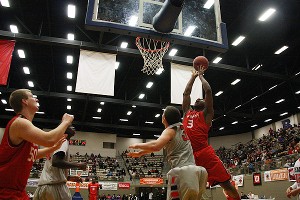 Travis L. Brown/ESPNDallas.comMarcus Smart didn't start as punishment for arriving late to practice, but FM Marcus was able to rally for a win.
Marcus experienced a Christmas break hangover and, for the first time in a long time, did not come to the game ready to excel, coach Danny Henderson said.
It is a problem Henderson has little experience encountering with this team.
"I've been with them 98 games, I think, and I'm going to say they've been ready to play 94 times," Henderson said. "They've been amazing in that respect and that's the only reason I'm not going ballistic on them. They've built up a big bank account in that regard."
Marcus was out-hustled by Northwest in the first quarter but got a kick-start in the second quarter when Marcus Smart came off the bench and entered the game for the first time. Smart and A.J. Luckey sat out the first quarter for arriving 17 minutes late to a practice Tuesday before the tournament.
"It wasn't a big deal," Henderson said. "He and A.J. have never been late to anything, but they were late and there is going to be discipline. They overslept."
Marcus' big three -- Smart, Forte and Nick Banyard -- accounted for just 30 points, well below the average for the trio. However, it still accounted for 67 percent of Marcus' offense in the low-scoring affair.
Marcus' defense came up big in the third quarter, holding Northwest to just two points while the offense struggled to net six points of its own. Marcus outscored Northwest 17-13 in the fourth to salvage the win.
"Our defense was phenomenal in the third quarter and overall," Henderson said. "They [Northwest] got 38 points and they had two in the third quarter. Defense wasn't the problem."
Henderson wasn't too upset with his team's performance after the game because he said he also was not as prepared as he could have been for the opening-round game.
Banyard, who hit two 3-pointers in the first quarter, was not given an opportunity to spot up again later in the game. Henderson instead tried to get him backdoor lobs, having him slash to the basket on the opposite side of the court from the ball. He even went so far as to apologize to Banyard for the mistake in the middle of his postgame interview.
The defending 5A state champion and No. 4 team in the nation is held to a standard of playing near-perfect basketball in every outing, but it is sometimes easy to forget about the attention Marcus receives, Smart said.
"It is a little bit until teams come out and [start] doing stuff that you weren't expecting them to do, that you know they could do, but they're doing everything that you've been told they can do," Smart said "It brings you back to reality and you remember the name on your jersey."
In the end, Marcus made the adjustments necessary to compensate for a slow start and a frigid offense and move into the winners bracket to take on Richland at 11 a.m. Thursday. Marcus can't afford another slow start against Richland's high-speed, up-tempo offense.
"Their floor-spacing creates a lot of problems for any defense," Henderson said. "We're going to have to be on top of our game. We're going to have to be ready tomorrow."
For Smart, Henderson and all of the Marcus squad, Wednesday's game appears to be a thing of the past and Henderson learned that even the most reliable machines break down every once and a while.
"You start thinking they're machines and superhuman or something and they're not -- they're kids. They have girlfriends, they have Christmas and ate too much turkey or something," Henderson said with a chuckle.
December, 28, 2011
12/28/11
9:59
PM CT
Winner's bracket:

Richardson Berkner vs. Milwaukee King, 9 a.m.

Flower Mound Marcus vs. Richland, 11 a.m.

Semifinal between these winners is at 8 p.m.

DeSoto vs. Plano West, 12:30 p.m.

North Crowley vs. Little Rock Parkview, 2 p.m.

Semifinal between these winners is at 9:30 p.m.

Consolation bracket:

Coppell vs. Fort Worth Arlington Heights, 8 a.m.

Hurst L.D. Bell vs. Houston Klein Forest, 3:30 p.m.

Justin Northwest vs. Garland Naaman Forest, 5:00 p.m.

Arlington Martin vs. Duncanville, 6:30 p.m.
December, 28, 2011
12/28/11
4:53
PM CT
HALTOM CITY, Texas -- DeSoto proved Wednesday that its athleticism alone makes it one of the top teams in the state and possibly the country.

ESPN Fab 50 No. 33 DeSoto blew out state-ranked Coppell 77-39 on lockdown defensive play in the opening round of the Whataburger Basketball Tournament.

DeSoto held Coppell to just five points in the first quarter and 18 points in the first half. Coppell never seemed comfortable against DeSoto's double-team trap, resulting in an exorbitant amount of first-half turnovers.

Austin Mankin finished with 10 points and was the only Cowboy to tally double-digit points in the game. Coppell slashing forward Jett Raines was held to just eight points.

"We were faster, stronger and quicker," DeSoto guard and Duke commit Mat Jones said. "Our work in the weight room in the offseason showed tonight."

Jones opened DeSoto's dominating performance with two 3-pointers in the first frame and led all scorers with 22 points, most of which came in the third quarter.

DeSoto's offense was never selfish, working the ball around the perimeter and inside at a level that would make even Duke coach Mike Krzyzewski proud.

"I love playing with these guys," Jones said. "Of course I think about what it's going to play about Duke and it does resemble the type of offense they run."

Years of work building chemistry within the team creates such a well-oiled, selfless machine, Jones said.

"We don't care who scores," Jones said. "If you have confidence to do what you need to do, then you can have it."

DeSoto advances in the winners bracket to play Plano West on Thursday at 12:30 p.m.

The win gives DeSoto the chance to come away with a tournament championship, but it also gives the Eagles a chance to prove to the area that they shouldn't have to live under the shadow of Flower Mound Marcus and some of the Metroplex's top-ranked teams.

"Sometimes we're under the radar -- we tend to get overlooked," Jones said. "We just try to make a statement one game at a time."
December, 28, 2011
12/28/11
12:28
PM CT
Game 8: Little Rock Parkview 73, Hurst L.D. Bell 51.
The ESPNHS No. 42 team, Little Rock Parkview, turned out to be quite the unlucky draw for Hurst L.D. Bell in the opening round of the tournament.
Parkview's Anton Beard dropped 17 on the Raiders while Imara Ready and Emmanuel Adoyi both tallied 14 points of their own in the blowout effort.
Bell's Garrett Hammonds managed a team-high 15, hitting Bell's only two 3's of the game.
Bell moves into the consolation bracket to face Houston Klein Forest at 3:30 p.m. Thursday while Parkview will take on North Crowley Thursday at 2 p.m.
Game 7: Flower Mound Marcus 45, Justin Northwest 38.
Game 6: Milwaukee King 67, Duncanville 54.
Rufus King out of Milwaukee proved to be more than Duncanville could handle, holding a lead throughout the course of the game.
King hit six from behind the arch, aiding four players to hit the double digit point mark. Dominique Borom led King's scoring with 16 points.
Duncanville's shot selection was less than optimum and it failed to make the adjustment of penetrating for a higher percentage shot. Duncanville hit six 3-pointers, but two came when the game had been relinquished late in the fourth quarter.
Omar Sherman led Duncanville in points with 14, followed by Brian Hampton with 11. Nine Duncanville players found the scoresheet, but only three contributed more than four points.
Game 5: North Crowley 63, Houston Klein Forest 53.
North Crowley relied on its depth to outlast Klein Forest in its first-round matchup -- a trait not normally common of a Panther team.
Instead of relying on one superstar to carry the team as it has in the past, North Crowley spread its points out between eight players on it's 15 man roster.
Leading the charge was guard Calvin Ward with a game-high 18 points, followed by Taylor Luster with 10. Four other players scored more than five points in the game.
North Crowley built its lead in the first half, outscoring Klein Forest 34-22, which included an 18-point first quarter. Ward was responsible for 10 of those points in the opening frame.
Klein Forest won the battle of the second half by two points, but it wasn't nearly enough to challenge North Crowley for the lead.
Game 4: No. 33 DeSoto 77, Coppell 39.
Game 3: Richland 64, Garland Naaman Forest 58.
Junior wing Leyton Hammonds tore through the Naaman Forest defense to score 22 points and lead his team into the winners bracket of the Whataburger Tournament.
Hammonds hot hand drew the attention of the Naaman Forest defense, making him a useful decoy in Richand's press break in the second half. The majority of Richland's fourth quarter points came on fast break layups out of the break.
The game was won in the third quarter when Richland was able to double up on Naaman Forest 19-8.
Naaman Forest's Demarcus Holland led his squad in scoring with 21 points. Texas commit Price Ibeh was held in check with just 7 points in the game, the final two on a huge dunk in the fourth quarter.
Game 2: Richardson Berkner 73, Arlington Martin 60
After a hot Berkner start in the first half, including several basket-shaking dunks, Martin made a strong push in the second half, but couldn't overcome a very talented Berkner squad.
Berkner junior forward Kendal Harris led his team in scoring with 21-points, tying Martin's Myles Johnson for the game high.
Berkner dominated the glass, with the vast majority of its points coming inside the paint.
Martin football All-American Devonte Fields was the basketball team's force inside, tallying 13 points of his own.
Game 1: Plano West 70, Fort Worth Arlington Heights 60 (3OT)
It took two desperation 3's from Fort Worth Arlington Heights to push the game into overtime and then a second overtime, but Plano West capitalized on turnovers in the third extra frame to put away the Yellowjackets.
Height's Travis Williams received a dish off a rebound with seconds remaining in regulation and drilled a 3-pointer to give his team extra life in overtime. The game then seemed out of reach a gain as the clock ticked away in the first overtime period, but Hight's Marshall Calvin swished a circus shot from behind the arch to force a third overtime.
In the end, West's defense was too much for Heights to handle after three extra periods of basketball, especially when Heights only had five players put up points in the game.
West struggled through regulation to contain Heights small but elusive point guard Harrison Wagner who slashed through the lane for a game-high 31 points.
Plano West's point production was split between forwards T.J. Cline and Holt Harmon, who dominated the post game for 19 points a piece.