High School:

2012 UIL baseball playoffs
June, 6, 2012
6/06/12
6:29
PM CT
It took Rockwall-Heath three straight trips to the regional finals to earn the chance to travel to Round Rock in quest of a state title.

Having shaken that weight off their back, the Hawks can focus on the success of their first trip to the UIL state baseball tournament in school history.

"It's something we've been working for all year long and we've finally got over the hump of Round 5, but we're ready to get back to work," Rockwall-Heath coach Greg Harvey said.

Now it is up to Rockwall-Heath to break another streak weighing down Dallas-area baseball teams – a 10-year run without a Class 4A state championship.

Plano West was the last area team to celebrate a state championship, beating Southlake Carroll for the Class 5A crown in 2008. However, 2002 was the last time a Metroplex team won it all in 4A when Southlake Carroll, then a classification lower, beat Corpus Christi Calallen 11-4 at Dell Diaomond.

"It's something that's kind of strange to me because the level of competition in North Texas is so strong," Harvey said. "We're just going to go try and win the semifinal game and if we do it would be great to bring it back to North Texas. It would be great to break the streak."

Rockwall-Heath (34-9) faces Montgomery (29-13) in a semifinal matchup at Dell Diamond on Thursday at 4 p.m. Austin Lake Travis (33-10) faces Cleburne (29-10) at 7 p.m. in the other semifinal.

Hawks ace Jake Thompson will get the start just days after he was selected by the Detroit Tigers in the second round of the MLB draft (91st overall). Thompson has made a verbal commitment to play for TCU.

Harvey said Thompson would wait until after the state tournament to make his decision to go pro or play for the Horned Frogs.

If Jovan Hernadez is not needed to pitch in the semifinal game and Rockwall-Heath wins, Harvey said he'd give the nod to the senior for the state final.

Harvey said his team would attend 2A semifinals at Dell Diamond on Wednesday night to get a feel for the state tournament vibe before Thursday's game.

Regardless, it's a special trip for the Hawks that has been three years in the making.

"We're excited, but ready to go back to work now," Harvey said.
June, 3, 2012
6/03/12
4:21
PM CT
Arlington Martin, Rockwall-Heath and Cleburne were pushed to the limit before winning their best-of-three regional final series to clinch spots in the UIL state baseball tournament.

Martin beat Southlake Carroll 5-2 in Saturday's Game 3 of the Class 5A Region 1 finals. That came after Carroll won Game 2 earlier in the week 2-0 to force the deciding game.

Rockwall-Heath bounced back from a 1-0 blanking against Frisco Wakeland in Game 2 of the Class 4A Region 2 finals to win the clincher 9-2 on Saturday.

Rockwall-Heath will be joined in the 4A state tournament by Cleburne, which beat Waco Midway in three games in the Region 1 finals.

Here is the the UIL baseball state tournament schedule:

WEDNESDAY

1A SEMIFINALS, Round Rock's Dell Diamond
9 a.m. - Price Carlisle (25-2) vs. Fayetteville (19-6)
Noon - Stamford (23-1) vs. Dodd City (27-7)

2A SEMIFINALS, Round Rock's Dell Diamond
4 p.m. - Brock (33-1) vs. Bushland (30-6-1)
7 p.m. - Elkhart (36-4) vs. Jarrell (25-4)

3A SEMIFINALS, UT's Disch-Falk Field
1 p.m. - Sweeny (31-2) vs. West (31-8)
4 p.m. - Robinson (29-2) vs. Texarkana Pleasant Grove (33-5)

THURSDAY

1A FINAL, Round Rock's Dell Diamond
9 a.m. - Price Carlisle/Fayetteville winner vs. Stamford/Dodd City winner

2A FINAL, Round Rock's Dell Diamond
Noon - Brock/Bushland winner vs. Elkhart/Jarrell winner

4A SEMIFINALS, Round Rock's Dell Diamond
4 p.m. - Rockwall-Heath (34-9) vs. Montgomery (29-13)
7 p.m. - Austin Lake Travis (33-10) vs. Cleburne (29-10)

3A FINAL, UT's Disch-Falk Field
6:30 p.m. - Sweeny/West winner vs. Robinson/Texarkana Pleasant Grove winner

FRIDAY

5A SEMIFINALS, Round Rock's Dell Diamond
Noon - Arlington Martin (36-5-1) vs. Houston Cypress Ranch (30-8)
3 p.m. - Corpus Christi Carroll (32-4) vs. College Station A&M Consolidated (28-11)

4A FINAL
7 p.m. - Rockwall-Heath/Montgomery winner vs. Austin Lake Travis/Cleburne winner

SATURDAY

5A FINAL, Round Rock's Dell Diamond
11:30 a.m. - Arlington Martin/Houston Cypress Ranch winner vs. Corpus Christi Carroll/College Station A&M Consolidated winner
May, 28, 2012
5/28/12
1:39
PM CT
Results from the UIL baseball regional semifinals and pairings for the regional finals:
CLASS 5A REGION 1
Regional semifinals
Arlington Martin d. Hurst L.D. Bell (1-3, 6-1, 8-4)
Southlake Carroll d. El Paso Montwood (1-2, 5-1, 5-2)
Region final matchup
Arlington Martin vs. Southlake Carroll
CLASS 5A REGION 2
Regional semifinals
Bryan d. Round Rock McNeil (2-1, 9-17, 3-2)
College Station A&M Consolidated d. Tomball (0-2, 8-1, 5-2)
Region final matchup
Bryan vs. College Station A&M Consolidated
CLASS 5A REGION 3
Regional semifinals
Fort Bend Kempner d. Houston Cy Creek (5-3, 4-0)
Houston Cy Ranch d. Fort Bend Clements (10-2, 2-1)
Region final matchup
Fort Bend Kempner vs. Houston Cy Ranch
CLASS 5A REGION 4
Regional semifinals
Corpus Christi Carroll d. Mission Sharyland (4-0, 2-1)
Laredo Alexander d. San Antonio Churchill (3-2, 1-6, 6-5)
Region final matchup
Corpus Christi Carroll vs. Laredo Alexander
CLASS 4A REGION 1
Regional semifinals
Waco Midway d. Denton Ryan (6-3, 4-3)
Cleburne d. Wichita Falls Rider (1-0,5-0)
Region final matchup
CLASS 4A REGION 2
Regional semifinals
Rockwall-Heath d. Whitehouse (15-5, 3-2)
Frisco Wakeland d. Waxahachie (2-0, 7-1)
Region final matchup
Rockwall-Heath vs. Frisco Wakeland
CLASS 4A REGION 3
Regional semifinals
Montgomery d. Santa Fe
Rosenberg Lamar Consolidated d. Mont Belvieu Barbers Hill (2-1, 1-2, 5-3)
Region final matchup
Montgomery vs. Rosenberg Lamar Consolidated
CLASS 4A REGION 4
Regional semifinals
Boerne Champion 4, Corpus Christi Calallen 3
Austin Lake Travis d. Corpus Christi Moody (2-0, 12-6)
Region final matchup
Boerne Champion vs. Austin Lake Travis
May, 21, 2012
5/21/12
10:21
AM CT
Region 1 and 2 quarterfinal results and semifinal pairings of the UIL state baseball playoffs:

CLASS 5A REGION 1
Quarterfinal results
Arlington Martin d. Lubbock Coronado, 9-3, 5-1
Hurst L.D. Bell d. Plano East, 7-3, 0-5, 2-1
El Paso Montwood d. El Paso Americas, 4-1, 10-3
Southlake Carroll 3, Flower Mound 0
Semifinal matchups
Arlington Martin vs. Hurst L.D. Bell
El Paso Montwood vs. Southlake Carroll

CLASS 5A REGION 2
Quarterfinal results
Bryan d. Belton, 4-2, 6-5
Round Rock McNeil d. Round Rock
College Station A&M Consolidated d. Temple, 10-0, 10-7
Tomball d. Klein
Semifinal matchups
Bryan vs. Round Rock McNeil
College Station A&M Consolidated vs. Tomball

CLASS 4A REGION 1
Quarterfinal results
Denton Ryan d. Lake Dallas
Waco Midway d. Crowley, 8-5, 5-0
Wichita Falls Rider d. Canyon Randall, 4-1, 5-4
Cleburne d. Stephenville, 3-2, 4-5, 7-0
Semifinal matchups
Denton Ryan vs. Waco Midway
Wichita Falls Rider vs. Cleburne

CLASS 4A REGION 2
Quarterfinal results
Rockwall-Heath d. Frisco Centennial, 7-2, 16-3
Whitehouse d. Red Oak, 10-0, 9-0
Frisco Wakeland d. Highland Park
Waxahachie d. Corsicana
Semifinal matchups
Rockwall-Heath vs. Whitehouse
Frisco Wakeland vs. Waxahachie
May, 17, 2012
5/17/12
3:57
PM CT
Highland Park and Frisco Wakeland's meetings in the UIL Class 4A baseball playoffs have become a tradition like no other.
The teams have met in the playoffs the last two years, and each best-of-three series was decided in Wakeland's favor the final inning of the third game.
This weekend, the tradition continues for the third consecutive year in the regional quarterfinal round.
All of the pressure lies with Highland Park, which has been on the short end of two heartbreaking defeats at the hands of a group of current seniors who have taken part in both Wakeland wins.
"They have three that are definitely killers and that's (Willie) Schwanke, (Justin) Swanner and (Hayden) Nixon and we've faced them the last three years," Highland Park coach Frank Oliver said. "There's still three names that are still around and they're still a good ball club."
Wakeland was the undefeated champion of District 9-4A. Highland Park finished second in 10-4A, turning its season around after a 1-4 start in district play. Since that sixth game of the district slate, Highland Park has lost just one game.
This will be Highland Park's first best-of-three series in this playoff run as the Scots look to advance past the regional quarterfinal round for the first time in four years.
"It wouldn't surprise me if it goes three games again," Oliver said.
Area teams wiped from 5A Region II
Any hope of a DFW title coming from Class 5A Region II was eliminated in the area round last weekend.
The Metroplex's chance at gold now lies in the hands of five teams in Region I, four of are facing off.
Southlake Carroll has one of the toughest challenges against District 8-5A runner up Flower Mound in a one-and-done match 7:30 p.m. Friday at Colleyville Heritage.
Two third-place finishers play in the other area pairing between Hurst L.D. Bell and Plano East.
Arlington Martin rounds up the five, continuing it's West Texas travel to face Lubbock Coronado in the regional quarterfinal.
Lake Highlands playoff run goes viral
Seen the Harvard baseball team's dance to Carly Rae Jepsen's "Call Me Maybe" that recently took YouTube by storm?
If not,
click here and check out the goofy dance
that has tallied over 7 million views.
Well, the Class 5A area round might not have been all fun and games for the Lake Highlands baseball squad on the diamond -- Temple swept the series in two games -- but the Wildcats sure made the best of their bus ride to the Hill Country.
Here is the Wildcats' rebuttal to Harvard
to the tune of Wham's "Wake Me Up Before You Go-Go".
May, 14, 2012
5/14/12
3:44
PM CT
Results for the UIL baseball area-round playoff matchups featuring area teams:
CLASS 5A REGION 1
Arlington Martin over El Paso Franklin (11-2, 0-1, 10-4)
Hurst L.D. Bell 10, Plano 2
Plano East over Colleyville Heritage (7-2,7-8,5-4)
Southlake Carroll 3, Grapevine 2
Flower Mound 10, Mansfield 1
CLASS 5A REGION 2
Bryan 4, Sachse 1
Temple over Lake Highlands (4-2, 10-1)
College Station A&M Consolidated over Dallas Jesuit (7-4, 15-4)
CLASS 4A REGION 1
Denton Ryan 5, El Paso Andress 0
Lake Dallas over El Paso Riverside (3-2, 9-2)
Waco Midway over Birdville (16-1, 6-0)
Crowley 3, Trophy Club Byron Nelson 0
Cleburne 7, Fort Worth Arlington Heights 2
Stephenville 5, Aledo 0
CLASS 4A REGION 2
Frisco Centennial over Dallas Hillcrest (10-0, 5-4)
Rockwall-Heath 10, Dallas Woodrow Wilson 0
Red Oak 13, Nacogdoches 2
Highland Park 10, North Dallas 0
Frisco Wakeland over Dallas Bryan Adams (10-0, 15-0)
Corsicana over Hallsville (7-4, 1-0)
Waxahachie 7, Longview Pine Tree 2
May, 2, 2012
5/02/12
10:23
PM CT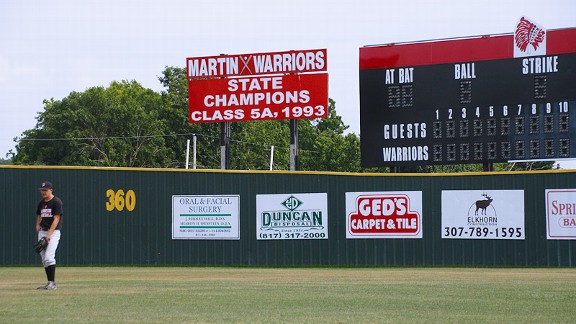 Travis L. Brown for ESPN.comIt's been a while since Arlington Martin won a state baseball championship, and no North Texas team has won one since 2008.
ARLINGTON, Texas -- Typically, a district baseball championship is won on the arm of a dominant pitching ace or the hot bat of a great hitter.
That's not the case with District 4-5A champion and ESPNHS Fab 50 No. 12 Arlington Martin.
The Warriors have five batters hitting over the .400 mark and have split their wins among eight different pitchers.
"This team is not a team that has a superstar," Martin coach Curt Culbertson said. "That's what makes this team the type of good and competitive team it is. It's a team that competes and that doesn't quit. They just go."
The senior-heavy Martin pitching staff came into the season with a chip on its shoulder after a below-par year last season and has created a kind of fight that's resonated throughout the team, Culbertson said.
The proof is in the Warriors' 13 come-from-behind wins out of their 27 victories.
At the plate, Martin is no underdog.
At the team's home field, players muscle hits into a fierce south wind that knocks down fly balls. Instead of that being a drawback, Culbertson believes it can have a positive psychological effect on his players when they find themselves in a stadium with the wind at their back.
They might get a taste of that this weekend out on the West Texas plains, taking on Odessa in the bi-district round at Abilene's Hardin-Simmons University.
Beyond the first round lies a tough region that includes the likes of Mansfield, Colleyville Heritage, Plano and Southlake Carroll.
But it's the South Texas teams that have dominated in the state tournament the past decade.
Corpus Christi Carroll's Class 5A championship last season continued a streak that began in 2002 of schools from the Corpus Christi or Houston area bringing home a state title in either 4A or 5A. This season, both Corpus Christi Carroll and Calallen enter the playoffs in the top 11 of the Fab 50 and are poised to continue the streak.
A Dallas-area team has not won a 4A or 5A state championship in baseball since Plano West's 5A victory over Southlake Carroll in 2008.
Culbertson said it's tough for the North Texas teams that cancel each other out in the early rounds of the playoffs, but the team that separates itself as the best DFW has to offer sure has a good chance of breaking the Metroplex skid.
"All these guys around here believe some of the best baseball is here in North Texas. Once we get [deep in the playoffs], we'll deal with that out there," Culbertson said.