High School:

2012 UIL boys state basketball tournament
March, 10, 2012
3/10/12
9:09
PM CT
By
Damon Sayles/ESPN Recruiting Nation
AUSTIN, Texas -- Forgive Kimball head coach Royce "Snoop" Johnson. He admitted Saturday that he's kept a decade-old secret.
Back in 2002, Johnson was on the sidelines when his Knights were robbed of a Class 5A championship when San Antonio Jay's Chris Ross drained a half-court, buzzer-beating shot. Kimball lost, 54-53.
[+] Enlarge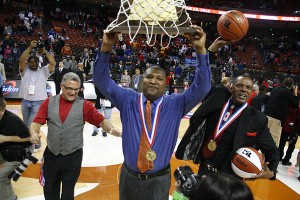 Travis L. Brown/ESPNDallas.com "Tonight," Kimball coach Royce "Snoop" Johnson said, "we got over '02. We hit the big shot. We're over it."
Johnson told reporters after winning last year's Class 4A title that the 2002 game was out of his mind. Deep down, that loss has stayed with him, silently gnawing at his insides and making him constantly ask, "What if?"
Until Saturday.
Exactly 10 years and a day later, the Knights were on the positive end of a dagger heard around the Texas basketball world. Torrey Henry drained a 3-pointer with 12 seconds remaining to take the lead from Houston Yates, and Kimball repeated as 4A champion with a 78-75, come-from-behind victory.
"Tonight," Johnson said, "we got over '02. We hit the big shot. We're over it."
There are plenty of words and phrases to describe Saturday's impressive win. Vindication. Exorcising of past demons. Silencing harsh critics.
Shocking the world.
Kimball did all of that, and it got the job done against a Yates team that many felt was heavily favored. The Lions were averaging 100.8 points in their first six playoff games. They were back-to-back state champions in 2009 and 2010. Several of the seniors were sophomores on that last championship team.
Yates was a favorite to many. Johnson, however, didn't feel that way.
"Before the game, I thought we were the favorite," Johnson said. "Back in '09, we were talking upset. [Saturday] before the game, we said if we lost, it was going to be an upset.
"All year long, this group of kids has always found a way to step up. That's what we said start of the fourth. Someone has to make the big shot. They found a way to win and were not afraid to lose."
What makes Kimball's win that much more impressive is that the Knights were down five with 33 seconds left to play. Henry hit a 3-pointer to trim Yates' lead to 75-73 with 29 seconds left. Following a missed free throw, Henry took a pass from Darian Hancock and drained a 20-footer in the corner -- right in front of the Kimball bench -- and hit the biggest shot of his basketball career.
"I knew I had to step in, shoot with confidence and follow through," Henry said. "I knew I had God on my side, and I let it go."
While Henry provided the game-turning moment, Shannon Lilly Jr. provided multiple big-game shots that led to Henry's basket. Lilly scored nine of his 27 points in the fourth quarter, including the last two free throws of the night. It was Lilly's play that not only spearheaded Kimball's miraculous run but also earned him his second-consecutive state tournament game MVP award.
Lilly, who Johnson called "Mr. Big Shot," said winning state was special, but defeating Yates was a bonus. He was a freshman when Kimball lost to Yates in the state-title game in 2009.
"I had to do it for my brothers that lost in '09," Lilly said. "I know they're feeling good about it. I wanted to do it for them and the community."
Kimball left Austin with tons of confidence and the opportunity to gloat -- even though the players chose not to after the game. Knowing that they were the two-time defending 4A champions allowed them to write their own tickets without saying a word.
For Johnson, knowing that the Jay game wouldn't haunt him anymore made him smile that much brighter.
"We're not really caught up in the back-to-back [talk]," he said. "I just know that the trophy's still at home. They know we're trying to be relevant every year. The kids meet the expectations. They don't shy away from it."
Damon Sayles covers Midlands recruiting for ESPN Recruiting. He can be reached at dsaylesespn@gmail.com. Follow him on Twitter: @DamonSayles
March, 9, 2012
3/09/12
12:00
AM CT
By
Damon Sayles/ESPN Recruiting Nation
AUSTIN, Texas – It was a fun ride.
Denton Ryan's quest for a Class 4A state championship was railroaded by the juggernaut that is Houston Yates, as the Raiders fell, 87-67, to the Lions in a 4A semifinal Thursday night.
[+] Enlarge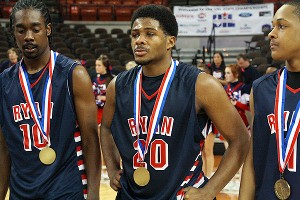 Travis L. Brown for ESPNDallas.comDenton Ryan's improbable run for a 4A championship ended with a loss to Houston Yates in the state semifinals.
Twelve seconds into the game, Yates' Clyde Santee drained a 3-pointer. That bucket turned into a 26-15 lead, which eventually turned into a much worse problem for Ryan. By halftime, Yates was cruising, 46-25.
"They got hot early, hitting seven 3s in the first 10 minutes. It was not a good thing for us," Ryan coach Bryce Overstreet said. "I felt like in the second quarter, we didn't make the best decisions in transition.
"Their length affected us. We haven't seen a team this year that possesses an amount of length they have at every position."
For a while, Ryan (23-12) showed the fight that turned a third-place team out of District 4-4A into the Region I champion. The Raiders' Marcus Holcomb hit a 3-pointer with roughly 6:30 remaining to trim Yates' lead to 46-36.
But Yates (33-5) turned on its jets in the fourth quarter and managed to pull away with the play of Clyde Santee, J.C. Washington and Oregon signee Damyean Dotson, in addition to strong defensive play. Ryan's dream season -- one that included its last three wins by a total of seven points -- was over.
"We knew we had to play four good quarters to be in [the finals] on Saturday," Yates coach Greg Wise said. "The intensity was there. We knew they only played six or seven guys, and we wanted to make sure we got to them from the beginning."
Dotson led Yates with 26 points and made 7 of 13 from the 3-point line. Dotson added six rebounds and four assists. Santee had 18 points, eight rebounds and five assists, and Washington added a double-double, 10 points and 11 rebounds.
Holcomb led Ryan with 21 points on 7-of-10 shooting. UTSA football signee Trey Mohair added 19 points but made 6 of only 21 attempts. Sam Johnson finished with 16 points and 11 rebounds.
Yates, looking to win its third championship in four years, will face Kimball on Saturday afternoon.
Damon Sayles covers Midlands recruiting for ESPN Recruiting. He can be reached at dsaylesespn@gmail.com. Follow him on Twitter: @DamonSayles
March, 8, 2012
3/08/12
10:19
PM CT
AUSTIN, Texas – Dallas Kimball coach Royce Johnson's nerves could not have been any higher on the bus ride from the team hotel to the Erwin Center on Thursday.
The defending state champions could not catch a light on the six-block trip to the host stadium of the boys state tournament, putting the Knights in a time crunch before their state semifinal game against San Antonio Alamo Heights (34-3).
[+] Enlarge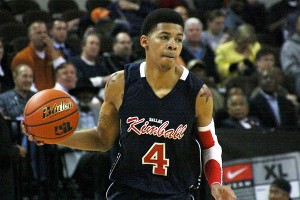 Travis L. Brown/ESPNDallas.com No. 22 overall player Keith Frazier has LSU, SMU, Texas and TAMU all vying for his services.
Kimball (33-5) had around 11 minutes to warm up and shoot before the beginning of the game, Johnson said.
Kimball's natural talent came through as the Knights beat Alamo Heights, 47-43, to advance to the 4A state final.
"The kids did a great job bailing me out," Johnson said. "I was hoping we could just make a couple of shots because we needed them."
It took the majority of the first quarter for the Kimball shooters to find their touch, including standout scorer Keith Frazier, who began the game 2-for-6 from 3-point range.
Defense kept Kimball in the lead through a tough first half shooting, forcing Alamo Heights to scramble down the court against a half-court zone trap. Alamo Heights coach Andrew Brewer said his team struggled to make shots because Kimball closed out more quickly than any team it had faced this season.
"My main focus was to work hard on defense and just let the offense come," Frazier said.
The offense would find traction in the second quarter, thanks to turnovers forced by the Kimball defense, which accounted for seven points off turnovers, six on the fast break.
Alamo Heights never said die, including senior guard Dylan Lieck who drained two 3-pointers late in the fourth, bringing his team as close as three points to the lead. Johnson said he told his team to watch out for Lieck.
"That was a guy we talked about this morning," Johnson said. "You could see the determination on his face. His determination in the second half willed him to make a couple of shots because he didn't want to go home."
Kimball senior and last year's 4A championship game MVP Shannon Lilly will have the opportunity to play in the final again. While his eight points were overshadowed by Frazier's 22, the leadership role he has assumed this season and this state tournament has made this year a completely different experience.
"Last year, I played most of the time shooting guard. Now that I can be a leader that I play point guard, I can keep everybody focused on the court and just be a leader."
Lilly and Kimball play 3:30 Saturday against the winner of the semifinal between Denton Ryan and storied Houston Yates.
If Yates prevails, Saturday will feature a rematch of the 2009 state finals, where Yates took the title over Kimball, 94-78.
"We're going to be ready on Saturday and I think it's going to be good for the fans -- whether it's Ryan or Yates," Johnson said.