December, 3, 2011
12/03/11
6:28
PM CT
DENTON, Texas --
"Hail to the pride of Texas…"
The words to Mansfield Timberview's fight song never rang truer than Saturday after the Wolves' 32-6 victory over Abilene in the 5A Division II Region I final at Denton's C.H. Collins Stadium.
[+] Enlarge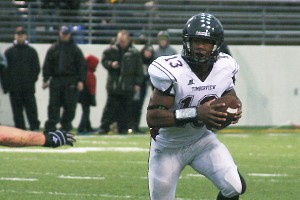 Travis L. Brown/ESPNDallas.comTimberview's Chuck Taylor rushed for 248 yards and two scores against Abilene.
This Timberview squad has gathered quite the following in what coach Mark Walker called a bittersweet season, as emotion spilled over onto his face.
Midseason, Timberview's offensive coordinator Cody McCarty passed away suddenly at 29, leaving the team and the coaching staff at a loss for what good could come from such a tragic situation.
Quarterback Chuck Taylor and every member of the Timberview squad had an answer -- remain the only Metroplex team in the 5A Division II playoffs and advance to play Spring Dekaney in the state semifinals.
"Coach gets a whole bunch of letters from D1 schools giving us support," Taylor said. "We honor [McCarty] every day. That's the main reason we pushing forward and keep going to the next round and the next round."
After a last-second win in the region semifinals over Abilene Cooper, Taylor said he was surprised at how easy the win over a strong Abilene offense came.
As rain began to pour in Denton before the game, Taylor said he knew Timberview's explosive ground game had the edge over Abilene's passing game and he would be proven correct.
Abilene quarterback Evin Abbe went just 3 for 18 for 28 passing yards in the game, but Taylor rushed for 248 yards and two touchdowns. Timberview rushers combined for 393 yards in the game.
Timberview began hot, hitting the scoreboard first on a 12-yard pass from Taylor to Dylan Harden in the first quarter.
He then took a simple zone-read option 72-yards to the house to extend the Wolves lead to 14-0.
"Was that a touchdown call? No," Walker said. "That's Chuck Taylor, that's the lineman, that's the wide receivers blocking their butts off downfield. That doesn't just happen because he's fast. There were safeties and corners on the ground downfield."
Timberview added a 25-yard field goal in the third and a touchdown for good measure with three seconds left in the game on a 21-yard run by Daniel Ramos.
Abilene scored just once on a trick pass play from Blayze Walker to Keevan Lucas from 14-yards out in the third. Timberview blocked the point-after attempt and returned it for two points.
Running back Josh Smith was the unsung hero, opening up the outside running lanes for Taylor by exploding through the middle of the field throughout the entire game. Walker said he came out with more passion after spending a week regretting his play in the region semifinals.
Timberview's defense turned a few heads, allowing Abilene just 88 yards of total offense.
The Wolves' heart will be on display again at 2 p.m. Saturday in Round Rock, and Walker said they will ride the same strategy that has got them this far: knowing a few of the opponent's favorite plays and just playing with passion.
It's a passion that's visible after every Timberview playoff win when players and coaches look to the sky and smile to honor their coach and the Wolves' fight song is played and sung:
"Hail to the pride of Texas. Hail, Hail, to Timberview, the leader of the pack."
December, 1, 2011
12/01/11
10:17
PM CT
MANSFIELD TIMBERVIEW (11-2) VS ABILIENE (10-3)
2 p.m. Saturday at Denton's C.H. Collins Athletic Complex
What:
5A Division II Region I finals.
When we saw them last:
Mansfield Timberview willed its way into the region finals when quarterback Chuck Taylor ran in a 25-yard touchdown with 16 seconds remaining in the game to put his team ahead of Abilene Cooper, 29-25. Timberview's district-mate, Mansfield, was ousted by Abilene on Saturday, 25-22.
Last in the playoffs:
Timberview's last playoff appearance was in 2009, losing to Denton Ryan in the area-round, 49-14. Abilene could not get past Southlake Carroll last season in the region semifinals, losing 38-24.
What's at stake:
The winner advances to the state semifinals to play the winner of the regional final match between Spring Dekaney (11-2) and Spring Westfield (10-3). Timberview is the only Metroplex team remaining in the 5A Division II bracket.
Key matchup:
Can Abilene stop Taylor? Both Timberview and Abilene are balanced teams with strong defenses, but Taylor's ability to break a huge play in a clutch situation at times can be magical. Like watching the final quarter of a Denver Broncos game? That's the kind of excitement you will get for four quarters from Taylor and Timberview. Abilene might have the edge in talent, but Timberview has the edge in willpower.
Players to watch:
Taylor receives plenty of support on the ground from running back Josh Smith, who has just four less yards rushing than the team leader, Taylor. Smith's ability to pull defenses into the middle of the field opens up the outsides for Taylor to run and pass. Abilene quarterback Evin Abbe is the spark that fuels Abilene's slightly more pass-heavy offense, throwing for 2583 yards and 21 touchdowns. On the ground, Paxton Grayer leads the team in rushing yards with 1363, averaging 8.3 yards-per-carry.
Prediction:
How can anyone go against the level of passion that Timberview plays with? The lone Division II Metroplex team will edge Abilene, 27-21.
November, 7, 2011
11/07/11
10:58
PM CT
CLASS 5A DIVISION II REGION 1 PREVIEW
Overview:
Of the four regions in the two 5A brackets that include Dallas-Fort Worth area teams, Division II Region I is the only one without a state-ranked team. But what the region may lack in top-end talent, it makes up for with depth. Because of that, there should be very few blowouts, even in the early rounds.
The top half of the bracket features an Abilene team that always seems primed for a run at a state title, but the winner between Denton Guyer and Hebron in the first round might be headed for the region finals instead. Arlington and Mansfield also have the potential to make noise. The bottom half of the bracket seems to come down to two teams – Flower Mound Marcus and Colleyville Heritage, which might be the two best teams in the area not ranked in state. Mansfield Timberview and Abilene Cooper could be factors as well.
Favorite:
Flower Mound Marcus. With most of the heavy hitters in Region I going in to the Division I bracket, the Marauders (9-1) have the potential to make a serious run at a state title. Their running game – led by bruiser Harvey Giddens and speedster Jeff Smiley – is as good as it's ever been. Marcus hasn't relied on its passing game much this year but it has the potential to blossom in the playoffs behind sophomore quarterback Cole Erwin.
Watch out for:
Arlington. In a bracket full of dark horses, the Colts (6-4) might be the most dangerous if they can get by Abilene in the first round. The area round would pit Arlington against a west Texas team before facing a comparable team from the Metroplex (Denton Guyer, Hebron, Mansfield). Running back Tavarreon Dickerson has rushed for 1,686 yards and 22 touchdowns in averaging about 10 yards per carry.
Can't wait to see:
Hebron-Denton Guyer (2 p.m. Saturday, Cowboys Stadium). Colleyville Heritage vs. Mansfield Timberview might be just as good, but we'll let the venue break the tie. If the young Wildcats (7-3) can come of age quickly, they have the raw talent to make another run through the 5A Division II bracket. Hebron (6-4) is back in the playoffs after missing out last year, and its defense and experience in close games could have the Hawks playing after Thanksgiving if it can pass this tough opening test.
We hope to see:
Flower Mound Marcus-Colleyville Heritage. The region may be won in the area round with this presumed matchup. Both teams have forgivable blemishes on their records in the form of close losses to Allen and Euless Trinity, respectively. And the matchup would pit one of the area's best running games (Marcus) against one of the area's best passing games (Heritage).
Talent pool (FBS recruits):
El Paso Americas: RB Jack Fields (Boise State). Arlington: RB Tavarreon Dickerson (uncommitted). Mansfield: DE Hassan Ridgeway (Texas). Denton Guyer: DL Dominic Ramacher (Oklahoma State); WR Conner Crane (Stanford); DT Cody Henessee (Rice); OL John Ferguson (uncommitted); DT Daniel Kottman (San Diego State). Hebron: WR/DB Kiante' Griffin (Baylor); DE Deatrich Wise (Arkansas). Abilene Cooper: QB Clayton Nicholas (Texas Tech). Colleyville Heritage: DE Rex Montes (uncommitted).
November, 29, 2010
11/29/10
6:20
PM CT
November, 27, 2010
11/27/10
8:29
PM CT
By
Randy Jennings
| ESPNDallas.com
ARLINGTON, Texas -- The situation seemed to dictate extreme safety.
Instead, Southlake Carroll attacked.
The result, a 95-yard touchdown pass from Kenny Hill to Sabian Holmes, will be remembered as the play that ended the reign of defending Class 5A Division II state champion Abilene.
Hill, a sophomore, ran for two touchdowns and passed for two more in Saturday's 38-24 triumph over Abilene in a Region I semifinal at Cowboys Stadium.
No play was bigger than his connection to Holmes.
The Dragons were clinging to a 31-24 lead and after a punt, started from their own 3 with 11 minutes left in the game.
A running play on first down gained two yards.
On second-and-8 Hill fielded a wide shotgun snap with one hand and delivered a 30-yard rope that speared Holmes in stride. Two Abilene defenders, trying to make a play on the ball, knocked each other down. Holmes breezed into the end zone for what turned out to be the game's final touchdown.
"It was one of the greatest moments of my life,'' said Holmes.
Hill said the plan was for the Dragons to run their usual offense until the coaches saw the opportunity to go deep.
"Coach has been trusting me with the ball more in the playoffs,'' Hill said.
Holmes said he wasn't that surprised that a pass was called, given the situation.
Said Carroll coach Hal Wasson: "From the first time Kenny Hill stepped in our huddle as a 15-year-old, I saw something special about the confidence he showed. That touchdown was a great throw and catch.''
Abilene's offense, built around the rushing of cousins Herschel and Ronnell Sims, lacked the passing attack to answer a two-touchdown deficit.
Eagles quarterback Ronnell Sims sat out the first half, which ended in a 17-17 deadlock, but started the second half.
[+] Enlarge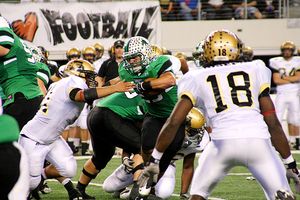 Travis L. Brown/ESPNDallas.comRunning back Paul Stevenson was key in helping Carroll retake the lead agaisnt Abilene.
The switch from sophomore Nate Kittley to Sims fueled Abilene's 58-yard touchdown drive that tied the score, 24-24, late in the third period.
The Dragons (10-3) needed three plays to go back in front, the big one a 73-yard run by Paul Stevenson on a quick opener. Stevenson was tackled at the Eagles 5 and two plays later Hill gave Carroll the lead for good, 31-24, with 1:42 remaining in the third quarter.
Consecutive sacks by Jason Christensen and Will Davis influenced a decision by Eagles coach Steve Warren to try and punt the Dragons into a hole. The strategy seemed dead-on when the punt died at the Carroll 3, but Hill and Holmes altered the script.
In the first half, Carroll stormed back with touchdown drives of 73 and 48 yards for a 17-14 lead after falling behind, 14-3.
It was just the kind of response needed after Herschel Sims' deflating 80-yard touchdown run for Abilene's second score.
Abilene (9-4) evened the score just before halftime with a late field goal.
When Carroll and Abilene last met, in the 2007 playoffs, the Eagles ended Carroll's run of state titles.
With the victory, Carroll earns a rematch with District 7-5A foe Denton Guyer in the Region I final scheduled for 2 p.m. Saturday at Mansfield's Vernon Newsom Stadium.
Guyer defeated Carroll 28-14 on Nov. 5 at Southlake.
"It's going to be revenge,'' said Holmes. "We're going to practice and play 10 times harder.''
November, 26, 2010
11/26/10
12:30
PM CT
November, 25, 2010
11/25/10
12:00
PM CT
By
Randy Jennings
| ESPNDallas.com
For five consecutive seasons, Southlake Carroll reached a Class 5A state championship game, winning a title four times.
That remarkable run came to an end in 2007 when the Abilene Eagles shocked the Dragons, 22-21, in a regional playoff at Texas Stadium.
Southlake Carroll hasn't gotten past the third round since.
Abilene, on the other hand, is the defending Class 5A Division II state champion.
The two teams, each with a 9-3 record, will meet for the first time since that 2007 watershed moment at 4 p.m. Saturday in a Class 5A Division II regional playoff at Cowboys Stadium in Arlington.
The winner will advance to the Region I final to meet the Denton Guyer-Abilene Cooper winner.
Carroll fans will remember that in the 2007 loss to Abilene, Dragons quarterback Riley Dodge suffered a shoulder injury and missed the second half.
Abilene knows something about injuries to a star player. Running back Herschel Sims, orally committed to Oklahoma State, sat out last week's 45-28 area playoff victory over El Paso Coronado with a nagging ankle problem. He has rushed for 749 yards and eight touchdowns on 110 carries, coming off a 2,352-yard, 33-touchdown season in '09.
Quarterback Ronnell Sims has picked up the slack with 1,740 passing yards and has out-rushed his illustrious cousin.
Sparking Carroll to convincing playoff wins over Flower Mound and Colleyville Heritage has been the play of sophomore quarterback Kenny Hill.
The son of former major league pitcher Ken Hill has completed 29-of-34 passes for 259 yards in the postseason, the perfect complement to the 324-yard rushing performance by running back Paul Stevenson in the two wins.
November, 23, 2010
11/23/10
5:22
PM CT
With few surprises in the Class 5A Division I bracket, Euless Trinity's road to a consecutive state title has unraveled as expected – difficult.
[+] Enlarge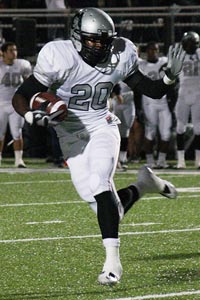 Travis L. Brown/ESPNDallas.comRunning back Treavon Walton will look to help Denton Guyer knock off Abilene Cooper for the third time in as many years.
After thwarting a very good Allen team last week, Trinity (12-0) faces Arlington Martin (10-2), which stumbled in nondistrict only to rebound and win 10 straight games.
Should Trinity win, it will likely play Coppell (12-0) in the Region 1 finals. After that, its projected opponent is Round Rock Stony Point (12-0), which Trinity beat in the state semifinals last year. Trinity's opponent in the state finals would undoubtedly be tough.
If the bracket continues with no upsets, five of Trinity's six playoff opponents would be teams that have been state-ranked at one point this season.
Rematches highlight Division II Region 1
Class 5A Division II Region 1 is giving old foes a chance to get reacquainted with each other.
Denton Guyer (10-2) will play Abilene Cooper (11-1) in the playoffs for the third straight year. Guyer beat Cooper both times in heated contests that came late in the Class 4A playoffs in 2008 and 2009.
Guyer comes into the game after exacting revenge on Cedar Hill, which
beat Guyer in nondistrict play. Cooper comes in somewhat wounded after three starters were dismissed from the team over the weekend.
Southlake Carroll (9-3) hopes to get revenge on the team that helped knock it out of the national spotlight – defending Division II champion Abilene (9-3).
Coming off a stunning 79-1 stretch, Carroll fell to Abilene in the playoffs during Hal Wasson's first season as head coach in 2007. The Dragons haven't sniffed a state title since.
Abilene has been hurt by injuries this year, including a big one to star running back Herschel Sims, who didn't play in Abilene's 45-28 win over El Paso Coronado last week.
DeSoto faces resurgent Austin Bowie
Few saw Austin Bowie reaching the third round of the playoffs.
The Bulldogs (8-4) started the year 2-3 and were manhandled by Class 4A Waco Midway, 42-7, in nondistrict, but Bowie won six of its last seven, including playoff wins over Georgetown (35-17) and a strong Klein Collins team (26-16).
DeSoto has yet to be seriously challenged in the playoffs after decimating Dallas Skyline, 38-0, in the area round, but Bowie's running game, led by Brelyn Sorrells (1,766 yards, 22 touchdowns), has given teams fits.
Tough schedule has Mesquite Horn prepared for playoffs
Mesquite Horn (8-4) may have the ugliest record for a state-title contender in the state.
A brutal nondistrict schedule and a tough district handed Horn losses to Coppell, Denton Guyer, DeSoto and Longview, all of which are still alive in the playoffs.
[+] Enlarge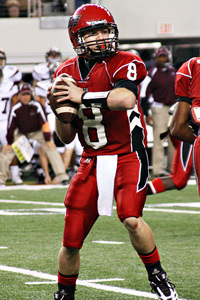 Travis L. Brown/ESPNDallas.comQuarterback Collin Strahan has helped Mequite Horn reach the third round of the playoffs.
But experience against good teams has proved valuable as Horn has rolled through its two playoff games, topping Division II favorite Copperas Cove (48-14) and Rowlett (44-22).
Horn faces another team with an ugly record in the third round – Leander (7-5). The Lions started the year 0-4 but have won five straight, including playoff wins over Austin (24-0) and Klein (14-7).
If Horn wins, it may get another shot at Longview, which plays Tomball in the other Region 2 game.
Coppell hits the road for third-round game
A lost coin toss will cost Coppell (12-0) a long trip out to Midland where it will play Midland High for what could be a shot at Euless Trinity.
Head coach Joe McBride lost the flip to determine where the two teams will play. Midland chose its home venue of Grande Communications Stadium.
Despite playing what's essentially a road game, Coppell is the favorite after an undefeated regular season and decisive playoff wins over Plano (23-6) and Duncanville (35-10).
Midland (11-1) has been equally dominant with its lone loss coming against Abilene. The key matchup comes when the Bulldogs have the ball. They average 38.9 points per game against a Coppell defense that gives up just 9.5.
August, 2, 2010
8/02/10
1:43
PM CT
Coming off a state championship season and returning wide receiver turned quarterback Brandon Carter was enough to earn the Trojans the six-spot on the
ESPN Rise Powerade FAB 50 Rankings
.
Also, Trinity's August 28 game against Tyler Lee was selected to be televised nationally on ESPNU, beginning at 9 p.m. CST. Click
here
for the full ESPN Rise Inaugural Kickoff television schedule.
Five other Texas teams made the top 50: Abilene (1), Lake Travis (3), Katy (17), Austin Westlake (30) and Round Rock Stony Point (50).
June, 1, 2010
6/01/10
12:24
PM CT
By
Randy Jennings
| ESPNDallas.com
The debate between Texas and Florida over which state plays the best high school football will be put into sharper focus with the "Texas vs. Florida High School Football Showcase'' this fall.
Four teams have been chosen from Texas to meet teams from Florida on Sept. 10-11 at Eagle Stadium in DeSoto.
The lineup:
*Abilene vs. Cocoa, 7:30 p.m. Fri., Sept. 10
*Denison vs. Belle Glade Glades Central, 11 a.m. Sat., Sept. 11
*Dallas Madison vs. Miami Central, 3 p.m. Sat., Sept. 11
*DeSoto vs. Miramar, 7 p.m. Sat., Sept. 11
There will be a Texas vs. Florida trophy presented to the winner.
The Friday night match-up is particularly appealing. Abilene is the defending Class 5A Division II state champion and Cocoa won the 2A title in Florida last season.
In 2007, Miami Northwestern defeated Southlake Carroll, 29-21, in a nationally televised meeting of the nation's No. 1 and No. 2 teams.
The plan of the organizer, C&B National Sports Marketing Group, is for four Texas schools to travel to Florida for four games in 2011.