February, 1, 2012
2/01/12
1:27
PM CT
ALLEN, Texas -- Alec Morris had a feeling Alabama would eventually offer him a scholarship.
The Allen quarterback was invited to the Tide's camp over the summer, and both parties came away impressed. Alabama even invited him back for another workout.
"I just feel at home there," Morris said.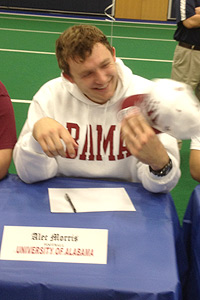 Jeff Andrews/ESPNDallas.com Allen quarterback Alec Morris signed with Alabama, which wasn't the first school to offer him a scholarship.
But Morris had to wait as the defending national champions considered their options at quarterback. The offer didn't come until the middle of the 2011 season, well after Morris had committed to Wake Forest.
When the offer did come, he took a week to discuss it with his family and made the decision to switch to Alabama. Morris made it official Wednesday morning by signing a letter of intent to play for Alabama at a huge ceremony featuring 32 athletes at Allen's indoor practice facility.
"They had always been there after I worked out, calling me every week or so," Morris said. "They were always in contact with me. I felt like it was a matter of time."
What Alabama was waiting on was Gunner Kiel, one of the top quarterback prospects in the nation. Alabama was in hot pursuit of Kiel, who ended up committing and decommitting to both Indiana and LSU before signing with Notre Dame on Wednesday.
When Kiel committed to Indiana, the Tide moved on to Morris, who threw for 3,242 yards and 35 touchdowns in his second season as Allen's starter.
"Kiel committed to Indiana and that's when they jumped on me," Morris said.
Allen rarely has players switch commitments. Head coach Tom Westerberg attributes that to the way his staff prepares players for the recruiting process.
Shortly after signing day, Westerberg invites all freshmen, sophomores and juniors to a meeting that explains what it takes to play at the next level and what players need to do to prepare both on and off the field.
The work Allen's staff does in the recruiting process also helps ward off the third parties that offer workout or recruiting services that have popped up over the last four years.
"Those people are in it for the money," Westerberg said. "They ask players to pay them money and when we do the same thing for free. We try to keep our kids away from all those recruiting services."
But this year Allen had not just Morris switch commitments, but running back Jonathan Williams as well. And both are heading to the SEC.
While Morris had just three offers -- Wake Forest, North Texas and eventually Alabama -- Williams had more than a dozen, but he managed to narrow it down to two schools -- Missouri and Arkansas.
Williams, who rushed for 1,169 yards and 12 touchdowns in an injury-riddled season, committed to Missouri in the spring, but Arkansas didn't give up on him.
The Razorbacks kept calling Williams and got him to take a trip to the campus. Meanwhile, Missouri backed off, allowing Arkansas to slip in.
"They were persistent," Williams said of Bobby Petrino's staff. "When a coaching staff is that interested in you to stay persistent after you commit to another school, they obviously want you bad. I took that into consideration."
October, 3, 2011
10/03/11
4:23
PM CT
As Allen gets ready to step into the national spotlight this week, with Thursday's game at Plano East being televised on ESPN2, ESPNHS writer Jon Mahoney caught up with Eagles quarterback
Alec Morris
.
Morris, an Alabama recruit, has guided Allen (5-0) to the No. 3 national spot in the
POWERADE FAB 50 ESPNHS team rankings
and the No. 1 spot in the
ESPNDallas.com area Class 5A rankings
.
Morris discussed a variety of topics, including what playing for Allen represents. Here was his response:
It's hard work. Schools are taken aback by what we do. We come in on Saturday mornings the day after the game to watch film and lift. We have the best coaching staff in the state. They'll point you in the right direction; you just have to go out and do it. It's definitely an amazing program to play for.
Click here to read the entire interview
at ESPNHS (formerly RISE).
Thursday's game at Murphy's Kimbrough Stadium, which starts at 7 p.m. can also be watched
online at ESPN3.com
.
August, 19, 2011
8/19/11
12:01
AM CT
5A NO. 1: ALLEN EAGLES
2010 record:
10-2
Predicted 2011 regular-season record:
10-0
ESPNDallas.com spring ranking:
No. 1
[+] Enlarge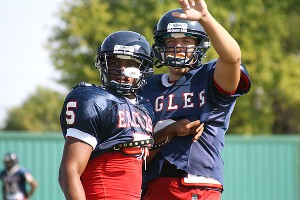 Travis L. Brown/ESPNDallas.com Running back Jonathan Williams and quarterback Alec Morris give Allen plenty of offensive firepower.
Division I commits:
QB
Alec Morris
(Alabama), RB
Jonathan Williams
(Missouri), LB
Thaddeus LaGrone
(Baylor).
Why they're here:
Why wouldn't Allen be here?
With its high participation numbers and seemingly endless talent pool, the Eagles are a perennial state title contenders even in years when they don't have a lot of returning experience.
This year Allen has seven starters coming back on each side of the ball, a high number for a team that usually relies heavily on its senior classes.
It's not just quantity coming back, but quality, and at key positions. QB Morris shouldn't have any trouble improving on the 2,533 yards and 22 touchdowns produced as a junior. Williams has the potential to lead 5A area players in rushing after passing the 2,00-yard mark in 2010.
Morris has experienced receivers returning in Andrew Rodriquez and Oliver Pierce. OLs Jake Trotter and Mark Massey return after all-district seasons at a position where the Eagles never have a problem excelling.
With so much talent and experience, expectations are soaring in Allen, and anything short of a state title will be considered a disappointment.
Holes to fill:
For any team, 14 returning starters is a big number. It's even bigger at Allen. There aren't many holes. Allen has to fill out its offensive line and secondary, but head coach Tom Westerberg's primary concern coming into the season was establishing depth.
Key game:
at Plano, Sept. 23
August, 7, 2011
8/07/11
6:58
PM CT
Allen quarterback
Alec Morris
gave his verbal commitment to Alabama over the weekend, rescinding his previous commitment to Wake Forest.
Morris received Alabama's scholarship offer after he had already committed to Wake Forest but had always had the Crimson Tide on the top of his list, Allen head coach Tom Westerberg said.
His change of direction was very quick, having given his commitment to the Demon Deacons just a couple of weeks prior to his change to Alabama.
Morris threw for 2,533 yards and 22 touchdowns as a junior in his first year as a starter and rushed for 216 yards and eight TDs.
In addition to Alabama and Wake, Morris had received an offer from North Texas and had considered Rice.
February, 3, 2010
2/03/10
1:28
PM CT
Southlake Carroll has sent its fair share of athletes to NCAA Bowl Subdivision schools over the years, and 2010 is no different.
Eight Dragons signed letters of intent to play at the next level Wednesday morning.
Quarterback
David Piland
joins a long line of Carroll quarterbacks who have played college football. He signed with Houston after throwing for 2,935 yards and 23 touchdowns in 2009.
Piland's running back, Tommy Avers, signed with Air Force. He rushed for 1,742 yards and 23 touchdowns. Offensive lineman
Mason Hathaway
signed with Colorado State.
Kicker
Cade Foster
signed with defending national champion Alabama a year after setting the state's career mark for extra points. He also played linebacker for Carroll.
On the defensive side of the ball, linebacker
Mitchell Osborne
signed with Tulsa, and defensive end
Ben Perry
signed with Minnesota.
The coaching exodus didn't scare defensive end
Jackson Richards
away from Texas Tech. He honored his long-standing commitment by signing with the Red Raiders.
Defensive back
Kacy Rodgers
, who missed most of the 2009 season because of injury, signed with Miami.