April, 11, 2012
4/11/12
9:37
PM CT
As unrest surrounds the University of Arkansas football team following the firing of head coach Bobby Petrino, a local recruit has spent the last day trying to unify the 2012 signing class.

Allen running back and four-star recruit Jonathan Williams spent most of Wednesday calling fellow recruits to make sure they were still on board to play in Fayetteville next fall.

"I just really wanted to talk to all the other commits and try to calm them down because the reason we all committed to Arkansas is because how great their school is. Their football program is great, but the academics are great and the campus is great, too. I just tried to talk to those guys and make sure they stayed a part of the Arkansas football team."

The majority of the signees he spoke with felt the same as he does -- what Arkansas has to offer as a school outweighs the scandal surrounding the football program. Williams said none of the recruits he spoke with said they were reconsidering their college selection.

Williams initially heard of the scandal from friends attending Arkansas and players currently on the football team, but said he didn't hear of Petrino's firing until it was in the news.

"I wasn't thinking much of it, but when it got the media attention that it got -- that's when I started feeling nervous. I was just shocked," Williams said of Petrino's firing.

In the end, Williams said it was the assistant coaches who did most of the recruiting and created more of a connection with the incoming class than Petrino did. While Petrino was a factor in Williams' decision to pick Arkansas, all the school has to offer is really what made Williams decommit from Missouri last season and choose the Razorbacks.

Moving forward, if Williams could pick a new head coach for his future team, he said he would bring back former offensive coordinator and current UAB head coach Garrick McGee, who left Fayetteville before last season to take the helm for the Blazers.

"He was one of the guys who helped recruit me, and he would keep the coaching staff that is up there because that's the staff he worked with," Williams said. "That would be a good possibility in my eyes at least."
February, 1, 2012
2/01/12
1:27
PM CT
ALLEN, Texas -- Alec Morris had a feeling Alabama would eventually offer him a scholarship.
The Allen quarterback was invited to the Tide's camp over the summer, and both parties came away impressed. Alabama even invited him back for another workout.
"I just feel at home there," Morris said.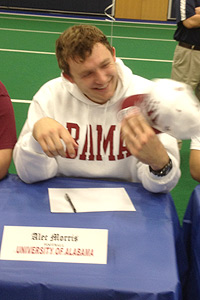 Jeff Andrews/ESPNDallas.com Allen quarterback Alec Morris signed with Alabama, which wasn't the first school to offer him a scholarship.
But Morris had to wait as the defending national champions considered their options at quarterback. The offer didn't come until the middle of the 2011 season, well after Morris had committed to Wake Forest.
When the offer did come, he took a week to discuss it with his family and made the decision to switch to Alabama. Morris made it official Wednesday morning by signing a letter of intent to play for Alabama at a huge ceremony featuring 32 athletes at Allen's indoor practice facility.
"They had always been there after I worked out, calling me every week or so," Morris said. "They were always in contact with me. I felt like it was a matter of time."
What Alabama was waiting on was Gunner Kiel, one of the top quarterback prospects in the nation. Alabama was in hot pursuit of Kiel, who ended up committing and decommitting to both Indiana and LSU before signing with Notre Dame on Wednesday.
When Kiel committed to Indiana, the Tide moved on to Morris, who threw for 3,242 yards and 35 touchdowns in his second season as Allen's starter.
"Kiel committed to Indiana and that's when they jumped on me," Morris said.
Allen rarely has players switch commitments. Head coach Tom Westerberg attributes that to the way his staff prepares players for the recruiting process.
Shortly after signing day, Westerberg invites all freshmen, sophomores and juniors to a meeting that explains what it takes to play at the next level and what players need to do to prepare both on and off the field.
The work Allen's staff does in the recruiting process also helps ward off the third parties that offer workout or recruiting services that have popped up over the last four years.
"Those people are in it for the money," Westerberg said. "They ask players to pay them money and when we do the same thing for free. We try to keep our kids away from all those recruiting services."
But this year Allen had not just Morris switch commitments, but running back Jonathan Williams as well. And both are heading to the SEC.
While Morris had just three offers -- Wake Forest, North Texas and eventually Alabama -- Williams had more than a dozen, but he managed to narrow it down to two schools -- Missouri and Arkansas.
Williams, who rushed for 1,169 yards and 12 touchdowns in an injury-riddled season, committed to Missouri in the spring, but Arkansas didn't give up on him.
The Razorbacks kept calling Williams and got him to take a trip to the campus. Meanwhile, Missouri backed off, allowing Arkansas to slip in.
"They were persistent," Williams said of Bobby Petrino's staff. "When a coaching staff is that interested in you to stay persistent after you commit to another school, they obviously want you bad. I took that into consideration."
November, 14, 2011
11/14/11
4:48
PM CT
ARLINGTON, Texas – Last week was a wild one for Allen running back Jonathan Williams, and it had nothing to do with the Eagles' bi-district close call against Keller Central.
After decommitting from Missouri earlier in the week, Williams quickly made a verbal pledge Friday to play football for Arkansas.
Williams' main reason for the switch was Arkansas' proximity to his home in Texas, but also cited his respect for the Razorbacks' offense as a key factor.
"I like their offense," Williams said. "They're a pro-style offense and with Bobby Petrino as the head coach, he's going to have a good offense year-in and year-out. I feel like I can prosper in that type of offense."
Williams took a recruiting trip to Fayetteville after Allen's national TV win over Plano East the weekend of Oct. 6 and said, on returning home, his family agreed Arkansas would be a better fit for Williams than Missouri.
Williams has rushed for over a 1,000 yards this season despite missing several games due to injury. Williams sat out most of the second half of Allen's bi-district game Saturday after taking a big hit but returned for Allen's final drive of the game.
Williams said he is fine and the rest was just precautionary to help him recover from a few small injuries he has acquired throughout the season.
November, 9, 2011
11/09/11
3:13
PM CT
Allen running back and four-star recruit Jonathan Williams decommitted from Missouri earlier this week, Allen coach Tom Westerberg said.
Missouri was the first school to make Williams an offer, but after committing he went on an official visit to Arkansas the weekend after Allen's win over Plano East on Oct. 6.
Williams stressed that Missouri's departure from the Big 12 to the SEC had nothing to with his decision.
"It's not going to affect too much," Williams said after the Plano East game. "I either know they will be in the Big 12 or the SEC. It doesn't matter really."
Williams told ESPN Recruiting's Damon Sayles that Arkansas now leads the pack to land the No. 16 running back in the nation because of it's proximity to his home.
For more information on Williams decision,
click here for Sayles' story on ESPN Recruiting
(must have insider access).
July, 25, 2011
7/25/11
10:30
PM CT
FORT WORTH, Texas – For such a dominating presence at 6-foot-8 and 235 pounds, Devonta Abron of Seagoville was surprisingly invisible in the first half of the Texas High School Coaches Association basketball All-Star game.
With just five points and five boards from Abron in the first half, former The Colony point guard Austin Chatman stole the spotlight by dropping dimes to his newly acquainted North All-Star teammates.
"I wasn't hitting any shots so I had to find another way to win the game, so I did what I had to do," Chatman said.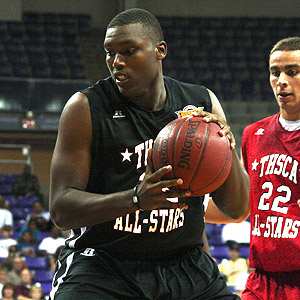 Travis L Brown/ESPNDallas.com Seagoville's Devonta Abron was the North MVP of the THSCA All-Star game, leading his team to victory with 27 points and 10 rebounds.
The no-defense format of the game fit right into Chatman's style, setting up teammates on bounce-pass alley-oops and behind-the-back passes.
However, all the Globetrotter-like showmanship would end up for naught in his stat line after the majority of his teammates couldn't convert the bucket after he dialed up an outstanding connection.
Every rim-rejected dunk would draw a jokingly annoyed glare from Chatman, followed by a large grin from the soon-to-be Creighton freshman.
"I gave them a lot [of joking grief], but I mean you got to live with it," Chatman said.
With great professionalism, Chatman attributed the misfires to the lack of experience he had with the other players, throwing the timing off.
Luckily for Chatman and the other North All-Stars, Abron came out of the tunnel in the second half like a man among boys, leading the North to a 103-94 victory.
Abron threw down dunk after dunk on his way to a 27-point, 10-rebound night. As each dunk was slammed, he came further out of his shell, peaking in the fourth when he threw down a monster dunk and then hit a long-range two, each celebrated with flexed muscles.
"I just wasn't playing good so the second half my team told me to come on with it, so I listened to them and picked my game up and started balling," Abron said. "When I got that first slam, I was ready to ball."
Abron, an Arkansas recruit, put an exclamation point on his argument for the North MVP with a transition alley-oop dunk with half a minute left on the clock which he credited to friendly trash-talking from friends he had made on the South team.
"They'd been talking noise all these days, so I just told them I was going to bring it to them," Abron said.
After he concluded his beastly performance, he quietly left the court with a giant grin on his face, saying he was just ready to take his MVP plaque back to share with his hometown of Seagoville.
February, 3, 2010
2/03/10
2:32
PM CT
Frisco Wakeland tight end
Trent Smiley
signed with Kansas on Wednesday.
"Trent has a tremendous opportunity at the next level with Kansas," said Wakeland head coach Marty Secord. "His character and class along with his ability make him the total package."
Plano West offensive lineman
Chase White
signed with Vanderbilt. Flower Mound linebacker
Steven Sumpter
signed with Air Force. Little Elm defensive end
Clifton Murphy
signed with TCU.
Hebron defensive end
Paul Crawford
signed with Mississippi State. Pilot Point offensive tackle
Cam Feldt
signed with Arkansas. West Mesquite guard
Demiere Burkett
signed with Louisiana-Monroe.
Argyle linebacker
Blake Dunham
and defensive tackle
David Johnson
signed with North Texas and TCU, respectively.