High School:

Austin Lake Travis
December, 13, 2011
12/13/11
5:23
PM CT
Austin Lake Travis can wrap up its state record fifth straight crown with a win over Waco Midway (13-2) in the Class 4A Division I state title game on Friday at Cowboys Stadium.
The Cavaliers (15-0) already belong in elite company having won four straight. Only Celina (1998-2001) and Sealy (1994-97) have accomplished that feat, although Aledo can join the three-timers club with a win over Manvel on Saturday.
Would a win make Lake Travis the most dominant dynasty in Texas history?
Celina's run came at the 2A level. Sealy did it in 3A. Southlake Carroll may have the best argument having won four 5A state titles in five years from 2002 to 2006, going 79-1 in the process. Carroll's one loss was a 16-15 defeat at the hands of Katy in the 2003 state-title game.
While Lake Travis' dynasty can top Carroll's in total state titles, it won't catch the Dragons in win percentage. The Cavs lost to Austin Westlake in 2007 and to Aledo and Cedar Park in 2010, giving them at least three defeats in their five-year run.
Both Carroll and Lake Travis represent affluent communities, but there's one interesting difference between the two dynasties. Lake Travis has had three different head coaches in that time span -- Jeff Dicus, Chad Morris and now Hank Carter -- while Carroll had just one -- Todd Dodge.
A fifth straight title is not guaranteed for Lake Travis, though. Midway is riding an impressive nine-game winning streak in which it's given up more than 20 points just once. The Panthers beat previously undefeated Denton Ryan, 19-7, and destroyed an athletic Tyler team (51-20) that knocked off Highland Park and Sherman.
If Lake Travis does win a fifth title, the sixth may be harder to come by. The school will likely go 5A next year.
Cibolo Steele gunning for second title
Cibolo Steele may be starting a dynasty of its own.
A year removed from winning the first state title in the school's brief history, the Knights (15-0) are right back in the 5A Division II state-title game looking for more hardware.
Steele owns the state's longest active winning streak at 28 games and has dominated its opponents in 2011 with an average margin of victory of 24 points, including a 21-point margin in the playoffs.
But the Knights also have a tough opponent in the title game -- Spring Dekaney (13-2). Dekaney boasts Trey Williams, the best running back in the state not named Johnathan Gray.
Williams, a Texas A&M commit, has rushed for 3,633 yards and 45 touchdowns this season, numbers akin to what former Steele running back Malcolm Brown, now at Texas, did for the Knights last year when they won it all.
September, 9, 2011
9/09/11
11:38
PM CT
By
Randy Jennings
| ESPNDallas.com
ALEDO, Texas -- Johnathan Gray put his name on top of the Texas high school state record for career touchdowns Friday night before a packed house of 9,000 fans at Bearcat Stadium.

But the new record holder was in no mood to smile about it.

"Right now, I don't care about the record,'' Aledo's 5-foot-10, 202-pound senior said. "It means nothing.''

The numbers that spoiled what should have been a glorious night for Gray were those on the scoreboard: Austin Lake Travis 62, Aledo 35.

"I'm happy for Johnathan that he set the record, but I wish it could have been done in better circumstances,'' said Aledo coach Tim Buchanan. "And I'm not surprised that he feels the way he does tonight. He's a team guy.''

Gray captured the record with his third touchdown of the night, a 1-yard run in the final two minutes of the first half that cut Lake Travis' lead to 28-25. It was Gray's 147th career touchdown. He added a fourth touchdown in the second half.

The University of Texas pledge began the game two behind the 146 touchdowns scored by Traylon Shead of Class A Cayuga in 2006-2009.

Gray sat out Aledo's last two series and still finished with 244 yards on 28 carries. He broke a 68-yard touchdown on his final carry and also had scoring runs of 6 and 82 yards to go with his record-breaker.

"I'm glad he got the record, but I wish it hadn't been against us,'' said Lake Travis quarterback Baker Mayfield. "Gray is a great player and a nice guy.''

Mayfield had a night of greatness, himself. The junior, not even the Lake Travis starter when the season started, completed 27-of-38 passes for 434 yards and six touchdowns.

Four of Mayfield's touchdown tosses were directed to Griffin Gilbert.

"It was the biggest game in the nation with the best two teams in Texas,'' Mayfield said. "We came out on fire. Aledo has good athletes in the secondary. But we have so many skill guys, we can't play them all.''

Lake Travis (3-0) came into the game with four straight Class 4A state championships under its belt.

Aledo (1-2) won 4A Division II state titles each of the last two years and ended Lake Travis' 48-game winning streak with a 14-10 nondistrict victory in Austin last season.

Buchanan said the game started getting away when Aledo had to settle for a field goal after Mayfield's fumble was recovered by Bearcat Aaron Hinsley on the first series of the second half. Three points cut the Lake Travis lead to 35-28.

Lake Travis reeled off touchdown drives of 66 and 65 yards to widen the gap to 20 points.

"They play hard-nosed football and they do it well,'' Gray said. "We have to get by this and get back on the winning track.''
September, 9, 2011
9/09/11
6:45
PM CT
Travis L. Brown and Randy Jennings will be chatting from the Kincaide Stadium doubleheader starting at 4:30 p.m. Saturday. DeSoto-Cedar Hill kicks things off, followed by Arlington Bowie-Dallas Skyline. We'll keep you updated on the action right here.
Click here
for the Week 2 results page, including records.
December, 19, 2010
12/19/10
1:45
AM CT
High school football championship weekend has arrived in Texas, and Dallas-Fort Worth has a representative in each of the four title games in the top two classes. All games are at Cowboys Stadium in Arlington, and the ESPN Dallas crew will be on hand for all of them.

Undefeated Aledo faces La Marque to kick off the action in the Class 4A Division II title game Friday. Saturday brings Denton Ryan-Lake Travis for the Division I crown. Denton Guyer-Cibolo Steele (Division II) is the first of the day's Class 5A championships. The highlight of the weekend comes when national power Euless Trinity duels Pearland for the 5A Division I crown.


December, 18, 2010
12/18/10
5:09
PM CT
ARLINGTON, Texas -- Austin Lake Travis joined elite company by winning its fourth straight Class 4A state title with a 27-7 win over Denton Ryan on Saturday at Cowboys Stadium.

Lake Travis (14-2) becomes just the third team in Texas state history to win four straight titles and the first to do it at the 4A level, joining Sealy (1994-97) and Celina (1998-2001).

The Cavaliers have had three head coaches over that span. Jeff Dicus led Lake Travis to its first state title in 2007. Chad Morris did the same in 2008 and 2009.

This year, it was Hank Carter who guided Lake Travis to the crown after an injury-plagued season that began with Aledo snapping the Cavaliers' 48-game winning streak.

"It's an unbelievable feeling," Carter said. "When you get a little older and get away from it, you realize how special it is because it's so hard to do. Three head coaches and four state championships -- I guarantee you that's never been done."

Quarterback Michael Brewer, the game's offensive MVP, won his second straight title by going 14-for-22 for 211 yards. He added 88 rushing yards and two rushing touchdowns that gave Lake Travis a 17-0 halftime lead over Ryan.

Ryan (15-1) had a chance to cut Lake Travis' lead to one score early in the second half, but a 41-yard field goal attempt sailed left, leaving the Cavaliers with a 17-7 lead. Lake Travis answered with its own field goal and put the game away in the fourth quarter with a 1-yard touchdown run by Colin Lagasse.

"It's been a struggle this season," Brewer said. "To be where we are today and actually come out and get the job done, it says a lot about our team. They know how to fight. We've been here before and we know how to win it."
December, 18, 2010
12/18/10
4:27
PM CT
ARLINGTON, Texas -- Denton Ryan's defensive front shut down every team it played this season.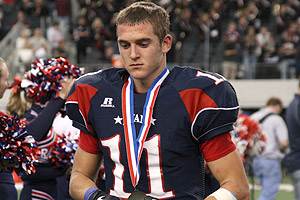 Travis L. Brown/ESPN DallasJonny Paramore and Denton Ryan fell just short of an undefeated season, falling to Lake Travis.
Austin Lake Travis decided to avoid it all together.
Using an offensive game plan that attacked Ryan's perimeter and secondary, Lake Travis moved the ball with ease en route to a 27-7 win over Ryan on Saturday at Cowboys Stadium in the Class 4A Division I state title game.
Lake Travis (14-2) captured its fourth straight state title with the win.
"We didn't play very well today but I think they had a lot to do with it," said Ryan head coach Joey Florence. "They're four-time champions for a reason. They played a great game. They took the fight to us."
In the first quarter, Lake Travis peppered Ryan's defensive perimeter with quick passes to the flat that didn't give Ryan's pass rush time to get to quarterback Michael Brewer.
Gradually, Lake Travis began extending the ball down the field for big plays in the passing game.
By the time Ryan (15-1) found its game on defense, Lake Travis rolled up a 17-0 halftime lead after touchdown runs of 26 and 5 by Brewer.
"They made those quick passes and those slants," said Ryan defensive end Ty Hook. "That's what Wylie started using when they started moving the ball on us. They used the same kind of stuff. That was our weak point."
Meanwhile, Ryan's offense got nothing going. It killed itself with false start penalties, and problems on first down put Ryan in third-and-long situations throughout the game.
Ryan had no first downs, just 49 total yards and 41 yards in penalties at halftime.
"We didn't play well early," Florence said. "I don't know what caused that but we didn't play well early. Their defense is pretty good and they played well."
Ryan had a chance to make it a game early in the second half. Kaylon Alexander ran for 72-yard touchdown on fourth-and-inches on Ryan's first drive of the third quarter to cut Lake Travis' lead to 17-7.
The Raiders recovered the ensuing onside kick and got a 14-yard run from Alexander to put them at the Lake Travis 24-yard line.
But another false start penalty pushed Ryan back and a fumbled snap on third down forced a 41-yard field-goal attempt that sailed left.
Lake Travis answered with a field goal on its next drive and after a stalled Ryan drive, Lake Travis took an insurmountable 27-7 midway through the fourth quarter with a 1-yard touchdown run by running back Colin Lagasse.
"We didn't get it done," Florence said. "We missed the field goal. We fumbled the snap on third down. You just can't do that. You're not going to beat people like that and do stuff like that. We made a lot of mistakes today. You can't do that if you're going to win."
December, 16, 2010
12/16/10
7:01
PM CT
Arguably the two best Class 4A dynasties of the last decade meet in the Division I state title game at noon Saturday at Cowboys Stadium.
[+] Enlarge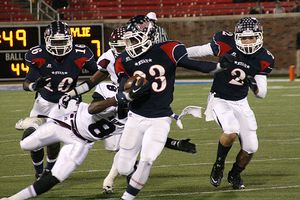 Travis L. Brown/ESPNDallas.comJerrick Harvey and Denton Ryan will look to cap a perfect season against fellow state powerhouse Lake Travis.
Denton Ryan (15-0), which appeared in four straight state-title games from 2000 to 2003, meets an Austin Lake Travis team (13-2) that's gunning for its fourth straight state title.
"There's a reason they're the three-time defending state champions -- they are very well coached, they are very talented and they play very hard," Ryan head coach Joey Florence said. "It's going to be a battle."
Both teams enter the matchup on hot streaks. After a three-year down period following its dynasty days, Ryan is back among the top 4A programs in the state, riding a stellar defense to an undefeated record in a season in which only two teams have challenged the Raiders this year.
Ryan survived a late Wylie rally last week to clinch a berth in the state title game, winning 25-20. Waco Midway pushed Ryan in the third round of the playoffs, but the Raiders defense scored nine points in a 19-10 win.
Lake Travis overcame some rare adversity to make it back to the title game. It had a 48-game winning streak snapped by Aledo in nondistrict play in a game in which quarterback Michael Brewer didn't play. The Cavaliers suffered another loss in their regular-season finale, losing to Cedar Park, 35-21.
But Lake Travis was its old self in the playoffs, racing past contenders Kerrville Tivy (48-42) and Friendswood (24-3) in addition to avenging its loss to Cedar Park (21-20).
The matchup pits Ryan's defense, one of the best in the state, against a Lake Travis offense that's guided it to unprecedented success.
"We haven't really faced anybody throwing it quite like they're throwing, and certainly nobody as good as they're throwing it," Florence said. "It ought to be an interesting matchup for our defense."
Ryan's defensive front six boasts a bevy of Division I talent, including defensive ends Mario Edwards and Ty Hook (Louisiana Tech) and linebackers Jordan Richmond and Alex De La Torre. Edwards, Richmond and De La Torre are juniors.
After winning two state titles with current Texas quarterback Garrett Gilbert, Lake Travis is hoping that Brewer, a Texas Tech commit, can match his predecessor by winning his second.
Despite an injury-plagued season, Brewer has thrown for 2,654 yards and 26 touchdowns. Receiver Griffin Gilbert, Garrett's younger brother, leads the team with 70 receptions, 1,110 yards and 11 touchdowns.
December, 15, 2010
12/15/10
5:24
PM CT
Wearing his white Stetson, Denton ISD athletic director Ken Purcell nervously paced the press box at SMU's Ford Stadium last weekend as he watched Wylie chip away at Denton Ryan's once seemingly insurmountable lead.
Minutes prior, he sat stoic and still, the way he usually looks while watching yet another win by Ryan or Denton Guyer.
After Wylie's fourth-and-goal attempt failed in the waning minutes to secure Ryan's 25-20 state semifinal win, Purcell released a deep sigh and quietly recoiled into his seat with his hands folded.
"I'm just getting too old for this stuff," Purcell said.
Behind Purcell's sigh was five years' worth of uncertainty and tension within the community over the opening of Guyer and the affect it had on Ryan and Denton High, the city's flagship school.
[+] Enlarge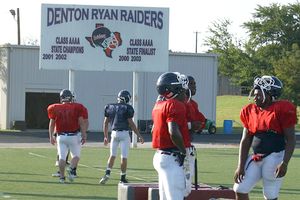 Travis L. Brown/ESPNDallas.comDenton Ryan is back in a state championship game for the first time since a run of four straight finals ended after a 2003 appearance.
All the turmoil will be forgotten on Saturday at Cowboys Stadium, when Guyer faces Cibolo Steele for the Class 5A Division II championship after Ryan takes on Austin Lake Travis in the 4A Division I title game.
Denton ISD is the first district to have two schools play in Texas football state championship games in the same year since 1962, when Fort Worth ISD sent Dunbar and Kirkpatrick to Prairie View Interscholastic League title games in the days of segregation.
When Guyer opened in 2005 to accommodate a population boom in the city, Denton ISD chose to fill the new school's classrooms with a one-year transfer policy that allowed students to attend Guyer for any reason, as opposed to rezoning and enforcing the new boundaries.
Guyer's enrollment number quickly ballooned, and it had stellar participation in all its athletic programs. After going 1-19 in its first two years of varsity football play, Guyer exploded in 2008 to reach the 4A state semifinals, registering a stunning upset of Ryan in the process.
"Seeing the level of talent that was in Denton and what [Ryan coach] Joey [Florence] had done with that program and it being a consistent state power, that's what attracted me to the Guyer job," Guyer coach John Walsh said. "It was a gamble, but it was researched hard."
While the one-year transfer rule succeeded in allowing Guyer to open with a full curriculum and easing the overcrowding issues at Denton and Ryan, it had unforeseen consequences on the athletics programs.
Student-athletes flocked from Denton and Ryan and their aging facilities to brand-new Guyer, which boasts state-of-the-art athletic facilities on par with any in the state.
With most of its athletes now at Guyer, Denton High went into a tailspin. At times it had a varsity football roster with no more than 30 players. From 2005-09, Denton won six games total.
Even Ryan, coming off a streak of four consecutive state title game appearances, lost athletes to Guyer. Its facilities weren't much better than Denton High's, and the overflowing trophy case wasn't enough to keep athletes at the school.
After two years in Class 5A, Ryan dropped to 4A, which was Denton ISD's intention. It wanted its high schools to have an enrollment number just below 2,000, which is usually around the 5A cutoff.
But Ryan's loss of athletes was unexpected. Beginning in 2005 -- its second year in 5A -- Ryan lost in the first round of the playoffs three straight years, astonishing for a program that had gained national recognition by playing in the first nationally televised high school football game against Southlake Carroll in 2004.
"I've said privately and I've said publicly, I think we made a couple of bad decisions in the school district when we gave Guyer open enrollment for one year," Purcell said. "Denton High immediately lost 400 kids that chose to go to Denton Guyer. It really impacted their programs."
Recognizing the effect Guyer's facilities had on the transfer policy, Denton ISD and Purcell put together a $282 million bond package that, among many other things, upgraded the facilities at Denton and Ryan. The bond passed in November 2007.
Denton and Ryan moved into their new fieldhouses before the 2009 football season. Ryan's is a pristine monument with dark windows shading a massive weight room. Wooden steps baring the Ryan Raider double-R logo lead athletes up to each weight station.
[+] Enlarge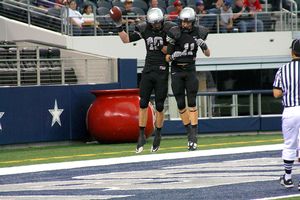 Travis L. Brown/ESPNDallas.comThere's been plenty of celebrating for Denton Guyer during its march to the Class 5A Division II state championship game.
Denton's might be the most impressive of the three. It's a two-story behemoth that overlooks Bronco Stadium, the former home of Denton's football team before C.H. Collins Athletic Complex opened in 2004.
"In hindsight, I wish we'd built the new facilities at Denton High at the same time we built Guyer High School," Purcell said. "But I'm not critical of our administration or myself. It's hindsight. If we'd known what we know now, we'd have done some things differently."
The city and the district weathered adversity and uncertainty. With new zones and a little time, the numbers crept back up at Denton and Ryan, and equal footing with facilities helped keep athletes at each school.
"We put a few measures in to keep kids from jumping from one school to another that I think have been effective -- rules that are even more stringent than the UIL rules," Purcell said. "I think it's helped some. It's slowly growing back."
Now each of the three football teams is enjoying success not seen since before Guyer opened. In its first year in 5A, Guyer has reached the Division II state title game after appearing in the 4A state semifinals each of the past two years.
Ryan regained its form in 2008 by advancing three rounds into the playoffs. This season, the Raiders, are in a state title game for the first time since 2003.
Even Denton made the playoffs for the first time since 2002, a feat overshadowed by Mesquite Poteet's playoff run but no less remarkable given the fundamental issues the school has faced for years.
"It's very hectic here right now," Purcell said. "I've been through this as coach and, of course, as an AD with Ryan's run. But man, you double it with both of them in. It's double the media, double the tickets. It's been a heck of a run the last six weeks."
July, 12, 2010
7/12/10
3:52
AM CT
By
Randy Jennings
| ESPNDallas.com
DeSoto's run at the 7-on-7 state football tournament ended four points shy of a title on Saturday.

The Eagles were edged by Austin Lake Travis, 42-39, in the Division I finals of FOX Sports Southwest 7-on-7 State Championship presented by adidas and Academy Sports & Outdoors at Kyle Field in College Station.

DeSoto advanced to the final by winning four straight games in the single-elimination format of the championship bracket, taking down Houston Lamar, Pearland, Coppell and Pearland Dawson along the way.

In its first 7-on-7 state tournament appearance last year, DeSoto made it to the semifinal round before losing to eventual champion Round Rock Stony Point by one point, 39-38.

Lake Travis, which never trailed in the championship game, has won Class 4A state titles in each of the last three falls and will begin the 2010 season with a 46-game winning streak.

Among the area championship bracket qualifiers, Arlington Lamar and Coppell made it to the third round. Plano and West Mesquite were eliminated in the second round of bracket play.

Richland had the best performance among area teams in the consolation bracket, losing in a semifinal to eventual champion Lufkin.
March, 10, 2010
3/10/10
11:01
AM CT
The Colony head coach Cleve Ryan doesn't have much to say about his team's matchup with Houston Yates on Thursday, just that the Cougars are ready for the challenge.

But what can he say? Yates (32-0) is the defending 4A champion and ranked No. 1 in the nation. It's riding a 56-game winning streak, the last 14 of which Yates scored at least 100 points. The Lions have seven players that average double digits in scoring and two that average in the 20s.

The best a team has performed against Yates in the playoffs was No. 3 LaMarque in the Region III final. Yates won, 101-83.

"Our team is realistic to know that we're the underdogs," Ryan said. "But we like the challenge. No one thought we'd even get to where we are. We're going to give it our best shot. We're not going to doubt anything. We're going to go play."

The Colony (30-8) has been stellar in its own right. A team of mostly juniors, the Cougars marched through a favorable bracket in Region I and beat Mansfield Legacy, 58-51, to advance to the state tournament for the first time since 2001.

Despite the strong showing, The Colony is a decided underdog against Yates.

No. 2 Lancaster (35-2) is in the same situation. It beat Dallas Kimball and Dallas Pinkston in the Region II tournament to advance to play Austin Lake Travis on Thursday in the state semifinals. The Tigers have done nothing but roll through the season, losing just twice.

But should it meet Yates in the state title game, the story will be not if, but when Yates wins, it will clinch its spot among the great high school basketball teams of all time.

Lancaster plays Lake Travis at 7 p.m. on Thursday at Austin's Frank Erwin Center. The Colony plays Yates after that game.