High School:

Baylor Bears
April, 1, 2012
4/01/12
10:49
AM CT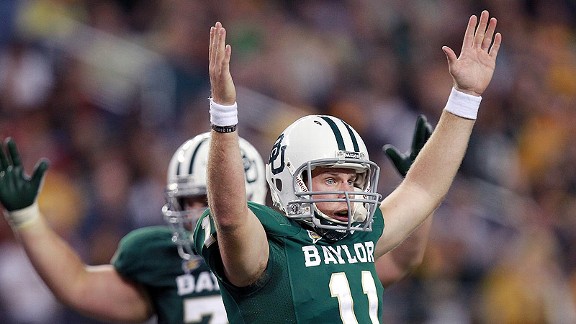 Ronald Martinez/Getty ImagesNick Florence had three TDs in last season's win over Texas Tech -- but lost his redshirt in the process.
WACO, Texas --
Nick Florence
didn't have to come to Baylor. He didn't have to stay.
If football has been his only reason for coming to Waco, it'd be easy to see why he might've gone elsewhere.
But Florence did.
He stepped in as a freshman when future Heisman Trophy winner
Robert Griffin III
tore his ACL, then stepped off the stage for the next two seasons while Griffin wrote his legacy.
Plenty of quarterbacks would have waved goodbye.
Florence didn't.
Here's why.
--
Florence didn't lose a game as a freshman at South Garland (Texas) High School. A year later, he took over the varsity squad in midseason and carried the team to a third-round loss in the state playoffs to Lufkin, led by Dez Bryant, now a receiver for the Dallas Cowboys.
"The QB that started the year as the starter, every opportunity Nick had, he would encourage him," said Mickey Moss, Florence's high school coach who now heads up a program in Rockwall, Texas. Throughout his career, Moss has put about 50 players into Division I programs like Nebraska, Oklahoma and Missouri.
"When Nick took over, he'd lead the senior linemen and just encourage them and give them confidence and praise. I was like, 'I've never seen a kid like this who had such confidence and maturity.'"
Florence earned a reputation on and off the field. Before school began, he and teammates would walk through the school's hallways while praying for classmates who would congregate there during the school year, which began in a few weeks. When school began, he'd join his twin brother, Luke, and others to often pray for classmates before class during the week.
"That's just who he was and he believed in making a difference in the lives of other people," Moss said. "His leadership? He's just got it."
His youth pastor at Lake Highlands Church in Dallas eventually took a job at Antioch Community Church in Waco, and Florence wanted to join him.
Florence pestered Moss to make a few calls down to Baylor. Moss did so and asked coaches if they'd seen Florence on film.
Minutes later, he got a call back.
Baylor offered Florence his first major scholarship offer, and Florence made it his only one.
"Nick just felt like this was where God wanted him to be, and that's Nick," Moss said. "He does so much based on faith."
The problem? The coach who called back with that offer was Guy Morriss, who was fired after the 2007 season. Enter Art Briles and a kid from Copperas Cove whom nobody thought could play quarterback.
Briles, then at Houston, brought Cougars commit Robert Griffin III to Baylor with him, the two having faith of their own that they could win in Waco, which hadn't seen a winning football season since 1995.
Briles had his man, but honored Morriss' offer to Florence, whose playing time looked like it would be sparse.
"If God wanted you to be here and that's what you believe, he doesn't change his mind," Moss says he remembers telling Florence. "Knowing Robert Griffin was going to be the quarterback didn't faze him."
Along the way, Florence kept working. He earned the respect of teammates. In the meantime, he got his business degree, worked closely with his church and married his wife, Rachel, last May. The two plan to enter the ministry whenever Florence's football career is over.
"His pastor told me, in all the locker rooms he's been in, he's never let his eyes view another naked woman in his life in print on TV or anywhere else until his wedding day. That says a lot about who he is, but also how others respect him," Moss said. "He doesn't throw his faith in your face. Not at all. He has a genuine care, concern and love for people, and he's always looking to make a difference. ... He's going to compete, but the biggest thing I always believed he was going to do was make an impact in the locker room with his character and integrity."
Florence had been on campus a couple of years but RG3 was proving his mettle as the man at Baylor. Briles met with Moss and gushed about his backup.
"That kid is a winner," Moss recalls Briles saying.
He's done it since he was a freshman in high school, and now that the starting job at Baylor is nearly Florence's officially, he doesn't plan on that changing.
[+] Enlarge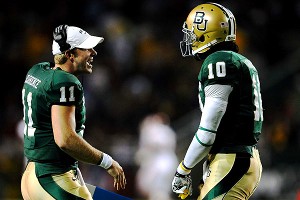 Jerome Miron/US PresswireNick Florence is now tasked with replacing Heisman winner Robert Griffin III, right, at Baylor.
"You watch him play and it's like, what's special about him?" Moss said. "He wins. He leads. He makes plays. His throwing motion wasn't the greatest. His speed wasn't the greatest. His strength wasn't the greatest. But the kid won, and then he influenced everyone around him."
When Griffin's knee injury meant Florence had to step in as a wide-eyed freshman, it also meant winning wasn't going to happen. It didn't. Baylor fell to 4-8 and won just one conference game, at Missouri when Florence set the school record for passing yards.
"He's a different guy, just like I am since 2009 and like everybody. As you grow you mature, you learn to get better in everything you see act or do," Briles said. "He's a guy that was thrown into a fire as a true freshman. Now, he's had a chance to sit back and learn the system, understand what his strengths are, how to use them and what he needs to do to help this team grow."
Said Florence: "I'm not that 180-pound freshman anymore."
Baylor got a preview of its 205-pound senior in November when a concussion sidelined Griffin at Cowboys Stadium, near Florence's hometown.
Florence hopped off the bench just before halftime and completed 9 of 12 passes for 151 yards and two touchdowns to help Baylor keep its winning streak alive with a 66-42 victory over Texas Tech. That streak reached six games by season's end, the longest current string among AQ schools in college football.
Florence logged a memorable moment, but he also logged enough playing time to burn his redshirt and leave him with just one year of eligibility remaining entering 2012.
"He's a guy who'll do whatever and whatever happens in life, he'll deal with it. If that means he has one year left to play, that means that's what God's will is. He's obedient," Moss said. "If the team needed him to come in there and help win that game and burn his redshirt and then not play again the rest of the year, that's OK with him."
Baylor needed Florence to come in and win that game. He did it. Now it's time to take over the full-time job of being the man who follows the man who did the unthinkable: winning a Heisman Trophy at Baylor.
"We don't talk in terms of replacing. It's just, what do we need to do now to do what we need to do at the end of July?" Briles said. "That's the most important thing. We may not be able to do some of the same things we were able to do prior, so we've got to figure out different ways to do things and still have success."
Florence is no hurdler. He can't run 40 yards in 4.4 seconds and doesn't have an arm that will have NFL scouts drooling. For the time being, though, he does have the keys to Baylor's offense.
"It's a great opportunity not everybody gets. I want to make the most of it and take advantage," Florence said.
That offense is going to look a little different now. Briles says time will show just how different it'll be.
"That's the exciting part about it," Briles said. "We've got to expand and become better in all other areas scheme-wise, coaching-wise, player/individual technique-wise, and so that to me is the very exciting part, because we have to become a better football team."
Florence wants his chance to show he's the man to make Baylor a better team. Florence has proved his intangibles since high school, and as he's gotten older, they've only become more ingrained. Now is his chance to show them off to everyone outside of Baylor's practice field.
"When guys come in the huddle they have great confidence and respect in him. They know who he is. They know there's not a selfish bone in his body, but at the same time, they know he's a heck of a competitor," Moss said. "I've never been around a kid like Nick Florence, and I imagine I never will again."
February, 1, 2012
2/01/12
9:44
AM CT
Local recruits are flocking to Baylor on national signing day.
As of 9:30 Wednesday morning, the Bears had announced the signing of 20 recruits, eight of them from the Dallas-Fort Worth area.
The Bears have received signed letters of intent from two Wylie players, DB
Terrell Burt
and OL
Kyle Fuller
.
Also headed down I-35 to Waco are Denton Ryan DL
Dominique Banks
, Richardson Pearce WR
Corey Coleman
, Hebron WR
Kiante' Griffin
, Euless Trinity LB
Brian Nance
, McKinney Boyd DE
Jamal Palmer
and Garland QB
Seth Russell
.
February, 25, 2011
2/25/11
9:26
AM CT
Duncanville product
Perry Jones
of Baylor is one of five players selected as a finalist for the 2011 Wayman Tisdale Award, given to the national freshman of the year, the U.S. Basketball Writers Associated announced Friday.
Texas'
Tristan Thompson
, Ohio State's
Jared Sullinger
and Kentucky teammates
Terrence Jones
and
Brandon Knight
are the other finalists. The winner will be announced April 1 in conjunction with the Final Four in Houston.
Jones leads all Big 12 freshmen in scoring (14.1), field goal percentage (56.3) and minutes played (33.05).
February, 8, 2010
2/08/10
3:05
PM CT
By
Randy Jennings
| ESPNDallas.com
Lancaster is becoming a popular recruiting site for college football programs looking for help in the defensive secondary.

Four Lancaster senior defensive backs signed Division I letters of intent on signing day and three of those were with Big 12 schools:

* Free safety Quentin Hayes, Oklahoma.
* Cornerback Tyler Stephenson, Baylor
* Cornerback Matthew Thomas, Iowa State

A fourth defensive back, Kendall Hayes, chose Louisiana Tech.

This comes on the heels of the 2009 Lancaster class which included defensive back Demontre Hurst (Oklahoma).

Lancaster enjoyed a big signing day Wednesday with nine football and two track and field scholarships finalized.

Lancaster's other football signings:

Kenneth Penny, Athlete, Nevada-Las Vegas
Darius Lively, DE, Louisiana-Monroe
Deon Criss, CB, East Central Oklahoma
Ronald Huckaby, DT, West Texas A&M
Dijon Goodson, LB, Langston

Track and Field
Alexius Hightower, jumper/sprinter, Ole Miss
Dravius Jones, jumper.hurdler, Louisiana Tech
February, 3, 2010
2/03/10
11:57
AM CT
ALLEN, Texas --
Matt Brown
called every college he knew in search of a backup plan after Arizona's offensive coordinator left.
What the Allen quarterback found was a new front-runner.
Brown switched his commitment from Arizona to TCU in late January after the Horned Frogs showed him what they had to offer, and he signed with the school on Wednesday at a signing party at the Allen Activity Complex.
"It turned out my backup plan was a little better fit for me," Brown said. "It's like a big, huge family there. They are a team. They think being together will help them win games. They recruit players that want to play."
Brown committed to Arizona in part because of the school's prestigious meteorology school, but when offensive coordinator Sonny Dykes took the head coaching job at Louisiana Tech, Brown waited by the phone for reassurance from the Wildcats.
The call never came, and Brown hit the phone himself to find what options were still available. After calls to everyone from Notre Dame to Oregon, Brown found most schools had filled their need at quarterback, except TCU, which Brown thinks can expand on its breakout 2009 season.
And he can still pursue meteorology at TCU. The National Weather Service is right down the street.
"I want to win a national championship," Brown said. "I feel like TCU has a chance to do that. It's only a matter of time before TCU gets a BCS [title] berth. I really like the offense a lot."
Brown capped a highly decorated career at Allen with a strong senior season, throwing for 2,412 yards and 24 touchdowns while rushing for 1,166 yards and 17 touchdowns.
He lead the Eagles to 10 straight wins in 2009 before a double-overtime loss to Southlake Carroll in the second round of the playoffs in an instant classic at Cowboys Stadium. Allen won a state title in 2008, but Brown was injured in the playoffs and didn't play in the title game.
Two of Brown's offensive lineman also signed on Wednesday. Tackles
Luke Burleson
and
Cedric Ogbuehi
signed with Baylor and Texas A&M, respectively.
January, 25, 2010
1/25/10
3:16
PM CT
Sulphur Springs defensive end Kedrick Dial (6-2, 215), a three-star recruit, announced Saturday that he had de-committed from Texas and given a verbal to Baylor. It was the
first step in a good weekend for the Bears
, who also received a commitment from 6-foot-3 quarterback Tyrell Jenkins of Henderson.
November, 11, 2009
11/11/09
5:44
PM CT
By
Randy Jennings / Special contributor
| ESPNDallas.com
Irving MacArthur point guard Odyssey Sims, ranked No. 3 in the ESPNU 100 and one of the state's most hotly-pursued high school basketball players, signed a letter of intent with Baylor on Wednesday.
The 5-foot-8 Sims averaged 16.9 points, 9.9 rebounds and 7.8 assists for MacArthur last season en route to the Class 5A Region I semifinals.
The Baylor men's basketball team signed Duncanville's Perry Jones (No. 3 ESPNU 100) and Plano West's Bakari Turner earlier in the day.
November, 11, 2009
11/11/09
12:11
PM CT
Perry Jones
, the No. 3 player in the ESPNU 100 who has been committed to playing for Baylor since 2007, made it official when he signed a letter of intent with the Bears on Wednesday, the first day of the basketball early signing period.
"Signing a player like Perry is a monumental moment for this program," Baylor coach Scott Drew said. "Perry will not only be a great addition to our team, but will also open numerous doors for our program in years to come."
Jones, who is 6-foot-10, 220 pounds and the second-ranked power forward in the country, features a unique blend of skill and athleticism. He rebounds, runs the floor, and blocks shots with the best of them, according to ESPN Scouts Inc.
Baylor also signed SG Bakari Turner of Plano West.
"Jones is the most talented player in the class, with true NBA potential," said ESPN Scouts Inc.'s national recruiting director Paul Biancardi. "He needs to be more productive on a nightly basis. Although he's 6-10, we see him as a future 3."
As a junior last season at Duncanville High School, Jones averaged 12 points and 8 rebounds. Jones was named UIL District 7-5A Co-Defensive Player of the Year in 2008-09 and Duncanville was ranked among the top 10 teams in the nation last season. He is the highest-ranked recruit in program history and Drew's fourth consensus top-50 recruit in seven seasons at Baylor.
For more news on the early signing period, go here.
Drew chatted today -- along with Big 12 coaches Mike Anderson (Missouri) and Travis Ford (Oklahoma State) -- with SportsNation. Go here to see what they had to say.
November, 2, 2009
11/02/09
9:30
AM CT
By
Jeff Andrews/Special contributor
| ESPNDallas.com
One of the reasons Allen again is a favorite to go deep into the playoffs is its offense line.

Four of its five starters from the 2008 state championship team returned this year, and all five starters are getting looks from Division I colleges. The line has a formidable combination of talent, experience, size and chemistry.

RT Cedric Ogbuehi (6-5, 270 pounds) has orally committed to Texas A&M. LG Luke Burleson (6-6, 275) is committed to Baylor. LT Taylor Pearson (6-5, 287) holds offers from North Texas, Princeton and Yale. And RG Brad McNulty (6-3, 309), a junior, is already getting looks from Division I schools.
The most recent example of the line's work came in Allen's 51-28 win over Plano East on Friday. Against a talented Panthers defense, the Eagles (8-1 overall, 5-0 in District 8-4A) gained more than 500 yards of total offense, including 269 on the ground.

QB Matt Brown was rarely pressured by East (5-3, 4-1) and had no trouble finding holes to run in. He ran for 157 yards and threw for 266 and four touchdowns en route to a win that clinched at least a share of the 8-5A title, Allen's fourth district title in a row.

"Their size and talent is something that we're appreciative of because we don't always get them that are 6-4 and 6-5," Allen coach Tom Westerberg said. "We've just had a lucky run of tall linemen. Their work ethic and the chemistry between all of them are awesome. You can't find one without the other ones."

While Allen has wrapped up a No. 1 seed in the playoffs, it's still unknown whether the Eagles will be Division I or Division II. That depends on the outcome of Plano's game at Jesuit at 7:30 p.m. Friday. The winner clinches a playoff berth.

Should Jesuit win, Allen will be in Division I. If Plano wins, Allen will be in Division II. Allen won the state title in Division I last year. Should they go Division II, the Eagles could face an early test against Southlake Carroll in second round.

Allen's game at Wylie at 7:30 p.m. on Friday has no implications on its playoff positioning, but an Allen win would clinch the outright district title.
October, 29, 2009
10/29/09
9:02
AM CT
By
Jeff Andrews / Special contributor
| ESPNDallas.com
The path to a district title doesn't get any easier for Plano East's defense.

A week after shutting down Plano West's dynamic passing game, East (5-2 overall, 4-0 in District 8-5A) must do the same to defending 5A champion Allen (7-1, 4-0) on the road at 7:30 p.m. Friday. The game will decide the 8-5A champion.

While East's secondary came through against West by blanketing receivers, the onus is on the front seven against Allen. The defensive line will have its hands trying to contain QB Matt Brown, who has orally committed to Arizona.

The Eagles' offense is similar to East's. Brown is Allen's leading rusher with 699 yards and 14 touchdowns, much like QB Ryan Foster is East's leading rusher with 704 yards and seven touchdowns.

Luke Burleson (Baylor commit) and Cedric Ogbuehi (Texas A&M commit) lead Allen's offensive line, which features four returning starters that have no trouble opening holes.

"They're pretty much a complete football team offensively," East head coach Johnny Ringo said. "You definitely have to focus on ways to stop Brown but they also have other challenging people as well."

East's 34-25 win over West clinched the team's first playoff berth since 2006. Trailing 19-14, the game turned in East's favor early in the third quarter when WR Gabe Carter scored on a flea-flicker. The Panthers recovered the ensuing onside kick and scored on its next two possessions to seal the win.

"Momentum was on our side," Ringo said. "That's why we went to the onside kick. We were able to maintain momentum."

East's defense did the rest. West QB Michael Pruneau was held to a season-low 207 passing yards as the Wolves receivers had trouble getting open against the Panthers secondary.