High School:

Brady Burgin
February, 1, 2012
2/01/12
8:15
PM CT
DALLAS – Nick Rose knew so little about the sport of football just over two years ago, he couldn't define a hash mark.
Yet in two years time, the Highland Park senior is in the running to be the next starting kicker at the University of Texas.
[+] Enlarge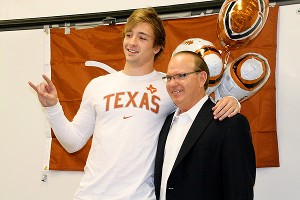 Travis L. Brown/ESPNDallas.comHighland Park kicker Nick Rose committed to Texas on national signing day.
Wednesday, Rose gave his commitment to the Longhorns during the school's national signing day ceremony inside Highlander Stadium.
Rose grew up a soccer player in Copperas Cove. When he moved with his family to Highland Park before his junior year, Rose thought he'd try football, which became a vehicle to college athletics.
"I was just trying to meet people and I figured I could kick a football well, so I walked out on the field and didn't know what to do – didn't even know what a hash mark was or any of that," Rose said. "Time went on and the coaches liked how I could kick. My first kickoff went out of the end zone and I realized I had a knack for kickoffs. I don't know how or why."
Technically, Rose did not sign a letter of intent, as was the procedure of most recruits across the country Wednesday. He made a public commitment to follow a plan Texas laid out for Rose, beginning as a preferred walk-on for the Longhorns.
Rose will have his tuition paid for by the football team throughout a summer semester, which will cover fall two-a-days in Austin, but he will assume walk-on status for his first season, which means his family will cover tuition.
Rose's next step in preseason practices will be to earn a starting job and a scholarship to carry him throughout the remainder of his eligibility.
Competing for the same positions will be Coppell's
Nick Jordan
, who faxed his signature Wednesday to accept a scholarship from the Longhorns.
"Texas has a kicker that they have all the confidence in the world in," Rose said of Jordan. "They came up here to scout another player and ended up noticing my kickoffs and from there everything took off, and I can't be grateful enough how everything happened."
Rose and Jordan have kicked together in offseason kicking contests, and that familiarity and friendship is as important to Rose as the competition he will face for playing time.
Preliminary indications from the Texas coaching staff, relayed to Rose, are favoring Rose as a starting kickoff specialist and punter and Jordan as the starting place kicker.
Rose spent his senior year booting kickoffs consistently out of the back of the end zone for the Scots, impressing Highland Park coach Randy Allen from the moment he set foot on the school's campus and eventually sparking the same interest of Texas co-offensive coordinator Major Applewhite.
"Nick Rose has lots of potential," Allen said. "He's the best kickoff guy I've ever coached. I know he's going to compete for that starting position at Texas."
Rose was key in securing Highland Park's District 10-4A title this season, drilling a game-winning extra point in overtime to give the Scots a 31-30 victory over Rockwall-Heath, clinching the district No. 1 seed.
"I was just thinking keep my head down and follow through," Rose said after the game. "Stick with my basics and hopefully it would go in. My heart was going crazy before I kicked it and then it was all relief that I could pull my team through."
Trying to earn a starting job and a scholarship puts extraordinary pressure on a freshman kicker, but high-pressure situations are nothing new to Rose.
"I'll be good for Nick to have competition, but I can't imagine anyone kicking it further than he does on kickoffs," Allen said.
Other Highland Park notes:
* Long-time Duke commit
Tanner Stone
signed with the Blue Devils. He said a summer trip to take part in a football camp sold him on Duke.
* Backup quarterback Tyler Rentfro signed with McMurry University. Rentfro attempted only one pass for the Scots in his senior season for 4 yards.
* All three parts of Highland Park's top offensive trio from 2012 held out on national signing day. Quarterback
Brady Burgin
hopes to snag a late offer from a school that possibly lost a quarterback recruit on signing day, Allen said. Receiver
Dalton Stogner
, who is still recovering from a season-ending knee injury, recently returned from a "good" trip to the University of North Carolina, Allen said. Stogner and running back Preston Miller both visited SMU as well and liked their experience with the Mustangs' coaching staff, Allen said.
August, 17, 2011
8/17/11
12:01
AM CT
ESPNDallas.com gets ready for the start of the high school football season by unveiling its preseason rankings, one spot at a time:
4A NO. 3: HIGHLAND PARK SCOTS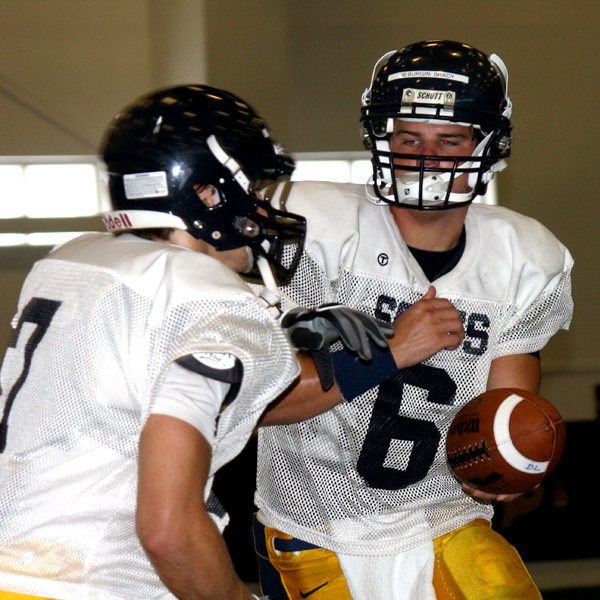 Travis L. Brown/ESPNDallas.comQuarterback Brady Burgin (left) and running back Preston Miller provide a solid foundation for Highland Park's offense.
2010 Record:
12-1
Predicted 2011 regular-season record:
10-0
ESPN Dallas spring ranking:
No. 3
Division I commits:
OT
Tanner Stone
(Duke)
Why they're here:
Highland Park returns a triple-threat attack on offense in WR
Dalton Stogner
, RB Preston Miller and QB
Brady Burgin
after a playoff run that was cut short by Mesquite Poteet in 2010.
The chemistry between the three is easily recognized, and Burgin can make an arsenal of throws that key off the skill sets of the other two.
Former HP quarterback Jake Howeth said Burgin had worked hard last season and this offseason to step into a leadership role and build a connection with all of his receivers.
Part of that included being active in a summer conditioning program that had this year's squad in amazing shape before fall practice even started, coach Randy Allen said.
Holes to fill:
Allen was quick to say his defense had the most questions going into the season, but that unit had the upper hand in the team's first scrimmage.
Even if the defense needs a few games to develop -- which isn't likely -- the offense should put enough points on the board to make up for it.
Key game:
at Wylie, Oct. 7
July, 31, 2011
7/31/11
10:39
PM CT
This week, ESPNDallas.com spotlights five of the top quarterbacks returning to Friday night football in 2011.

BRADY BURGIN
School, class: Highland Park, Sr.
2010 Stats: 126-for-176, 1,945 yards, 15 TDs, 6 INTS

Burgin had the opportunity to get significant playing time at quarterback at Dallas Highland Park as a junior in 2010, splitting time with senior Jake Howeth. For the majority of the season Burgin, a strict pocket passer, would take control of the Scots offense in the second and fourth quarters, only relinquishing his position to Howeth, who was a running threat, during those quarters in short-yardage or high-pressure situations.

Highland Park head coach Randy Allen changed his season-long quarterback strategy when his team fell behind to Mesquite Poteet in the regional round of the 4A Division II playoffs at Cowboys Stadium, leaving Burgin in at quarterback for the entire second half. While Highland Park would go on to lose, that experience gave Burgin a taste of the high-pressure atmosphere he will be more likely to face as the full-time starter this year.

Burgin's biggest asset going into his senior season is the experience he gained splitting time with now-graduated Howeth. That includes developing a connection with his receiving corps, Howeth said, which returns two top pass-catchers from 2010 in Dalton Stogner and William Morris.

"Brady is a great thrower and a really good leader," Howeth said. "The thing I like about him, he's a good leader. He gets the guys together and throws all the time with them. He has a great sense of camaraderie with is receivers."

Beyond the intangibles, Burgin flat out has skill. His ability to sit back in the pocket and manage the traditional Highland Park offense fits right in to Allen's plan for the Scots in 2011.

"He is a good drop-back passer and he runs play action spread-outs very well," Allen said. "He can run the ball, but passing is his strength."

The only question that remains for Burgin in 2011 is how he will preform in pressure situations. While he will no longer have Howeth to help pick up that key first down or short-yardage touchdown, Burgin is not alone. Allen said he worked senior running back Preston Miller at quarterback in a wildcat formation through spring ball, which will give the Scots a Howeth-like threat in short-yardage situations.

Burgin and Highland Park will be thrown into the fire in the first game of the season when they face a very athletic Everman defense at SMU. The Scots' other big test is the first game in October against Wylie's aggressive defense.

As usual, Highland Park will be a very complete team with the ability to maintain a balanced attack that will keep any defense off guard, relieving some of the pressure from Burgin to carry the offense in his first year as a full-time starter.