High School:

Carrollton R.L. Turner
October, 4, 2011
10/04/11
7:54
PM CT
The Carrollton schools are having a tough time competing against their Frisco ISD counterparts in District 9-4A this season.

Newman Smith (0-5, 0-2), Creekview (0-5, 0-2) and R.L. Turner (1-4, 0-2) have yet to win a game against a Frisco team this season, leaving the five Frisco teams in the top five spots in the standings.

A similar situation developed last year, but Newman Smith rebounded from a slow start to make the playoffs, preventing a sweep of the four 9-4A playoff spots for Frisco ISD.

It may be tougher for Trojans to rebound this year. Aside from their own issues, they face a tougher group of Frisco teams.

While Frisco Liberty (5-0, 2-0) and Frisco Wakeland (3-2, 1-1) may have taken a step back, Frisco (4-1, 2-0), Frisco Centennial (5-0, 2-0) and
Frisco Heritage (2-3, 1-1) have gotten better.

Newman Smith hasn't played the latter three, but it already lost to Liberty (18-17) and Wakeland (38-24) despite getting quarterback Shawn Holmes back from injury.

This weekend's games will be telling for the district. Newman Smith takes on resurgent Frisco, and Centennial hosts Liberty in a game that will go a long way toward crowning a 9-4A champion.

And if there's any consolation for Carrollton ISD fans, they're guaranteed at least one win this week with R.L. Turner hosting Creekview.
August, 22, 2011
8/22/11
12:01
AM CT
DISTRICT 9-4A
Carrollton Creekview (2-8, 2-5). Coach: Jay Cline.

Carrollton Newman Smith (7-6, 4-3) lost in DI regional semifinals. Coach: Paul Ressa.

Carrollton R.L. Turner (1-9, 1-6). Coach: Tyrone Larkins.

Frisco (4-6, 3-4). Coach: Vance Gibson.

Frisco Centennial (6-5, 5-2) lost in DII bi-district. Coach: Mark Howard

Frisco Heritage (0-10, 0-7). Coach: Che Hendrix.

Frisco Liberty (12-1, 7-0) lost in DII regional semifinals. Coach: Galen Zimmerman.

Frisco Wakeland (8-3, 6-1) lost in DI bi-district. Coach: Marty Secord.
THE BIG QUESTION: How will Frisco ISD's expansion affect its football programs?
Nothing wreaks havoc on a high school football program like a school district opening a new school. It can destroy a championship team just as easily and quickly as it can produce it.
[+] Enlarge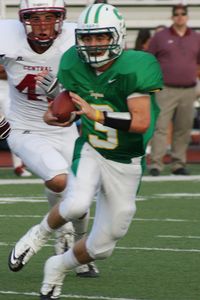 Travis L. Brown for ESPN.comTripp Abbott has helped Carrollton Newman Smith undergo a football renaissance the last two seasons.
Given Frisco ISD's aggressive expansion in recent years, it's hard to project how things will shake out in 9-4A, an eight-school district with five Frisco teams.
Coming off two stellar seasons, Frisco Liberty would be the obvious favorite in 9-4A, but its current senior class was split in half by the opening of Frisco Heritage. Liberty has just one offensive starter returning.
While having a class split has an affect that's easy to predict, but other changes that come with opening schools are more subtle. Zoning lines are redrawn. Players get rerouted to other programs. Growing areas of town may or may not produce football talent.
Who's in line to benefit from Frisco's expansion? Are Frisco Wakeland and Frisco Centennial capable of taking the next step and supplanting Liberty as Frisco's top program? Is Heritage a young program waiting to explode?
One team that's bound to benefit is Carrollton Newman Smith, which can maintain its stability while the Frisco programs deal with change.

PLAYERS TO WATCH
QB Miquan Robinson, LB Chris Weatherd, WR Stephen Buckner, Carrollton Creekview; DB
Shawn Holmes
, DE Karl Thomas, WR Tripp Abbott, Carrollton Newman Smith; QB Garon Goodspeed, RB J.P. Patterson, LB Fernando Barrera, Carrollton R.L. Turner; QB Eric Allen, RB Carlos Harris, WR Jordan Anderson, Frisco; LB Nick Bush, DB Austin Schotts, QB Lamar Jordan, Frisco Centennial; DE
Elie Nabushosi
, RB Brandon Guilford, QB Cole-Bailey Cantwell, Frisco Heritage; QB Zach Smith, DB
Izaiah Robinson
, RB Alonte Ryan, Frisco Liberty; QB Nick West, WR Brad Sicula, RB Devaughn Childress, Frisco Wakeland.

DID YOU KNOW?
Frisco Heritage hopes to tally its first win in school history after going 0-10 in its inaugural season. Heritage already has a new head coach in Che Hendrix, but he has all 22 starters back to work with. ... Newman Smith reached the third round of the playoffs for the second straight year, no small feat for a program that hadn't made the playoffs since 1983 prior to the two-year run. ... Carrollton R.L. Turner has won two games in the last four seasons.
PROJECTED PLAYOFF TEAMS
Carrollton Newman Smith

Frisco Wakeland

Frisco Centennial

Frisco Liberty
March, 31, 2011
3/31/11
11:07
PM CT
CARROLLTON, Texas -- Carrollton R. L. Turner advanced past the sectional round of the Class 4A boys state playoffs for the first time after knocking off defending state champion and ESPN Rise FAB No. 5 Frisco Wakeland on Thursday, 2-1.
Wakeland was hindered by injuries, including a leg injury to star forward Len Smith. Coach Rusty Oglesby said Smith was not near full speed for the entire game because the injury should have kept him out of the game. His team's slowed pace, combined with near-perfect play from a speedy Turner defense, held the defending state champs to a limited amount of scoring chances, which came late in the game.
Turner capitalized on Wakeland's inability to create an offensive run by keeping Wakeland's opportunities off the restart to a minimum.
"On set pieces they're deadly," Turner coach Marshall Huston said. "We were trying to not give them any set pieces. We talked about that before the game -- don't foul them, just stay on your feet, stay goal-side and don't let them have shots and we can beat them."
[+] Enlarge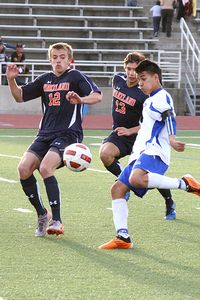 Travis L. Brown/ESPNDallas.comR.L. Turner's Isai Mireles opened the scoring three minutes into the game.
Turner played brilliantly in the first half, scoring what would be the game winner on a highlight reel bicycle kick goal by Luiz Martinez. A throw-in by Turner's Jacob Vancompernolle made it all the way to the Wakeland keeper, who could not handle the touch and left the ball floating in the air just beside Martinez. The Lions junior midfielder flipped his body in the air and struck the ball into an empty right side of the goal, electrifying his team and the packed lower level of stands at Carrollton's Standbridge Stadium.
"I didn't think about it. I was just in the moment and I scored it," Martinez said.
Turner opened the scoring just three minutes into the game when forward Isai Mireles controlled a bouncing ball through two Wakeland defenders and ripped a shot that found the back right corner of goal from around 15 yards out.
Wakeland's only goal deflected off a Turner defender and found the top of the net off a Wolverines free kick from 30 yards out by Mitchell Francois.
Both teams used halftime to find some pace to a high-energy, frantic first half resulting in a scoreless second half. Wakeland was able to put together a few runs late, but Turner's defense had bodies flying and sliding in front of every Wakeland shot.
"The second half, Rusty made some good adjustments and put pressure on us," Huston said. "First half I thought we were dominant. The second half we couldn't do it any more because I think they started pressing us more, but we were able to keep them out of the net so it worked."
Both teams have seen each other many times in past years, being former district rivals. Oglesby said he saw dramatic improvement in Turner's defensive play this season and this game.
"Defensively, without a doubt, that team's improved over the last three years. That center back and that goalkeeper just did a fantastic job all night keeping us at bay and we just threw all we had at them."
While rivalry was a major factor in the tenacity and physicality of the players on the field, both teams finished the evening gracious to each other for the effort each demonstrated.
"They are a class act," Huston said. "They lose with class and win with class.
"If I'm going to have to lose a game and not make it back to Austin then, by God, I want it to be to that team," Oglesby said. "They've earned the right to be there."
Turner advances to the regional quarterfinal of the 4A playoffs to face the winner of Dallas Bryan Adams and Rockwall-Heath.
January, 19, 2011
1/19/11
3:56
PM CT
Frisco ISD could send four schools to the playoffs in District 9-4A.

Currently, Wakeland (16-4, 6-0), Centennial (16-8, 4-2), Frisco (15-8, 4-2) and Liberty (11-10, 3-2) occupy the top four spots in 9-4A. The only Frisco school behind any of the three Carrollton schools -- Creekview (10-14, 3-3), Newman Smith (10-13, 2-3) and R.L. Turner (3-14, 1-5) -- is Heritage (3-15, 0-6), which is playing its first varsity season and has yet to win a district game.

Frisco's dominance of the district has a lot to do with Carrollton losing the head-to-head matchups. Not counting games against Heritage, Creekview is 0-3 against Frisco schools, Newman Smith is 1-2 and Turner is 0-3.

The Carrollton schools have a chance to make up some ground on Friday though when Wakeland hosts Newman Smith, Turner hosts Frisco and Creekview hosts Centennial. Heritage has a bye.