March, 12, 2011
3/12/11
11:05
AM CT
AUSTIN, Texas -- One team runs the floor and presses defensively. The other picks its spots in a half-court offense while it slows the game down on defense.
Garland Lakeview Centennial and Flower Mound Marcus couldn't be much different from each other except in one key aspect -- excellence.
Both teams are making their second consecutive trips to the state tournament, but only one will walk away the champion after the meet in the Class 5A state finals at 8:30 p.m. on Saturday at UT's Frank Erwin Center.
"They play a half-court game. We play an up-tempo full press, so it will be a contrast of styles," Lakeview Centennial head coach Tony Mauldin said.
Marcus (38-1) and Lakeview Centennial (37-1) entered the season as favorites to return to the state tournament because they both returned the core group of players from a year ago.
They didn't disappoint. The Marauders and Patriots each lost just one game during the regular season, Marcus to Converse Judson and Lakeview Arlington Grace Prep.
The two were equally dominant in the playoffs, culminating in
Marcus' smothering of Fort Bend Hightower
and
Lakeview Centennial's offensive explosion against San Antonio Taft
in the state semifinals on Friday.
Division I prospects populate both teams. Marcus junior
Marcus Smart
is a do-everything guard/forward who fuels his team both offensively and defensively with his unwavering hustle and impeccable instincts for the game.
Point guard
Chris Jones
and forward
Toddrick Gotcher
, committed to North Texas and Texas Tech, respectively, give Lakeview Centennial elite scorers on the perimeter and in the paint.
Dallas Kimball seeks Class 4A championship
Dallas Kimball (37-3) hopes to atone for losing in the 2009 state final to Houston Yates when it faces La Marque (33-4) in the Class 4A final at 3:30 p.m. Saturday.
La Marque which boasts one of the top recruits in the state in Texas signee
Julien Lewis
.
Kimball is led
by
Jordan Williams
,
Jalen Jones
and
Jarion Henry
.
March, 11, 2011
3/11/11
10:45
AM CT
We're down to the final four of the UIL boys state basketball tournament, and ESPN Dallas kicks off the action with Thursday's Class 3A state semifinal pairing between Corpus Christi West Oso and Dallas A. Maceo Smith at 2 p.m. At 7 p.m., Fort Worth Arlington Heights battles La Marque, and Dallas Kimball clashes with Cedar Park at 8:30 p.m.

Jeff Andrews and Travis L. Brown will be on hand answering questions and providing live updates from Austin.

On Friday, we'll provide real-time insight from Flower Mound Marcus-Fort Bend Hightower (3:30 p.m.) and Garland Lakeview Centennial-San Antonio Taft (8:30 p.m.).


March, 10, 2011
3/10/11
11:15
PM CT
AUSTIN -- Dallas Kimball head coach Royce Johnson told his team that it could either play smart or play dumb.

With a big lead late and Cedar Park playing timid defense, the players agreed that the smart thing to do was milk the clock.

It didn't play over well with the Cedar Park faithful, but the stall strategy resulted in a 50-36 win Thursday at UT's Frank Erwin Center and moved Kimball within a win of a state title.

Kimball (37-3) advances to play La Marque in the state title game at 3:30 p.m. on Saturday.

"They need the clock, we don't," Johnson said of his strategy. "We came down here for one reason and that was to find a way to get out of here. Saturday we're not going to be able to sneak out. We snuck out tonight."

Cedar Park (22-17) trailed 42-26 going into the fourth quarter and didn't put much pressure on Kimball's ball-handlers. That was just fine with the Knights, who held the ball for two straight minutes midway through the frame while Cedar Park fans booed.

Stalling didn't give Cedar Park a chance to catch up, but nothing in the first three quarters suggested the Timberwolves had it in them anyway.

With the score tied at 18 midway through the second quarter, Kimball ripped off a 10-0 run en route to a 29-22 halftime lead.

"They tried to go with their flow and they got some looks on us, but those looks change when you get a little tired," Johnson said. "We don't play a lot of people but the guys we got out there have good conditioning in their legs."

Cedar Park scored just four points in the third quarter, allowing Kimball to extend its lead to 16 after three quarters.

Spencer Drango almost single-handedly kept Cedar Park in the game with his tough play in the paint. He finished with 15 points and seven rebounds, most of which came in the first half.

"Man that guy was strong," said Kimball forward Jarion Henry, who guarded Drango. "He did a good job and came out good and hard. I had to play lower on him, I couldn't play up on him. He had me on the upper body, so I had to play low. He did a good job. I wish the best of luck to him in college."

Jalen Jones was the offensive spark for Kimball, finishing with 19 points while Austin Franklin added 14. Jordan Williams, one of the leading scorers in the Dallas-Fort Worth area, finished with just two points but had 11 rebounds.

March, 9, 2011
3/09/11
1:12
PM CT
One transfer student can turn a basketball team from good to great.
In the case of Dallas Kimball, it took two.
Forward
Jordan Williams
and guard
Jalen Jones
transferred to Kimball from The Colony and Mansfield Timberview, respectively, giving the Knights two more Division I prospects to go with the one they already had --
Jarion Henry
(undeclared).
The trio quickly meshed and turned Kimball into a state tournament team for the second time in three years.
Kimball (36-2) opens play in the Class 4A state tournament at 8:30 p.m. Thursday at UT's Frank Erwin Center against Cedar Park.
"You've got to go down there to win it," Kimball head coach Royce Johnson said. "You've got to go down there to enjoy it. You can't go to Austin and disrespect the trip. You can't be satisfied with the trip. We're going to win it."
Henry and guard
Austin Franklin
had a pre-existing chemistry with Jones from playing on the same AAU team, Dallas Showtyme. Jones, an SMU signee, didn't make his Kimball debut until the DISD/Coca Cola tournament, but his impact was felt immediately.
The Knights won the tournament by beating Dallas Lincoln in the finals, a team they had lost to earlier in the season and
beat again in the Region I finals to reach the state tournament.
Williams stepped into a situation in which he was unfamiliar with the players around him, but that's hardly anything new for the North Texas signee. He's played for a different team each of the last three years of his high school career -- Dallas Lincoln (2008-09), The Colony (2009-10) and Kimball (2010-11).
While with The Colony, Williams guided the Cougars to the state semifinals, but the school had to forfeit its season after Williams was declared ineligible. The school discovered that the rent for Williams' extended-stay motel was subsidized by someone outside of his immediate family.
The controversy didn't affect him after transferring to Kimball. He's averaging 29 points per game and 9.5 rebounds in leading a team to the state tournament for the second year in a row despite coming off the bench through much of the playoffs.
"Jordan is starting to understand that being one of the leading scorers in the area, people are going to play you a different way in the playoffs," Johnson said.
The depth Williams and Jones give Kimball is a big reason why the Knights are a favorite to win the state title.
"We want to be the last team standing this year," Johnson said.
December, 16, 2010
12/16/10
7:01
PM CT
Arguably the two best Class 4A dynasties of the last decade meet in the Division I state title game at noon Saturday at Cowboys Stadium.
[+] Enlarge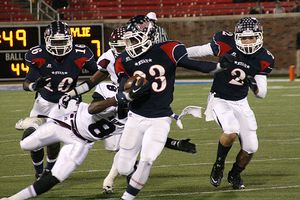 Travis L. Brown/ESPNDallas.comJerrick Harvey and Denton Ryan will look to cap a perfect season against fellow state powerhouse Lake Travis.
Denton Ryan (15-0), which appeared in four straight state-title games from 2000 to 2003, meets an Austin Lake Travis team (13-2) that's gunning for its fourth straight state title.
"There's a reason they're the three-time defending state champions -- they are very well coached, they are very talented and they play very hard," Ryan head coach Joey Florence said. "It's going to be a battle."
Both teams enter the matchup on hot streaks. After a three-year down period following its dynasty days, Ryan is back among the top 4A programs in the state, riding a stellar defense to an undefeated record in a season in which only two teams have challenged the Raiders this year.
Ryan survived a late Wylie rally last week to clinch a berth in the state title game, winning 25-20. Waco Midway pushed Ryan in the third round of the playoffs, but the Raiders defense scored nine points in a 19-10 win.
Lake Travis overcame some rare adversity to make it back to the title game. It had a 48-game winning streak snapped by Aledo in nondistrict play in a game in which quarterback Michael Brewer didn't play. The Cavaliers suffered another loss in their regular-season finale, losing to Cedar Park, 35-21.
But Lake Travis was its old self in the playoffs, racing past contenders Kerrville Tivy (48-42) and Friendswood (24-3) in addition to avenging its loss to Cedar Park (21-20).
The matchup pits Ryan's defense, one of the best in the state, against a Lake Travis offense that's guided it to unprecedented success.
"We haven't really faced anybody throwing it quite like they're throwing, and certainly nobody as good as they're throwing it," Florence said. "It ought to be an interesting matchup for our defense."
Ryan's defensive front six boasts a bevy of Division I talent, including defensive ends Mario Edwards and Ty Hook (Louisiana Tech) and linebackers Jordan Richmond and Alex De La Torre. Edwards, Richmond and De La Torre are juniors.
After winning two state titles with current Texas quarterback Garrett Gilbert, Lake Travis is hoping that Brewer, a Texas Tech commit, can match his predecessor by winning his second.
Despite an injury-plagued season, Brewer has thrown for 2,654 yards and 26 touchdowns. Receiver Griffin Gilbert, Garrett's younger brother, leads the team with 70 receptions, 1,110 yards and 11 touchdowns.