High School:

Charles Hill
February, 21, 2012
2/21/12
10:14
PM CT
By
David Stein
| ESPNDallas.com
HALTOM CITY, Texas -- Chasten King scored all of his 16 points in the fourth quarter to spark Trimble Tech's 61-39 win over Aledo on Tuesday night in the Class 4A Region I bi-district playoffs.
King said he just followed head coach Wendell Ivory's halftime advice to keep shooting.
"We were off the first half, and he said to just keep shooting," King said. "We never quit. We kept shooting."
Bulldogs' head coach Wendell Ivory said King's shot selection was the key in the fourth quarter.
"Don't get me wrong, that's a tribute to Aledo's defense," Ivory said. "As their legs got a little bit weary, they couldn't close out on him like they did in the first half. He was able to get some good looks at the basket."
The two teams traded baskets throughout the first half before Trimble Tech's Julius Harris hit a pair of free throws to go up 23-21 at the break.
Aledo's zone defense shut down Tech's shooters in the third, but Trimble Tech's Damarian Gipson hit a 3-pointer with two seconds left to light a spark in the Bulldogs.
Bulldogs forward Jal Deng added a dunk under the basket to start a 13-3 run in the fourth to go up 48-30. The Bearcats never recovered.
Charles Hill finished with 14 points for the Bulldogs, including two high-flying dunks in the third quarter. Gipson chipped in 12 points.
Aledo's Matt Bishop led the Bearcats with 14 points.
Trimble Tech takes on the winner of Mansfield Summit and Kileen in the area playoffs.
February, 14, 2012
2/14/12
10:04
PM CT
By
David Stein
| ESPNDallas.com
FORT WORTH -- Trimble Tech capped off a perfect season in District 6-4A with a 71-68 win over Arlington Heights on Tuesday.

It was ESPNDallas.com No. 1 Trimble Tech's third win over Arlington Heights this season, all by three points or fewer.

It might not be their last either. Trimble Tech coach Wendell Ivory said this game could be a good preview for the upcoming playoffs.

"Anytime these two teams hook up and lock horns, it's going to be intense, and it's a good playoff preview," Ivory said. "More than likely, with the way things are looking, we'll see this team again."

With most of the attention on TCU commit Charles Hill, senior Julius Harris responded with 18 points for the Bulldogs (22-5, 17-0)

Harris said he felt like he was going to have a big game.

"I told my team I wasn't going to let them down," Harris said. "Everybody knows I'm here for them to win state."

Ivory said depth has been his team's strength all season.

"It's not going to be the same person every night," Ivory said. "We just have to go with the flow. When you get your opportunities, you make the most of it."

Arlington Heights dominated in the post. A'shawn Robinson finished with 18 points, and fellow big man Damontre McFarland added 15.

Arlington Heights led by as much as 10 in the second quarter, but Trimble Tech answered Arlington Heights' post play with hot shooting to end the half down two at 35-33.

After scoring the first bucket of the game, Trimble Tech finally got the lead back in the third quarter.

After nine lead changes, Damarian Gipson hit a three-pointer to put the Bulldogs up 54-53 in the fourth quarter. The two teams went back and forth, but Arlington Heights never regained the lead.

Bi-district playoffs start Feb. 20.
February, 7, 2012
2/07/12
11:04
PM CT
FORT WORTH, Texas -- Whoever thinks style points are meaningless in high school basketball clearly hasn't seen Fort Worth Trimble Tech hoop.
The No. 1 4A school in ESPNDallas.com's poll has not only gotten the job done so far in District 6-4A at an undefeated 14-0, but it also finishes with flair.
[+] Enlarge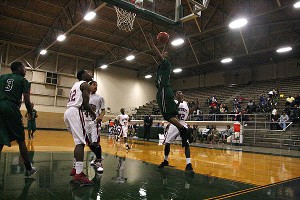 Travis L. Brown/ESPNDallas.comCharles Hill scored a game-high 25 points in Trimble Tech's win over Southwest.
Tuesday, against Fort Worth Southwest's full-court press, Trimble Tech had the opportunity to turn the game into a street-ball, trick contest in a 91-74 win.
"With today's teenager, we give them a carrot, which is allowing them to be a little bit more free on offense as long as they give it to me on defense and rebound and hustle," Trimble Tech coach Wendell Ivory said.
In the show that Trimble Tech likes to put on, the headlining act is senior guard Charles Hill, who threw down several monstrous dunks to add on to the many acrobatic layups he finished.
The TCU signee's energetic play sparked his team's offense twice in the second half, once on a huge dunk in the third quarter that resulted in a small run that built up some separation between the teams and again in the fourth quarter to put the game out of reach with a string of four baskets in a row.
"When you play a team like Southwest, they're going to make runs, but you're going to make runs," Ivory said. "The key is when you make your runs, you have to stay on top of them and limit their runs. But you're going to get a bunch because they gamble on the defensive end."
Southwest's aggressive press created odd-man rushes for Trimble Tech that resulted in several easy baskets and a few alley-oop dunks.
Hill had a game-high 25 points and was joined in the 20-plus point club by teammate Jai Deng, who netted 23.
While normally allowing an opponent to score 74 points in a game would indicate poor defensive play, Ivory said Southwest's style of high-tempo, transition offense forces a coach to accept the fact that points will be put on the board despite a good effort on the defensive end of the court.
Trimble Tech can clinch the district championship with one more win, giving the school a chance to prove itself and the quality of play Fort Worth has to offer in the playoffs. Defending its city includes protecting the tradition that was created many years before by a Fort Worth Dunbar coaching legend.
"Let's just be honest: this is the city that Robert Hughes Sr. built," Ivory said. "As long as that legacy is here, we're going to be OK, basketball wise. There are a lot of good players in the district."