High School:

Chuck Taylor
March, 27, 2012
3/27/12
8:43
AM CT
High school baseball in 2012 has a whole new look and sound.
Gone are the bloated offensive numbers and high-pitched pings that had been the norm since metal bats made their way into the game in the 1970s.
With new "deader" bats now the standard, emphasis has shifted from power to strategy ... from long ball to small ball.
SPORTS SCIENCE

A look at the science behind the BBCOR bats now being used in Texas high school baseball.

Watch

"This is my third year as a head coach here and this is the first year I've called a hit-and-run," South Grand Prairie coach Dennis Pelfrey said. "Typically we run and steal bases and a not worry about sacrifice bunting or hitting-and-running. This year we've called more sacrifice bunts than I ever have and more hit-and-runs that I've never called before."
The bats now outlawed from the high school game fell under a standard known as Ball Exit Speed Ratio. For a bat to be eligible for use, it needed the BESR stamp of approval, stating that the exit speed of the ball off the bat, depending on the speed of the pitch, was not too great for fielders to have a chance to react.
Safety issues still arose under the former standard, resulting in the NCAA and eventually the National Federation of State High School Associations to change to a new standard -- Batted Ball Coefficient of Restitution. As part of the NFHS adopting the BBCOR standard, the UIL and TAPPS followed suit for the 2012 season.
BBCOR, in laymen's terms, measures the trampoline effect of the bat as the ball makes contact. The standard governs the amount of energy lost in contact at a measure of 0.5, which is just slightly greater than that of a wooden bat.
Easton, one of the top metal bat manufacturers, offers this explanation on its
website
:
In the past, when a pitched ball made contact with an alloy or composite bat, the barrel would flex inward ever so slightly and the ball would retain some of its energy resulting in farther hits. Wood bats don't have as much "give" to them and the ball loses much of its energy upon impact. Like BESR, the BBCOR standard ensures that non-wood bats perform more comparably to wood bats in an attempt to level the playing field.
"There's definitely not as many cheap home runs and cheap hits," Rockwall-Heath coach Greg Harvey said . "Those are now caught. It makes you focus on the fundamentals of the game."
The NCAA was first to implement mandatory use of BBCOR bats in 2011 and offers the best statistical case study of the comparability of BBCOR bats to wood bats.
In 2011, the first season of BBCOR bat use, the batting average of all NCAA Division I schools fell from .305 to .282, the lowest it had been since 1976, the third year metal bats were used in the NCAA. Scoring was down from 6.98 runs per game in 2010 to 5.58, which is a low that hadn't been seen since 1975. Home runs per game finished at a 0.52 clip, down from 0.94 from 2010 and also the lowest since 1975.
[+] Enlarge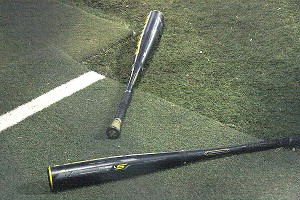 Travis L. Brown/ESPNDallas.comWhe the NCAA started using BBCOR bats in 2011, overall batting averages fell from .305 in 2010 to .282.
Through around 10 games for most Division I teams this year, the nationwide batting average was .267.
Although the sample size is smaller at the high school level, the downward trend in offense has been apparent.
For example, Rockwall-Heath featured two of the area's top hitters in Jovan Hernandez and Jake Thompson, who helped the Hawks blast 48 home runs in 41 games in 2011. With Hernandez and Thompson both back for their senior seasons, the Hawks hit 12 home runs through their first 20 games of 2012.
Coaches say they're willing to scratch out runs one at a time rather than risk stranding runners while attempting to put up a crooked number in a big inning. That means more hit-and-run attempts, a willingness to give up outs to move up runners and utilizing squeeze bunts to push across runs.
"Is it going to be a 2-1 game or a 9-7 game?" Harvey said. "If we're in a game where it doesn't look like we're going to score a lot of runs, we're going to look for a run. Smaller innings are a bigger part of the game now."
On the converse, the skipper in the opposite dugout must have his team defensively prepared to handle strategic hitting.
Highland Park's Fred Oliver crafted a Hall of Fame coaching career by implementing the fundamentals of small ball into his strategy even when BESR bats were allowed. His focus in the dawn of the BBCOR era is preparing his players to defend against the bunt with greater consistency.
[+] Enlarge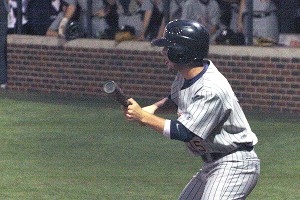 Travis L. Brown/ESPNDallas.comMcKinney North's Zach Williamson lays down a bunt, a play that's more common at Texas high school games this year because of the new bats.
"I've seen a lot more bunting, so you have to be prepared for that with a good bunt defense," Oliver said "They are just lower scoring games, like 4-3, 2-1 and 1-0. We've lost seven games this year by one run, so I think it has affected the game."
Players around the area have noticed the changes and have been forced to make adjustments, big and small, for the new bats. Those adjustments range from completely changing a swing to not relying on the sound of the bat for judging whether good contact was made.
"It's going to bring out the best hitters and helping to show what they're going to do the next years in college," said Mansfield Timberview center fielder Chuck Taylor, a UT-Arlington recruit and major league prospect.
Current San Jacinto Junior College player Justin Byrd spent his high school years in Dallas under the BESR standard, leading the area in hitting in 2010 with just under a .700 batting average at First Baptist Academy. He said he experienced some growing pains with the new bats in college last year.
"The spring rolled around and threw us for a loop," Byrd said "Early in the season you still get the guys, and I did it myself, who tried to drive it out of the park and you come up short with these new bats. You can tell a difference in a good 10 to 15 feet. Balls I crushed that were no-doubters with the old bats were getting caught at the warning track."
While hitters are being thrown for a loop, pitchers have been able to thrive.
Oliver said his pitchers have gained confidence knowing they no longer have to nibble around the corners. They can, instead, go after hitters, aggressively hitting different spots in the strike zone.
"You see guys that get jammed on inside pitches in years past who hit doubles down the line or even balls that leave the yard," Pelfrey agreed. "Now you're seeing actions like a ball would break a bat if they were using wooden bats in the big leagues. It's the same type of actions where the ball doesn't go anywhere."
Pitchers with less-than-breathtaking velocity but above-average accuracy have become more valued.
"The guy throwing the ball in the low to mid 80s with control is a special commodity," Oliver said.
Overall, coaches agreed that the new thud of BBCOR bats takes the game back to the way it was played when they were novices in the study of baseball strategy, which is a refreshing change in a time where young players can be more worried about the chicks who dig the long ball than the basics of the game.
"Our coaches have preached all season how the game has changed more drastically this year than it ever has for high schoolers," McKinney North outfielder Heath Beasley said. "Small ball is back for high school ball."
January, 3, 2012
1/03/12
12:01
AM CT
By
Randy Jennings
| ESPNDallas.com
OFFENSIVE PLAYERS OF THE YEAR
Class 5A: QB Chuck Taylor, Mansfield Timberview
The 5-9, 185-pound senior was the inspirational leader of a 12-3 Timberview team that became the first in Mansfield ISD to reach a state football semifinal.
Taylor, in his third varsity season, threw for 1,998 yards and 16 touchdowns, but it was his ball-carrying skills that set him apart. He rushed for 1,972 yards and 23 touchdowns and scored a team-leading 142 points.
The Wolves finished tied for third in the District 5-5A standings and had to deal with the mid-October loss of offensive coordinator Cody McCarty, who died from sudden heart complications. McCarty, 29, was Taylor's position coach.
Taylor and his teammates kept the memory of their coach as a focal point in the their Class 5A Division II playoff run, taking down Colleyville Heritage, Flower Mound Marcus, Abilene and Abilene Cooper before losing to eventual state champion Spring Dekaney, 56-19, in a state semifinal.
In the 29-25 regional playoff win over Cooper in Abilene, Taylor ran 25 yards for the winning touchdown with 16 seconds remaining.
In November, the versatile Taylor signed a letter of intent to play baseball at UT-Arlington. He is an outfielder.
Class 4A: RB Cameron Washington, Corsicana
The 6-foot, 190-pound senior was a textbook example of an athlete raising his level of play when the postseason arrived.
In playoff wins over Manor, Sulphur Springs, Frisco Centennial and Kilgore, Washington carried 121 times for 1,085 yards and 16 touchdowns.
Corsicana (13-2) was eliminated from the playoffs in a state semifinal by eventual Class 4A Division II state champion Aledo.
Washington was a Tigers' workhorse, carrying 352 times for 3,136 yards and 46 touchdowns. Along the way, Washington broke the school's single-season rushing record. He averaged 8.9 yards per carry and scored 46 touchdowns, finishing the season with 286 points.
Washington crossed the 200-yard rushing barrier in 11 games with a high game of 320 yards in a 47-33 area-round playoff win over Sulphur Springs.
He scored at least one touchdown in all 15 of his team's games and notched five touchdowns in a game twice, in the final regular-season game against Forney and in the bi-district win over Manor.
Washington was named to the Associated Press' Class 4A all-state first team.
December, 9, 2011
12/09/11
1:01
AM CT
Last Saturday, in the second quarter of Mansfield Timberview's Class 5A Division II region final win over Abilene, Wolves quarterback Chuck Taylor continued to make a name for him self.
Taylor faked a handoff on the Timberview 28-yard line, slipped through the masses at the line of scrimmage and with one quick spin away from a charging safety, he was gone for a 72-yard touchdown run.
"He's phenomenal. That … touchdown was just supposed to be a zone read and he breaks it," Timberview coach Mark Walker said after the game. "Was that a touchdown call? No. That's Chuck Taylor."
Taylor also ended Abilene Cooper's season the week before, running in a game-winning 25-yard touchdown with 16 seconds left to play.
While Taylor's forte is making plays with his feet, he isn't shabby throwing the ball either. He's thrown for 1,681 yards and 14 touchdowns in his senior year.
He has all the intangibles and the will to win of a Tim Tebow-type leader.
Yet, no one wants him to play football at the next level.
Taylor has not received a single football scholarship offer despite becoming one of the most dangerous offensive weapons in the state.
If playing to honor offensive coordinator Cody McCarty, who died this season, isn't enough motivation to win a state title, Taylor also carries the chip on his shoulder of being snubbed by college football.
"I want to show them that they missed something," Taylor said.
It's a sentiment his current head coach feels as well.
"He got his feelings hurt because no one is recruiting him," Walker said. "The boy's phenomenal. I don't understand why anyone in the state of Texas wouldn't want him playing for them."
But it's not just Taylor who carries that burden with him every time he hits the field or runs the ball. He has the support of his entire team as it fights through the last game or two of the season.
"Kids believe in him because he's a team player," Walker said. "It isn't about him. He deals the ball and got lit up a few times. He could easily be selfish and keep the ball."
While college football teams were passing on Taylor, University of Texas-Arlington baseball coach Darin Thomas didn't, and he received Taylor's commitment to play outfield for the Mavericks next season.
Thomas was impressed by Taylor in both sports.
"I saw him play football as a sophomore at Cowboys Stadium on Labor Day weekend and asked, 'Who is this sophomore quarterback they've got in the game?' and was told he plays baseball as well," Thomas said.
Thomas visited Taylor at his home after Timberview lost to Mansfield in the regular season and talked with him about his football team. At the time, Thomas said, he was a little down because they had lost a few games and he was frustrated by the fact that he wasn't being recruited for football.
Thomas offered a few encouraging words, and Timberview hasn't lost since the visit.
"I said, 'Hey, I've watched a lot of high school football in the last 12 years around here and you guys are about as talented as anyone I've seen. If you start playing good you've got a chance to go all the way,'" Thomas said. "Did I mean that? I don't know, but they haven't lost a game since."
So, Taylor will take his talents to Arlington next season to bring an athletic spark to the Mavericks' base-running game in a new era of aluminum bats with much less pop. Once he's spent a few years training specifically in one sport, Thomas says he could very well move on to the next level via the MLB draft.
But until then, Taylor has two more games to prove to the state and every college coach in it that they missed out.
"He's felt like he's got to prove something and I guess we've got to state to get it done," Walker said.