High School:

Copperas Cove
November, 19, 2011
11/19/11
12:48
AM CT
ARLINGTON, Texas – Mesquite Horn learned not to let Copperas Cove stay in a game the hard way last week, losing 48-47 in the 5A Division II bi-district round.
Rowlett refused to give Copperas Cove the same chance Friday by successfully running a reverse on fourth-and-1 near midfield with just over two minutes left in the fourth quarter. That risky call not only picked up the first down, but it moved the ball deep into Copperas Cove territory, leading to a 24-yard field goal and a 48-38 area-round win.
At first, Rowlett tried unsuccessfully to draw Copperas Cove offside on the fourth-and-1. After a timeout, Rowlett sent out the punt team, which would have given Copperas Cove the ball with a seven-point deficit. Instead, Rowlett coach Kiff Hardin used his second timeout to implement the surprise play.
Out of the pistol, quarterback Grant Bothun faked the handoff to halfback Jalen Rhodes and hit Corey Chappell with a pitch has he ran a jet sweep that wouldn't end until he was brought down at the Copperas Cove 10-yard line.
Rhodes was an effective decoy on the play after scoring two touchdowns in the second half on runs of 4 and 7 yards.
Bothun accounted for three of Rowlett's touchdowns through the air. His best came on a 34-yard fade to Rashid Turner, who had beaten his defender badly on the line of scrimmage, leaving him wide open down field.
Rowlett (8-4) and Copperas Cove (10-2) traded blows from the second quarter to the fourth, with the Eagles leading 37-31 after three quarters.
Copperas Cove carried momentum into the fourth after Brandon Hamilton took a Rowlett kickoff 100 yards for a score to bring his team to within six.
Copperas Cove fumbled halfway through the fourth, which lead to the second of Rhodes' touchdown runs, and then threw an interception with 39 seconds left in the game to end any hope of a comeback.
Rowlett advances to face the Spring Westfield-Leander winner in the regional round of the 5A Division II playoffs.
November, 14, 2011
11/14/11
5:26
PM CT
Rowlett has a chance to reach a milestone of sorts with a win over Copperas Cove on Friday.
The Eagles (7-4) have long had trouble getting out of the area round of the playoffs, losing to Mesquite Horn last year and Dallas Skyline in 2007 in their last trips to the second round.
But Copperas Cove (10-1) provides a tough matchup for Rowlett. The Eagles have given up 100 yards rushing to eight different players this season, and the Bulldawgs have three runners capable of eclipsing the century mark in Chans Colbert, Brandon Hamilton and Orlando Thomas.
However, the Eagles may be better equipped to make a run than any year in recent memory. They have a 1,000-yard rusher in Jalen Rhodes, and quarterback Grant Bothun is a three-year starter who doesn't make big mistakes.
Rowlett crushed Dallas Lake Highlands 53-14 in the bi-district round behind those two players. Rhodes rushed for 116 yards and four touchdowns while Bothun threw two touchdown passes. The Eagles didn't turn the ball over in the game.
Copperas Cove is coming off an emotional 48-47 win over Mesquite Horn. The Bulldawgs trailed by 21 points in the third quarter and won after a failed two-point conversion attempt by Horn in the final minute of the game.
Rowlett plays Copperas Cove at 9 p.m. Friday at Cowboys Stadium.
November, 11, 2011
11/11/11
6:59
PM CT
Saturday will mark the third almost-annual bi-district affair – Mesquite Horn vs. Copperas Cove.

Of course, no one plans what has become a football playoff staple as of late, but the cards have fallen just right for Horn and Copperas Cove to face each other in the 5A Division II bi-district round for the third time in four years.

This year is the rubber match.

Copperas Cove won the first bout in 2008 in a hard-fought, close battle. Horn got its revenge last season in blowout fashion, 48-10 in Stephenville.

Two very different teams than those that fought in years past will take the field at Baylor's Floyd Casey Stadium at 1 p.m., but Horn coach Rodney Webb said he doesn't see much difference in the top-caliber talent Copperas Cove turns out year after year.

"They're a good program, which means they are good every year." Webb said. "They are one of those teams that just replace, and the guys that are playing for them this year look physically just like the guys that were playing in 2008."

"You wonder sometimes if they are playing seventh- or eighth-year seniors," Webb joked.

While Copperas Cove's reboot in quality talent might be intimidating on the field, it makes for easier game planning for a team with which Horn is very familiar. Webb said the amount of game tape they have against Copperas Cove rivals that which they have for most of their long-time district rivals.

"You develop a familiarity for a team," Webb said. "It's almost like a regular-season opponent for us. We have so much film on that last year and this year, it's like we've watched them progress through the seasons. There won't be a lot of surprises."

The same doesn't go for Webb's Horn team. He said they have made a point not to look back at past Horn teams to game plan for this year's squad, which, unlike last year's state quarterfinal team, has played lots of close games. Seven out of Horn's ten regular-season games were decided in the last drive of the game.

Separating each season is a lesson Webb said he learned the hard way seven years ago when he was coaching in Royse City.

"The 2004 team went to the state finals and the 2005 team we tried to make a cookie cutter and it was a mistake," Webb said. "We got beat in the first round of the playoffs. Each team is unique and will write its own story and this team will write its own story."

Webb believes this will be another close game that goes down to the wire.

"We do feel good that, if it's a close game, we have enough confidence in ourself to pull it out," Webb said.
November, 7, 2011
11/07/11
10:58
PM CT
CLASS 5A DIVISION II REGION 2 PREVIEW
Overview:
Most of top-tier teams from the area in the 5A Division II bracket come from Region I, so there shouldn't be many surprises out of Region II. Don't expect any Metroplex teams to make it much further than the area round in this region.
Two teams from the AP state top 10 are in this region: No. 6 Longview and No. 9 Lufkin. Copperas Cove also received votes in the last AP poll of the regular season.
Favorite:
Longview. With a final-game win over DeSoto to take the District 11-5A championship, the Lobos set themselves apart as the front-runner in this region. Longview went 9-1 on the season (5-0 in district), with its only loss coming against a 5A Division I favorite, Allen.
Watch out for:
Mesquite Horn. It would be a long shot, but if you are looking for an area team to pull for out of this region, it would have to be the Jaguars (4-6). Horn opens up the playoffs against Copperas Cove, which could be one of the best bi-district matchups in this region. If Horn can withstand this test, it should be fine against the Rowlett-Dallas Lake Highlands winner. Horn went through Copperas Cove and Rowlett last season in route to a quarterfinal loss to Longview. Horn could follow the same path back to the quarterfinals it traveled last year.
Can't wait to see:
Dallas Jesuit vs. Sachse (7:30 p.m. Friday, Mesquite Memorial Stadium). This is the best bi-district matchup with two teams from the area in this region and would rival Horn-Copperas Cove as the region's best game this weekend. Jesuit (8-2) had a quality team throughout the regular season, even after losing its starting quarterback to injury in the third game of the season, and finished second to powerhouse Dallas Skyline in District 9-5A. Sachse (7-3) was a surprise at the beginning of the season, starting 4-0 before taking its first lost to Rowlett. Sachse quarterback Trent White is a beast in the passing game, racking up just under 3,000 yards through the air this season.
We hope to see:
Longview-Lufkin. This would a great game if both reach the regional final, with two high-scoring teams.
Talent pool (FBS recruits):
Longview: WR Eric Hawkins (Arkansas). Spring Dekaney: RB Trey Williams (Texas A&M), TE Armand Nance (Boise State), DB Jarrett Irving (Houston). Copperas Cove: ATH Orlando Thomas (Texas). Mesquite Horn: DB DeVante Harris (Oklahoma). Lufkin: DT Tomme Mark (offers: Michigan State, Tulsa, Utah, Kansas, SMU, Stephen F. Austin). Spring Westfield: DT Anthony Smith (Texas Tech). Leander: CB Martel Summers (offers: Arizona, New Mexico, Northwestern, Texas State, UTEP). Austin: WR Cayleb Jones (Texas).
September, 1, 2011
9/01/11
1:26
AM CT
HURST L.D. BELL (1-0) at No. 4 SOUTHLAKE CARROLL (1-0)
7:30 p.m. Friday at Dragon Stadium

When we saw them last: In Zero Week, L.D. Bell destroyed Mansfield Legacy, 63-9, behind an efficient performance from QB Kyle Romano, who threw for 196 yards and rushed for 75 yards and five touchdowns. Carroll QB Kenny Hill turned in his best performance as a starter, throwing for 402 yards and four touchdowns in leading the Dragons to a 38-31 comeback win over Copperas Cove.

2010 result: Amid its QB controversy, Carroll slipped past L.D. Bell, 20-17, on a field goal as time expired. Hill made his varsity debut off the bench, going 5-for-7 for 52 yards.

What's at stake: Momentum. Carroll got as energizing a win as it could hope for against Copperas Cove with Hill supplying the late heroics.

Key matchup: L.D. Bell's running game vs. Carroll's front seven. Carroll got gashed on the ground by Copperas Cove, giving up two 100-yard rushers. Conversely, L.D. Bell beat Legacy by virtue of its running game, which averaged almost eight yards per carry.

Players to watch: L.D. Bell offensive lineman Kimo Tipoti is a Texas A&M commit. Carroll WR/DB Sabian Holmes became a two-way player last year. He started 2011 with a bang, catching 11 balls for 167 yards and two touchdowns.

Prediction: Southlake Carroll 38, L.D. Bell 24.
November, 23, 2010
11/23/10
5:22
PM CT
With few surprises in the Class 5A Division I bracket, Euless Trinity's road to a consecutive state title has unraveled as expected – difficult.
[+] Enlarge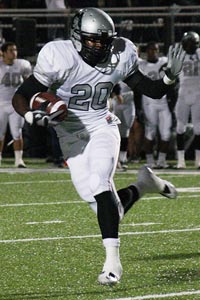 Travis L. Brown/ESPNDallas.comRunning back Treavon Walton will look to help Denton Guyer knock off Abilene Cooper for the third time in as many years.
After thwarting a very good Allen team last week, Trinity (12-0) faces Arlington Martin (10-2), which stumbled in nondistrict only to rebound and win 10 straight games.
Should Trinity win, it will likely play Coppell (12-0) in the Region 1 finals. After that, its projected opponent is Round Rock Stony Point (12-0), which Trinity beat in the state semifinals last year. Trinity's opponent in the state finals would undoubtedly be tough.
If the bracket continues with no upsets, five of Trinity's six playoff opponents would be teams that have been state-ranked at one point this season.
Rematches highlight Division II Region 1
Class 5A Division II Region 1 is giving old foes a chance to get reacquainted with each other.
Denton Guyer (10-2) will play Abilene Cooper (11-1) in the playoffs for the third straight year. Guyer beat Cooper both times in heated contests that came late in the Class 4A playoffs in 2008 and 2009.
Guyer comes into the game after exacting revenge on Cedar Hill, which
beat Guyer in nondistrict play. Cooper comes in somewhat wounded after three starters were dismissed from the team over the weekend.
Southlake Carroll (9-3) hopes to get revenge on the team that helped knock it out of the national spotlight – defending Division II champion Abilene (9-3).
Coming off a stunning 79-1 stretch, Carroll fell to Abilene in the playoffs during Hal Wasson's first season as head coach in 2007. The Dragons haven't sniffed a state title since.
Abilene has been hurt by injuries this year, including a big one to star running back Herschel Sims, who didn't play in Abilene's 45-28 win over El Paso Coronado last week.
DeSoto faces resurgent Austin Bowie
Few saw Austin Bowie reaching the third round of the playoffs.
The Bulldogs (8-4) started the year 2-3 and were manhandled by Class 4A Waco Midway, 42-7, in nondistrict, but Bowie won six of its last seven, including playoff wins over Georgetown (35-17) and a strong Klein Collins team (26-16).
DeSoto has yet to be seriously challenged in the playoffs after decimating Dallas Skyline, 38-0, in the area round, but Bowie's running game, led by Brelyn Sorrells (1,766 yards, 22 touchdowns), has given teams fits.
Tough schedule has Mesquite Horn prepared for playoffs
Mesquite Horn (8-4) may have the ugliest record for a state-title contender in the state.
A brutal nondistrict schedule and a tough district handed Horn losses to Coppell, Denton Guyer, DeSoto and Longview, all of which are still alive in the playoffs.
[+] Enlarge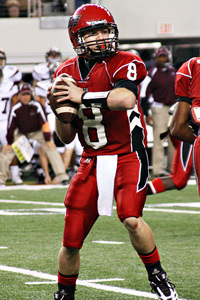 Travis L. Brown/ESPNDallas.comQuarterback Collin Strahan has helped Mequite Horn reach the third round of the playoffs.
But experience against good teams has proved valuable as Horn has rolled through its two playoff games, topping Division II favorite Copperas Cove (48-14) and Rowlett (44-22).
Horn faces another team with an ugly record in the third round – Leander (7-5). The Lions started the year 0-4 but have won five straight, including playoff wins over Austin (24-0) and Klein (14-7).
If Horn wins, it may get another shot at Longview, which plays Tomball in the other Region 2 game.
Coppell hits the road for third-round game
A lost coin toss will cost Coppell (12-0) a long trip out to Midland where it will play Midland High for what could be a shot at Euless Trinity.
Head coach Joe McBride lost the flip to determine where the two teams will play. Midland chose its home venue of Grande Communications Stadium.
Despite playing what's essentially a road game, Coppell is the favorite after an undefeated regular season and decisive playoff wins over Plano (23-6) and Duncanville (35-10).
Midland (11-1) has been equally dominant with its lone loss coming against Abilene. The key matchup comes when the Bulldogs have the ball. They average 38.9 points per game against a Coppell defense that gives up just 9.5.
November, 11, 2010
11/11/10
7:22
PM CT
Flower Mound quarterback Paul Millard and his Southlake Carroll counterpart Kenny Hill are at different points in their careers.
[+] Enlarge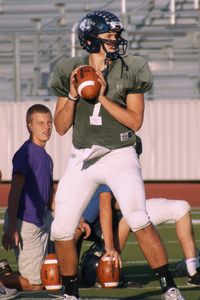 Travis L. Brown/ESPNDallas.comFlower Mound QB Paul Millard is making a run at the state's season passing mark.
In his second season as a starter, Millard is threatening to break the state's single-season passing record, and he's taken an otherwise anonymous Flower Mound program (7-3) to heights thought impossible at the beginning of the year.
Expected to play junior varsity entering the season, Hill was thrust into what may be the highest profile high school football position in the nation after preseason turmoil and lineup shuffling put Carroll in the unfamiliar position of underdogs.
Both will be making their first playoff starts when the two meet in the Class 5A Division II bi-district round at 7:30 p.m. Friday at Justin Northwest.
"We're going to have to put points on the board," Southlake Carroll head coach Hal Wasson said. "Hopefully we can negate them by keeping their offense off the field as much as possible. It's going to be an interesting challenge."
Both quarterbacks have been instrumental in getting their teams to the playoffs. Millard is easily the area's most prolific passer with 4,188 yards, 45 touchdowns and just six interceptions in 10 games.
His team was buried as a contender in the preseason playing in the ultra-competitive 8-5A. Not only did Flower Mound clinch a playoff berth, it could have won the district title with a win over Allen in the regular-season finale.
Allen may have discovered the blueprint for beating Flower Mound -- jumping out to an early lead. The Eagles ran out to a 28-0 lead en route to a 70-37 win.
For Carroll to pull the same trick, Hill will need to be at his best. He's answered the call for Carroll since taking over as the starter. His talent is undeniable and looks to become a fixture at the position for the next two years.
While his stats are modest -- 1,074 yards, 10 touchdowns and four interceptions -- Hill's arm strength stretches the field for the Dragons, opening up the run game and making better use of receivers such as Peyton Williams.
Hill has been instrumental in stabilizing a turbulent season for the Dragons, but for all of their troubles, they still finished 7-3 with losses to Coppell, Copperas Cove and Denton Guyer -- all 5A contenders.
"It would be a very rewarding experience [to win a playoff game this year] because I'm very proud of this team for the things they've withstood and the character they've demonstrated throughout the year," Wasson said.