High School:

Dallas A. Maceo Smith
March, 11, 2011
3/11/11
10:45
AM CT
We're down to the final four of the UIL boys state basketball tournament, and ESPN Dallas kicks off the action with Thursday's Class 3A state semifinal pairing between Corpus Christi West Oso and Dallas A. Maceo Smith at 2 p.m. At 7 p.m., Fort Worth Arlington Heights battles La Marque, and Dallas Kimball clashes with Cedar Park at 8:30 p.m.

Jeff Andrews and Travis L. Brown will be on hand answering questions and providing live updates from Austin.

On Friday, we'll provide real-time insight from Flower Mound Marcus-Fort Bend Hightower (3:30 p.m.) and Garland Lakeview Centennial-San Antonio Taft (8:30 p.m.).


March, 10, 2011
3/10/11
5:00
PM CT
AUSTIN -- With 15 seconds remaining in the 3A boys state semifinal game, Dallas A. Maceo Smith head coach John Burley called a timeout, moments away from an 80-60 loss to Corpus Christi West Oso.

The timeout served as a postscript to the school's "Last Chapter," the team's motto for the season, as Smith will be changed to a technology magnet school next year and the athletic program will be no more.

As the players stood on the sideline for those few seconds they applauded the fans that came to the Frank Erwin Center to show their support Thursday. It was also a tribute to the teams that had come before.

"I just wanted to take a minute to recognize the support," Burley said. "It's been a long time, maybe never, in which A. Maceo Smith sports mattered. I just wanted to recognize everyone."

Smith traded blows with Oso throughout the first half and went to the locker room trailing by six. Oso came out in the second half and buried Smith with a hot shooting touch, hitting 76 percent from the field and 75 percent from behind the arc.

"They shot the ball much better than we anticipated," Burley said. "We were keying on Willie Harper … and a couple other guys made some shots we didn't expect."

Harper finished with 18 points, and Robert Watson and Micah Cooper each had a game-high 20 for Oso, which had five players score in double-figures.

"We got here because we worked hard," Cooper said.

The last page of Smith's Cinderella story had to be turned, and in the end, the emotion of the situation proved too much for the Falcons to overcome.

"It's been an incredible experience," Burley said. "We've had some emotional wins along the way. Maybe the lights were too big, maybe we were emotional but we ran out of gas."
March, 8, 2011
3/08/11
4:02
PM CT
By
Randy Jennings
| ESPNDallas.com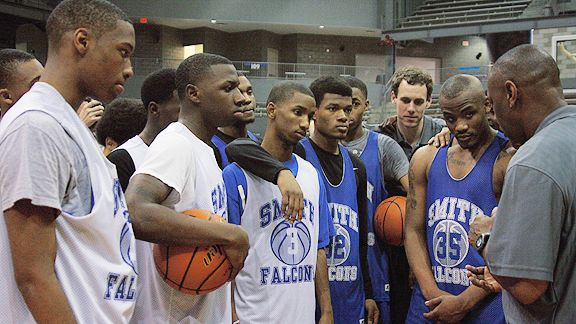 Travis L. Brown/ESPNDallas.comDallas' A. Maceo Smith is in its last year as a comprehensive high school, but the state-bound boys basketball team is going out in style.
Dallas A. Maceo Smith High School's first state basketball final four appearance will also be its last.
Days are numbered for the 33-year-old South Dallas school, at least in its present form as a comprehensive high school.
Because the school of 850 students is in its fourth year of academic unacceptability, the Dallas ISD has opted to convert the school building at 3030 Stag Road into a technology high school as part of a repurposing plan. Athletics will not be offered.
Many of the school's current underclassmen will be housed at Wilmer-Hutchins High School, which the DISD plans to reopen in the fall. Others could wind up at Roosevelt or South Oak Cliff.
Rather than watch the school's athletic program end with a whimper, the basketball team is finishing with a flourish.
The Falcons (26-9) will face Corpus Christi West Oso (33-3) in a Class 3A state semifinal at 2 p.m. Thursday at the University of Texas' Frank Erwin Center in Austin. A victory would vault A. Maceo Smith into the state title game at 10 a.m. Saturday against the winner of Thursday's Burkburnett-Mexia semifinal.
"From the start of this school year,'' school principal Marlon Brooks said, "we've talked to the kids about making this the most significant year in the history of the school. It started with our football team making the playoffs.
"And now the success of the basketball team has been amazing. They've lifted all of us on their backs.''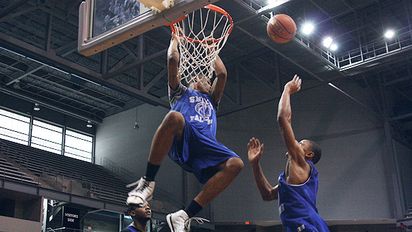 Travis L. Brown/ESPNDallas.comA. Maceo Smith's Desmon Patterson slams a shot through during practice. Many of the school's underclassmen will probably attend Wilmer-Hutchins, Roosevelt or South Oak Cliff high schools next year.
Micah Cooper, a 6-2 junior guard who leads the team with a 13.5 scoring average, said morale has been boosted by the support of the students and teachers.
"Everybody is backing us 100 percent,'' he said. "We've already made school history just getting to Austin.''
Falcons coach John Burley hesitates to point to impending changes at the school as a reason for the success.
"It is unbelievable that we'd get to Austin in the final year of the school, but I honestly don't know how much next year's change has to do with it,'' said Burley, who is scheduled to move on to Wilmer-Hutchins next season "Half are seniors and wouldn't be coming back anyway. All of them are focused and into the season. But you never know what makes them happy or sad.''
Based on last season's 7-22 record, it would have been difficult to foresee the Falcons packing for Austin this week.
Burley's first season as a head coach at the school a year ago was an eye opener. He found himself in charge of a few players reluctant to accept discipline. He weeded out those who didn't want to practice and turned those remained into a success story.
The turning point this season came in the next to last game of the regular season against rival Dallas Madison, which owned a long district winning streak.
A state tournament qualifier each of the preceding two seasons, Madison beat the Falcons by 16 points in an earlier district meeting and had them down by 12 points in the third quarter when Burley in a time out delivered an edict: No more jump shots.
"We started taking the ball to the rim and we won that night,'' Burley said. "We haven't lost since.''
Its playoff run includes another win over Madison in the third round of the playoffs and a 63-60 overtime triumph over Argyle, a team that thumped A. Maceo Smith during the regular season, in the Region II championship game.
Guards Jeremy Mobley, a 5-11 senior, and Devonse Reed, a 6-4 junior, have been important contributors with scoring averages of 12 and 11 points, respectively.
"Our kids have remained very humble through this,'' principal Brooks said. "No matter how we do at state, we are extremely proud to go this far.''
If A. Maceo Smith should win the title, will the trophy remain at the school or be a part of next year's move to Wilmer-Hutchins?
That's a dilemma the Falcons wouldn't mind facing.
June, 10, 2010
6/10/10
12:21
PM CT
By
Randy Jennings
| ESPNDallas.com
Cedar Hill will host the Red Bull Game Breakers 7-on-7 football tournament for 16 area teams on Friday.

The winner in the Dallas/Fort Worth qualifying tournament, one of six regional tournaments, will advance to the June 25 finals at the Cotton Bowl.

The 16-team field that begins play at 4 p.m. Friday at Longhorn Stadium in Cedar Hill includes:

Arlington, Arlington Martin, Cedar Hill, Colleyville Heritage, Dallas A. Maceo Smith, Dallas Lincoln, Denton Guyer, DeSoto, Duncanville, Garland, Hebron, Highland Park, Keller, Lancaster, Trophy Club Byron Nelson, West Mesquite.

TheDallas/Fort Worth regional winner will be joined in the Cotton Bowl by teams from the Houston, Austin and San Antonio area as well as teams from Louisiana and Oklahoma.