High School:

Dallas Bryan Adams
November, 8, 2011
11/08/11
10:30
PM CT
By
Randy Jennings
| ESPNDallas.com
CLASS 4A DIVISION I REGION 2 PREVIEW
Overview:
A new region champion is sure to emerge since 2010 winner Wylie failed to make the playoffs.
Tyler John Tyler, regional finalist a year ago, is capable of a deep run despite a misleading 7-3 record. All three losses came at the start of the season to Class 5A schools. The Lions were competitive in two of those losses, to highly ranked Longview (38-22) and Lufkin (34-31).
The Lions once again start the playoffs against Texarkana Texas High. John Tyler took last year's bi-district meeting against the Tigers 26-17.
Look for the most competitive first-round games to come from District 15-16 matchups: West Mesquite-Pflugerville Hendrickson and Waxahachie-Pflugerville Connally.
Of the four Dallas ISD qualifiers in the bracket, two are assured of reaching the second round. Although Dallas Woodrow Wilson (9-1) has a better record, Dallas Kimball (8-2) played in a tougher district and appears to have the best chance of reaching the third round.
Favorite:
Highland Park. Returning to the more familiar Division I this season, the Scots are the only unbeaten team in the 16-team bracket. They survived a couple of close calls against Wylie and Rockwall-Heath on the way to a District 10-4A championship and are making a state-record 53rd playoff appearance.
The Scots suffered a blow when top returning receiver Dalton Stogner was lost for the season after tearing his ACL in the fourth game of the season, but quarterback Brady Burgin (2,684 passing yards, 22 touchdowns) and running back Preston Miller (1,129 rushing yards, 21 touchdowns) have picked up the slack with outstanding seasons.
Highland Park has scored at least 40 points in seven games. Five of its wins have come against playoff teams.
Watch out for:
Waxahachie. Sandwiched between losing its opener to Class 5A power Flower Mound Marcus and falling to Mesquite Poteet in a Week 10 game with nothing at stake, Waxahachie went on an eight-game winning streak and shared the title in a salty District 15-4A.
The Indians saw their streak of 20 straight playoff appearances snapped a year ago but have roared back behind the quarterback play of Don King III (2,257 passing yards, 18 touchdowns) and the running of Robert Lowe Jr. (1,357 yards, 26 touchdowns).
Waxahachie's signature win came over rival Corsicana 47-36 in the sixth game of the season. If the Indians can string playoff games together with similar effort, they should be playing in December.
Can't wait to see:
West Mesquite-Pflugerville Hendrickson (7:30 Friday, Waco Midway). This is a bi-district rematch of an entertaining 48-39 West Mesquite victory a year ago when the Wranglers piled up over 600 yards of offense.
A rebuilding West Mesquite lost its first four games this fall but rallied to win five of its last six despite an injury that sidelined freshman starting quarterback Chason Virgil for the season. Shateek Nasir responded when pressed into duty, leading a 22-21 victory over Mesquite Poteet when the Wranglers overcame an 18-point deficit in the second half.
We hope to see:
A rematch between Rockwall-Heath and Highland Park in the regional final. The first meeting for the District 10-4A title in Week 9 went to overtime with Highland Park squeezing out a 31-30 victory. The difference was a missed extra point when Rockwall-Heath had a chance to force a second overtime. It remains the only blemish on the record of either team.
The Hawks led 10-9 at the half. Highland Park took control of the third period to build a 24-10 lead only to see Rockwall-Heath mount a two-touchdown comeback in the fourth quarter to send the game to overtime.
Rockwall-Heath and Highland Park are in opposite ends of the regional bracket. Each would need to win three games to oppose each other in a state quarterfinal.
Talent pool (FBS recruits):
Dallas Bryan Adams: LB Kris Williams (Texas Tech); Pflugerville Hendrickson: TE Reid Mitchell (Rice), RB Daje Johnson (TCU), DE Victor Irokansi (Oklahoma State); Sherman: DB Ryan Reid (Baylor); Texarkana Texas High: OL John Michael McGee (Oklahoma); Tyler John Tyler: DE Eric Davis (Oklahoma State).
August, 25, 2011
8/25/11
12:01
AM CT
DISTRICT 12-4A
Dallas Adams (2-8,2-4). Coach: Derick Roberson.
Dallas Conrad (7-4, 5-1), lost in DI bi-district. Coach: Darren Duke.
Dallas Hillcrest (8-3, 6-0), lost in DII area. Coach: Andy Todd.
Dallas Jefferson (0-10, 0-6). Coach: David Haynes.
Dallas Lincoln (4-7, 3-3), lost in DII bi-district. Coach: James Argenti.
Dallas Spruce (1-8, 1-5). Coach: Carl Richardson.
Dallas Woodrow Wilson (8-3, 4-2), lost in DI bi-district. Coach: Bobby Estes.
THE BIG QUESTION: Is this Woodrow's big year to shine before the window closes?
Woodrow is known for being the only high school in Dallas that's on a "first-name" basis with the city and for producing two Heisman Trophy winners.
The school has had a recent resurgence in football and had a second-place finish in 12-4A last season, but hey were a quick exit in the first game of the playoffs.
Woodrow returns players at key positions in QB Piers Christian and WR Shaquille Dottin, which solidifies one of the best offenses in the district.
Its top competitor is returning district champion Conrad, wich boasts the return of the district's top rusher, Silas Jefferson.
Woodrow's weakness is its lack of depth, which could be exploited next season.
If Woodrow is going to make a deep run in the playoffs, this is the year to make it happen.
PLAYERS TO WATCH
WR Kris Williams, DB/WR Shaquil Berry, Adams; QB Silas Jefferson, LB Johnathan Small, Conrad; ATH James Myles, QB Rocky Reyes, Hillcrest; DB Ulises Montalvo, LB/RB D'Ontrrius Jackson, Jefferson; QB Eric Neal, WR Derric Neal, LB Tabari McGaskey, Lincoln; OL Joshua Levy, DB DeAmonte Miles, RB Reginald Robertson, Spruce; QB Piers Christian, SS Andre Plata, WR Shaquille Dottin, Woodrow.
DID YOU KNOW?
Dallas Spruce is in its second year of varsity competition after having its athletic program shut down by the school district for two years... Dallas Lincoln is typically a threat for the top spot on the district, but returns only four starters and must work through inexperience to find success.
PROJECTED PLAYOFF TEAMS
Woodrow
Conrad
Hillcrest
Adams
April, 8, 2011
4/08/11
3:55
PM CT
CARROLLTON, Texas – Dallas Bryan Adams head coach Harold Mason walked up and down the tunnel at Standridge Stadium after his team's 2-1 shootout loss Friday in the Class 4A regional semifinals Friday, shaking every players hand and thanking them for the best season in school history.
The loss came as an instant shock to the Cougars when Kilgore's Brandon Senn bounced his shot over Bryan Adams keeper Angel Guerra and into the goal in the sixth round of the shootout, ending the Cougars' deepest journey into the state playoffs.
Adams (17-3) struck first, scoring in the 44th minute of the match off a 20-yard shot by Erick Rodriguez that found its way into the back right side of the net.
[+] Enlarge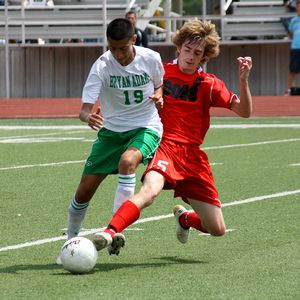 Travis L. Brown/ESPNDallas.comThe Kilgore defense bent but did not break against Eduardo Leon and Dallas Bryan Adams.
Kilgore hit the equalizer with 15 minutes left in the second half on a 15-yard power shot from Hugo Oria.
Neither team was able to score through two overtime periods, but Adams had the best chance in extra time when a Fernando Rodriguez shot deflected off the diving Kilgore keeper's hands and hit the joint where the upright meets the crossbar on the goal frame, eventually rolling out of bounds.
Adams keeper Guerra gave his team a chance to win with several very big saves, including two fantastic deflections during the shootout.
"He's done a great job for us," Mason said. "He's the one that's carried us this far. He's made great save after great save."
Adams won the possession game but was unable to make a run that would lead to a game-winning goal.
"For us to reach this level," Mason said, "we had a lot of lucky breaks along the way. ... We did control a lot of the game. But bottom line, it's got to go in the goal, and we did get several lucky breaks to get this far so that's just the way the game is."
Kilgore will face
Lucas Lovejoy, which knocked out Mount Pleasant
, in Saturday's regional final, with the winner advancing to the state tournament.
Adams' playoff run included wins against West Mesquite, Rockwall-Heath and Carrollton R.L. Turner, which had knocked off ESPN Rise Fab 50 No. 26 Frisco Wakeland.
Mason said above all it was his players' love for the game that helped them have a historic season.
"The team that we had this year, I don't think we had one or two players that would be considered a superstar," he said. "We just had a bunch of guys that love soccer and work hard."
January, 13, 2011
1/13/11
5:07
PM CT
Sophomore guard Breanna Hayden has Dallas Lincoln cruising through District 12-4A play.

Lincoln (15-2, 4-0), No. 5 in ESPN Dallas' Class 4A girls rankings, has jumped to the top of the standings after dominating wins over Dallas Bryan Adams (72-27) and Dallas Woodrow Wilson (71-30), which are tied for second place.

Hayden, the younger sister of current Baylor standout Kimetria Hayden, leads Lincoln with 14.1 points, 6.3 rebounds and 4.3 assists per game.

Fellow guard Camesha Turner has impressed as well, registering 13 points, 3.6 rebounds and 2.4 assists per game, giving Lincoln one of the more potent backcourts in the area.

The 12-4A schedule is loaded with important games this weekend as the halfway point of district play approaches.

Lincoln hosts fourth-place Dallas Conrad (13-6, 3-2) on Friday while Bryan Adams (13-6, 4-1) and Woodrow Wilson (13-8, 4-1) will break their second-place tie Saturday.
August, 24, 2010
8/24/10
11:17
PM CT
DISTRICT 12-4A
Dallas Bryan Adams (3-7, 2-4 in 12-4A). Coach: Derick Roberson

Dallas Conrad (5-6, 3-3 in 12-4A) lost in DII area. Coach: Darren Duke

Dallas Hillcrest (1-8, 1-5 in 12-4A). Coach: Andy Todd

Dallas Lincoln (10-2, 6-0 in 12-4A) lost in DII area. Coach: James Argenti

Dallas Spruce (no varsity team last year). Coach: Melvin Lark

Dallas Thomas Jefferson (0-10, 0-6 in 12-4A). Coach: David Haynes

Dallas Woodrow Wilson (6-5, 5-1 in 12-4A) lost in DI bi-district. Coach: Bobby Estes
THE BIG QUESTION:Will Woodrow's strong defense have what it takes to beat district favorite Lincoln?
[+] Enlarge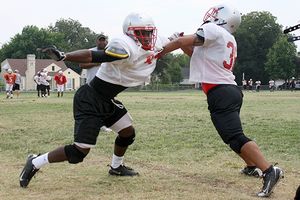 Travis L. Brown for ESPN.comOutside linebacker Chad Polk (left) leads Dallas Woodrow Wilson's defense.
At Woodrow Wilson's practice Tuesday, a quarterback walked up to a line of wide receivers during positional drills and asked them what they were working on.
"Being aggressive athletes," one of them said very resolutely.
Woodrow has a tradition of developing athletes, dating back to Davey O'Brien, Tim Brown and more recently
Sergio Kindle
. Now the Wildcats must rely on a corps of aggressive, athletic linebackers to carry a young team into the playoffs.
The leader of the group is outside linebacker
Chad Polk
, who had 67 tackles last season, 16 for loss, and snatched two interceptions. Coach Bobby Estes said Polk was a very special player and will need to lead a defense that will have to carry a young and inexperienced offense through the season.
Lincoln is the defending champion and favorite to win the district in 2010, but Polk believes that Woodrow's more experienced middle linebacker, Ceasar Silva, will give the Wildcats a better shot at beating the Tigers this year.
"Last season, Lincoln ran straight up the middle with a fast running back and I think [Silva has] grown up and matured more," Polk said. "He can read plays better."
Estes said he's not worried about any other teams in the district, just about the performance of his own.
"We've got to worry about us," Estes said. "If Woodrow is the best they can be, then we're going to be OK."
PLAYERS TO WATCH
OL
Desmine Hilliard
, WR Dominic Thompson, LB
Devante Davis
, Lincoln; LB Chad Polk, Woodrow Wilson; LB Jaaron Staton, Conrad.
DID YOU KNOW?
Lincoln has made the playoffs in 14 of the last 15 seasons, including the last 11 years in a row. ... Spruce is the only squad that wasn't in the district last year.
The team is returning to action following a two-year hiatus
, the result of varsity athletics being cancelled because of failure to reach academic standards.
PROJECTED PLAYOFF TEAMS
Lincoln

Woodrow Wilson

Conrad

Bryan Adams