High School:

Dallas Conrad
April, 25, 2012
4/25/12
7:09
PM CT
Two Octobers ago, Greg Smith was introduced to the Dallas Conrad athletics program while serving as a volunteer hot dog griller for the school's homecoming football game.

The cookout was part of a call to community action from Smith's pastor at Fellowship Bible Church, and it was that evening Smith began his volunteer work with Conrad.

Smith spent much of his two daughters' lives sitting on a softball bucket catching bullpen sessions for the two pitchers. He then remained in the game by giving private pitching lessons, so naturally he offered his expertise to the Conrad softball team.

With Smith working with Conrad's pitchers, the Chargers made the UIL softball playoffs for the first time in 2011 and returned this year. They have a bi-district game Friday against Seagoville.

Smith has helped starter Asyia Summers transform from a hard thrower with a tendency to throw one over the backstop to one of the best pitchers in DISD, throwing two no-hitters in her senior season.

"When I first started I couldn't throw a strike and didn't know what a strike was," Summers said. "When Mr. Smith came he taught me all these routines to teach me how to throw pitches. Lately I've been throwing strikes."

Smith dons catcher's shin guards with cargo shorts for Conrad's practices, taking his position sitting on a bucket off to the side of the diamond with Summers or one of the other pitchers.

Two seasons into Smith's tenure as a volunteer at practice, the pitchers have their form down and even a couple of pitches in their routine. Now, he works on the mental side of the game as well as the mental side of life.

Both Smith and Summers recalled the final half-inning of the second district game against Dallas Woodrow Wilson as a turning point for the Chargers. In its five-year history, Conrad had never beaten Woodrow.

Summers took her place in the circle with Conrad up 9-8 and couldn't help but tear up, feeling the weight of her team on her shoulders.

"I just wanted to win," Summers said. "I couldn't live with us losing this game again."

Conrad forced a Woodrow runner into a rundown on the third-base line and Summers relied on instinct to cover home plate and tag out the runner for the last out of the game, overcoming her momentary lack of confidence.

"[Smith] always taught us to keep a good attitude on the field and off the field and to just always have fun," Summers said. "Even when you don't need it or if you do, he says to just always have fun."

Fun isn't just limited to the softball field for these players.

Smith used the help of Lake Highlands Young Life to send Summers and several of her teammates to a week-long camp that Summers called the best week of her life.

In turn, a team with difficulties coming together as a unit has become a family with the help of a man that had no affiliation with Conrad, just a willingness to serve.

"Last year we got this wonderful man who said he could show our girls how to pitch if he could volunteer," coach Erin Stinnette said. "He's been able to help the bonding of the team. The demographics of our team are very diverse, but he's made us one family."
November, 15, 2011
11/15/11
5:34
PM CT
Of all the brow-raising finals from last week's bi-district action, Dallas Conrad's 30-23 win over South Oak Cliff may have caused the most double-takes.
Conrad (6-5) beat Dallas Hillcrest in its last regular-season game of the year to capture the fourth playoff spot in a mediocre District 12-4A.
South Oak Cliff strolled to an undefeated regular-season record. Only one team, Dallas Kimball, came within a touchdown of beating the Golden Bears.
None of that mattered last week. South Oak Cliff jumped out to a 16-0 lead behind two touchdowns passes from Jevone Valentine to Fonzale Davis. Conrad trimmed its deficit to 10 by halftime after touchdown runs by Silas Jefferson.
South Oak Cliff didn't score in the second half. With the game tied at 23 with less than two minutes remaining, Conrad blocked a Golden Bears field-goal attempt and returned it 85 yards for a touchdown, giving Conrad its first lead of the game and the win.
Jefferson has proved to be one of the better rushing threats at quarterback in the area. He's rushed for more than 1,000 yards this season and tallied 218 and two touchdowns against South Oak Cliff.
For Conrad to keep its season alive, it will have to beat another undefeated team – Frisco Centennial (11-0). The two play at 7:30 p.m. Friday at Murphy's Kimbrough Stadium.
August, 25, 2011
8/25/11
12:01
AM CT
DISTRICT 12-4A
Dallas Adams (2-8,2-4). Coach: Derick Roberson.
Dallas Conrad (7-4, 5-1), lost in DI bi-district. Coach: Darren Duke.
Dallas Hillcrest (8-3, 6-0), lost in DII area. Coach: Andy Todd.
Dallas Jefferson (0-10, 0-6). Coach: David Haynes.
Dallas Lincoln (4-7, 3-3), lost in DII bi-district. Coach: James Argenti.
Dallas Spruce (1-8, 1-5). Coach: Carl Richardson.
Dallas Woodrow Wilson (8-3, 4-2), lost in DI bi-district. Coach: Bobby Estes.
THE BIG QUESTION: Is this Woodrow's big year to shine before the window closes?
Woodrow is known for being the only high school in Dallas that's on a "first-name" basis with the city and for producing two Heisman Trophy winners.
The school has had a recent resurgence in football and had a second-place finish in 12-4A last season, but hey were a quick exit in the first game of the playoffs.
Woodrow returns players at key positions in QB Piers Christian and WR Shaquille Dottin, which solidifies one of the best offenses in the district.
Its top competitor is returning district champion Conrad, wich boasts the return of the district's top rusher, Silas Jefferson.
Woodrow's weakness is its lack of depth, which could be exploited next season.
If Woodrow is going to make a deep run in the playoffs, this is the year to make it happen.
PLAYERS TO WATCH
WR Kris Williams, DB/WR Shaquil Berry, Adams; QB Silas Jefferson, LB Johnathan Small, Conrad; ATH James Myles, QB Rocky Reyes, Hillcrest; DB Ulises Montalvo, LB/RB D'Ontrrius Jackson, Jefferson; QB Eric Neal, WR Derric Neal, LB Tabari McGaskey, Lincoln; OL Joshua Levy, DB DeAmonte Miles, RB Reginald Robertson, Spruce; QB Piers Christian, SS Andre Plata, WR Shaquille Dottin, Woodrow.
DID YOU KNOW?
Dallas Spruce is in its second year of varsity competition after having its athletic program shut down by the school district for two years... Dallas Lincoln is typically a threat for the top spot on the district, but returns only four starters and must work through inexperience to find success.
PROJECTED PLAYOFF TEAMS
Woodrow
Conrad
Hillcrest
Adams
January, 13, 2011
1/13/11
5:07
PM CT
Sophomore guard Breanna Hayden has Dallas Lincoln cruising through District 12-4A play.

Lincoln (15-2, 4-0), No. 5 in ESPN Dallas' Class 4A girls rankings, has jumped to the top of the standings after dominating wins over Dallas Bryan Adams (72-27) and Dallas Woodrow Wilson (71-30), which are tied for second place.

Hayden, the younger sister of current Baylor standout Kimetria Hayden, leads Lincoln with 14.1 points, 6.3 rebounds and 4.3 assists per game.

Fellow guard Camesha Turner has impressed as well, registering 13 points, 3.6 rebounds and 2.4 assists per game, giving Lincoln one of the more potent backcourts in the area.

The 12-4A schedule is loaded with important games this weekend as the halfway point of district play approaches.

Lincoln hosts fourth-place Dallas Conrad (13-6, 3-2) on Friday while Bryan Adams (13-6, 4-1) and Woodrow Wilson (13-8, 4-1) will break their second-place tie Saturday.
August, 24, 2010
8/24/10
11:17
PM CT
DISTRICT 12-4A
Dallas Bryan Adams (3-7, 2-4 in 12-4A). Coach: Derick Roberson

Dallas Conrad (5-6, 3-3 in 12-4A) lost in DII area. Coach: Darren Duke

Dallas Hillcrest (1-8, 1-5 in 12-4A). Coach: Andy Todd

Dallas Lincoln (10-2, 6-0 in 12-4A) lost in DII area. Coach: James Argenti

Dallas Spruce (no varsity team last year). Coach: Melvin Lark

Dallas Thomas Jefferson (0-10, 0-6 in 12-4A). Coach: David Haynes

Dallas Woodrow Wilson (6-5, 5-1 in 12-4A) lost in DI bi-district. Coach: Bobby Estes
THE BIG QUESTION:Will Woodrow's strong defense have what it takes to beat district favorite Lincoln?
[+] Enlarge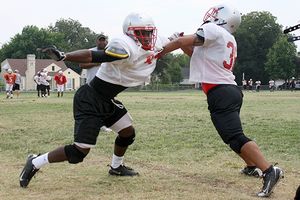 Travis L. Brown for ESPN.comOutside linebacker Chad Polk (left) leads Dallas Woodrow Wilson's defense.
At Woodrow Wilson's practice Tuesday, a quarterback walked up to a line of wide receivers during positional drills and asked them what they were working on.
"Being aggressive athletes," one of them said very resolutely.
Woodrow has a tradition of developing athletes, dating back to Davey O'Brien, Tim Brown and more recently
Sergio Kindle
. Now the Wildcats must rely on a corps of aggressive, athletic linebackers to carry a young team into the playoffs.
The leader of the group is outside linebacker
Chad Polk
, who had 67 tackles last season, 16 for loss, and snatched two interceptions. Coach Bobby Estes said Polk was a very special player and will need to lead a defense that will have to carry a young and inexperienced offense through the season.
Lincoln is the defending champion and favorite to win the district in 2010, but Polk believes that Woodrow's more experienced middle linebacker, Ceasar Silva, will give the Wildcats a better shot at beating the Tigers this year.
"Last season, Lincoln ran straight up the middle with a fast running back and I think [Silva has] grown up and matured more," Polk said. "He can read plays better."
Estes said he's not worried about any other teams in the district, just about the performance of his own.
"We've got to worry about us," Estes said. "If Woodrow is the best they can be, then we're going to be OK."
PLAYERS TO WATCH
OL
Desmine Hilliard
, WR Dominic Thompson, LB
Devante Davis
, Lincoln; LB Chad Polk, Woodrow Wilson; LB Jaaron Staton, Conrad.
DID YOU KNOW?
Lincoln has made the playoffs in 14 of the last 15 seasons, including the last 11 years in a row. ... Spruce is the only squad that wasn't in the district last year.
The team is returning to action following a two-year hiatus
, the result of varsity athletics being cancelled because of failure to reach academic standards.
PROJECTED PLAYOFF TEAMS
Lincoln

Woodrow Wilson

Conrad

Bryan Adams