High School:

Dallas Cowboys
May, 6, 2012
5/06/12
12:53
PM CT
IRVING, Texas -- The way Donnie Brake remembers it, the field was "partial grass, dirt and rocks."
It was about 20 yards wide and 38 yards long, give or take. When the offense wanted to work on the passing game, they went the long way. When they wanted to run, they went the wide way.
James Hanna was a 16-year-old sophomore then, playing six-man football at Coram Deo Academy in Highland Village, Texas, with Brake as his coach.
"I remember practicing outside of our building on really not very good fields over there," Hanna said, "and thinking about going to play football for Oklahoma and then I'd go play for the Dallas Cowboys because my stepdad went to Oklahoma and has been a Cowboy fan, so I grew up watching Oklahoma and the Cowboys. As luck would have it, it's worked out that way. Literally, it's a dream come true."
How many kids have those dreams? Hundreds? Thousands?
Hanna, whom the Cowboys selected in the sixth round in last week's NFL draft, is one of the few who get to live it.

Read the full column here
.
April, 28, 2012
4/28/12
8:48
PM CT
Ron Brooks
was drafted Saturday as the 124th overall pick by the
Buffalo Bills
as a cornerback, a position he has played for only three seasons.
Brooks was recruited by LSU out of Irving MacArthur as a wide receiver after spending the majority of his snaps at quarterback in high school.
"He was just a step quicker than anyone else on the field," MacArthur coach Brian Basil said. "He played quarterback for us his senior year because we wanted the ball touching his hands every snap, but the main thing that separated him at the high school level was his speed and his level of toughness."
Brooks made the shift over to cornerback his sophomore year at LSU, which Basil believes is proof of his devotion to the game -- one of his many intangibles.
"He understood that whatever it took to get him on the field he would do it," Basil said. "That's why when he went to LSU, he was receptive to play defense and on special teams. Those intangibles are what allowed him to make it to this level."
Brooks played in 53 games at LSU, finishing with 90 tackles and 5.5 sacks. All three interceptions Brooks pulled in were returned for touchdowns.
"For him, I think wherever he had an opportunity to play would be a great fit." Basil said. "To play at that level is a dream come true and I bet he's thrilled to death and we're thrilled for him."
Redskins pick Plano East/UT linebacker
The Redskins picked up the athlete that "could do it all" for Plano East coach Johnny Ringo.
Keenan Robinson
was selected as the 119th overall pick as a linebacker out of Texas, the fourth player to make it to the pro level out of Plano East.
"He was a tremendous leader for us and played both ways," Ringo said. "He's just a kid that could do it all. He was a great track athlete and had to give up basketball. He was a tremendous player for us and will be a tremendous representative of Plano East in the NFL."
Robinson hit Twitter immediately after his selection, affirming his excitement with the team that selected him.
"God is Good… Im right where I needa be," Robinson tweeted, followed by, "Oo whats up Washington… Im glad to be a Redskin #NoQuestion."
Robinson started in 39 games for the Longhorns, tallying 317 tackles and 4.4 sacks.
He joins other standouts from the state of Texas in Baylor quarterback
Robert Griffin
III and Richardson Berkner/SMU lineman
Josh LeRibeus
as a part of the Redskins' draft class.
Other area draftees:
Josh LeRibeus (OG, Richardson Berkner/SMU):
Selected 71st overall by the Redskins.
Jamell Fleming (CB, Arlington Seguin/Oklahoma):
Selected 80th overall by the Cardinals.
First player drafted from Arlington Seguin to be drafted.
Chris Givens (WR, Wylie/Wake Forest):
Selected as the first pick of the fourth round, 96th overall, by the Rams.
Taylor Thompson (DE/TE, Prosper/SMU):
Selected 145th overall by the Titans.
Cyrus Gray (RB, DeSoto/Texas A&M):
Selected 182
nd
overall by the Chiefs.
James Hanna (TE, Flower Mound/Oklahoma):
Selected 186th overall by the Cowboys.
Robert T. Griffin (OG, Euless Trinity/Baylor):
Selected 203rd overall by the Jets.
Emmanuel Acho (LB, Dallas St. Mark's/Texas):
Selected 204th overall by the Browns.
Greg McCoy (DB/KR, Dallas Woodrow Wilson/TCU):
Selected 220th overall by the Bears.
April, 4, 2012
4/04/12
1:55
PM CT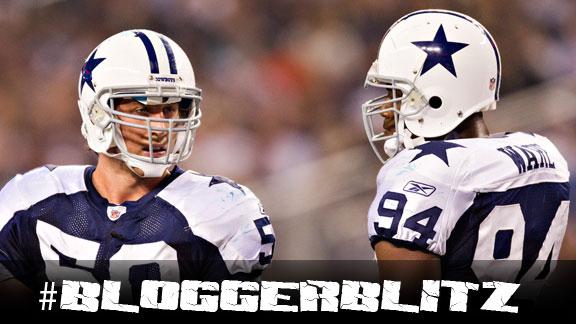 Starting Thursday, the Cowboys can host prospective draft picks with local high school and college ties at the annual Dallas Day workout at Valley Ranch.
DeSoto native and Texas A&M running back Cyrus Gray will visit the Cowboys.
Gray, a 5-foot-10, 206-pounder, rushed for 2,178 yards and 24 touchdowns the past two seasons for the Aggies. But a stress fracture in his left shoulder forced him to miss the final two games of A&M's 2011 season and the Senior Bowl.
Gray ran a 4.47-second 40-yard dash at the NFL scouting combine and did some position work at Texas A&M's pro day.
Here's what
Scouts Inc. had to say about Gray
, a potential third- or fourth-round pick.
NFL Draft Scout also
provides some insight
.
August, 5, 2011
8/05/11
4:04
PM CT
SAN ANTONIO -- Back in April,
Raymond Radway
thought he had blown his chance in joining the Dallas Cowboys.
At the team's "Dallas Day" workout at Cowboys Stadium, Radway, who graduated from McKinney North, did not do well. The nerves got the best of him and he dropped most of the passes that came his way.
The Cowboys signed Radway as an undrafted free agent anyway, but he did not receive a signing bonus.
"They gave me a second chance at camp and I came in and started catching everything," Radway said. "I felt like I can't miss out on this opportunity they've given me."
Camp is only nine days old and year after year players surprise early but fade as the attention and expectations mount. But first impressions can matter.
"He's done very well," coach Jason Garrett said. "He's a big kid, can run, catches the ball well. He's picked up the information. He's got a long way to go. He's making mistakes, don't get me wrong, but he's done a good job in the early part of this camp and we're excited to see him play more and more."
He has made a handful of impressive and difficult catches of the twisting and turning variety. On special teams he earned a high five from coordinator Joe DeCamillis for his work on a scout team.
If Radway, who caught 32 passes for 438 yards and five touchdowns at Abilene Christian last season, makes a serious run at the 53-man roster it will be because of his work on special teams.
The coaches, "say just keep up the good work and get in the playbook a little more," Radway said. "The more I study, the more I know. If I go as hard as I can on special teams I'll have a real good shot."
January, 4, 2011
1/04/11
11:19
PM CT
By
Randy Jennings
| ESPNDallas.com
COPPELL, Texas -- The Dallas Cowboys honored Coppell football head coach Joe McBride as High School Coach of the Year prior to the Southlake Carroll-Coppell boys basketball game Tuesday night.
Two Dallas Cowboys Cheerleaders and Cowboys mascot Rowdy were on hand to present McBride with a certificate and a check for $2,000 to Coppell High School.
McBride guided Coppell to a 13-1 season, the best in school history. He is
ESPNDallas.com's Class 5A coach of the year
.
January, 29, 2010
1/29/10
10:13
AM CT
Plano West defensive end
Jackson Jeffcoat
, the No. 2 overall recruit in the country on the ESPNU 150 rankings, has committed to the Texas Longhorns. His other finalists were Oklahoma and Houston.
The 6-foot-5, 225-pound Jeffcoat, the son of former Dallas Cowboys player Jim Jeffcoat, had 68.5 tackles, 8.5 sacks and two interceptions as a senior. He was named to the First-Team Class 5A All-State team and was the defensive player of the year in District 8-5A.
Click here for the story.
January, 26, 2010
1/26/10
3:21
PM CT
Improved play in the post has given guard-oriented Frisco an added dimension and depth this season, and it's needed it.

The Raccoons (23-5 overall, 8-1 in District 9-4A) have played just five games with their top eight players healthy, but the emergence of junior Brittney Hardy and senior Kaitlyn Waller in the post gives head coach Bob Rose options when players are out.

"Other kids have done a great job picking up slack, but I think that's hurt us, not having everybody available all the time," Rose said. "It drives me nuts trying to figure out my rotation when I can't keep them all together."

Frisco has four players averaging double digits in scoring – Hardy (16.3), Tiffany Moore (14.6), Jazmyn Dorsett (14.1) and Kendall Schwants (12.4) – and Charde' Stevens is right outside with 8.8 points per game.

The depth has helped Frisco overcome nagging injuries, and Hardy, who could be a coveted national recruit in 2011, gives the team a lethal inside-outside dynamic, something it lacked last season when it often ran a five-guard look.

Frisco is still a guard-oriented team, though. Dorsett, the daughter of former Dallas Cowboys great Tony Dorsett, is verbally committed to Oklahoma State.

Moore, an Oklahoma signee, is ranked No. 22 nationally by ESPNU for the 2010 class, and is closing in on a number of career milestones.

She grabbed her 1,000th career rebound in Frisco's win over Frisco Liberty on Friday. The four-year starter is 45 assists away from 1,000 and 12 steals away from 500. She sits at 1,686 points in her career.

Frisco's only loss in District 9-4A play came on the road against Frisco Wakeland where the Raccoons shot just 28 percent. They'll have a chance to avenge that loss next week in a game that will likely determine the 9-4A title.

Frisco hosts McKinney at 6 p.m. Tuesday.
November, 11, 2009
11/11/09
4:50
PM CT
By
Jeff Andrews / Special contributor
| ESPNDallas.com
The Oklahoma Sooners got a national letter of intent from one of the two Jeffcoats they're recruiting Wednesday.

Plano West post Jacqueline Jeffcoat put her name in ink for the Sooners, turning down offers from Arizona State, Louisville and Georgia.

The senior is the twin sister of Plano West defensive end Jackson Jeffcoat, who is the No. 1 ranked football recruit in the nation according to the ESPNU 150, and the daughter of former Dallas Cowboys player Jim Jeffcoat.

While Sooner football fans hope Jackson will follow his sister, West head coach girls basketball coach Bob Patterson said he doubts that will weigh in to his decision.

"I asked her about that she said 'Na, he's on his own coach. He'll go wherever he wants to go,'" Patterson said. "Who knows?"

Jacqueline Jeffcoat (6-2) averaged 7.6 points, 6.5 rebounds and 2.0 blocks per game in 2008-09, leading West to the Class 5A regional quarterfinals. On ESPNU 100, she is ranked No. 41 overall and the No. 4 center nationally.

"She can run the floor and has a nice outside shot," Patterson said. "She's getting better and better inside. I think they'll play her on the perimeter but we use her inside. I think she'll fit in pretty good there."