High School:

Dallas First Baptist Academy
March, 27, 2012
3/27/12
8:43
AM CT
High school baseball in 2012 has a whole new look and sound.
Gone are the bloated offensive numbers and high-pitched pings that had been the norm since metal bats made their way into the game in the 1970s.
With new "deader" bats now the standard, emphasis has shifted from power to strategy ... from long ball to small ball.
SPORTS SCIENCE

A look at the science behind the BBCOR bats now being used in Texas high school baseball.

Watch

"This is my third year as a head coach here and this is the first year I've called a hit-and-run," South Grand Prairie coach Dennis Pelfrey said. "Typically we run and steal bases and a not worry about sacrifice bunting or hitting-and-running. This year we've called more sacrifice bunts than I ever have and more hit-and-runs that I've never called before."
The bats now outlawed from the high school game fell under a standard known as Ball Exit Speed Ratio. For a bat to be eligible for use, it needed the BESR stamp of approval, stating that the exit speed of the ball off the bat, depending on the speed of the pitch, was not too great for fielders to have a chance to react.
Safety issues still arose under the former standard, resulting in the NCAA and eventually the National Federation of State High School Associations to change to a new standard -- Batted Ball Coefficient of Restitution. As part of the NFHS adopting the BBCOR standard, the UIL and TAPPS followed suit for the 2012 season.
BBCOR, in laymen's terms, measures the trampoline effect of the bat as the ball makes contact. The standard governs the amount of energy lost in contact at a measure of 0.5, which is just slightly greater than that of a wooden bat.
Easton, one of the top metal bat manufacturers, offers this explanation on its
website
:
In the past, when a pitched ball made contact with an alloy or composite bat, the barrel would flex inward ever so slightly and the ball would retain some of its energy resulting in farther hits. Wood bats don't have as much "give" to them and the ball loses much of its energy upon impact. Like BESR, the BBCOR standard ensures that non-wood bats perform more comparably to wood bats in an attempt to level the playing field.
"There's definitely not as many cheap home runs and cheap hits," Rockwall-Heath coach Greg Harvey said . "Those are now caught. It makes you focus on the fundamentals of the game."
The NCAA was first to implement mandatory use of BBCOR bats in 2011 and offers the best statistical case study of the comparability of BBCOR bats to wood bats.
In 2011, the first season of BBCOR bat use, the batting average of all NCAA Division I schools fell from .305 to .282, the lowest it had been since 1976, the third year metal bats were used in the NCAA. Scoring was down from 6.98 runs per game in 2010 to 5.58, which is a low that hadn't been seen since 1975. Home runs per game finished at a 0.52 clip, down from 0.94 from 2010 and also the lowest since 1975.
[+] Enlarge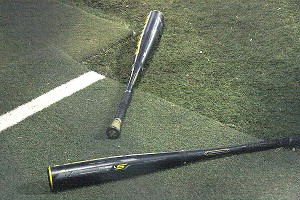 Travis L. Brown/ESPNDallas.comWhe the NCAA started using BBCOR bats in 2011, overall batting averages fell from .305 in 2010 to .282.
Through around 10 games for most Division I teams this year, the nationwide batting average was .267.
Although the sample size is smaller at the high school level, the downward trend in offense has been apparent.
For example, Rockwall-Heath featured two of the area's top hitters in Jovan Hernandez and Jake Thompson, who helped the Hawks blast 48 home runs in 41 games in 2011. With Hernandez and Thompson both back for their senior seasons, the Hawks hit 12 home runs through their first 20 games of 2012.
Coaches say they're willing to scratch out runs one at a time rather than risk stranding runners while attempting to put up a crooked number in a big inning. That means more hit-and-run attempts, a willingness to give up outs to move up runners and utilizing squeeze bunts to push across runs.
"Is it going to be a 2-1 game or a 9-7 game?" Harvey said. "If we're in a game where it doesn't look like we're going to score a lot of runs, we're going to look for a run. Smaller innings are a bigger part of the game now."
On the converse, the skipper in the opposite dugout must have his team defensively prepared to handle strategic hitting.
Highland Park's Fred Oliver crafted a Hall of Fame coaching career by implementing the fundamentals of small ball into his strategy even when BESR bats were allowed. His focus in the dawn of the BBCOR era is preparing his players to defend against the bunt with greater consistency.
[+] Enlarge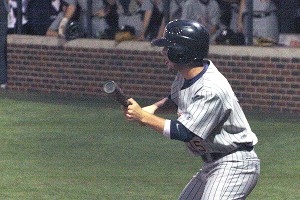 Travis L. Brown/ESPNDallas.comMcKinney North's Zach Williamson lays down a bunt, a play that's more common at Texas high school games this year because of the new bats.
"I've seen a lot more bunting, so you have to be prepared for that with a good bunt defense," Oliver said "They are just lower scoring games, like 4-3, 2-1 and 1-0. We've lost seven games this year by one run, so I think it has affected the game."
Players around the area have noticed the changes and have been forced to make adjustments, big and small, for the new bats. Those adjustments range from completely changing a swing to not relying on the sound of the bat for judging whether good contact was made.
"It's going to bring out the best hitters and helping to show what they're going to do the next years in college," said Mansfield Timberview center fielder Chuck Taylor, a UT-Arlington recruit and major league prospect.
Current San Jacinto Junior College player Justin Byrd spent his high school years in Dallas under the BESR standard, leading the area in hitting in 2010 with just under a .700 batting average at First Baptist Academy. He said he experienced some growing pains with the new bats in college last year.
"The spring rolled around and threw us for a loop," Byrd said "Early in the season you still get the guys, and I did it myself, who tried to drive it out of the park and you come up short with these new bats. You can tell a difference in a good 10 to 15 feet. Balls I crushed that were no-doubters with the old bats were getting caught at the warning track."
While hitters are being thrown for a loop, pitchers have been able to thrive.
Oliver said his pitchers have gained confidence knowing they no longer have to nibble around the corners. They can, instead, go after hitters, aggressively hitting different spots in the strike zone.
"You see guys that get jammed on inside pitches in years past who hit doubles down the line or even balls that leave the yard," Pelfrey agreed. "Now you're seeing actions like a ball would break a bat if they were using wooden bats in the big leagues. It's the same type of actions where the ball doesn't go anywhere."
Pitchers with less-than-breathtaking velocity but above-average accuracy have become more valued.
"The guy throwing the ball in the low to mid 80s with control is a special commodity," Oliver said.
Overall, coaches agreed that the new thud of BBCOR bats takes the game back to the way it was played when they were novices in the study of baseball strategy, which is a refreshing change in a time where young players can be more worried about the chicks who dig the long ball than the basics of the game.
"Our coaches have preached all season how the game has changed more drastically this year than it ever has for high schoolers," McKinney North outfielder Heath Beasley said. "Small ball is back for high school ball."
January, 23, 2012
1/23/12
9:54
PM CT
At what deficit does a football or basketball game become out of reach?

To the Texas Association of Private and Parochial Schools, it's at 40 points.

In early January, TAPPS instituted a "mercy rule" for football and basketball that will come into play in the 2012-2013 season.

The rule mandates that any game which reaches a 40-point difference after halftime, will be subject to a running clock for the remainder of the game. This includes plays that end out of bounds and play stoppages for fouls in both sports.

"When schools start beating someone 100-0, it seemed like a good time to put in that rule." TAPPS director Edd Burleson said.

Burleson cited the 2009 100-0 girls basketball blowout between Dallas Covenant and Dallas Academy as the main reason for the change.

The practice of a running clock in blowout games is not foreign to football and is, in fact, a common post-halftime practice should both coaches agree to the change.

Making that practice mandatory was discussed and eventually put into place by the TAPPS Board of Directors and Athletic Executive Committee, made of representatives from all participating districts. The representatives are coaches, athletic directors and school faculty.

"All of our board are either athletic directors or coaches and we have an 11-person Athletic Executive Committee that is made of athletic directors and coaches and there was no one that expressed a disinterest in doing that," Burleson said. "It seemed like the logical thing to do."

Current coaches in TAPPS were not notified or polled on the subject of a mercy rule before the legislation came to be law, which didn't sit well with some coaches, like Dallas Lutheran football coach John Bronkhorst.

In his years as a football coach in the UIL, TAPPS 6-man and TAPPS 11-man play, Bronkhorst has been on both sides of a football blowout, including a 75-0 loss to Bullard Brook Hill this season.

To Bronkhorst, a 75-point, one-sided game isn't over at halftime, leaving the last two quarters as a sort of formality. That second half is a lesson in adversity and a chance to gain game-speed practice for the remaining games in the season.

The instances Bronkhorst has been offered the "mercy" of a running clock in the second half, including the 75-0 loss, he has respectfully declined.

"The officials came to me at halftime and asked if I wanted to run the clock and I said, 'Absolutely not.' " Bronkhorst said. "It's not to be cruel to my team because it's a teaching opportunity. It's an opportunity for us to learn in life you're not going to get bailed out. We need to learn how to overcome adversity, and I can tell you right now, we grew from that game."

The lesson hit home for the Lions, Bronkhorst said. His players came back the next day and recommitted themselves to a higher standard of work ethic, which is a lesson that can be applied to more than just football, the coach said.

Bronkhorst said he believes a matter of "mercy" is not in the basic framework of the game, saying it is his team's job to score points and to keep the other team from scoring, and the decision of the other team to run the ball during a blowout or put in second-string players is their prerogative and interpretation of sportsmanship, but is not a concern to him.

The same went for current Plano Prestonwood football coach Chris Cunningham, while he was the coach at the newly opened Colleyville Heritage, several years ago.

"My kids appreciated that and I think that is an element of it," Cunningham said. "You want to try to teach them to play through and try to make an effort to come back. It almost takes that chance to come back. It is six touchdowns, but stranger things have happened in football."

Cunningham and other TAPPS coaches around the area, however, are not as opposed to the new rule as Bronkhorst, but most have found several disadvantages to the running clock, which limits their ability to coach.

"If you want to practice on the two-minute drill and you have a minute left, if you throw an incompletion, the clock still runs unless you call a timeout," First Baptist Academy football coach Jason Lovvorn said.

Point differential is the most probable situation of how the mercy rule can alter a team's season. In TAPPS rules, if two or more teams tie in district records, the first tiebreaker for playoff seeding is total point differential for each team.

If a team gains a 40-point lead by halftime, causing a running-clock situation, and puts in second-string players in the second half, there is always a chance the losing team could make up half of the deficit before the game is over, which was a legitimate concern for Lovvorn and Bronkhorst.

Most districts have a point differential cap ranging from around 17-21 points, but it is more likely for a losing team to make up enough ground to move into the uncapped point area than actually make a run at winning the game. A few extra points that the winning team does not have a chance to make back could cause a team to lose a district championship or even knock a team out of a playoff berth.

If a losing team made a comeback that infringes into the uncapped differential area, the winning team would then have to put starters back into the game and run a hurry-up, passing offense to try and gain those points back before the clock runs out, despite still winning by around 20 points.

All coaches agreed that the majority of these scenarios will not occur frequently, but their ability to teach certain lessons will be altered in the seasons to come.

Those lessons and extra reps were not enough to outweigh the positives of the new rule, Burleson said.

"Extra reps against someone who is getting hopelessly beat?" Burleson said. "We couldn't find anyone in our group that comes from a wide spectrum and they weren't all in agreeance with this rule. It shortens the time you're in misery. Now the losing coach doesn't have to beg for mercy and the winning coach doesn't have to make that decision or else look like the bad guy. We have taken on the role of the bad guy."

Section 130 of the TAPPS Constitution and Bylaws states the purposes of the athletic program for the participant schools are: (C) to regulate competition so that students, schools and their fans can secure the greatest educational, social, recreational and aesthetic benefits from the contests, (E) to preserve the game for the overall benefit of the contestant and not sacrifice the contestant to the game, and (F) to promote the spirit of good sportsmanship and fair play in all contests.

Bronkhorst said he will leave it up to his administration to decide if it would be necessary to make any kind of appeals or protests to the rule, but will most likely just live by a motto he preaches to his team -- adapt and overcome.

All the coaches agreed TAPPS athletics live under the stigma of inferior competition and athletes to those found in the UIL, while playing the same games by the same rules. Now, TAPPS has set itself apart, playing by different rules, which Bronkhorst believes will do nothing but hurt public perception of private school teams and athletes

"[TAPPS has] just set private school football farther apart than UIL football," Bronkhorst said. "Having a mercy rule there is definitely a bigger difference between the two."
January, 4, 2012
1/04/12
10:42
AM CT
Dallas First Baptist Academy seventh grade quarterback Jaylin Nelson barely made the Dec. 1 deadline to submit his game tape and application for the Eastbay Youth All-American Bowl.
When his father, Carlton Nelson, called to make sure his son's information was received in time to be considered, he received the confirmation and was told it would take about two or three weeks for the bowl to let the Nelsons know if Jaylin made the cut.
[+] Enlarge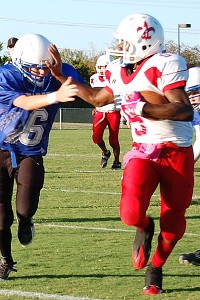 First Baptist AcademyDallas First Baptist Academy quarterback Jaylin Nelson will represent North Texas in the Eastbay Youth All-American Bowl on Sunday in San Antonio.
It took the game's officials only a day to name Nelson a middle school All-American.
Nelson will be one of a small group of area middle school athletes who will represent North Texas in the showcase that will take place Sunday in San Antonio in collaboration with Saturday's high school Army All-American Game.
Nelson has spent the majority of his youth playing select pee-wee football for Deion Sanders' team, The Truth, which granted him access to not only some of the best competition and tournaments in the country but to coaching from "Prime Time" himself.
"He was with us every day," Nelson said. "He always helped us with life and gave us a lot of advice about life and sports."
Nelson has also experienced much more football than many of the young athletes he competes against who typically begin their football careers in middle school, which gives FBA varsity football coach Jason Lovvorn the opportunity to teach him at a much higher level than most players.
"He's played football for a long time," Lovvorn said. "He's played in some really competitive tournaments -- national tournaments. Even when you watch the films of those games, he's the best player on the team."
Nelson even had the opportunity to travel with Sanders to Canton, Ohio, during Sanders' Hall of Fame weekend to participate in one of those national tournaments.
On that game film Lovvorn mentioned, it is evident that Nelson has an awareness of the field and the defense that is ahead of his years. He uses his ability to spin out of tackles and scramble out of the pocket but also has the confidence to look downfield and create plays out of nothing.
While it's not out of the ordinary to find a seventh grade football player who can juke and spin his way down the field on the ground, it isn't every day that the same player can throw over 50 yards on a dime.
Even greater than those talents to Lovvorn is his coachability and work ethic. Nelson continues to learn the art of the quarterback from Lovvorn, who earned a spot as the backup quarterback at Baylor after walking on the team as a freshman in 2004.
"He's a really hard worker and he continues to develop," Lovvorn said. "Every practice and every game, he gets better and better. He's got a really good attitude even though he's got a lot of natural ability. He's one of the hardest workers I've seen. I think that says a lot about his future development."
Nelson says he expects to play out his high school career at FBA, playing in TAPPS small school districts because of the Christian-based education the school provides.
In his first year at the school, he led his middle school team to an 8-1 record.
At the All-American Bowl, Nelson said he hopes to do some networking with the coaches and players who travel to San Antonio and just have a good time playing the game.
Lovvorn also hopes Nelson enjoys his time at the game and hopes those networking possibilities attracts other athletes to the a Saints athletic program that is in decline because of decreasing enrolment in private schools.
Most importantly, Nelson's parents hope he uses this opportunity to continue to learn little life lessons that many kids don't have the chance to experience until much later in life and develop those few talents that don't already come naturally.
"There's a lot of natural instincts that you can't teach and there are a lot of things that you can't teach that he's got," Lovvorn said.
January, 4, 2012
1/04/12
10:24
AM CT
MESQUITE, Texas -- Dallas First Baptist Academy's basketball team claimed a gym on the seventh floor of its downtown campus as home for as long as anyone can remember.
[+] Enlarge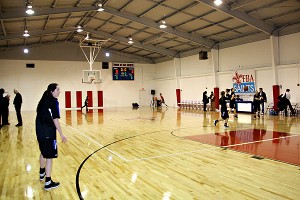 Travis L. Brown/ESPNDallas.comFirst Baptist Academy's new gym is part of the school's athletic complex.
To reach the Veal Gym, it took an elevator ride past a level that contained a roller skating rink and several floors of Sunday school classes in a structure that, from the outside, appeared to be just another office building.
The framework for a new multipurpose building for the use of First Baptist Church now stands where the Veal Gym once existed, leaving the Saints without a gym to call their own throughout the 2010-11 season.
On Tuesday, First Baptist opened shop in a new home court, contained inside the newly renovated field house at the Saints Athletic Complex just off Buckner Blvd. and I-30.
The complex puts all of the Saints' sports teams in one place. The school's football, baseball, softball and wrestling teams have already broken in the facility. The renovations also provided for a wrestling-specific practice room.
The christening of the new gym was enough for Saints fans to endure two district-opening losses to Tyler All Saints. The boys lost 70-20 and the girls fell 53-34.