High School:

Dallas Madison
February, 2, 2012
2/02/12
11:34
PM CT
NORTH RICHLAND HILLS, Texas -- Get ready UIL, Prime Time is on his way.

Hidden in the shadow of the shuffling of 4A and 5A schools in the 2012 UIL realignment was the entrance of former Dallas Cowboy Deion Sanders' charter school, Prime Prep Academy, into Class 3A of the UIL.

Prime Prep Academy opens its doors this fall and will compete in multiple sports, including football, in District 11-3A.

"This is new for us," Prime Prep advisory board member Reginald Calhoun said, "so we're building some relationships and trying to get our feet wet."

Calhoun represented the school at Thursday's meetings while the school's founders continue to piece together a permanent athletic department, which includes hiring coaches.

Prior to the realignment meeting, members of the Prime Prep Academy advisory board met with UIL officials to map out the rules of eligibility with the charter school and confirm the school as a member of the organization.

Calhoun said the school's new district mates, which includes Dallas Wilmer-Hutchins, Dallas Madison and Dallas Roosevelt, were "cautiously excited" about the addition of the charter school to district play in their preliminary exchanges.

"It's tough right now with them adding Prime Prep Academy because we don't know what their number will look like and we don't have any history with them, but we'll be fine," Roosevelt interim head coach John Simon said. "We're looking forward to the challenge."

Simon said it was a "shocker" to see that Prime Prep Academy would jump right into a 3A schedule in its first year of existence, diverting from the norm of working up from 1A or 2A in the first few years. Simon said he believes Prime Prep Academy will have 2A numbers, but the school opted to play up in Class 3A.

Calhoun said Sanders will be directly and actively involved in the athletic programs of Prime Prep Academy. Sanders has been involved with his youth sports programs throughout the past several years.

Open enrollment for the academy begins March 1 and will be on a first come, first serve process through May 4. The school's web site encourages parents to enroll early, as they believe the spots will fill up quickly. There is no tuition to attend the school.

Calhoun fielded interest from 3A Pittsburg, TAPPS Division I Plano Prestonwood Chrstian and several Mansfield ISD schools for non-district matchups in football.

Sanders and the academy board was granted its charter from the Texas State Board of Education on September 16 of last year to begin teaching high schoolers in Oak Cliff at the former site of Lobias Murray Christian Academy.

Sanders' vision for the school at the time was to create a union between the best academic teaching and the best athletic training the Metroplex has to offer.

"We plan on marrying the best of teachers academically, some of the best students academically, some of the best athletes together -- the best attitudes, the best passion and desire all intertwined to educate these guys to raise company CEOs, and not employees," Sanders said.

Thursday, excitement was flowing from Calhoun regarding the athletic steps the academy took, but the academics were still of highest priority to the board member.

"We're doing something totally different. Not about the athletics but about the academics," Calhoun said. "When you begin to impact children's educational opportunities, you've impacted that entire generation. You've changed lives by impacting them with education. It's much more than athletics, even though it's a small component of it -- it's truly about education."
December, 26, 2011
12/26/11
10:49
PM CT
Nothing rings in the New Year and a new high school basketball season like the Coca-Cola Dallas ISD Basketball Tournament.

In its 72nd year, the 2011 edition of the city-wide, early-district bracket features some of the area's best talent, including nine state Top 25 teams from 5A, 4A and 3A, according to the Texas Association of Basketball Coaches poll.

Games run from Tuesday morning to the winner's bracket championship at 7:30 p.m. Thursday at Ellis Davis Field House.

In the field of 32 is ESPN FAB 50 No. 44 and TABC No. 4 South Grand Prairie (13-1), who opens the tournament noon Tuesday at Sprague Field House against TABC 3A No. 12 Wilmer Hutchins (13-3).

Last year's 4A state champion and TABC No. 2 Dallas Kimball defends the state in its opening round match, taking on South East Oklahoma at noon Tuesday at Davis Field House. Kimball boasts the No. 18 recruit in the nation from the class of 2013 in Irving transfer Keith Frazier.

Two other opening-round games to watch are TABC No. 4 Dallas Woodrow Wilson against Plano East at noon Thursday at Loos Field House and TABC No. 18 Dallas Lincoln taking on West Mesquite at noon Thursday at Forester Field House.

Tuesday Opening-Round Schedule

Sprague Field House

Dallas Molina vs. Dallas Samuell, 9 a.m.

No. 12 Dallas South Oak Cliff vs. Wylie, 10:30 a.m.

No. 12 Wilmer Hutchins vs. No. 4 South Grand Prairie, noon

Dallas Roosevelt vs. Dallas Adamson, 1:30 p.m.

Loos Field House

Dallas W.T. White vs. Dallas Conrad, 9 a.m.

Sachse vs. Richardson J.J. Pearce, 10 a.m.

No.4 Dallas Woodrow Wilson vs. Plano East, noon

No. 19 Hillcrest vs. Mesquite Horn, 1:30 p.m.

Ellis Davis Field House

Red Oak vs. Dallas Pinkston, 9 a.m.

Dallas Carter vs. Lancaster, 10:30 a.m.

No. 2 Dallas Kimball vs. South East Oklahoma, noon

Dallas Bryan Adams vs. North Dallas, 1:30 p.m.

Forester Field House

Seagoville vs. Dallas Spruce, 9 a.m.

No. 4 Dallas Madison vs. Dallas Skyline, 10:30 a.m.

No. 18 Dallas Lincoln vs. West Mesquite, noon.

No. 12 Episcopal School of Dallas vs. Garland Lakeview Centennial.
March, 8, 2011
3/08/11
4:02
PM CT
By
Randy Jennings
| ESPNDallas.com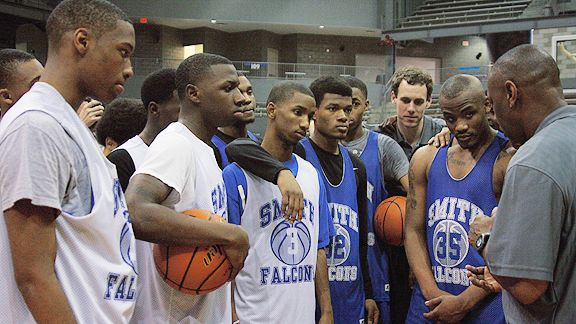 Travis L. Brown/ESPNDallas.comDallas' A. Maceo Smith is in its last year as a comprehensive high school, but the state-bound boys basketball team is going out in style.
Dallas A. Maceo Smith High School's first state basketball final four appearance will also be its last.
Days are numbered for the 33-year-old South Dallas school, at least in its present form as a comprehensive high school.
Because the school of 850 students is in its fourth year of academic unacceptability, the Dallas ISD has opted to convert the school building at 3030 Stag Road into a technology high school as part of a repurposing plan. Athletics will not be offered.
Many of the school's current underclassmen will be housed at Wilmer-Hutchins High School, which the DISD plans to reopen in the fall. Others could wind up at Roosevelt or South Oak Cliff.
Rather than watch the school's athletic program end with a whimper, the basketball team is finishing with a flourish.
The Falcons (26-9) will face Corpus Christi West Oso (33-3) in a Class 3A state semifinal at 2 p.m. Thursday at the University of Texas' Frank Erwin Center in Austin. A victory would vault A. Maceo Smith into the state title game at 10 a.m. Saturday against the winner of Thursday's Burkburnett-Mexia semifinal.
"From the start of this school year,'' school principal Marlon Brooks said, "we've talked to the kids about making this the most significant year in the history of the school. It started with our football team making the playoffs.
"And now the success of the basketball team has been amazing. They've lifted all of us on their backs.''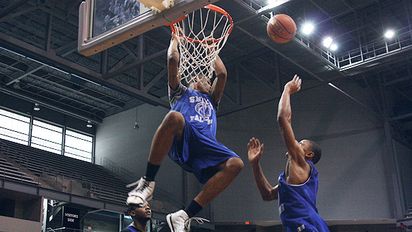 Travis L. Brown/ESPNDallas.comA. Maceo Smith's Desmon Patterson slams a shot through during practice. Many of the school's underclassmen will probably attend Wilmer-Hutchins, Roosevelt or South Oak Cliff high schools next year.
Micah Cooper, a 6-2 junior guard who leads the team with a 13.5 scoring average, said morale has been boosted by the support of the students and teachers.
"Everybody is backing us 100 percent,'' he said. "We've already made school history just getting to Austin.''
Falcons coach John Burley hesitates to point to impending changes at the school as a reason for the success.
"It is unbelievable that we'd get to Austin in the final year of the school, but I honestly don't know how much next year's change has to do with it,'' said Burley, who is scheduled to move on to Wilmer-Hutchins next season "Half are seniors and wouldn't be coming back anyway. All of them are focused and into the season. But you never know what makes them happy or sad.''
Based on last season's 7-22 record, it would have been difficult to foresee the Falcons packing for Austin this week.
Burley's first season as a head coach at the school a year ago was an eye opener. He found himself in charge of a few players reluctant to accept discipline. He weeded out those who didn't want to practice and turned those remained into a success story.
The turning point this season came in the next to last game of the regular season against rival Dallas Madison, which owned a long district winning streak.
A state tournament qualifier each of the preceding two seasons, Madison beat the Falcons by 16 points in an earlier district meeting and had them down by 12 points in the third quarter when Burley in a time out delivered an edict: No more jump shots.
"We started taking the ball to the rim and we won that night,'' Burley said. "We haven't lost since.''
Its playoff run includes another win over Madison in the third round of the playoffs and a 63-60 overtime triumph over Argyle, a team that thumped A. Maceo Smith during the regular season, in the Region II championship game.
Guards Jeremy Mobley, a 5-11 senior, and Devonse Reed, a 6-4 junior, have been important contributors with scoring averages of 12 and 11 points, respectively.
"Our kids have remained very humble through this,'' principal Brooks said. "No matter how we do at state, we are extremely proud to go this far.''
If A. Maceo Smith should win the title, will the trophy remain at the school or be a part of next year's move to Wilmer-Hutchins?
That's a dilemma the Falcons wouldn't mind facing.
July, 19, 2010
7/19/10
12:15
PM CT
By
Randy Jennings
| ESPNDallas.com
Six area players will represent the North in tonight's 66th Texas High School Coaches Association All-Star Basketball Game at San Antonio's Bill Greehey Arena on the campus of St. Mary's University.

Tipoff is 7:30 p.m.

Area players include:

*Travis Dykman, a 6-2 guard from Crandall.

*Scott Greg, a 6-6 post from Ponder.

*Kristapher Gulley, a 6-7 forward from Dallas Madison.

*Brandon Jefferson, a 5-10 guard from Lewisville.

*Tanner Milson, a 6-2 guard from Cedar Hill.

*T.J. Taylor, a 6-3 guard from Denison.

The South team will be led by Houston Yates guard Joseph Young, who is bound for Providence College.

The North will be coached by Coppell's Brad Chasteen along with his assistant coaches, Jon Ziaer and Pat Hernandez.

Monday is the first full day of THSCA's annual convention. Connecticut football coach Randy Edsall, Oregon football coach Chip Kelly and Xavier basketball coach Chris Mack are today's featured speakers.

The THSCA football all-star game will be played Tuesday night.
June, 1, 2010
6/01/10
12:24
PM CT
By
Randy Jennings
| ESPNDallas.com
The debate between Texas and Florida over which state plays the best high school football will be put into sharper focus with the "Texas vs. Florida High School Football Showcase'' this fall.
Four teams have been chosen from Texas to meet teams from Florida on Sept. 10-11 at Eagle Stadium in DeSoto.
The lineup:
*Abilene vs. Cocoa, 7:30 p.m. Fri., Sept. 10
*Denison vs. Belle Glade Glades Central, 11 a.m. Sat., Sept. 11
*Dallas Madison vs. Miami Central, 3 p.m. Sat., Sept. 11
*DeSoto vs. Miramar, 7 p.m. Sat., Sept. 11
There will be a Texas vs. Florida trophy presented to the winner.
The Friday night match-up is particularly appealing. Abilene is the defending Class 5A Division II state champion and Cocoa won the 2A title in Florida last season.
In 2007, Miami Northwestern defeated Southlake Carroll, 29-21, in a nationally televised meeting of the nation's No. 1 and No. 2 teams.
The plan of the organizer, C&B National Sports Marketing Group, is for four Texas schools to travel to Florida for four games in 2011.
March, 13, 2010
3/13/10
1:16
PM CT
By
Randy Jennings
| ESPNDallas.com
Dallas Madison's bid for a second consecutive Class 3A boys state basketball title was derailed by Lubbock Estacado, 69-63, at the UIL State Championships on Saturday morning.

A cold-shooting second quarter was Madison's undoing before 9,948 fans at Austin's Frank Erwin Center.

Madison missed three shots and turned the ball over three times in a scoreless final three minutes of the second quarter. Madison also failed to score in the opening three minutes of that quarter, missing nine shots.

The title was sweet revenge for Estacado, which lost to Madison in overtime, 68-66, in the 2009 state title game.

Madison, (29-9), No. 1 in the Texas Association of Basketball Coaches' 3A state rankings, had a two-year playoff streak of 11 consecutive wins end.

Estacado (33-4) never trailed after the 3:03 mark of the second quarter, but a 13-point lead in the third period was whittled to two twice in the fourth quarter, the last time on a basket by Kristapher Gulley with 19 seconds remaining. Gulley led Madison with 20 points.

Kevin Wagner and Barry Johnson each sank a pair of free throws in the final seconds to clinch the win for Estacado.

Forward Clarence Willard led all scorers with 23 points for Estacado, No. 3 in the TABC state rankings.

Gulley and teammate Tevin Harris each had 10 rebounds.

Madison's 46-31 rebound edge was offset by Estacado's better shooting and lower turnover totals.