High School:

Dallas Spruce
August, 25, 2011
8/25/11
12:01
AM CT
DISTRICT 12-4A
Dallas Adams (2-8,2-4). Coach: Derick Roberson.
Dallas Conrad (7-4, 5-1), lost in DI bi-district. Coach: Darren Duke.
Dallas Hillcrest (8-3, 6-0), lost in DII area. Coach: Andy Todd.
Dallas Jefferson (0-10, 0-6). Coach: David Haynes.
Dallas Lincoln (4-7, 3-3), lost in DII bi-district. Coach: James Argenti.
Dallas Spruce (1-8, 1-5). Coach: Carl Richardson.
Dallas Woodrow Wilson (8-3, 4-2), lost in DI bi-district. Coach: Bobby Estes.
THE BIG QUESTION: Is this Woodrow's big year to shine before the window closes?
Woodrow is known for being the only high school in Dallas that's on a "first-name" basis with the city and for producing two Heisman Trophy winners.
The school has had a recent resurgence in football and had a second-place finish in 12-4A last season, but hey were a quick exit in the first game of the playoffs.
Woodrow returns players at key positions in QB Piers Christian and WR Shaquille Dottin, which solidifies one of the best offenses in the district.
Its top competitor is returning district champion Conrad, wich boasts the return of the district's top rusher, Silas Jefferson.
Woodrow's weakness is its lack of depth, which could be exploited next season.
If Woodrow is going to make a deep run in the playoffs, this is the year to make it happen.
PLAYERS TO WATCH
WR Kris Williams, DB/WR Shaquil Berry, Adams; QB Silas Jefferson, LB Johnathan Small, Conrad; ATH James Myles, QB Rocky Reyes, Hillcrest; DB Ulises Montalvo, LB/RB D'Ontrrius Jackson, Jefferson; QB Eric Neal, WR Derric Neal, LB Tabari McGaskey, Lincoln; OL Joshua Levy, DB DeAmonte Miles, RB Reginald Robertson, Spruce; QB Piers Christian, SS Andre Plata, WR Shaquille Dottin, Woodrow.
DID YOU KNOW?
Dallas Spruce is in its second year of varsity competition after having its athletic program shut down by the school district for two years... Dallas Lincoln is typically a threat for the top spot on the district, but returns only four starters and must work through inexperience to find success.
PROJECTED PLAYOFF TEAMS
Woodrow
Conrad
Hillcrest
Adams
January, 26, 2011
1/26/11
11:47
PM CT
Point guard
Curtis Davis
has Dallas Woodrow Wilson nipping at the heels of national power Dallas Lincoln in District 12-4A.
The senior leads the Dallas-Fort Worth area in assists, averaging 7.3 per game, and he scores at an equally staggering rate -- 24.8 points per game.
Woodrow Wilson (19-5, 5-1) trails Lincoln (22-2, 6-0) by just a game and gave Lincoln all it could handle in a 64-62 loss on Jan. 8. The teams meet again on Feb. 5.
Davis (6-foot, 160 pounds) has been recruited by Western Illinois, Sam Houston State and North Texas.
But Davis isn't the only thing going for Woodrow Wilson. Marc Brown gives the Wildcats a big body (6-foot-4, 185 pounds) at shooting guard. He averages 16 points per game. Justin Daniels averages 10 points per game.
Woodrow Wilson hits a light part of its schedule before playing Lincoln again. It plays Dallas Spruce (1-15, 0-6) on Thursday and Dallas Thomas Jefferson (2-16, 1-4) next week.
October, 20, 2010
10/20/10
10:39
PM CT
Dallas Spruce (1-5, 1-2 12-4A) won its first game of the season Friday by the score of 14-3 over district rival Dallas Thomas Jefferson.
It was the school's first victory since the team was disbanded several years ago for academic purposes.
Click here
for the preseason feature on Spruce's football program coming back from the dead.
"It's hard to put into words what it means for the program," head coach Carl Richardson said. "We're rebuilding and this is the first step in getting our program where it needs to be. It's a big confidence booster and something the kids have been waiting for all year. "
Spruce has three more games left in the season, matching up next with Dallas Lincoln on Friday at 7:30 p.m. Richardson said the lessons his team has learned throughout the whole season will help it find success in Spruce's final games.
"It's going to be tough," Richardson said. "We play three more games against tough opponents. I think it's going to be very competitive because we've learned to not give up and to not quit."
August, 24, 2010
8/24/10
11:17
PM CT
DISTRICT 12-4A
Dallas Bryan Adams (3-7, 2-4 in 12-4A). Coach: Derick Roberson

Dallas Conrad (5-6, 3-3 in 12-4A) lost in DII area. Coach: Darren Duke

Dallas Hillcrest (1-8, 1-5 in 12-4A). Coach: Andy Todd

Dallas Lincoln (10-2, 6-0 in 12-4A) lost in DII area. Coach: James Argenti

Dallas Spruce (no varsity team last year). Coach: Melvin Lark

Dallas Thomas Jefferson (0-10, 0-6 in 12-4A). Coach: David Haynes

Dallas Woodrow Wilson (6-5, 5-1 in 12-4A) lost in DI bi-district. Coach: Bobby Estes
THE BIG QUESTION:Will Woodrow's strong defense have what it takes to beat district favorite Lincoln?
[+] Enlarge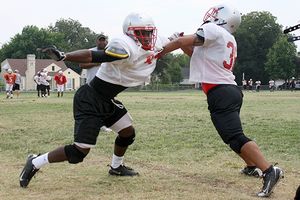 Travis L. Brown for ESPN.comOutside linebacker Chad Polk (left) leads Dallas Woodrow Wilson's defense.
At Woodrow Wilson's practice Tuesday, a quarterback walked up to a line of wide receivers during positional drills and asked them what they were working on.
"Being aggressive athletes," one of them said very resolutely.
Woodrow has a tradition of developing athletes, dating back to Davey O'Brien, Tim Brown and more recently
Sergio Kindle
. Now the Wildcats must rely on a corps of aggressive, athletic linebackers to carry a young team into the playoffs.
The leader of the group is outside linebacker
Chad Polk
, who had 67 tackles last season, 16 for loss, and snatched two interceptions. Coach Bobby Estes said Polk was a very special player and will need to lead a defense that will have to carry a young and inexperienced offense through the season.
Lincoln is the defending champion and favorite to win the district in 2010, but Polk believes that Woodrow's more experienced middle linebacker, Ceasar Silva, will give the Wildcats a better shot at beating the Tigers this year.
"Last season, Lincoln ran straight up the middle with a fast running back and I think [Silva has] grown up and matured more," Polk said. "He can read plays better."
Estes said he's not worried about any other teams in the district, just about the performance of his own.
"We've got to worry about us," Estes said. "If Woodrow is the best they can be, then we're going to be OK."
PLAYERS TO WATCH
OL
Desmine Hilliard
, WR Dominic Thompson, LB
Devante Davis
, Lincoln; LB Chad Polk, Woodrow Wilson; LB Jaaron Staton, Conrad.
DID YOU KNOW?
Lincoln has made the playoffs in 14 of the last 15 seasons, including the last 11 years in a row. ... Spruce is the only squad that wasn't in the district last year.
The team is returning to action following a two-year hiatus
, the result of varsity athletics being cancelled because of failure to reach academic standards.
PROJECTED PLAYOFF TEAMS
Lincoln

Woodrow Wilson

Conrad

Bryan Adams
August, 16, 2010
8/16/10
11:33
PM CT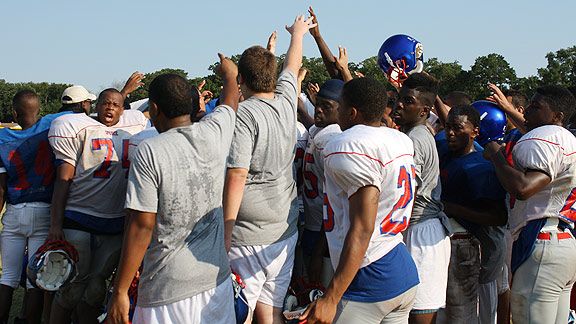 Travis L. Brown/ESPNDallas.comDallas Spruce players are preparing for the school's first varsity season in two years.
The term "death penalty," when related to the disbanding of a school's football team, is not unfamiliar to Dallas sports fans. In 1987, SMU's entire season was canceled because of repeated NCAA violations.
Dallas H. Grady Spruce High School football coach Carl Richardson feels his athletes have gone through the same fate.
In 2008, the Dallas Independent School District reconstituted Spruce, taking all 10th and 11
th
graders out of the school and canceling varsity sports for two years. Senior athletes in '08 were allowed to transfer to other DISD schools. The drastic changes were made because the school failed to reach academic standards, Dallas ISD athletic director Jeff Johnson said.
"To the kids that left, it was a big disappointment and we can't get them back," Richardson said. "That year we were going to have a great season. We went two rounds in the playoffs the year before that happened and we were returning 18 starters."
Now, two years later, the programs have been reinstated, and a small but dedicated group of juniors and Richardson hope to return from the sports grave successfully. Richardson said he's proud of the opportunity his team has this season, bringing varsity sports back to Spruce.
[+] Enlarge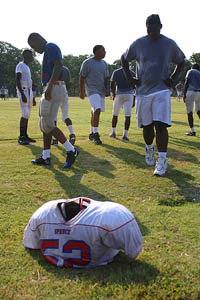 Travis L. Brown/ESPNDallas.comDallas Spruce's football team will be led by a class of juniors who remained at the school in 2008 when varsity sports were cancelled.
"It's an honor because I feel we received the death penalty," Richardson said. "I'm a graduate of this school so I, the community and the kids are embracing it and we're trying getting ready for a tough schedule."
The athletes that remained at Spruce were incoming freshman in '08, unable to transfer under the DISD's ruling and forced to work toward a goal they had to wait two years to see come to fruition. Now as juniors they are the oldest players on the team and have garnered respect from not only the coaches and the community, but from the young players they have entering the school this year.
"We didn't have anyone to look up to, so we had to teach ourselves how to do stuff," junior safety David Montelongo said. "And now that we've learned how to do that stuff we have young incomers that look up to us."
"We had to come up here on our own and take care of business," junior running back Daniel Coleman said. "We really didn't practice in the summer. We had to start from scratch every summer and come up here and lift weights without the coaches and be a leader and a team builder."
With complete uncertainty on how this inexperienced team will fair at the varsity level in District 12-4A, many schools have already slated Spruce as their 2010 homecoming opponent. Schools have even designated games as early as the third week of the season to be their homecoming game against Richardson's team, he said.
"We're going to be everyone's homecoming. We don't have a choice. We have to line up and play varsity football," Richardson told his team after a recent practice.
The players understand what they can do with this opportunity.
"Homecoming is really a good environment to play in," junior linebacker Robert Aguilera said. "Motivation and adrenaline kick in. We're seeing that it's their game and their time, but it's really not. We're going to give it our hardest."
According to Richardson, this season is not about wins and losses; it's about celebrating the effort these few juniors have put forth and working hard to build a varsity team at Spruce for the future. It's a goal that resonates with the leaders of his team.
"We're going to go out there and play hard and give it our all and hopefully come out with a good season," Coleman said. "Losing, we can lose and it makes us a better team. Me, personally, I don't like losing, but I just want to get better."