High School:

Dallas Sunset
April, 12, 2012
4/12/12
6:07
PM CT
Dallas Sunset's baseball season is shaping up to be one that has been 18 years in the making.

Sunset (13-10, 5-4 in District 9-5A) is enjoying its first winning season since 2005. With five games remaining, Sunset also sits in fourth place in district, owns the tiebreaker over Richardson and is staring at its first playoff appearance since 1994.

What has accounted for the turnaround from a 9-18 season in 2011?

Coach Dorman Pryor believes it's the leadership of his seniors, who from the beginning bought into a program that needed to be rebuilt.

"We've had some kids that have been committed to the program," Pryor said. "I've got three seniors that have totally committed and do a great job, and it filters down."

On the diamond, Pryor is one of the few coaches who have seen an advantage in the first season of "deader" BBCOR bats.

His program has traditionally been based on a small-ball philosophy, keying in on his team's lack of size. Now, he can use the majority of his lineup to bunt for hits or move runners over with years of experience under his players' belts. Combine that manufacturing with a few scrappy singles hitters and the outcome is a winning record.

"We don't have any power but we have a lot of kids that can hit the baseball," Pryor said. "We've got what we call the midget mafia -- a ton of kids that are barely 5-foot-2 and they are leading the team in hitting and RBIs."

The road to the playoffs is still an uphill climb for Sunset, which must again face Lake Highlands, W.T. White and Jesuit. All have beaten Sunset the first time around this year.

"There's a whole lot of baseball left," Pryor said. "We're just praying it works out in our favor."

Coppell, Lake Highlands have new managers

Two traditionally strong baseball programs, Coppell and Lake Highlands, have new faces trading lineups before games.

Coppell is in the hunt for one of the last two playoff positions under Kendall Clark as district play begins to wind down, hoping to avenge an area-round in 2011.

The Cowboys sit in a three-way District 7-4A tie at 6-4 with Keller and Denton Guyer.

At Lake Highlands, Cory Tucker came into the season with big shoes to fill in replacing the legendary Jay Higgins, who had a 44-year career with the Wildcats.

So far, Tucker has the Wildcats in second place in District 9-5A with a 14-9 overall record.

Lake Highlands' only district losses came against W.T White, whom the Wildcats have also beaten this season, and district-leading Dallas Jesuit. The Wildcats will face Jesuit again Tuesday.
February, 2, 2012
2/02/12
2:32
PM CT
By
Randy Jennings
| ESPNDallas.com
NORTH RICHLAND HILLS, Texas -- The makeup changed very little or not at all in four of the area's nine Class 5A districts at Thursday's UIL reclassification and realignment.

*The current District 4-5A (five Arlington schools, Fort Worth Paschal, North Crowley and Weatherford) remained intact but, because of district consolidation in West Texas, changed its number to 3-5A.

That's an agreeable change, said Anthony Criss, football coach at Arlington Sam Houston and former Arlington ISD assistant athletic director.

"It's great for Arlington because it means we stay in the area for first-round playoff games instead of going to West Texas,'' Criss said. "We'd still go west once, but not until the second round.''

*The current District 5-5A retained seven of its eight members in the new District 7-5A: Cedar Hill, DeSoto, Duncanville, Grand Prairie, South Grand Prairie, Mansfield and Mansfield Timberview. The only change is Mansfield Legacy drops down to Class 4A and powerhouse DeSoto takes its place.

"A tough district just got tougher,'' said Grand Prairie coach Gary Bartel.

*In District 9-5A, Dallas Samuell dropped to Class 4A and was replaced by Richardson Pearce, which is moving back up to 5A. The other seven members are unchanged: Dallas Jesuit, Dallas Skyline, Dallas Sunset, Dallas W.T. White, Richardson, Richardson Berkner and Lake Highlands.

"I wasn't sure Jesuit would stay in,'' said Skyline coach Reginald Samples. "In fact, we had agreed to play them in a nondistrict game if they weren't in our district.''

*The seven Garland ISD schools that made up 10-5A in the last realignment are now without McKinney Boyd as they go forward as District 11-5A with this lineup: Garland, Garland Lakeview, Garland Naaman Forest, North Garland, Rowlett, Sachse and South Garland.
November, 29, 2011
11/29/11
8:45
PM CT
By
Randy Jennings
| ESPNDallas.com
The Dallas Independent School District has gone six decades without a state football champion.
Dallas Skyline is threatening to end that long wait for a title.
Skyline (13-0), the new No. 1 team this week in the ESPNHS Texas Rankings, has three playoff wins under its belt and needs three more to make history. The Raiders face The Woodlands (12-1) in the Class 5A Division I Region II title game set for 4 p.m. Saturday at Waco ISD Stadium.
Skyline didn't exist in 1950 when Dallas Sunset defeated Houston Reagan, 14-6, to capture the short-lived City Division state title at Dal-Hi Stadium. The DISD at that time was composed of five high schools in addition to Sunset: Forest Avenue, North Dallas, Adamson, Crozier Tech and Woodrow Wilson.
Sunset, which enjoyed great football success in the 1940s, started the 1950 season with a 2-2 record that included losses to Reagan (12-6) and Highland Park (14-0), then closed the season with a seven-game winning streak for a 9-2 record. The state playoff bracket for the City Division consisted of only four teams. Sunset, coached by Byron Rhome, defeated Fort Worth Arlington Heights, 12-6, to reach the final.
Two other teams came close to ending the DISD drought:
*Dallas Carter briefly wore the title of Class 5A state champion in 1988, only to be stripped of the title by the University Interscholastic League for the use of an ineligible player.
Carter won court injunctions to remain in the playoffs that season, right through a 31-14 victory over Converse Judson in the state final at Texas Stadium. The score was later changed to Judson 1, Carter 0 to reflect the forfeit. Linebacker Jessie Armstead, who went on to play 11 seasons in the NFL, was a member of that Carter team.
*Dallas Lincoln, under current Skyline coach Reginald Samples, came very close to winning the Class 4A Division II state title in 2004. Lincoln's attempt of a 42-yard game-winning field goal in double overtime was blocked and returned 70 yards for the game-ending touchdown by Kilgore's Nick Sanders. Lincoln failed to hold a 20-10 third-quarter lead that day in Waco. Byron Eaton, who went on to star in basketball at Oklahoma State, scored Lincoln's final touchdown.
Skyline is in the fourth playoff round for the third time in five seasons. The Raiders lost regional finals to Plano, 41-20, in 2007, and to Round Rock Stony Point, 28-14, in 2008.
August, 22, 2011
8/22/11
12:01
AM CT
DISTRICT 9-5A
Richardson Berkner (4-6, 3-4). Coach: Jim Ledford

Dallas Jesuit (6-5, 5-2), lost in DII bi-district. Coach: Brandon Hickman

Dallas Lake Highlands (7-4, 6-1), lost in DII bi-district. Coach Scott Smith

Richardson (7-4, 4-3), lost in DI bi-district. Coach: Brian Chandler

Dallas Samuell (3-7, 1-6). Coach: Steve Pierce

Dallas Skyline (9-3, 7-0), lost in DI area. Coach: Reginald Samples

Dallas Sunset (1-9, 0-7). Coach: Dennis McAdams

Dallas W. T. White (4-6, 2-5). Coach: Eric Ezar
THE BIG QUESTION: Can Jesuit challenge Skyline for the district title?
[+] Enlarge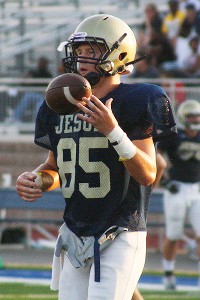 Travis L. Brown/ESPN.comReceiver Jake Oliver is a weapon for Dallas Jesuit, but the Rangers need to find a new quarterback to get him the ball.
Dallas Jesuit enters the 2011 season with a new stadium, a new coach, the returning district offensive player of the year and the best shot at giving Dallas Skyline a run at the district championship.
But is that enough?
Jesuit still must find a starting quarterback, between Jake Brezette and Brian Buell, to feed WR Jake Oliver, 2010 offensive player of the year for District 9-5A. While they keep the same offense, the Rangers are switching to a 4-2-5 defense to combat the spread offenses most of the district runs.
Skyline boasts one of the most talented rosters in the area and should have no problem with the rest of District 9-5A.
If all the pieces fall together neatly for Jesuit, the Oct. 7 game against Skyline could be circled as the district championship game.
PLAYERS TO WATCH
DB Trey Caldwell, DL De'Shon Purtue, Berkner; WR Jake Oliver, DT Akuda Esin, RB Christian Franz, Jesuit; WR Devonte Sunwenghan, QB Michael Ketchmark, Lake Highlands; RB Derrick Jackson, RB Devante Branch, RB Cameron Booty, Richardson; DT Darian Allen, RB Devontrae Smith, Samuell; LB Peter Jenkins, WR Thomas Johnson, QB Devonte Kincade, Skyline; LB Simon Ochoa, Sunset; ATH Donald Snow, W.T. White.
DID YOU KNOW?
After head coach Brent Whitson left for South Grand Prairie, Richardson looked within district 9-5A for his replacement, hiring former Lake Highlands offensive coordinator Brian Chandler. … After running a two-quarterback system for part of 2010, Lake Highlands head coach Scott Smith has settled on Michael Ketchmark as the starter. ... Berkner fell just short of the playoffs in 2010 for just the second time in eight years.
PROJECTED PLAYOFF TEAMS
Skyline

Jesuit

Lake Highlands

Berkner
February, 11, 2011
2/11/11
1:04
AM CT
DALLAS -- Thursday was a wild night for the Lady Wildcats of Lake Highlands.

Lake Highlands squared off against rival Richardson Berkner needing a win to clinch the fourth and final playoff spot in District 9-5A over fifth-place Dallas Sunset. But the Lady Rams capitalized on Lake Highlands' mistakes and took the game, 59-46, and potentially playoff the hopes from the Lady Wildcats.

After the loss, Lake Highlands head coach Holly Mulligan said her girls were distraught with the loss because they did not feel they matched up well against Sunset, their would-be opponent in a playoff play-in game.

"They did not want to play Sunset three times ... We don't match up well with Sunset," Mulligan said. "They're not a stronger team in our district, but the way we match up with them -- we don't match up well."

Turns out they won't have to face Sunset again and will get the last playoff spot up for grabs after District 9-5A last place W.T. White upset Sunset, 68-56, later in the evening.

"We are in!" Mulligan said via e-mail late Thursday night, a complete turnaround from the emotion the team displayed after the loss to Berkner.

The Lady Wildcats now have District 10-5A champion Garland to look forward to in the first round of the playoffs. But Thursday's game left Lake Highlands with a few glaring problems to work on before their date with the Lady Owls.

Turnovers plagued Lake Highlands throughout the entire game, coming mostly from forced passes into traffic in the paint. They also had a bad case of happy feet, possibly from the excitement of senior night before the game, and were called for traveling multiple times.

Mulligan noted the team's 23 turnovers in the game were well above the season's average of 16, which is fairly high to begin with, she said.

Berkner was able to pull away and gain momentum for the remainder of the game after Jailee Thomas hit a clutch 3-pointer from the left wing in the middle of the third quarter. After the huge shot, Berkner was able to go on a run and keep the margin near double-figures for the remainder of the game.

"I definitely thought it was a turning point," Mulligan said. "Basketball is all about runs, and they really started a strong run in the third quarter after [Thomas] led the way. But definitely that three sparked it."

Thomas, a freshman, led all scoerers with 20 points. She had to leave with 15 seconds remaining after officials called technical fouls on both Thomas and Lake Highland's Hannah Wedding during a battle for a loose ball. That technical was Thomas' second of the game, resulting in ejection.

Lake Highland's Joy Okeke led her team in scoring with 16 points.

The bi-district round of the state playoffs begin for all girls teams Monday and Tuesday of next week.
February, 10, 2011
2/10/11
2:41
PM CT
Richardson Berkner looked to be in position to win the District 9-5A title heading into this week.

Richardson's upset win over the Rams changed that.

Brandon Scott's bucket in the waning seconds gave Richardson (13-15, 6-5) a 56-54 win over Berkner (22-8, 10-1) on Tuesday, giving life to Richardson's playoff hopes and putting Berkner's first-place status in jeopardy.

Berkner now has a two-game lead on Lake Highlands (18-10, 8-3) and Dallas Jesuit (14-14, 8-3) with three games left in the season. Berkner hosts Lake Highlands on Thursday night.

The win pulled Richardson into a tie for fourth place with Dallas Skyline (14-11, 6-5). The two teams split its season series.

Despite the stumble, Berkner can win the 9-5A title outright, even if it loses to Lake Highlands on Thursday. Its final two games are against Dallas Sunset and Dallas Samuell – the bottom two teams in the district.

Lake Highlands and Jesuit would need to win out and have one of the bottom feeders to beat Berkner to pull into a tie for first.
February, 9, 2011
2/09/11
7:48
PM CT
If high school basketball coaches and athletic directors weren't confused enough trying to reschedule games after last week's winter weather spectacular, the snow storm that wiped out Wednesday's games should have done the trick.

With playoff spots on the line and a valuable few district games left to play, teams booked the week full of games to make sure all contests were completed by the Saturday's district certification deadline for girls. That certification is the first step in the process of making a bracket for the UIL girls playoffs, which are slated to begin Tuesday.

If all district games and tie-breakers can't be played before the deadline, it will be up to each District Executive Committee to decide how to determine which teams claim the four playoff spots.

"They have the ability to play those games in exception to school weeks and calendar week limits if they are canceled due to weather if there are enough days to get them in," UIL interim director of athletics Mark Cousins said. "Ultimately it would be left up to the District Executive Committee on how they were going to certify their representatives if it came down to it."

With the ice thawing throughout the day Wednesday, it appears Thursday and Friday will be available to finish most, if not all, district games. However, those days had been reserved for tie-breaker games, leaving District Executive Committees with the task of breaking potential ties for playoff spots. Each DEC has its own set of tie-breaking rules, which causes for more confusion among coaches and athletic directors.

In District 9-5A, the Dallas Lake Highlands girls sit in the fourth with a record of 5-6, one game ahead of Dallas Sunset, with one game to play. If Sunset wins its finale against Dallas W.T. White and Lake Highlands loses to Richardson Berkner, there will be a tie for the final playoff spot because Lake Highlands and Sunset split their head-to-head district games.

Sunset athletic director Dennis McAdams was not sure of District 9-5A's tie-breaking procedures if a play-in game could not be scheduled, but he said it could possibly come down to a coin flip.

McAdams was optimistic that all the necessary games would be played before the deadline.

"Each sport may have a little bit different way they tweak the playoff," McAdams said. "It just has to be done by Saturday, and we'll be able to because the weather is going to turn decent."

Wednesday's storm might have thrown a wrench in an already crazy week of basketball, but it could have been worse.

"If it had come, let's say, Friday and it had gone through Saturday, then we'd be in a lot of trouble because all of sudden you'd run out of days," McAdams said. "That's why you play the last district game on Tuesday because it gives you Wednesday, Thursday, Friday and Saturday for play-ins."

If inclement weather persists through the end of the week, districts can also petition the UIL for an extension on the certification date, which would give them until Monday to sort out their four playoff representatives.